Qauqaua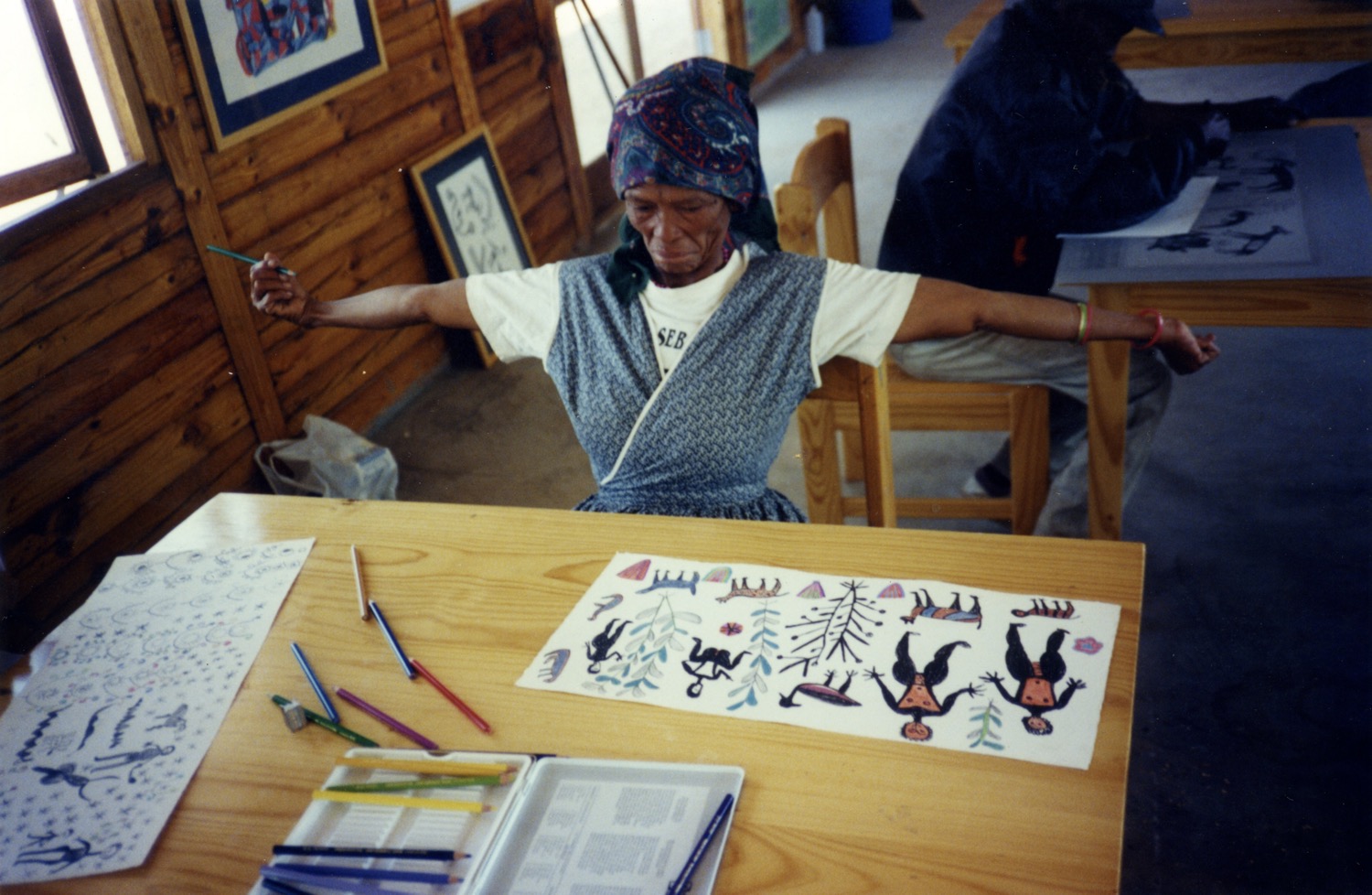 Qauqaua is a unique book, published by The Artists' Press and The Kuru Art Project. Lying on a pan of fragmented rock, close to the Botswana border in Namibia, is a small boulder, which looks so different from the surrounding jagged landscape that it appears as if it must have somehow been placed there. The Bushmen or San living in the nearby village of D'kar talk of this rock as being the body of Qauqaua, a folk heroine.

The artists of the Kuru Art Project have grown up with the Qauqaua folktale, which has been told by parents and grandparents. With their traditional way of life changing so rapidly around them, they have decided to preserve this story in book form.

THE ARTISTS: Thamae Setshogo, Coex'ae Qgam, Qwaa Mangana, Cgose Ncoxo, Sobe Sobe, Nxabe Eland, Coex'ae Bob, Qhaeqhao Moses and Thama Kase work primarily with oil on canvas but have also worked with various printing techniques. They have held many successful exhibitions around the world and their work can be found in numerous private and public collections. Each original print in the book is signed by the artist.

LANGUAGES: The book is printed in English and in Naro (the predominant San language of the Ghanzi district). Until recently Naro was a spoken language only. Linguists Cobi and Hessel Visser from the Netherlands have been transcribing the language. They have published an English/Naro dictionary and are running literacy classes in the village. The orthography that they have developed is understood by the San in D'kar, as well as by Setswana speaking people in Botswana. The folktale was written down in Naro by Hessel and Cobi and translated into English by the staff of the Kuru Cultural Centre.

PRINTING: The images were drawn directly onto the lithographic printing plates by the artists during a collaborative workshop in 1994. Mark Attwood worked with the artists at their studio in D'Kar, proofing the litho plates on an etching press. The drawn plates were taken to Johannesburg where the edition was printed. Each impression was hand inked and printed on a hand-crank litho press. A total of 61 plates were used to complete 11 prints. The text for the book was set in Palatino Roman at The Artists' Press. The linocuts were scanned and combined with the text before being printed on a Vandercook letterpress proof press, to achieve the slightly embossed, tactile quality that distinguishes letterpress printing. One page has been blind embossed.

BINDING: The books have been bound in full leather, using goatskins from the Kalahari. These skins have been vegetable tanned in D'Kar, using the Elandsboontjie root. Peter Carstens in Johannesburg did the binding.

PAPER: Printed on 250 gsm Velin Arches white made by the Arjomari mill in France. It is 100% cotton and alkaline buffered to be archival. The natural deckle on the edge of the paper has been kept, with the other two edges being torn, not cut. The paper is watermarked and has a slightly rough texture.

INTEGRITY: The best possible materials have been used at every stage of production. The paper is acid-free and the inks lightfast. The edition is limited to 100 books plus 20 Artist's Proofs. On completion of the edition, the plates were destroyed and no further prints will be made. The lithographs are signed by the artists.

SOLD OUT

FURTHER INFORMATION: If you would like to know more about the book, please contact us.

ISBN 0 620 20194 0

Prints by Kuru Art Project Artists
To look at all the books produced by The Artists' Press please go to the bottom of the page and follow the links.
For orders (with free shipping) or any other enquiries, please contact us.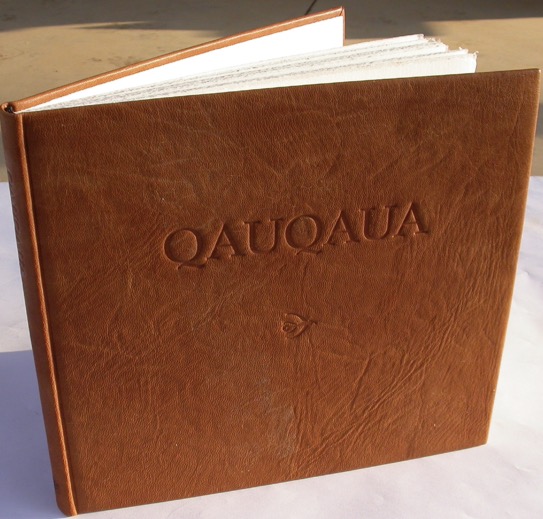 Traditionally tanned goat skin was used to bind the book.




Qwaa Mangana's therianthrope on the right, the ostrich woman.

The handprinted lithographs in the book are individually signed by the artist who made the image. This is Thamae Setshogo's image of Duu playing the mouth violin.

Qwaa Mangana's print depicting the death of Duu.
The text in the book is beautifully laid out, and here include letterpress images of a traditional sewing needle.

Coex'ae Qgam's print of Qauqaua and her daughter in a field of flowers that hide thorns.


Coex'ae Bob's print of Qauqaua, her family and the guineafowls that they became.
The final lines of the story.
Coex'ae Qgam told Tamar Mason that as she was illiterate words on a page looked like bird prints in the sand to her. This comment was kept in mind when designing the book.

Coex'am Qgam signing her prints (above)
Coex'am Bob (Ennie) working out colours for her print (below)

The Kuru Art Project where the Qauqaua Book is from.
Below are links to the artists' books that are currently available from The Artists' Press:
GIF 4 (Various artists)

Joanne of Ark (Flip Hattingh)

The Ultimate Safari (Nadine Gordimer, various artists)

To take a look at the archive of books produced by The Artists' Press please follow the links below, these books are not available from us.

Another Day in Paradise (Various artists)

Remembering the Treason Trial (William Kentridge)
Pocket Drawings (William Kentridge)
Learning the Flute (William Kentridge)

In Praise of Bristlecone Pines (Rita Deanin Abbey)

Patrick Cullinan, Selected Poems 1961 - 1991 (Patrick Cullinan, Judith Mason)
HURRY UP HELP ME AFRICA IS DYING (Eric Avery)