Thamae Setshogo Archive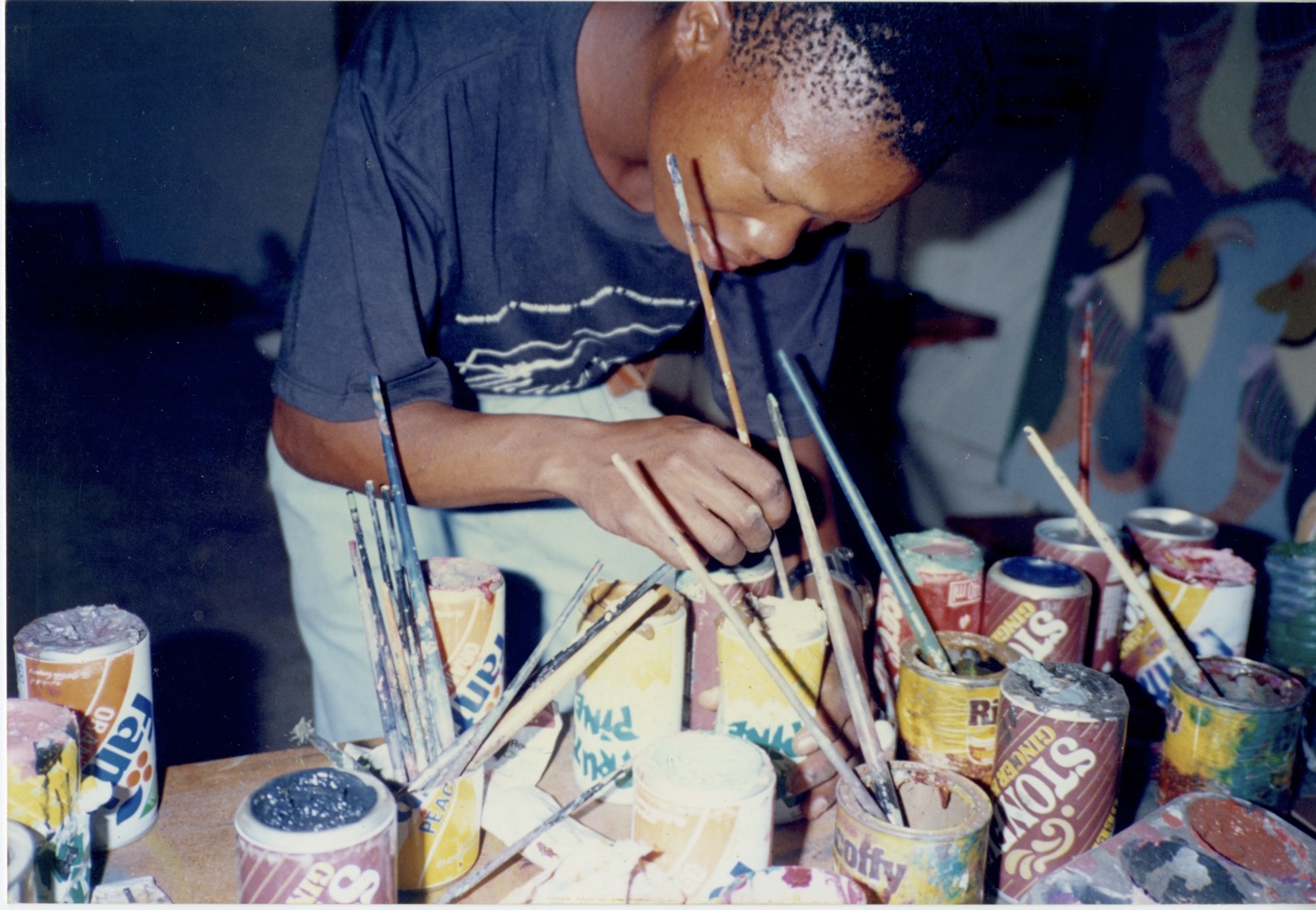 Thamae Setshogo was born to Qwaa Mangana's sister in Ghanzi during the late 1960's or early 1970's. He recieved no formal schooling, but started working at an early age as a labourer on farms - gardening, herding cattle, erecting fences and assisting on transport rides. He joined the Kuru Art Project in 1990 and remained with the project until his untimely death in 2004.
His favorite subject matter were the animals of the Kalahari Desert. He created his artworks without any visual references, relying on memory and depicting many animals that had not been seen for years in the part of the Kalahari where he lived. The distortion of the animals provides an expressiveness in his work. San mythology was important to him and he would depict the mythical figures that he grew up hearing about; such as the the abundance of mischievous water creatures that appear after good rains have filled the desert pans.
Thamae Setshogo was one of the artists who worked on the Qauqaua book.

On this page, you will find prints that Setshogo made in collaboration with The Artists' Press.
We keep and maintain the archive pages so that people can see what work an artist has previously done with us.
Archive of Work Printed at The Artists' Press
Title: The animals came to look at her
Medium: Nine colour lithograph
Paper size: 32 x 57.5 cm
Edition size: 35
Date: 1997
Published by The Kuru Art Project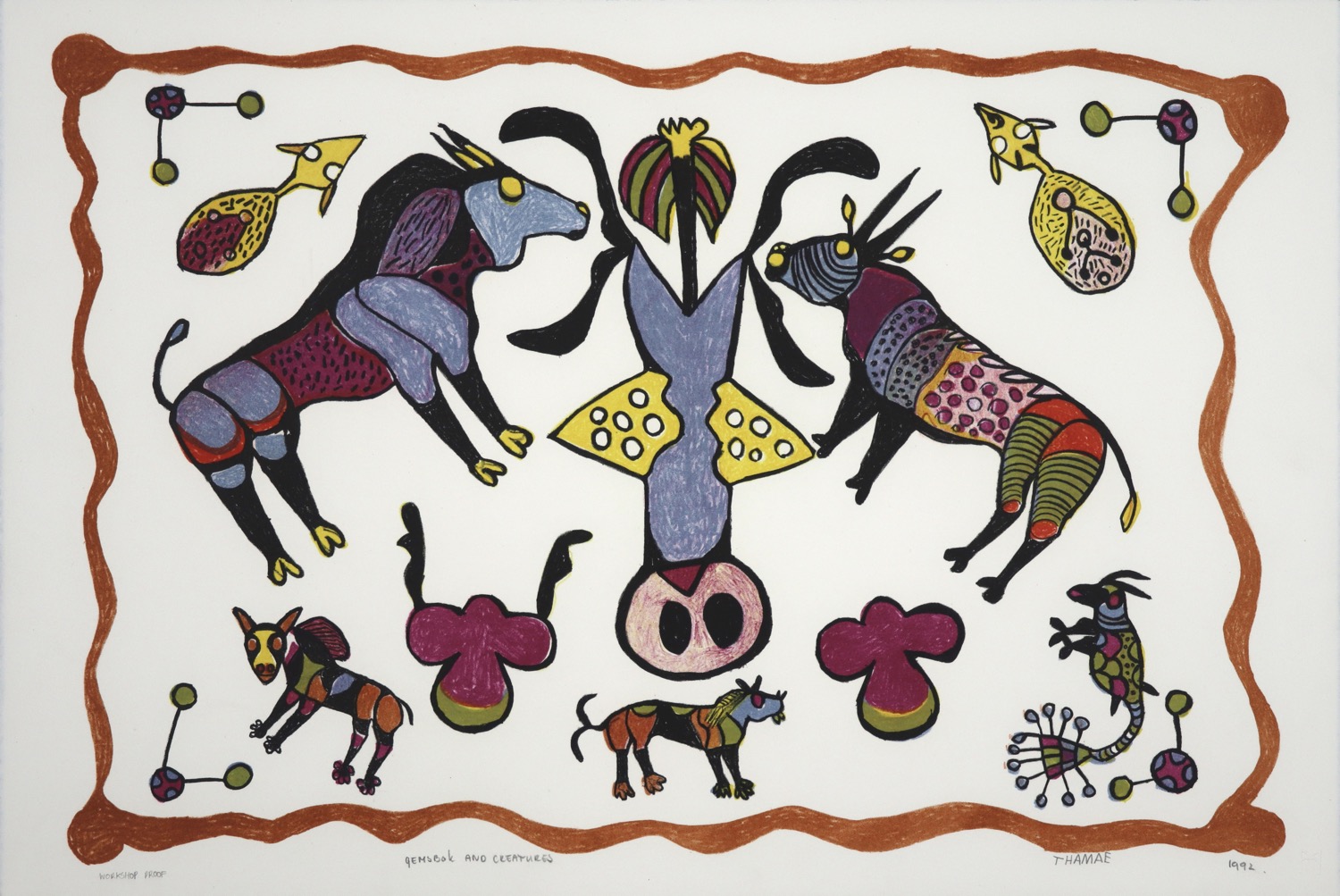 Title: Gemsbok
Medium: Six colour lithograph
Paper size: 25 x 30 cm
Edition size: 65
Date: 1992
Published by The Kuru Art Project


Title: Gemsbok
Medium: Single colour lithograph
Paper size: 25 x 30 cm
Date: 1992
Published by The Kuru Art Project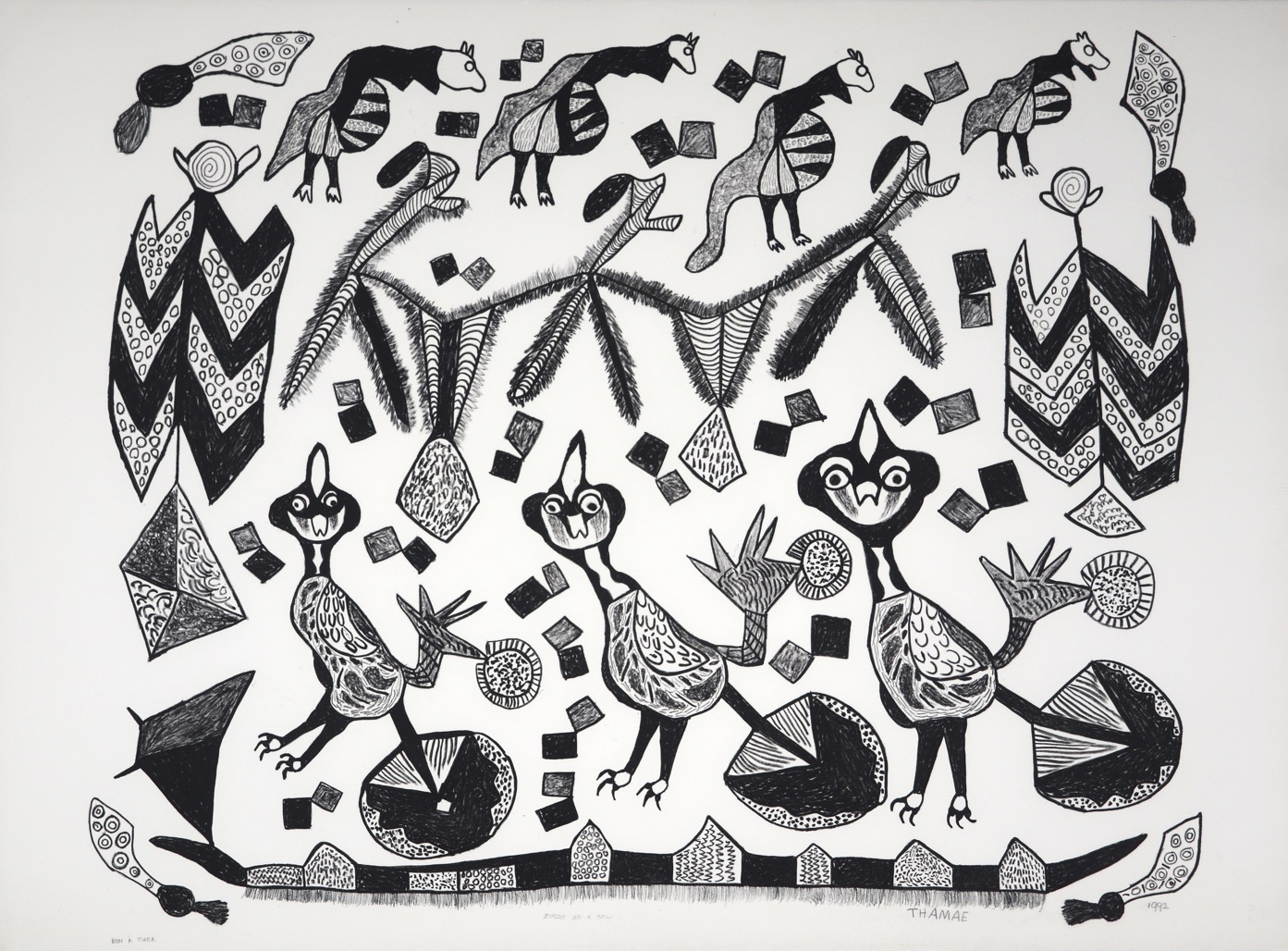 Title: Birds in a Row
Medium: Single colour lithograph
Paper size: 56 x 76 cm
Edition size: 30
Date: 1992
Published by The Kuru Art Project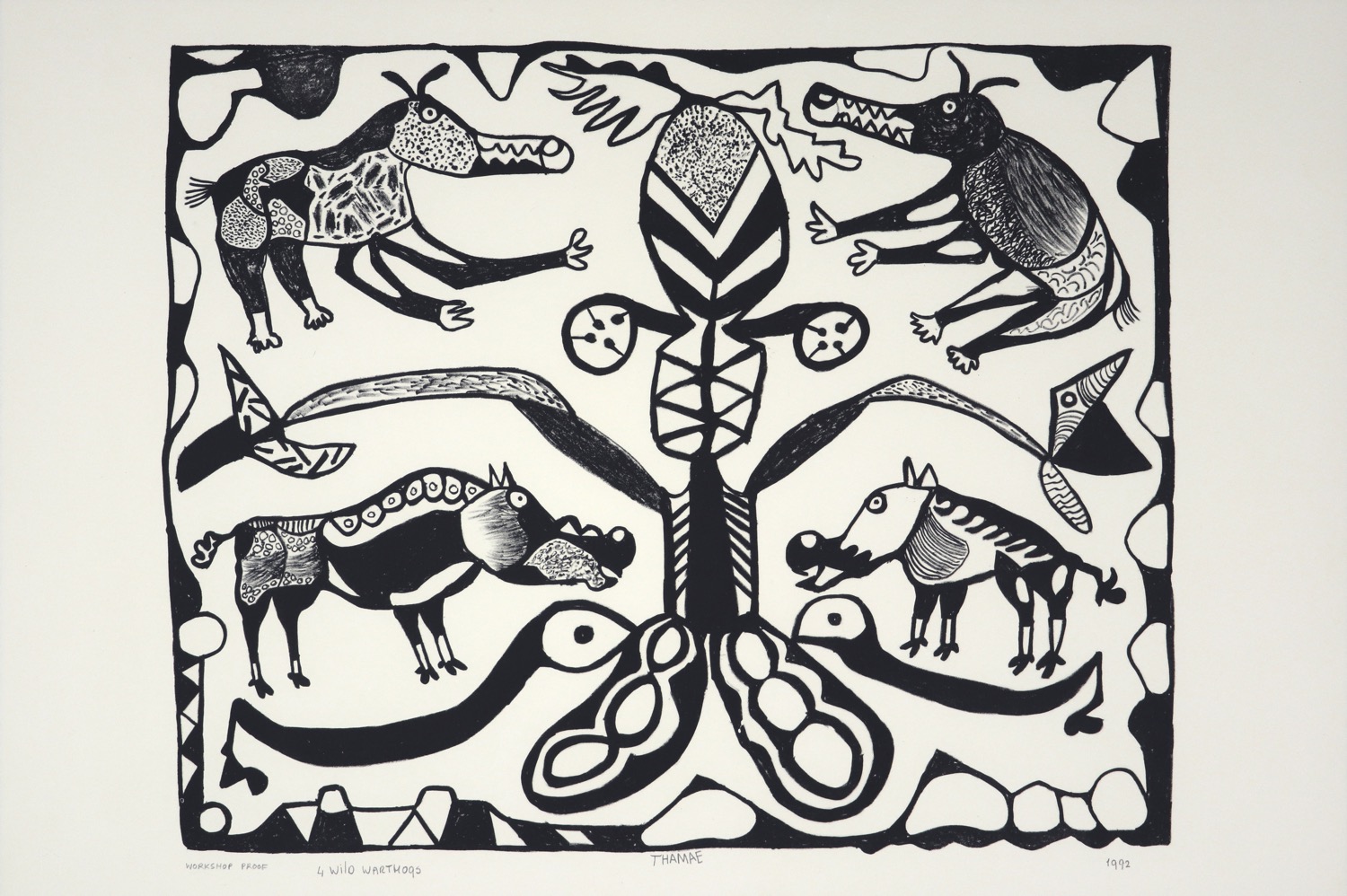 Title: 4 Wild Warthogs
Medium: Single colour lithograph
Paper size: 38 x 56 cm
Edition size: 40
Date: 1992
Published by The Kuru Art Project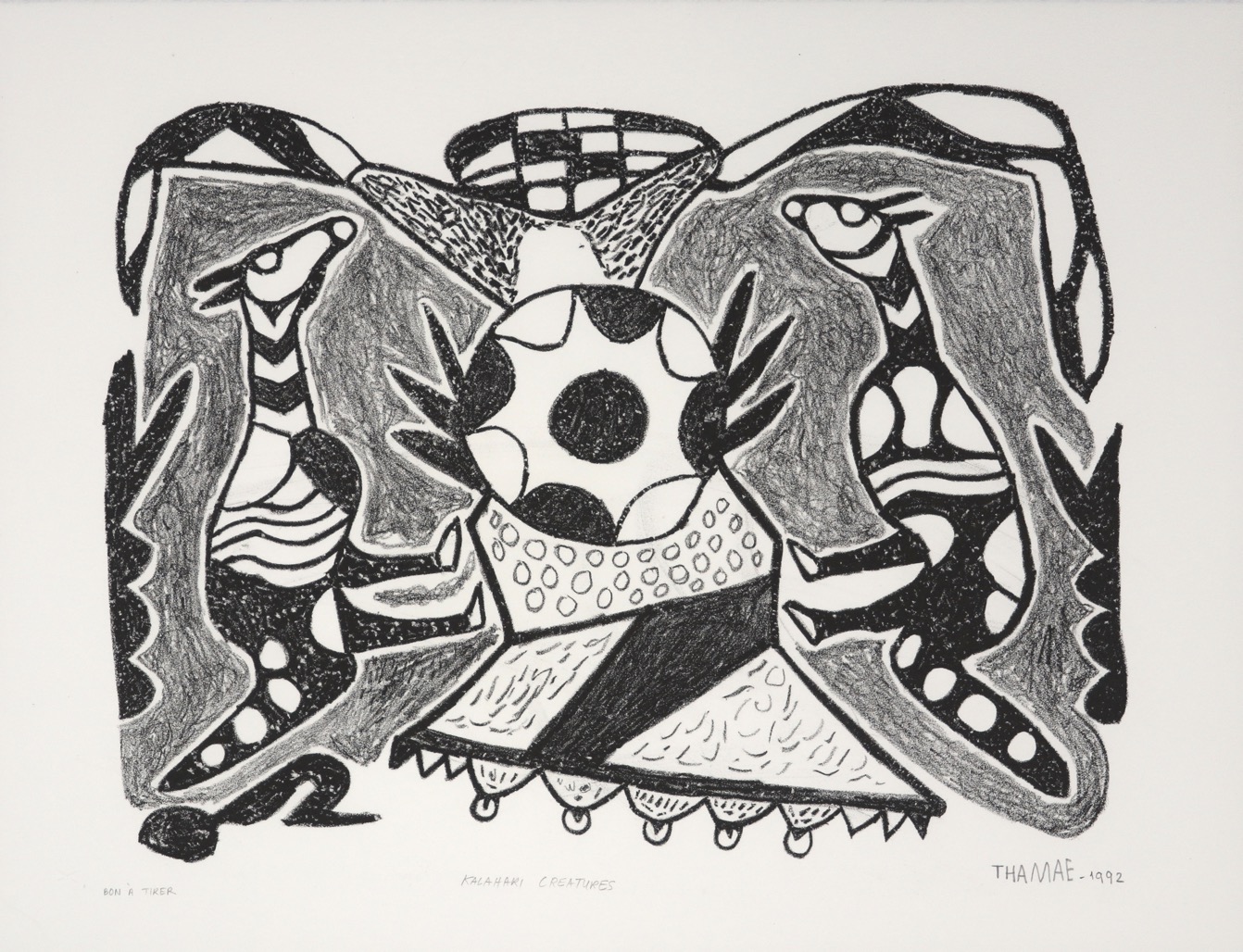 Title: Kalahari Creatures
Medium: Single colour lithograph
Paper size: 33 x 43 cm
Edition size: 40
Date: 1992
Published by The Kuru Art Project