The Ultimate Safari

Nadine Gordimer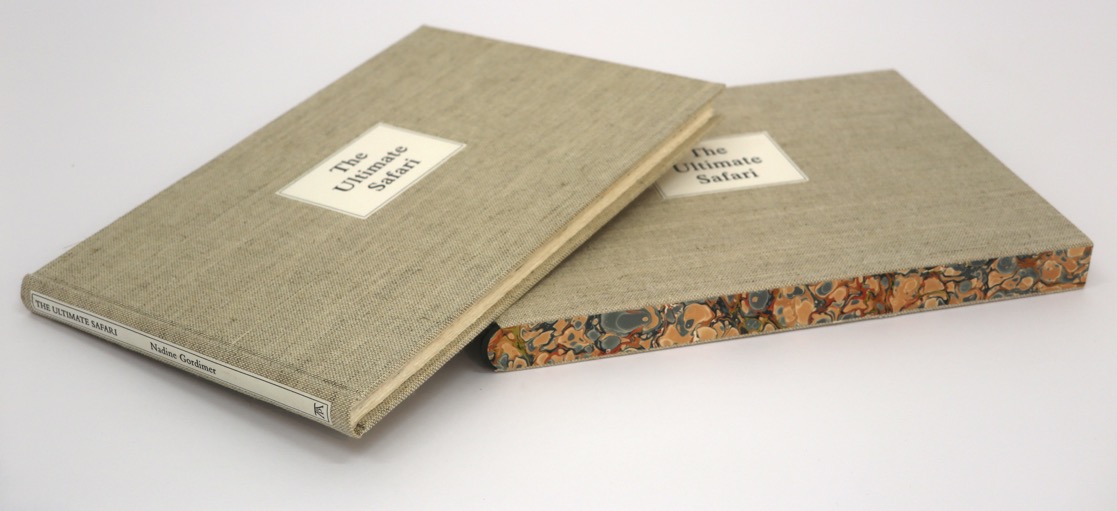 The Ultimate Safari is Nadine Gordimer's' short story about a young girl, who flees Mozambique with her family and walks through the Kruger Park to a supposedly better life in South Africa. The text has been made into an artists' book. The writing is complemented by hand-printed lithographs drawn by Dorah Ngomane, Aletah Masuku and Alsetah Manthosi, who have all made the dangerous trek on foot to South Africa, and who have recalled their journeys in print form.

South Africans, living in one of the most xenophobic countries in the world, tend to look at every immigrant from across the borders as someone "who takes our jobs". After reading The Ultimate Safari, and looking at the images, nobody could possibly think of refugees in this way again. We are all essentially the same and need to work together to overcome the divide created by political demarcations. The Artists' Press has donated a number of The Ultimate Safari artists books to selected development and art organisations which seek to build a better southern Africa.

THE AUTHOR: Nobel Literature prize winner Nadine Gordimer signed each copy of the book.

THE ARTISTS: Dorah Ngomane, Aletah Masuku and Alsetah Manthosi, live in Welverdiend, near the Kruger National Parks' Orpen Gate. Each artist has signed each print of theirs in the book. The women do not normally work as artists. They earn a living as seasonal labourers on nearby farms.

COLLABORATION: The lithographs were drawn on ball-grained aluminium plates by the three artists, during a workshop facilitated by Tamar Mason in Welverdiend in 1995. The women were new to the lithographic printing process and the making of images on paper. The workshop was a difficult and sometimes traumatic experience for the three women, as they closely identified with the short story. The drawn plates were proofed at The Artists' Press in Johannesburg, and hand coloured by the artists.

PRINTING: A limited edition of 100 books were printed by The Artists' Press. The Ultimate Safari 52 page artists' book contains twelve original lithographs and was hand-printed by Mark Attwood, Leshoka Legate and Peter Sekole. The paper used is White Arches 250 gsm, 100% cotton, acid-free. The text was typeset in Univers, and hand-printed on a Vandercook letterpress proof-press. The book measures 20 x 29 cm.

BINDING: The books were hand-sewn and hand-bound in linen cloth by Peter Carstens of Johannesburg. Each book is supplied with a matching slipcase. The wristwatch endpaper lithograph was drawn by Alsetah Manthosi.

ACKNOWLEDGEMENTS: The Ultimate Safari text has been used for this project with the generous consent of the author. Production of this book was made possible in part, through a grant from The National Arts Council of South Africa.

FURTHER INFORMATION: If you would like to know more about the book, please contact us.

ISBN 0-620-28188-X

PRICE: R 12 750 (excl.VAT)

Artists' Books
For orders (with free shipping) or any other enquiries, please contact us.


The end papers depict watches, objects of desire.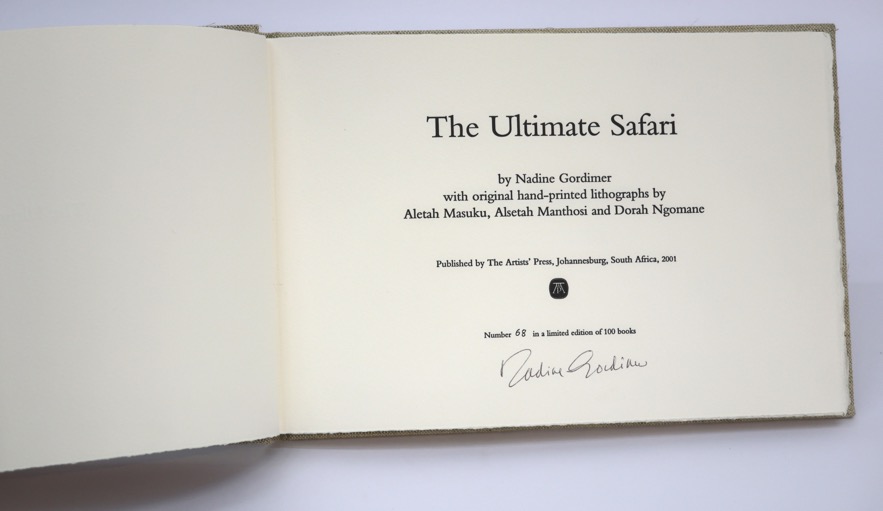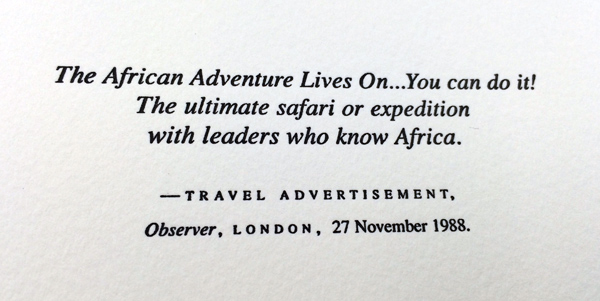 The advert text that inspired Gordimer's title.


Each of the lithographs is hand signed by the artist involved.

The layout of the text was kept simple and direct.




This image portrays the lost grandfather so poignantly.


The text on the last page of the story was transcribed by a five year old girl.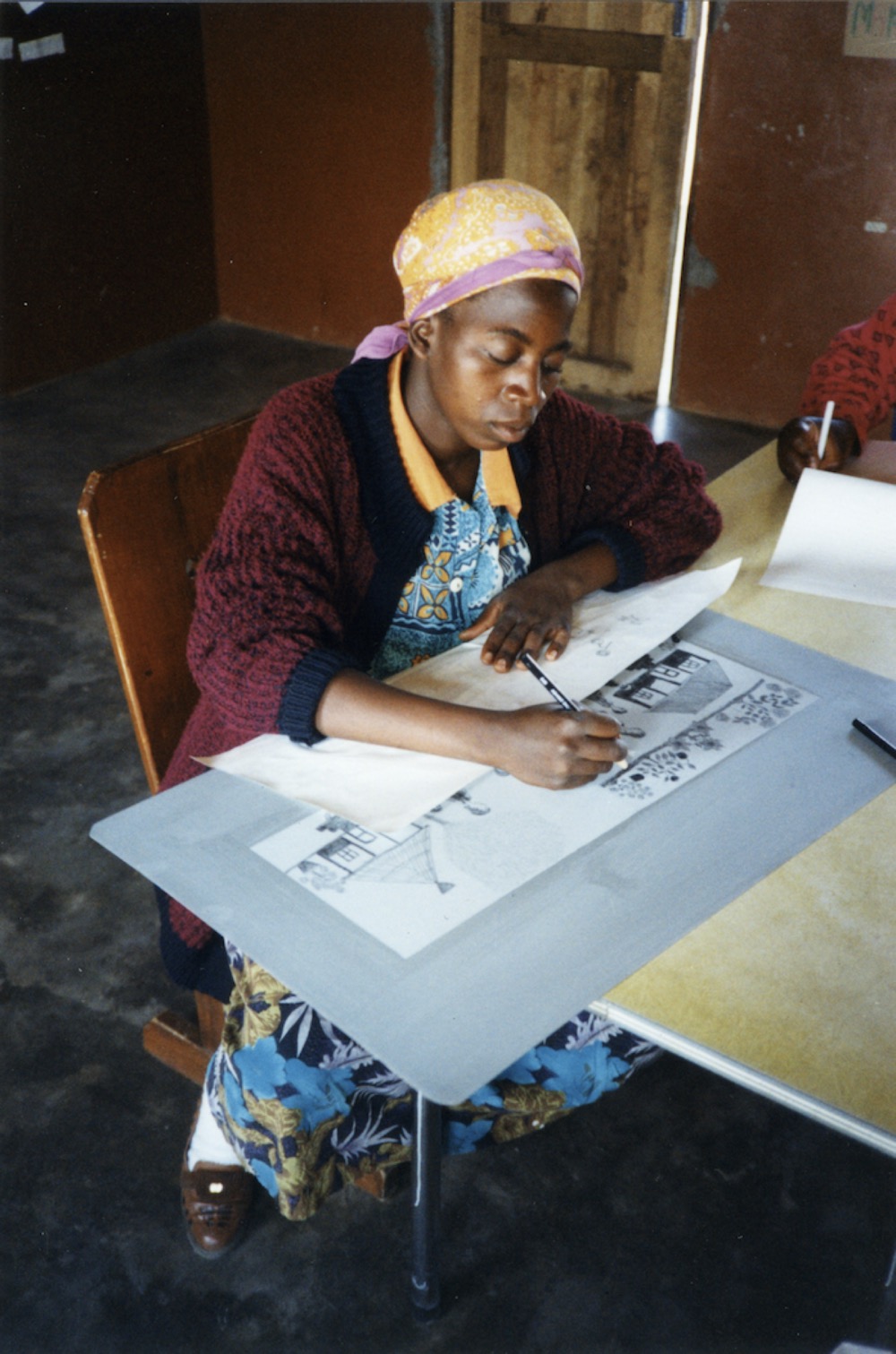 Dorah Ngomane working on her images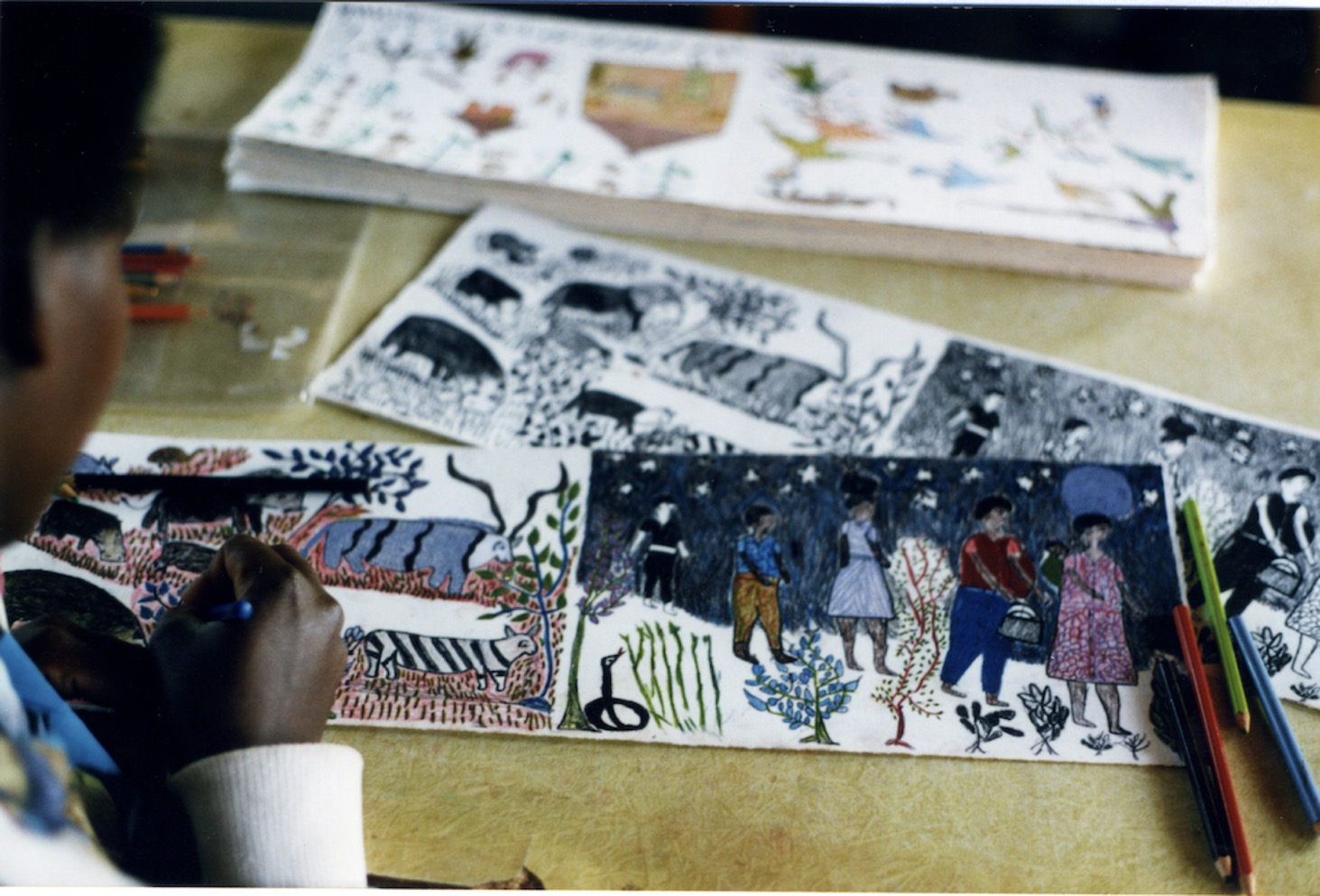 Below are links to the artists' books that are currently available from The Artists' Press:
Qauqaua  (Coex'ae Qgam, Kuru Art Project)

Joanne of Ark (Flip Hattingh)
To take a look at the archive of books produced by The Artists' Press please follow the links below, these books are not available from us.

Another day in Paradise (Various artists)
The Human Race (Robert Hodgins)

Remembering the Treason Trial (William Kentridge)
Pocket Drawings (William Kentridge)
Learning the Flute (William Kentridge)

In Praise of Bristlecone Pines (Rita Deanin Abbey)

Patrick Cullinan, Selected Poems 1961 - 1991 (Patrick Cullinan, Judith Mason)