GIF 1
"When I started The Artists' Press in 1991; I found myself neighbours with Joachim Schonfeldt in The Bag Factory. We talked about artists' books and together with Wayne Barker and Robert Weinek of FIG or Famous International Gallery (although it was almost totally unknown) we published GIF 1 in 1992. GIF is FIG spelt backwards and means poison in Afrikaans. We invited anyone interested to produce an edition of 101 prints, which were tipped onto pages that I had printed on an offset press. We launched the book in FIG galleries' run down Jeppe street space, and sold them for R 50 per book." Mark Attwood 2017

At the bottom of this page, you will find links to all of the books that have been produced at The Artists' Press.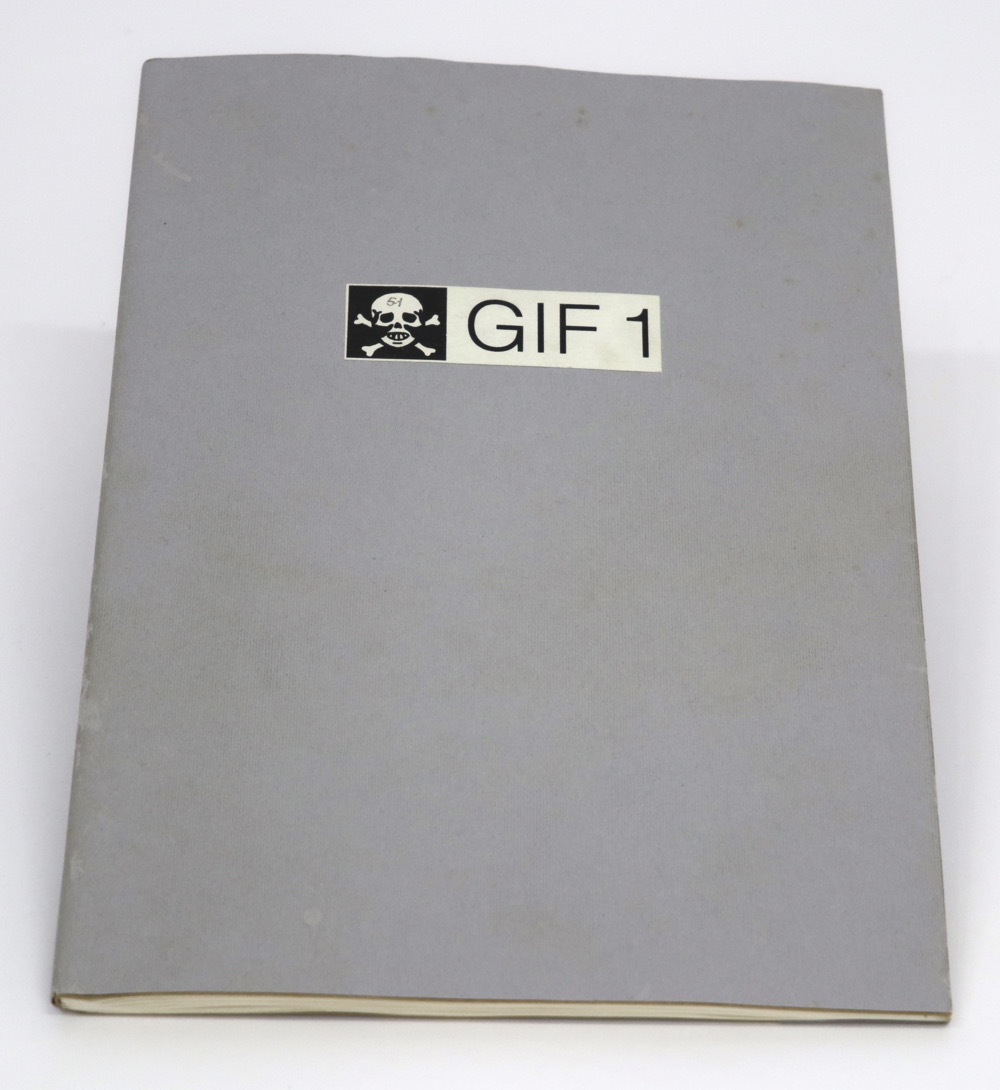 The cover of GIF 1. Binding was simple (our skills were limited at the time).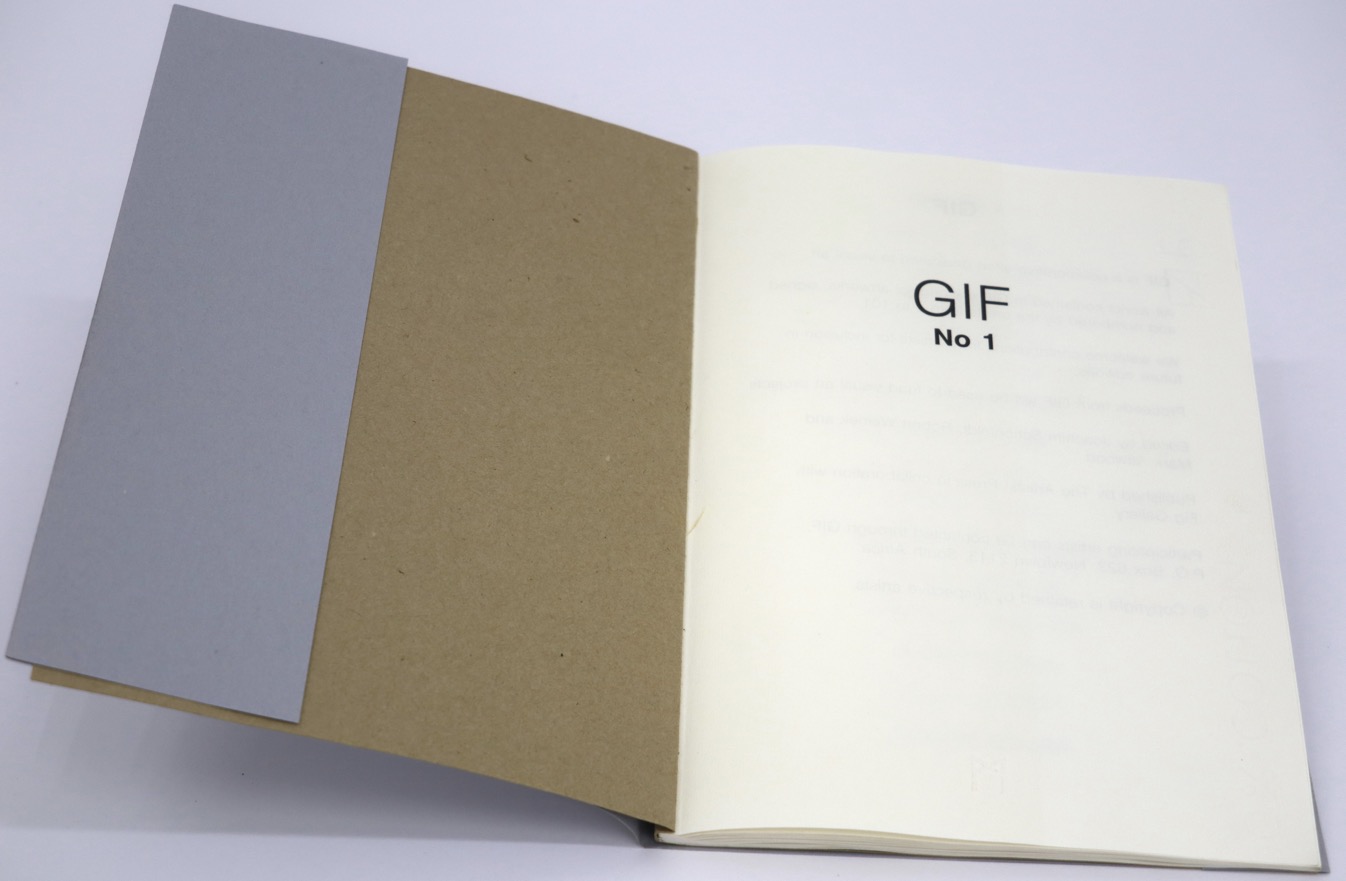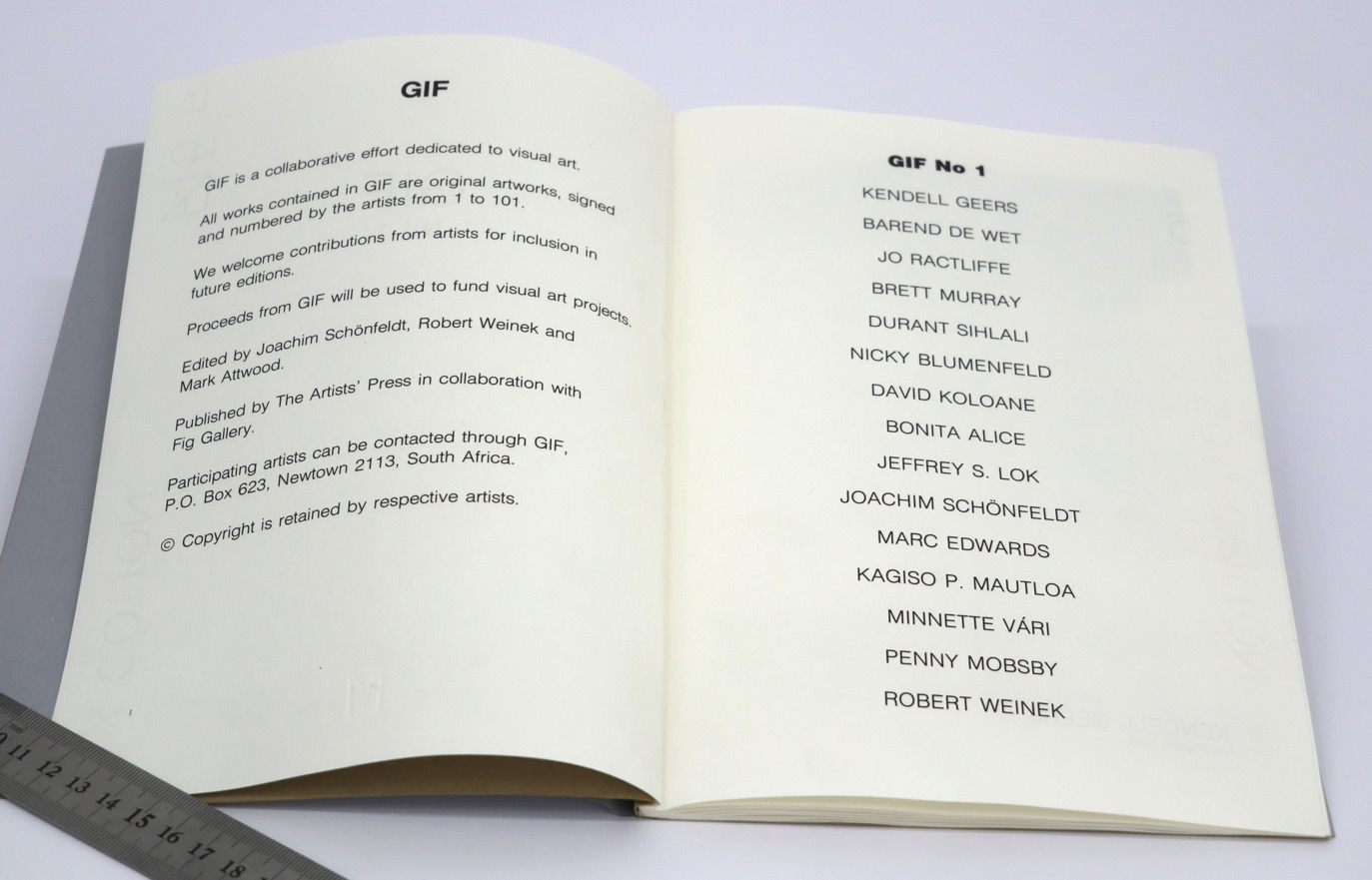 The list of artists who contributed work.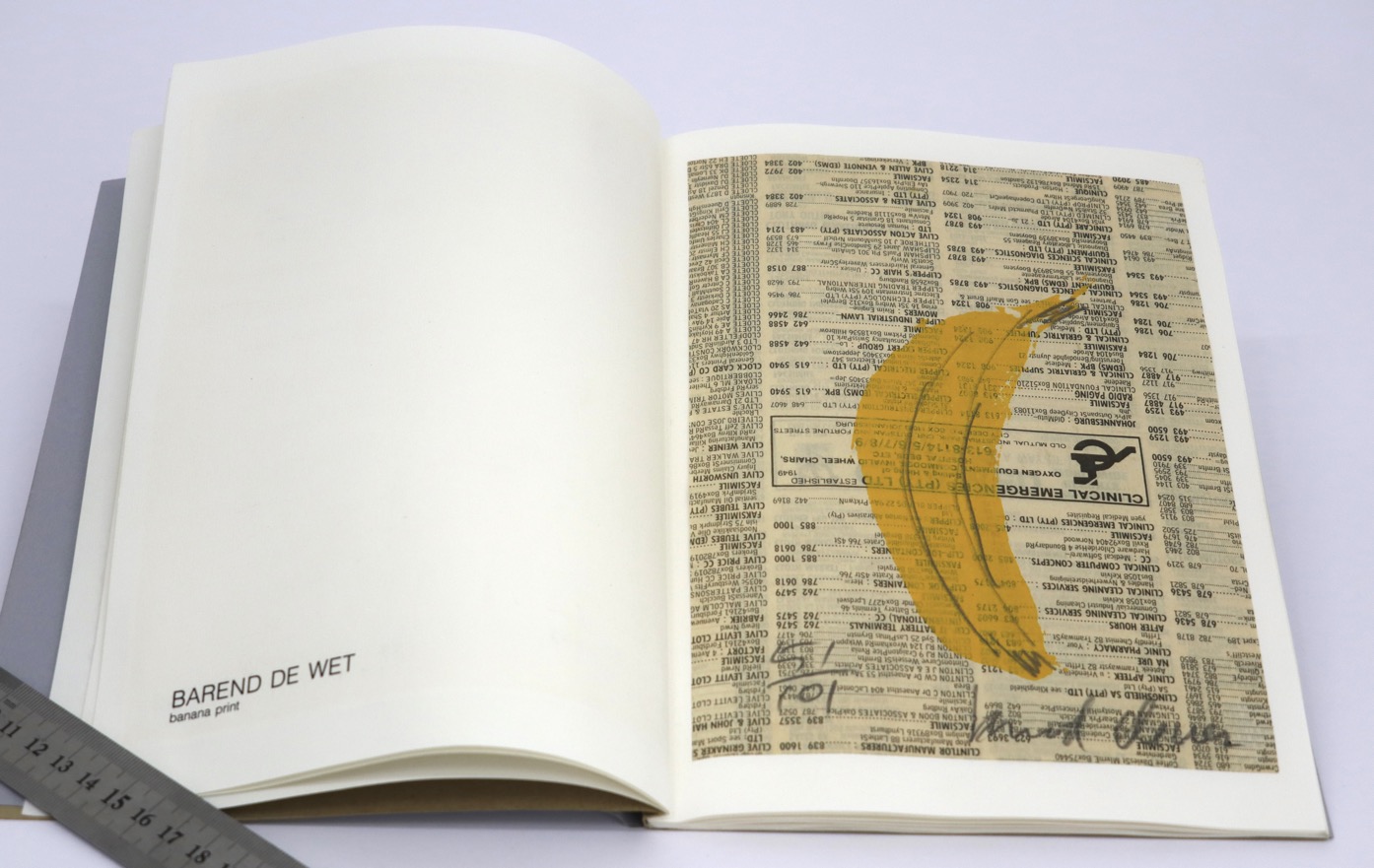 Barend De Wet did a print of a banana, using a banana and printed onto the yellow pages.
Brett Murray did a colour photocopy. Both he, Kendell Geers, Mark Edwards and Bonita Alice tried to up the technique by calling it an electrostatic print...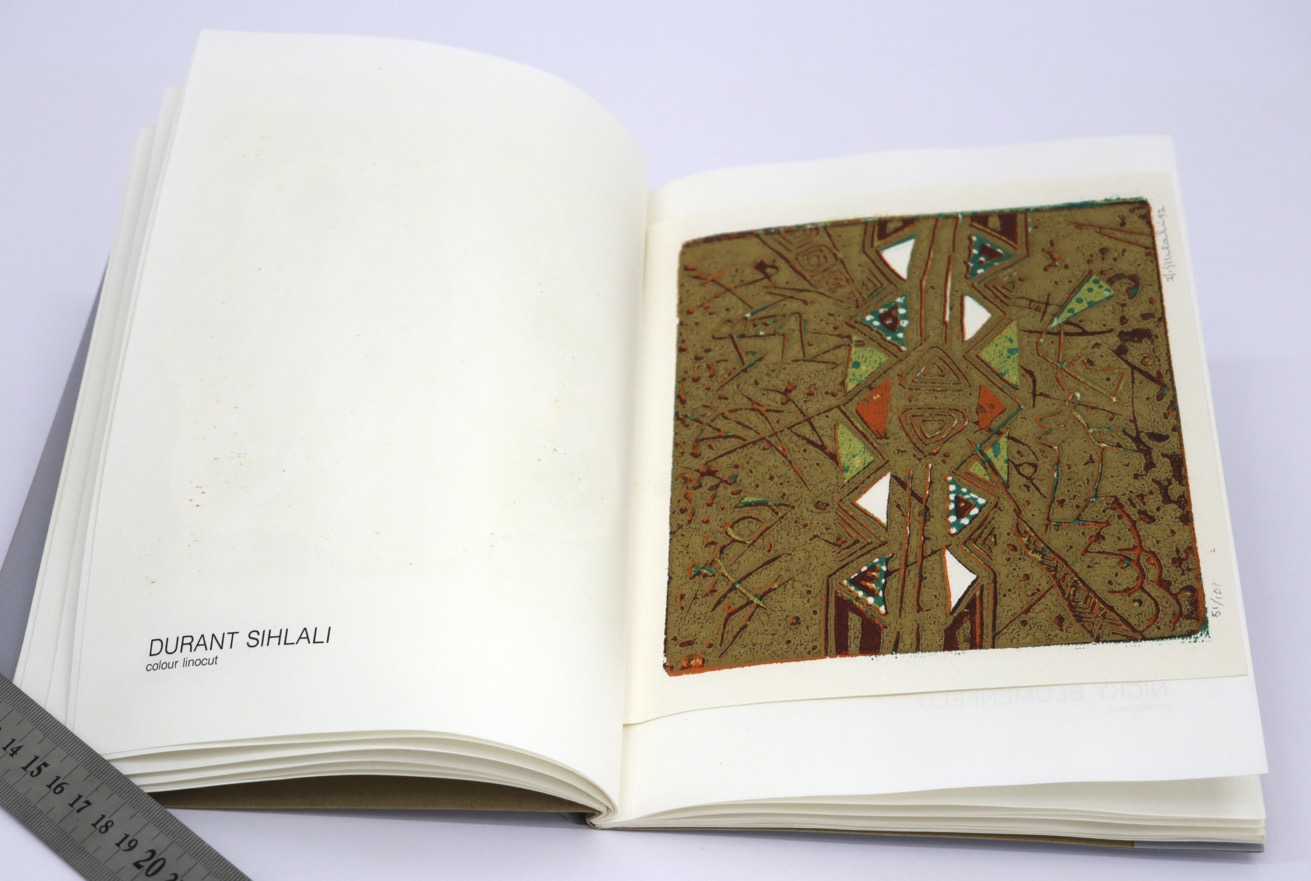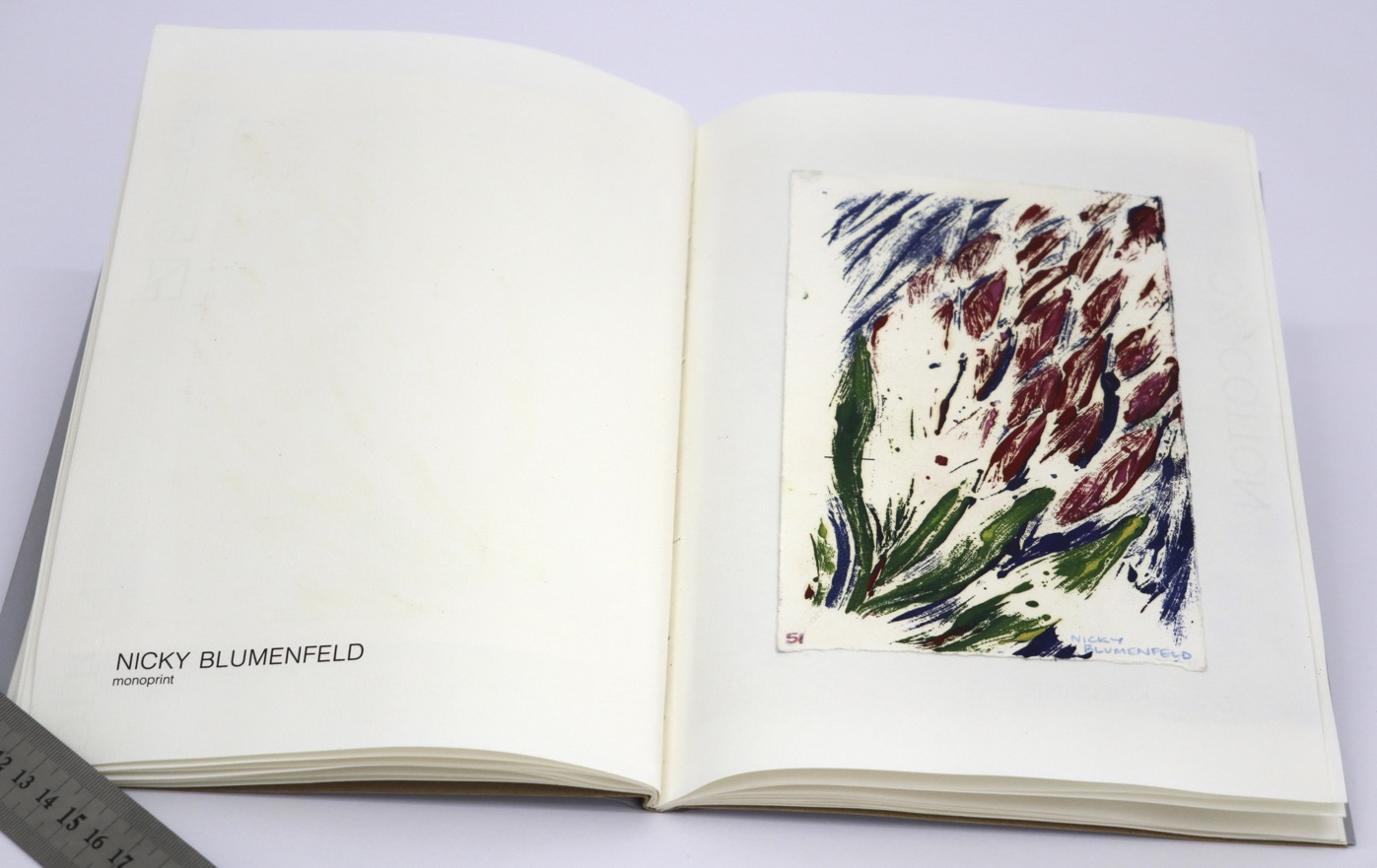 Jeff Lok titled his contribution "Centrefold".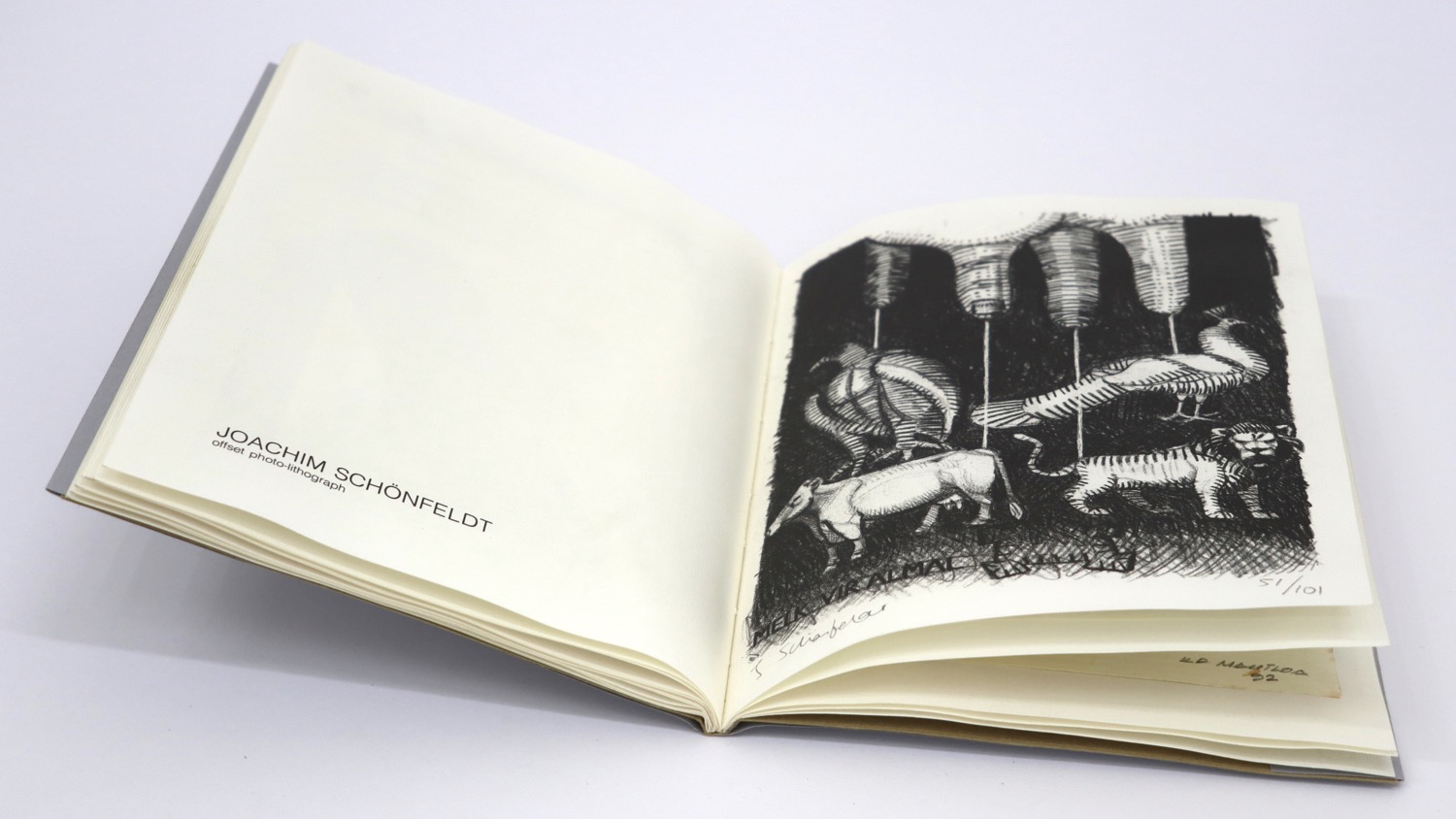 Joachim Schonfeldt did a lithograph which referenced his sculptures.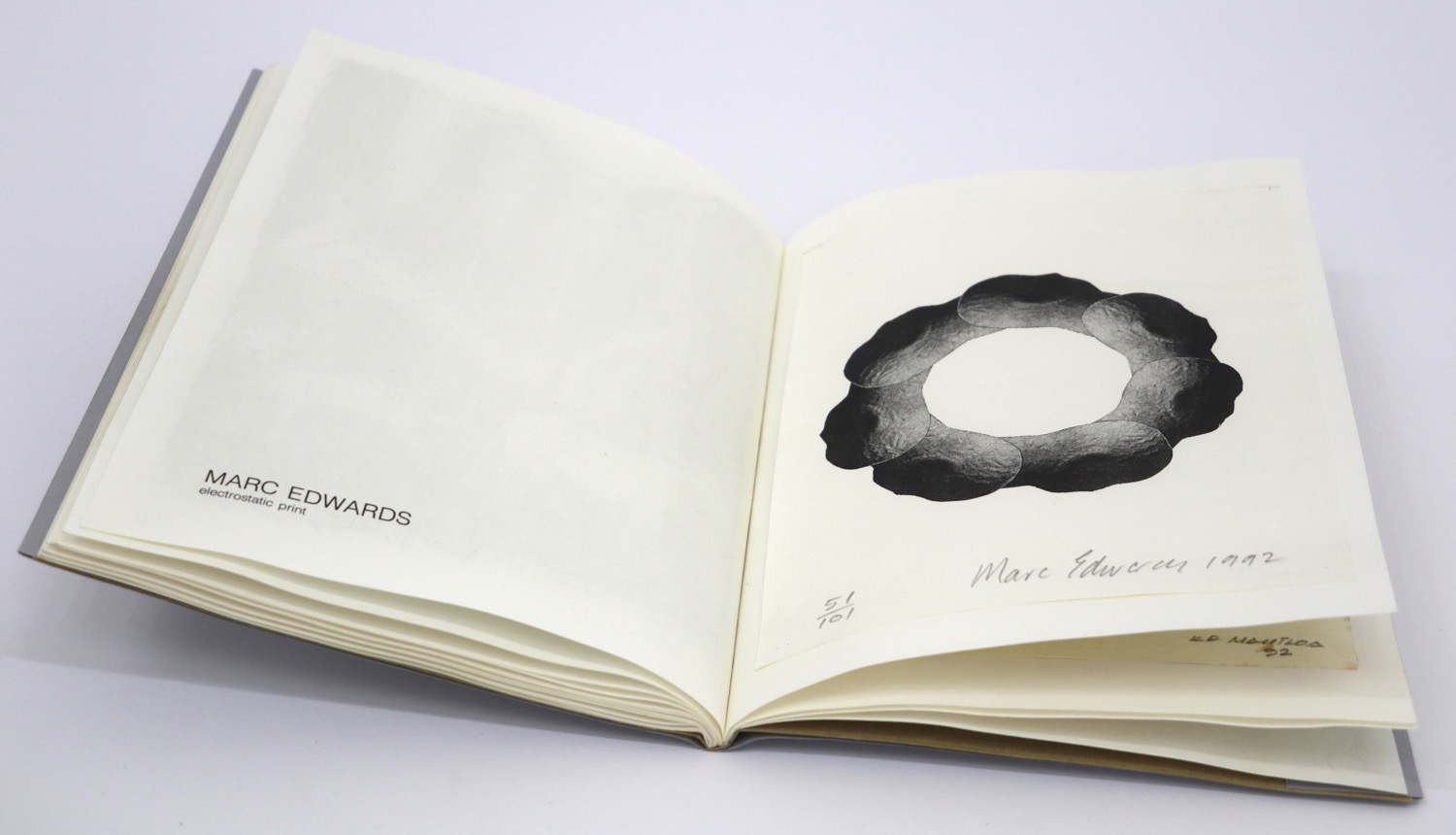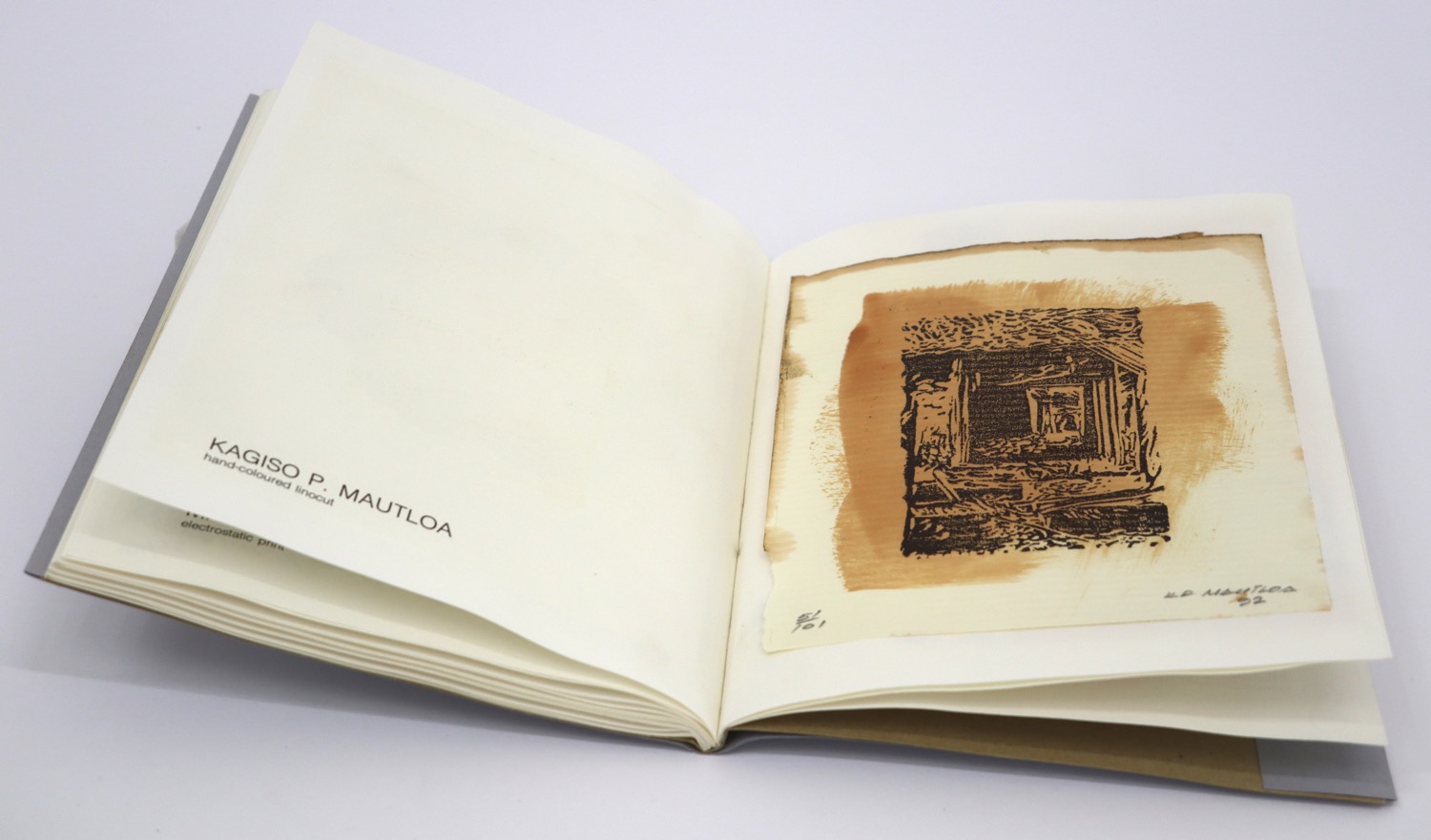 Kagiso Pat Mautloa did a hand coloured lino cut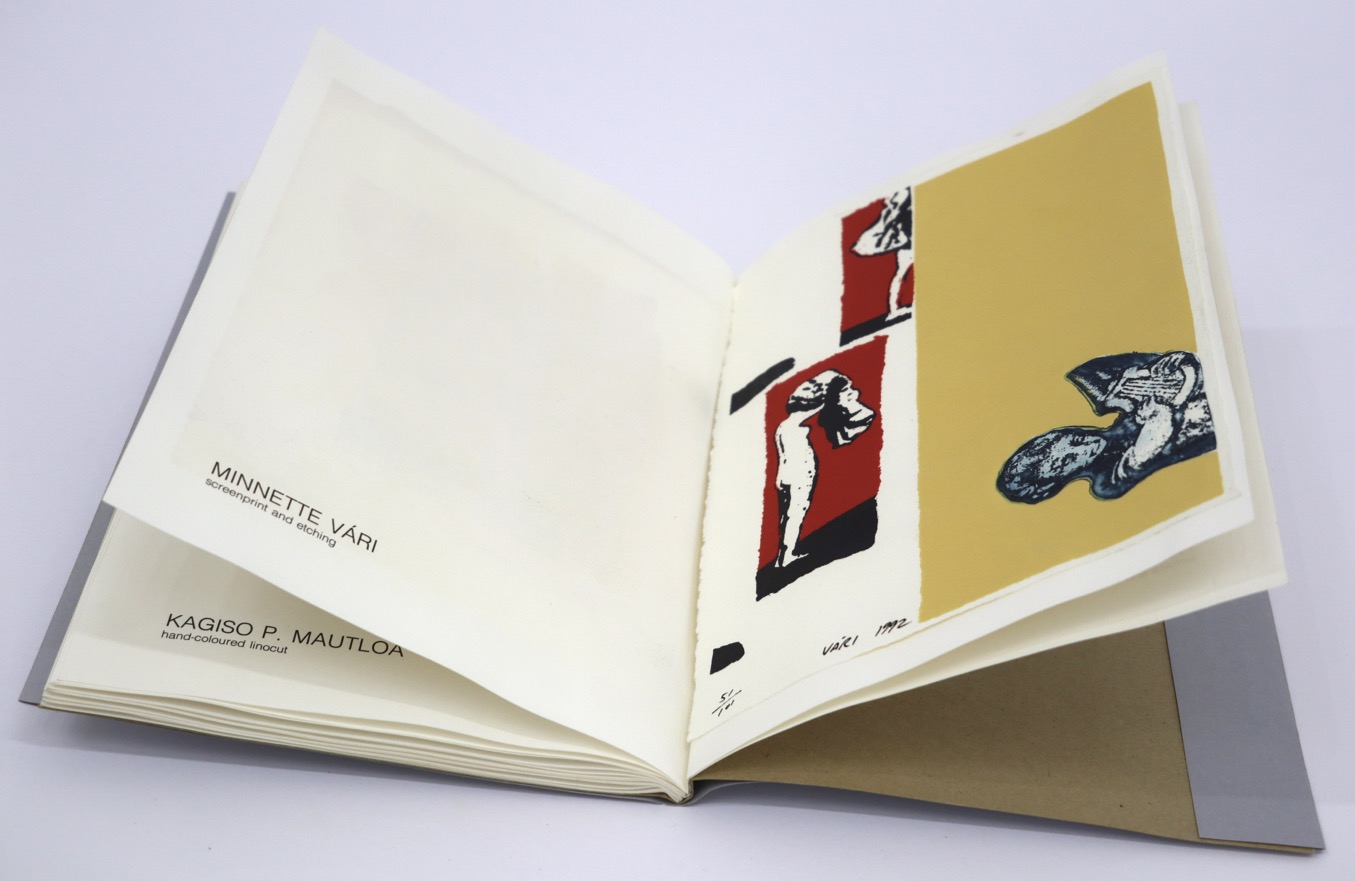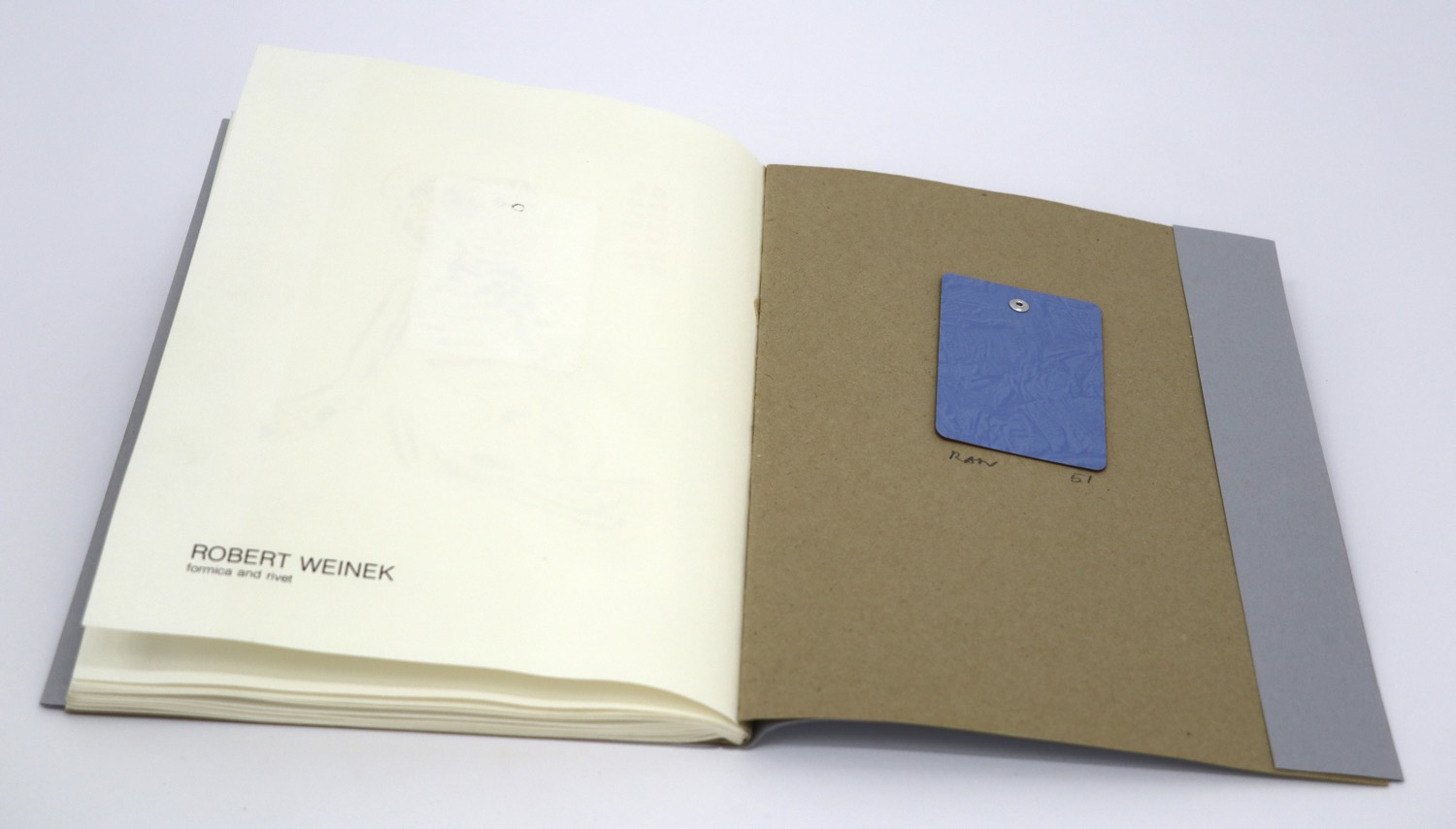 Robert Weinek riveted a formica sample as his contribution, possibly a world first for an artists' book.
Below are links to the artists' books that are currently available from The Artists' Press:
GIF 4 (Various artists)

Joanne of Ark (Flip Hattingh)
The Ultimate Safari (Nadine Gordimer and various artists)

To take a look at the archive of books produced by The Artists' Press please follow the links below, these books are not available from us.
Qauqaua  (Coex'ae Qgam, Kuru Art Project)
Another Day in Paradise (Various artists)
The Human Race (Robert Hodgins)

Remembering the Treason Trial (William Kentridge)
Pocket Drawings (William Kentridge)
Learning the Flute (William Kentridge)

In Praise of Bristlecone Pines (Rita Deanin Abbey)

Patrick Cullinan, Selected Poems 1961 - 1991 (Patrick Cullinan, Judith Mason)JUST 30 WORDS (INTERLINEARY) Robbin Ami Silverberg