Artists' Books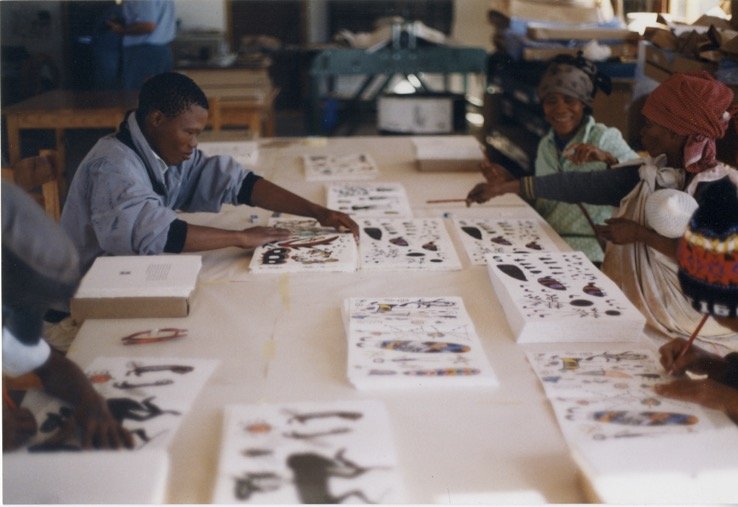 Artists' books are limited edition artworks that are produced by an artist or collective and that have aspects of handmade work in them. They are signed by the artist(s) who have worked on them as well as by the writer of the text if this is relevant. These artworks are often made using an unconventional format and unusual binding. They can incorporate hand printed lithographs, etchings or lino cut prints and sometimes pencil drawings or painted elements.

Artists' books allow artists to combine aspects of their art making with text in novel and exciting ways. The edition number is usually fairly small (100 books or less) and this makes them rare and collectable. The "can do" attitude of South Africans has extended to these works of art and has resulted in some original approaches to the concept of a book. Books produced by The Artists' Press have received international acclaim and can be found in some of the world's leading libraries and art collections.

One of the largest and most important international collections of artists' books is that of the Johannesburg art patron, Jack Ginsburg, who is also the founder and Director of the Ampersand Foundation. In 2019 the Jack Ginsberg Centre for the Book Arts was opened and is housed in a custom designed section of WAM (the Wits Arts Museum, University of the Witwatersrand). All of the books published by The Artists' Press are in this collection.

The following artists' books published by The Artists' Press are sold out: GIF 1, GIF 2, GIF 3 and Belinda Blignaut's "Antibody". GIF is the Afrikaans word for poison and is fig spelt backwards. FIG is an acronym for Famous International Gallery, which was an alternative gallery space in crumbling central Johannesburg in the early 1990s. The GIF books are an ongoing series done with a chance selection of artists.

Below are links to the artists' books that are currently available from The Artists' Press:

Qauqaua  (Coex'ae Qgam, Kuru Art Project)

Joanne of Ark (Flip Hattingh)

The Ultimate Safari (Nadine Gordimer, various artists)
For orders (with free shipping) or any other enquiries, please contact us.

To take a look at the archive of artists' books produced by The Artists' Press please follow the links below (these books are not available from us as they are either sold out or were published by the artist or gallery involved).
Another Day in Paradise (Various artists)
The Human Race (Robert Hodgins)

Remembering the Treason Trial (William Kentridge)
Pocket Drawings (William Kentridge)
Learning the Flute (William Kentridge)

In Praise of Bristlecone Pines (Rita Deanin Abbey)

Patrick Cullinan, Selected Poems 1961 - 1991 (Patrick Cullinan, Judith Mason)
JUST 30 WORDS (INTERLINEARY) (Robbin Ami Silverberg)
HURRY UP HELP ME AFRICA IS DYING (Eric Avery)

Mark Attwood working on a artists' book by William Kentridge, Remembering the Treason Trial.