Joachim
Schönfeldt
Joachim Schönfeldt was born in Pretoria, but his family moved to Namibia just three weeks later. Schönfeldt completed his schooling in Namibia, and after graduating from the University of the Witwatersrand in the early 1980's; he worked for Meneghelli Holdings as a curator and researcher in historical African Art. Schönfeldt became a full-time artist in 1988. He has exhibited widely in South Africa and abroad. He was one of the founding artists of The Fordsburg Artists' Studios (The Bag Factory).


Prior to the prints being made, Schönfeldt had worked on paper using similar images embossed into the paper and coloured with oil paints that have been sealed with a high gloss varnish. In a similar way, the four prints have been deeply embossed, so that sections of the image tantalise the viewer into questioning the two-dimensionality of the printed surface. The images are then sealed with a clear ink varnish.

As in much of his, work Schönfeldt has included text in the prints. The slogan Authentic works of art and curios brings up the notion of authenticity, which is a central concern of the artist. It also has a cynical ring to it, which can be understood within the context of contemporary art and craft production in Africa.

This is the second full suite of prints that have been purchased from The Artists' Press by The Museum of Modern Art in New York. The first was Claudette Schreuder's Crying in Public series.
"In my recent work, I explore a specific working methodology that seems to be prevalent at the moment, which may be stated simply as "how to animate dumb objects". Where text is absent, the history of (African) oral societies is constructed from found and sourced objects, artifacts, implements, ruins and so on. We have seen anthropologists and palaeontologists work with "dumb objects" and put a universe to them.

In my work, I have tried to further the idea of objects as an augmentation to speech, posing questions such as: "In speech, when does a speaker revert to visuals? I have also looked at oral cultures, the charismatic speaker and "priority perspectives" - truth, and what people want that truth to be.

In the set of prints that were done at The Artists' Press, I made reference to a set of sculptures that I have been working on. I have tried to imagine what the iconography of a pan-African religion might look like. There are four animals, all female: a lioness, a cow an eagle and a peahen. The land animals have three heads and six legs, and the sky animals have three heads".
Joachim Schönfeldt, 2004
Artists at The Artists' Press A to L (by surname)

Artists at The Artists' Press M to X (by surname)

New Editions from The Artists' Press
For orders (with free shipping) or any other enquiries, please contact us.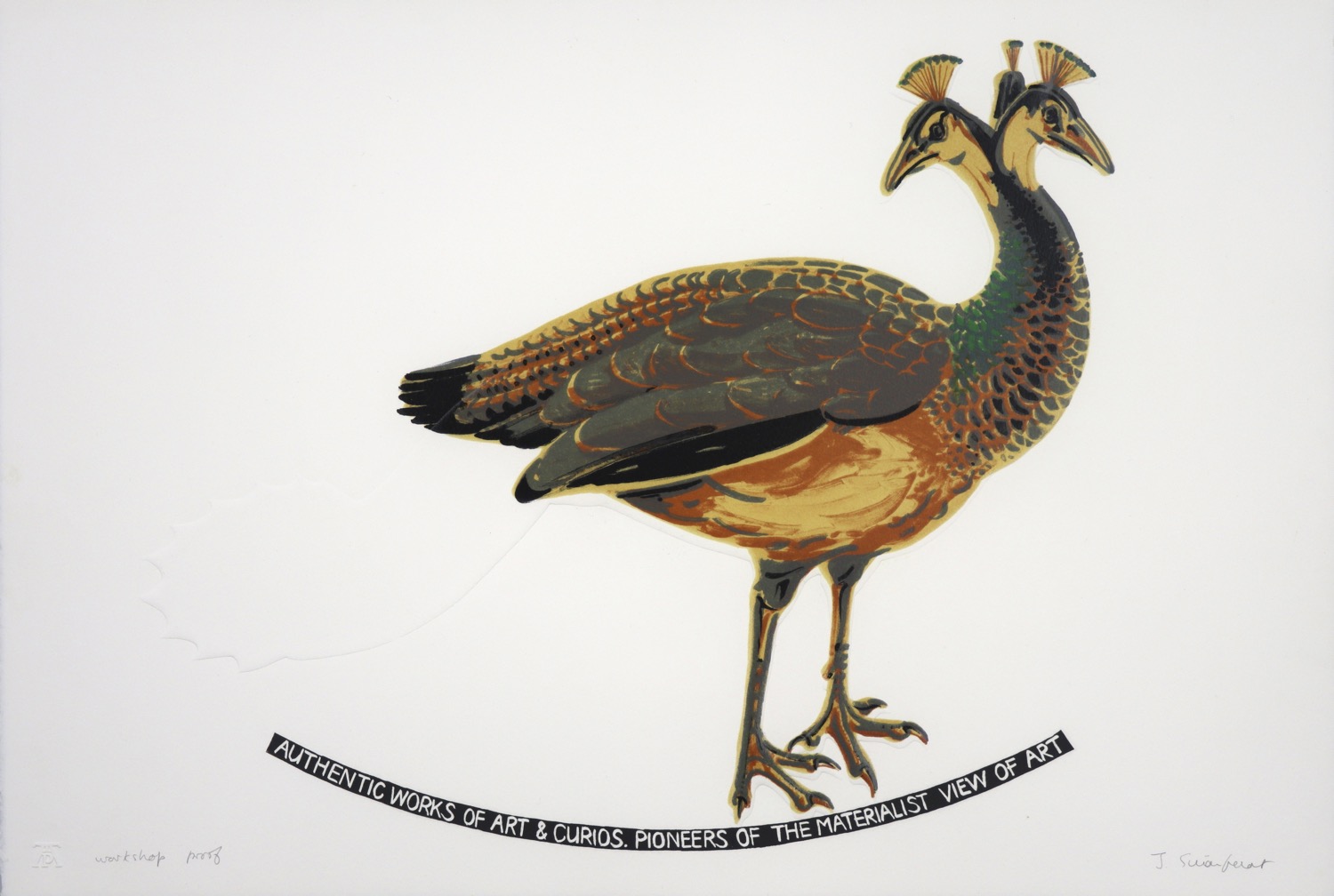 Title: Untitled (Peahen)
Medium: Hand-embossed and "varnished" multi-coloured lithograph
Size: 38 x 57 cm
Edition size: 30
SOLD OUT

Title: Untitled (Lioness)
Medium: Six colour, hand-embossed and "varnished" lithograph
Size: 38 x 57 cm
Edition size: 30
Price: R 6 400 (excl.VAT)


Title: Untitled (Eagle)
Medium: Five colour, hand-embossed and "varnished" lithograph
Size: 38 x 57 cm
Edition size: 30
Price: R 6 400 (excl.VAT)


Title: Untitled (Cow)
Medium: Six colour, hand-embossed and "varnished" lithograph
Size: 38 x 57 cm
Edition size: 30
SOLD OUT


Photograph taken to emphasize the shadows and embossed area of the print. Each of the prints in this series is deeply embossed over the area of the body of the animal and with the peahen, includes a blind emboss of a peacocks tail.

Techniques used in Joachim Schönfeldt's prints