Claudette Schreuders archive

In the Claudette Schreuders archive, you will find lithographs that Schreuders has made in collaboration with The Artists' Press. These are prints that were published by The Artists' Press and which have sold out and are no longer available from us.
The prints are arranged chronologically with the earliest at the bottom of the page and the most recent on top.

Work by Claudette Schreuders that is available
Title: Song
Medium: Single colour lithograph
Edition size: 101
Date: 2015
This print was Claudette Schreuders contribution to The Artists' Book GIF 3, published by The Artists' Press.
Title: Ma
Medium: Five colour, chine collé lithograph
Edition size: 4
Paper size: 50 x 38 cm
Image size: 43 x 31 cm
Date: 2012
Title: Close, close
Medium: Four colour, chine collé lithograph
Edition size: 35
Paper size: 38 x 50 cm
Image size: 31 x 43 cm
Date: 2012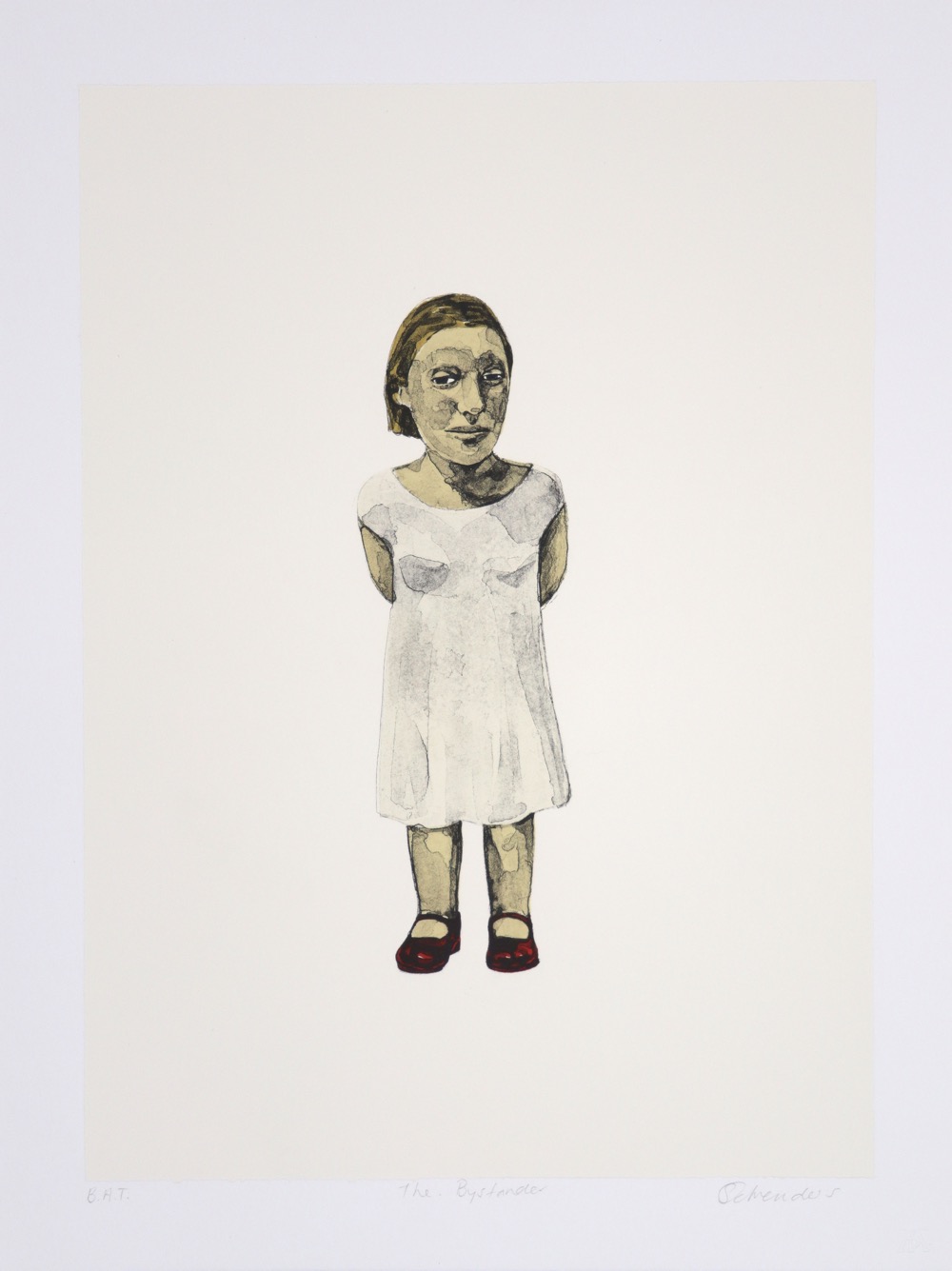 Title: The Bystander
Edition size: 35
Paper size: 38 x 50 cm
Image size: 31 x 43 cm
Medium: Five colour, chine collé lithograph
Date: 2009
Title: Public Figure
Medium: Six colour lithograph
Edition size: 35
Paper size: 76 x 49 cm
Image size: 71.5 x 22.4 cm
Date: 2008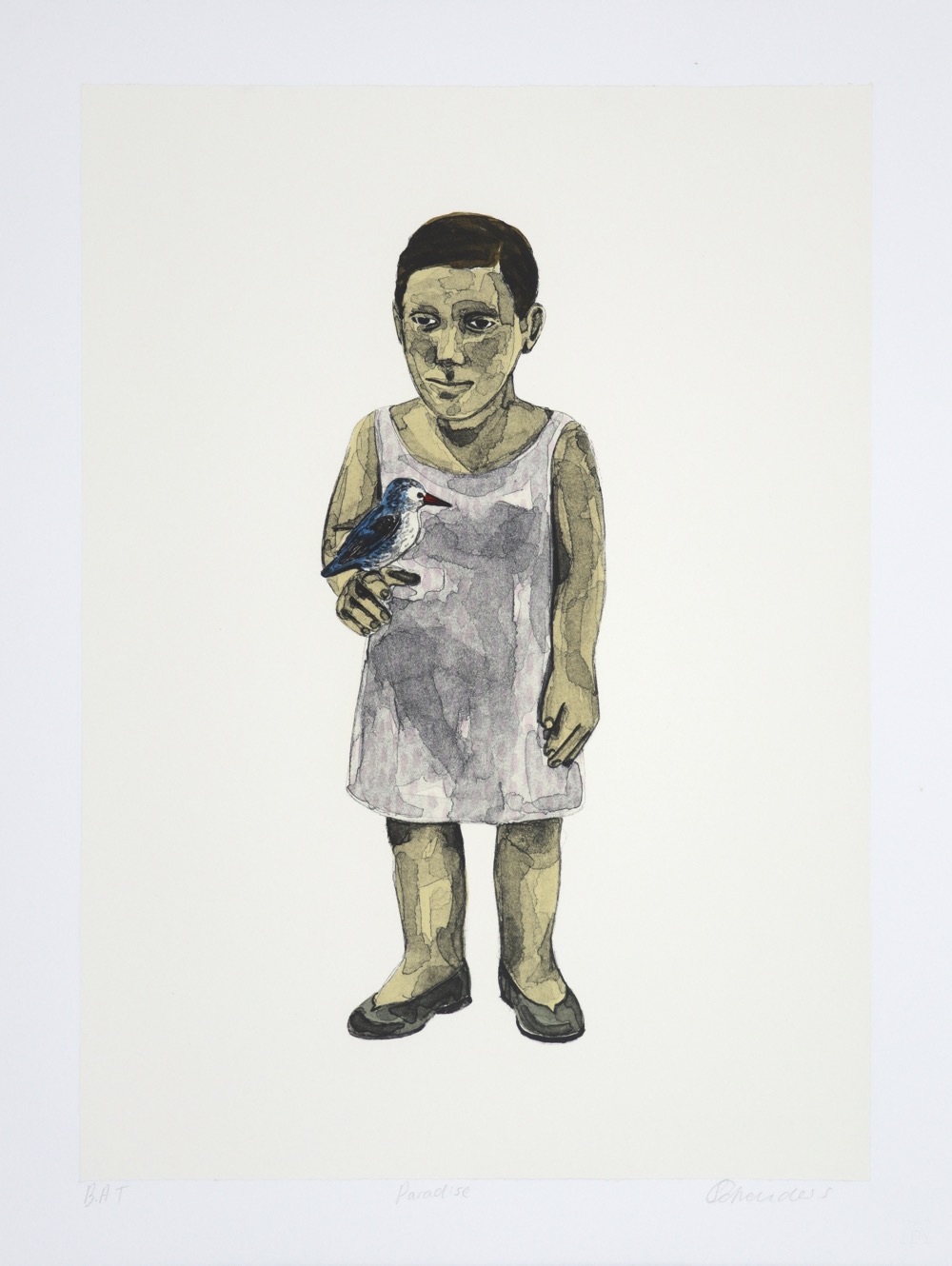 Title: Paradise
Medium: Seven colour, chine collé lithograph
Edition size: 35
Paper size: 50 x 38 cm
Image size: 43 x 31 cm
Date: 2008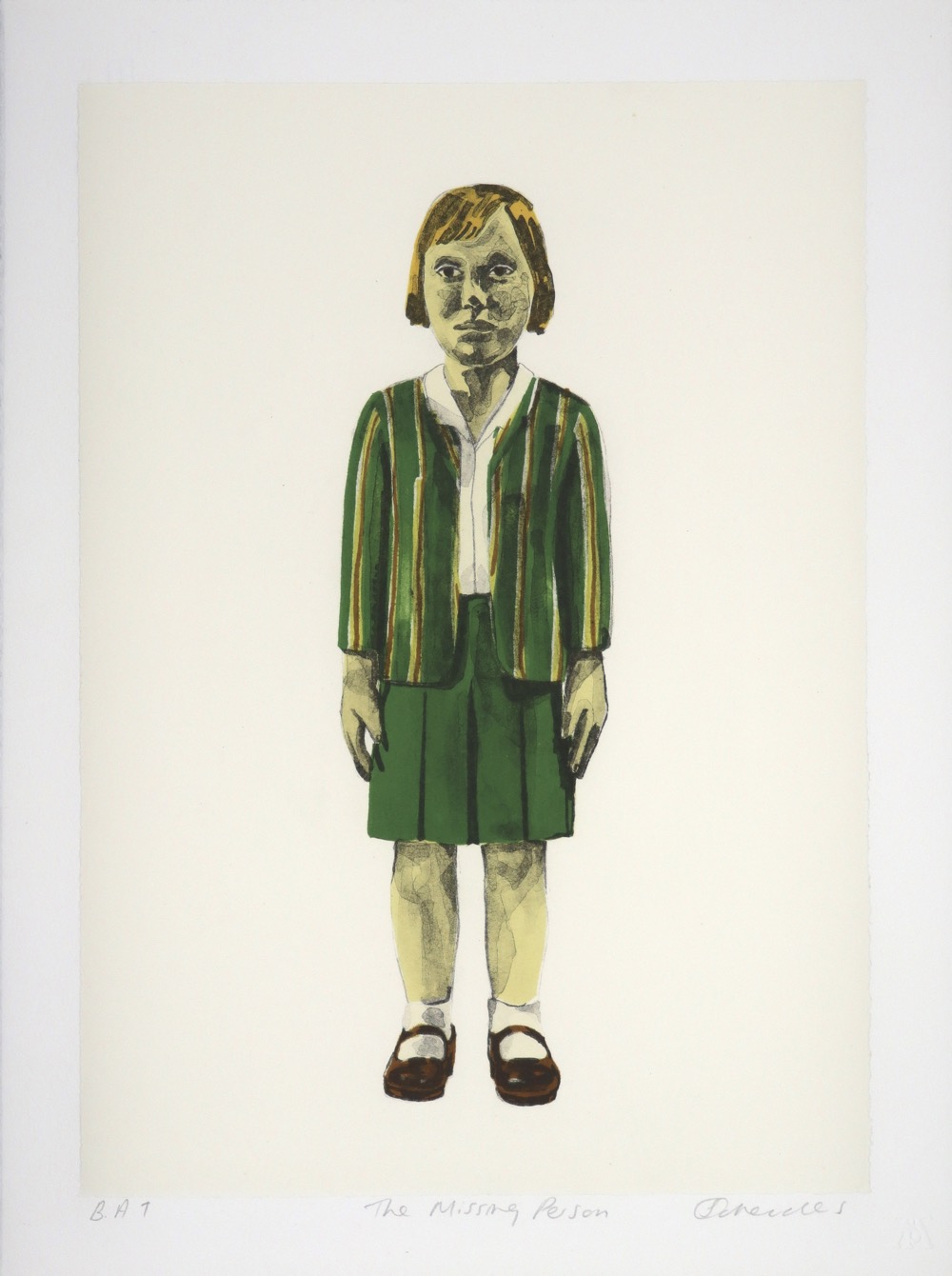 Title: The Missing Person
Edition size: 35
Paper size: 38 x 50 cm
Image size: 31 x 43 cm
Medium: Five colour, chine collé lithograph
Date: 2007
Title: Lady Luck
Medium: Six colour chine collé lithograph
Edition size: 35
Size: 38 x 28 cm
Date: 2007
Title: 1970
Medium: Seven colour chine collé lithograph
Edition size: 35
Size: 38 x 28 cm
Date: 2007
Title: The Three Sisters
Medium: Six colour chine collé lithograph
Edition size: 35
Size: 28 x 38 cm
Date: 2007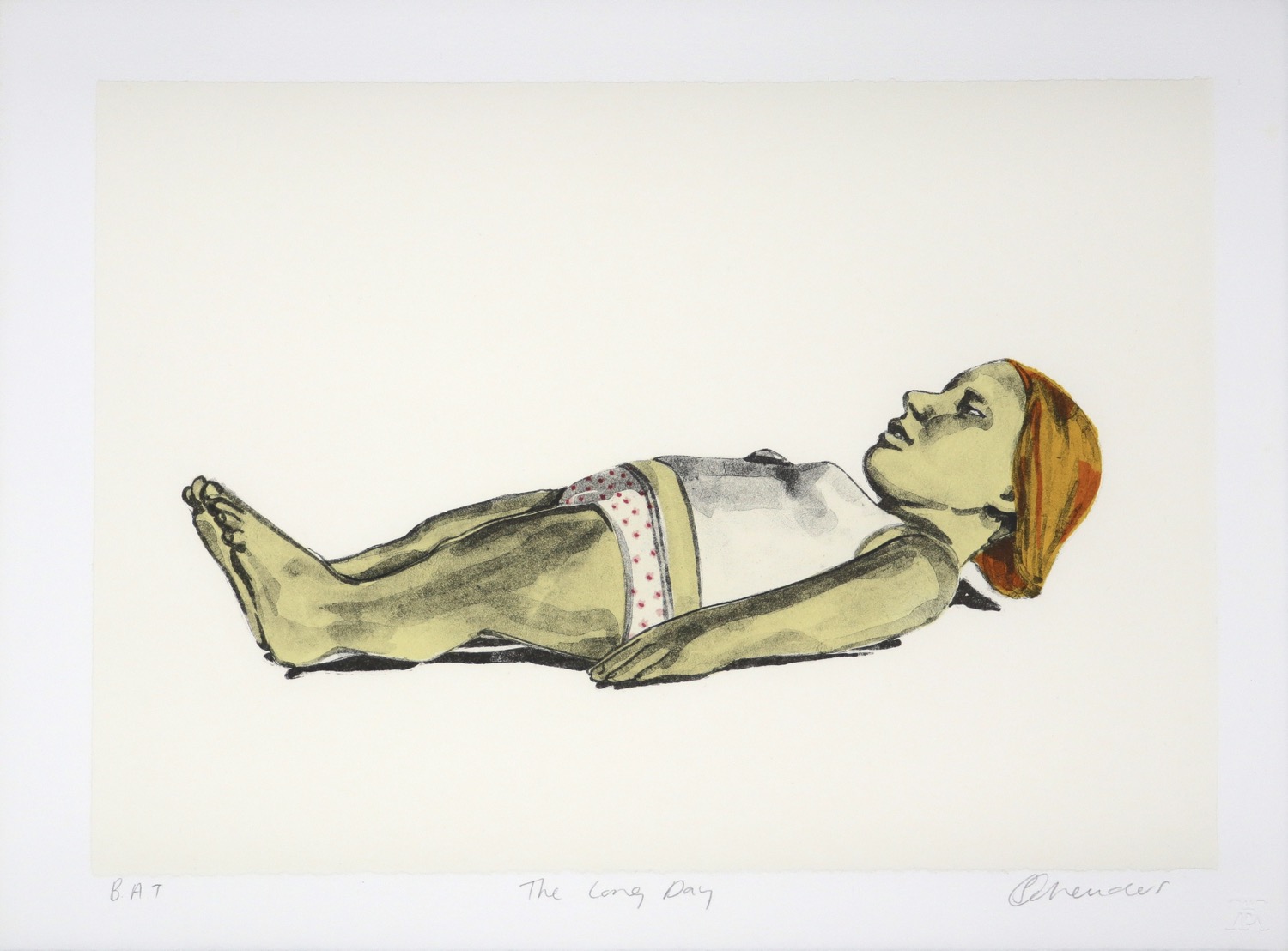 Title: The Long Day
Medium: Five colour chine collé lithograph
Edition size: 35
Size: 28 x 88 cm
Date: 2007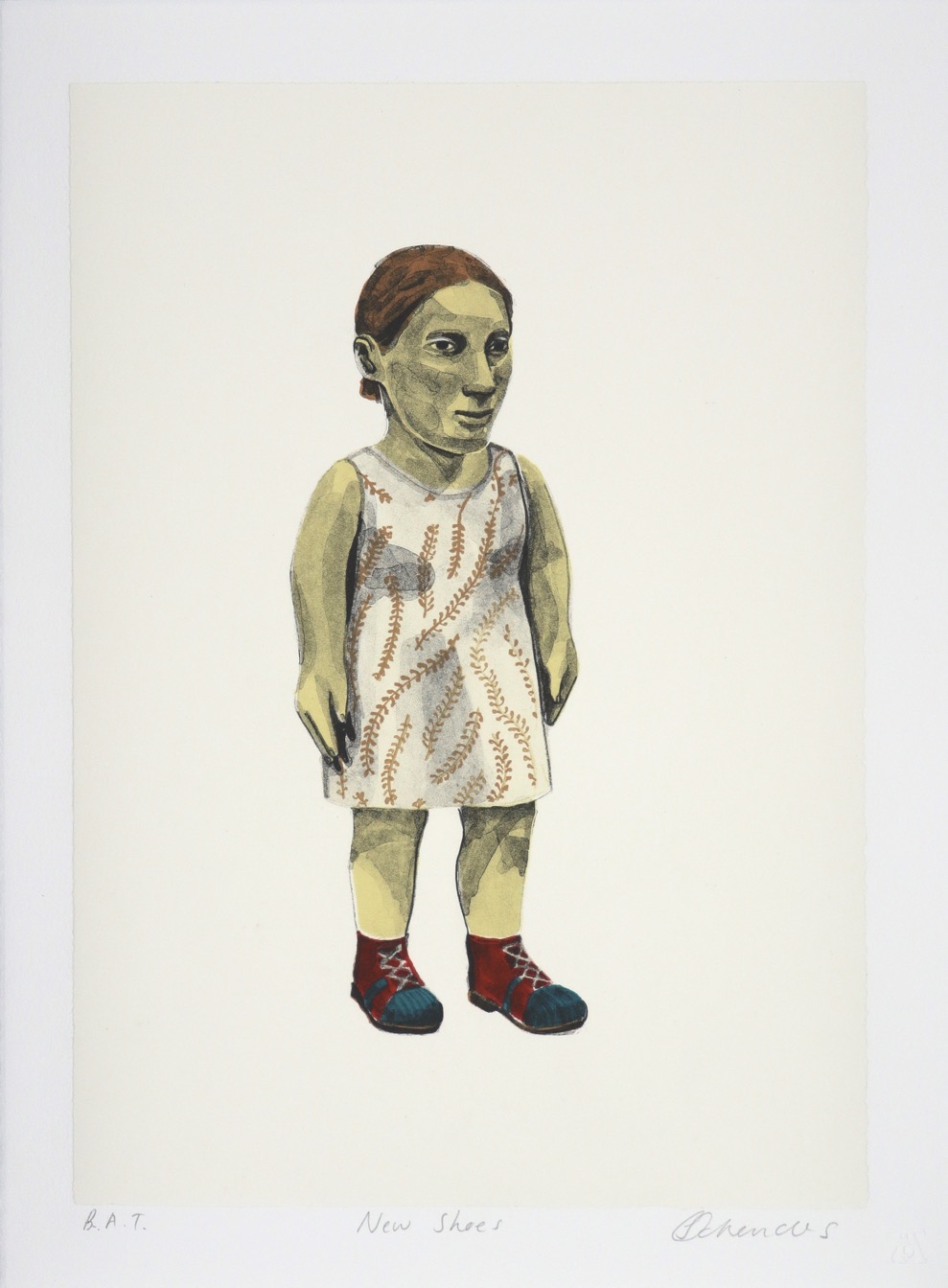 Title: New Shoes
Medium: Seven colour chine collé lithograph
Edition size: 35
Size: 38 x 28 cm
Date: 2007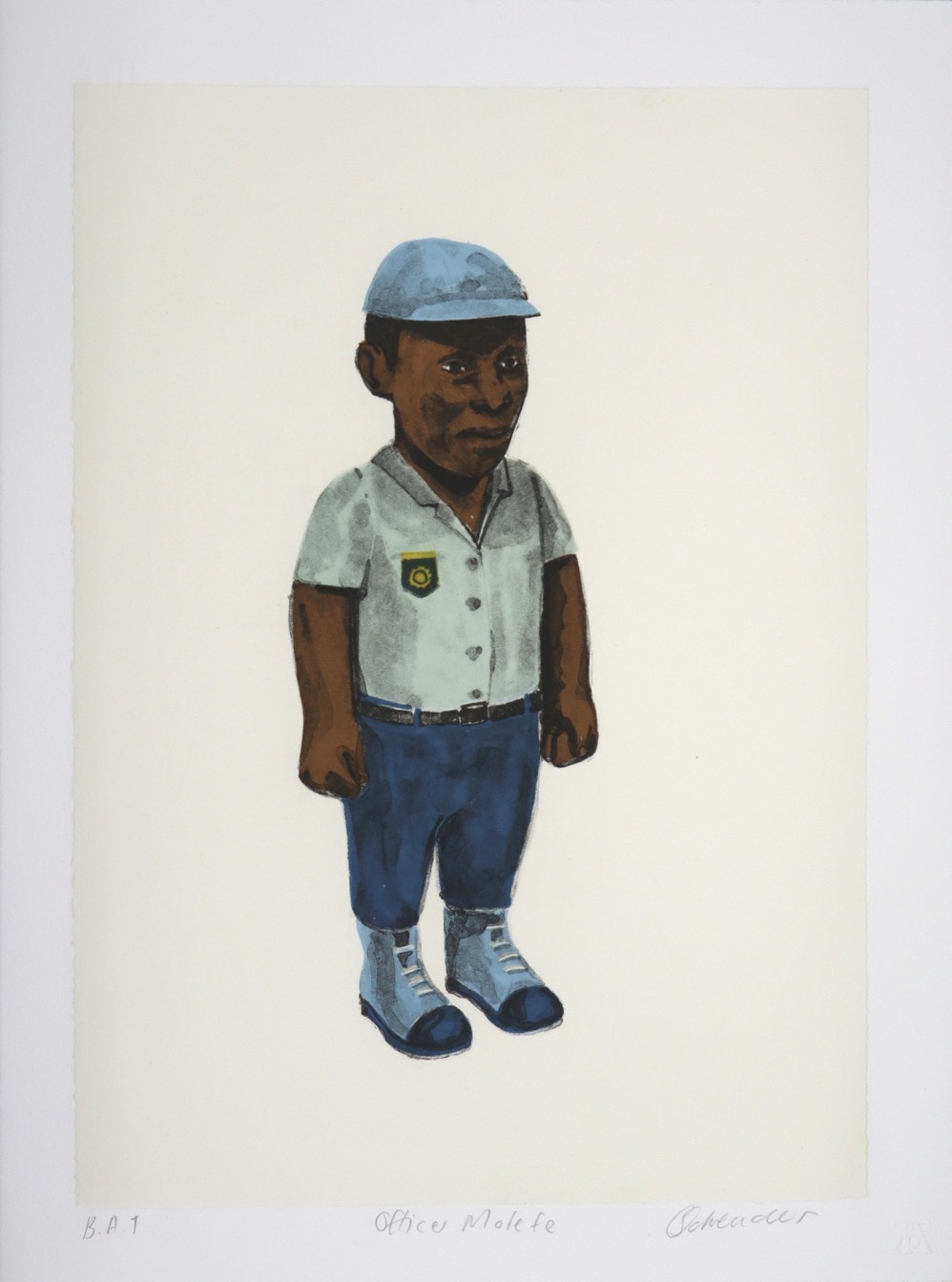 Title: Officer Molefe
Edition size: 35
Paper size: 38 x 28.5 cm
Image size: 33 x 23.4 cm
Medium: Seven colour, chine collé lithograph
Date: 2007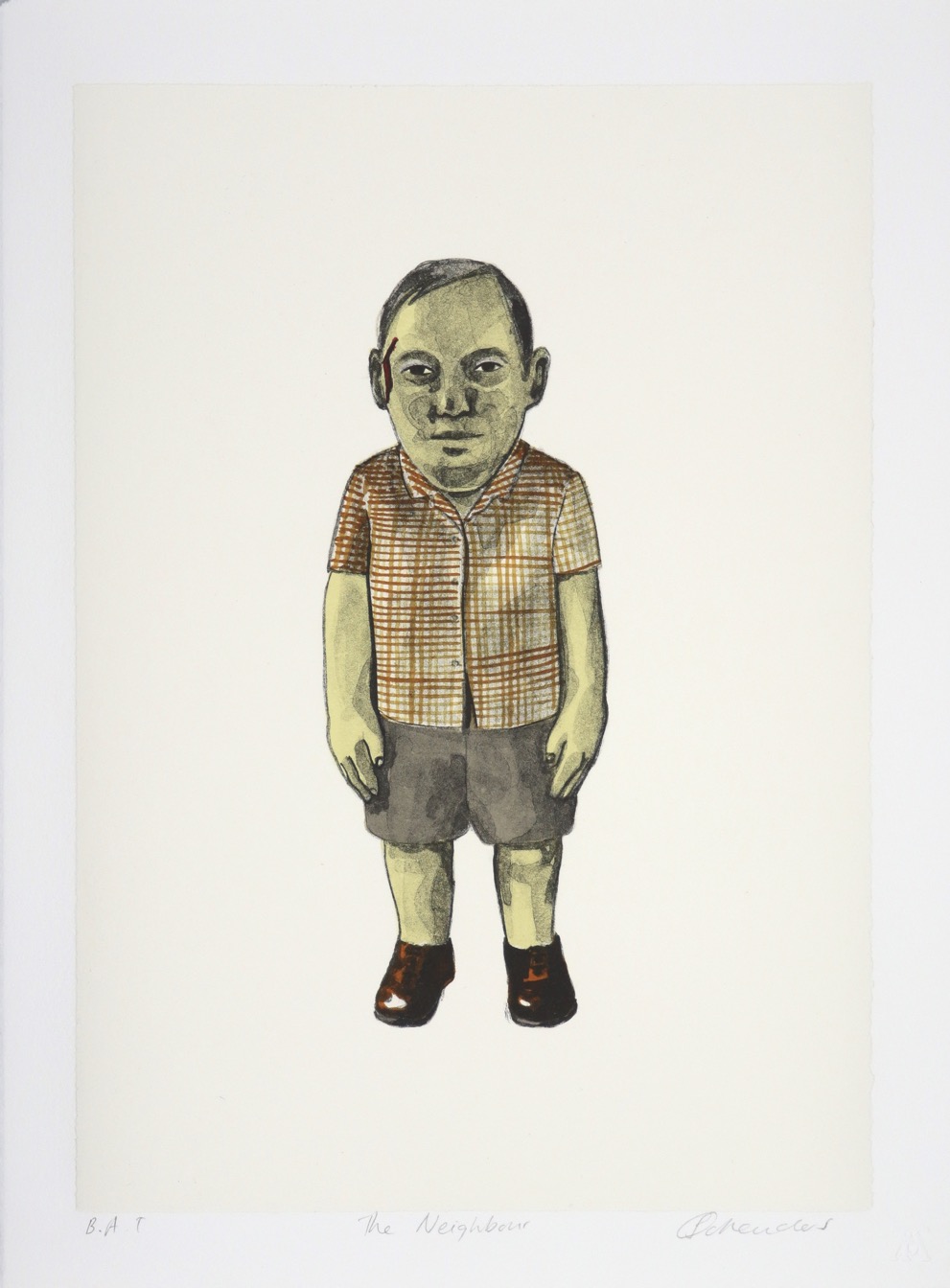 Title: The Neighbour
Edition size: 35
Medium: Six colour, chine collé lithograph
Paper size: 38 x 28.5 cm
Image size: 33 x 23.4 cm
Date: 2006
Title: The Couple
Medium: Hand coloured chine collé lithograph
Size:38 x 28 cm
Date: 2005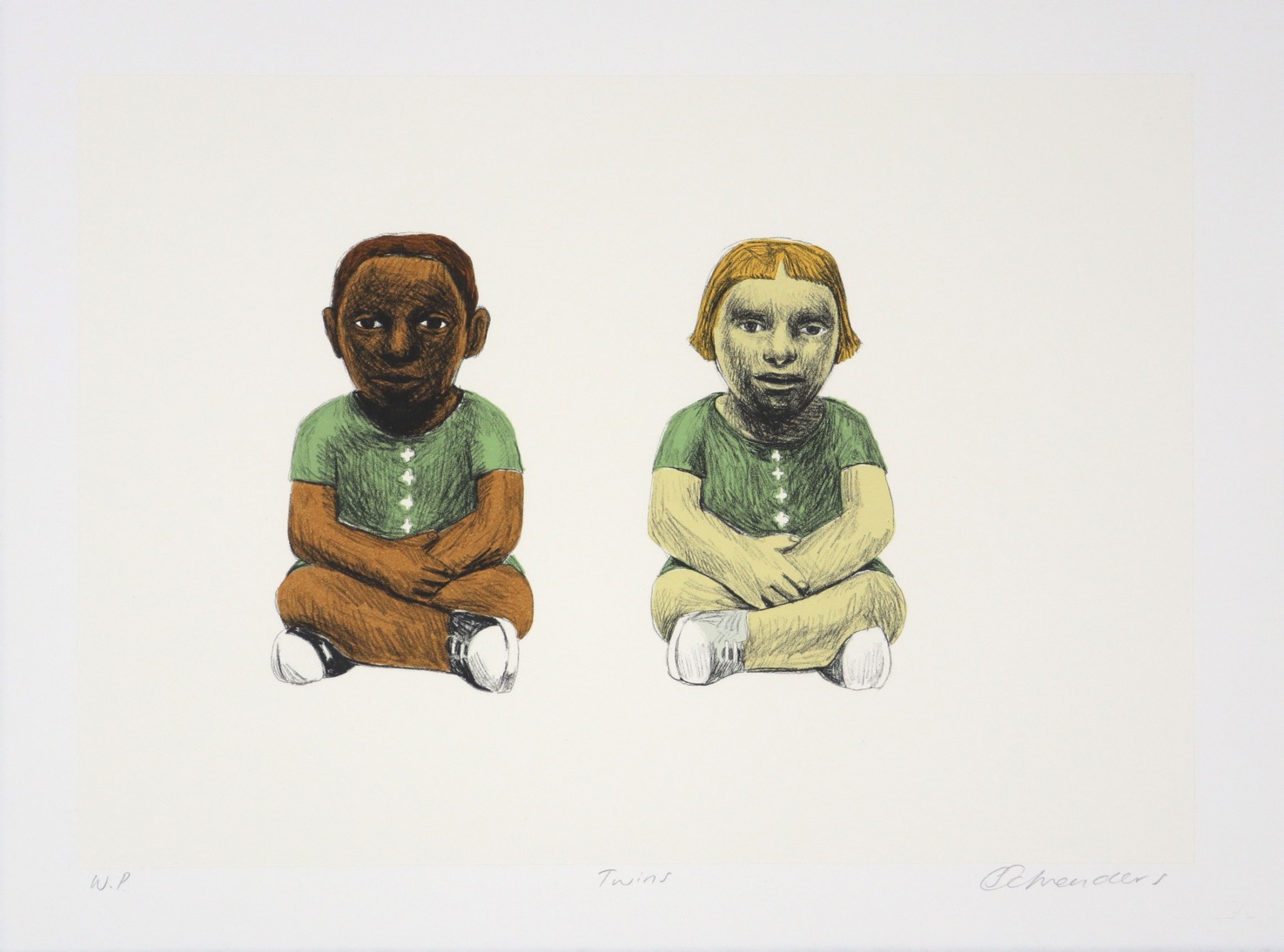 Title: Twins
Medium: Six colour chine collé lithograph
Edition size: 45
Size: 28 x 38 cm
Date: 2005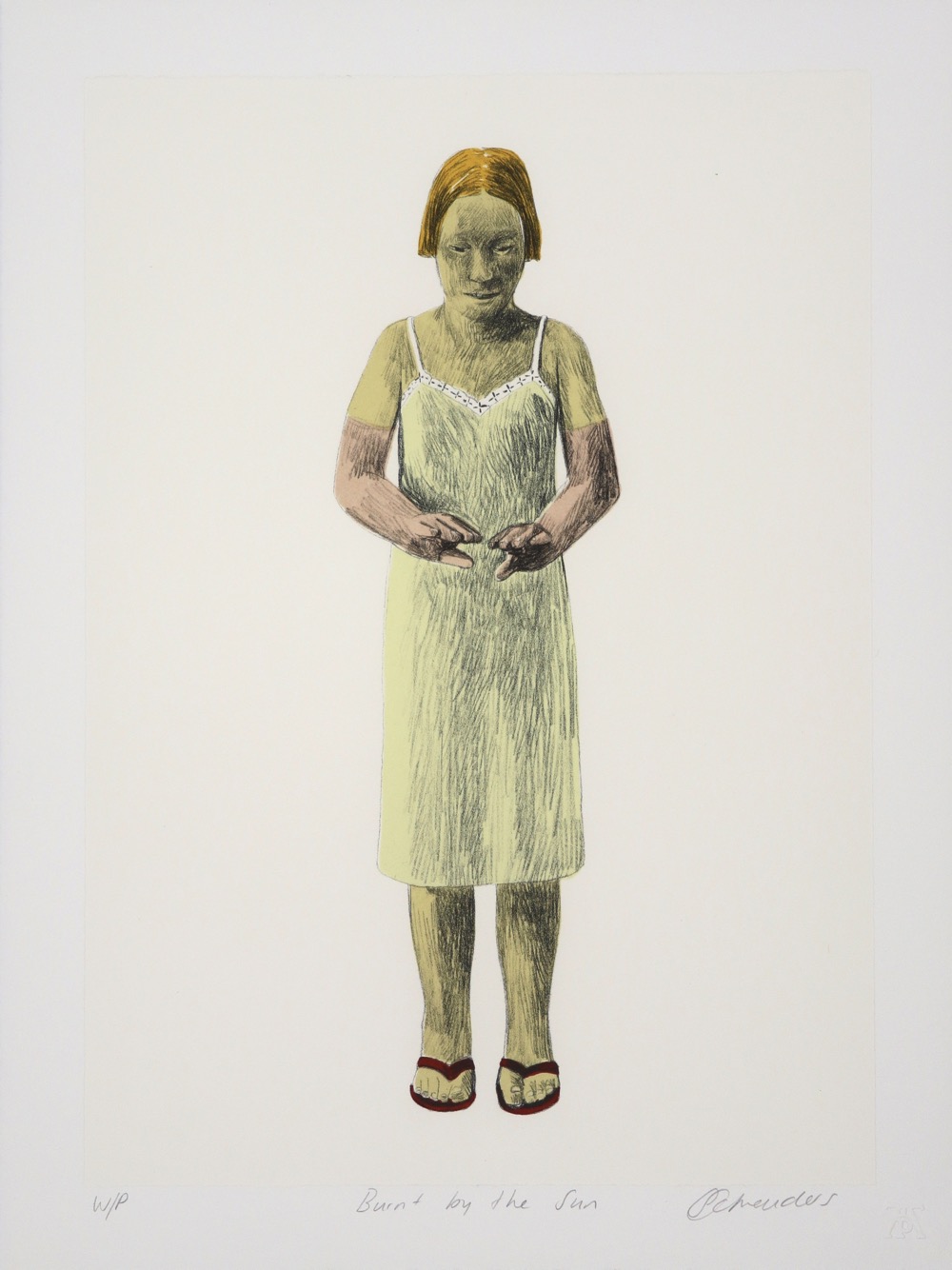 Title: Burnt by the Sun
Medium: Six colour chine collé lithograph
Edition size: 45
Size: 38 x 28 cm
Date: 2005
Title: Conversation
Medium: Six colour chine collé lithograph
Edition size: 45
Size: 28 x 38 cm
Date: 2005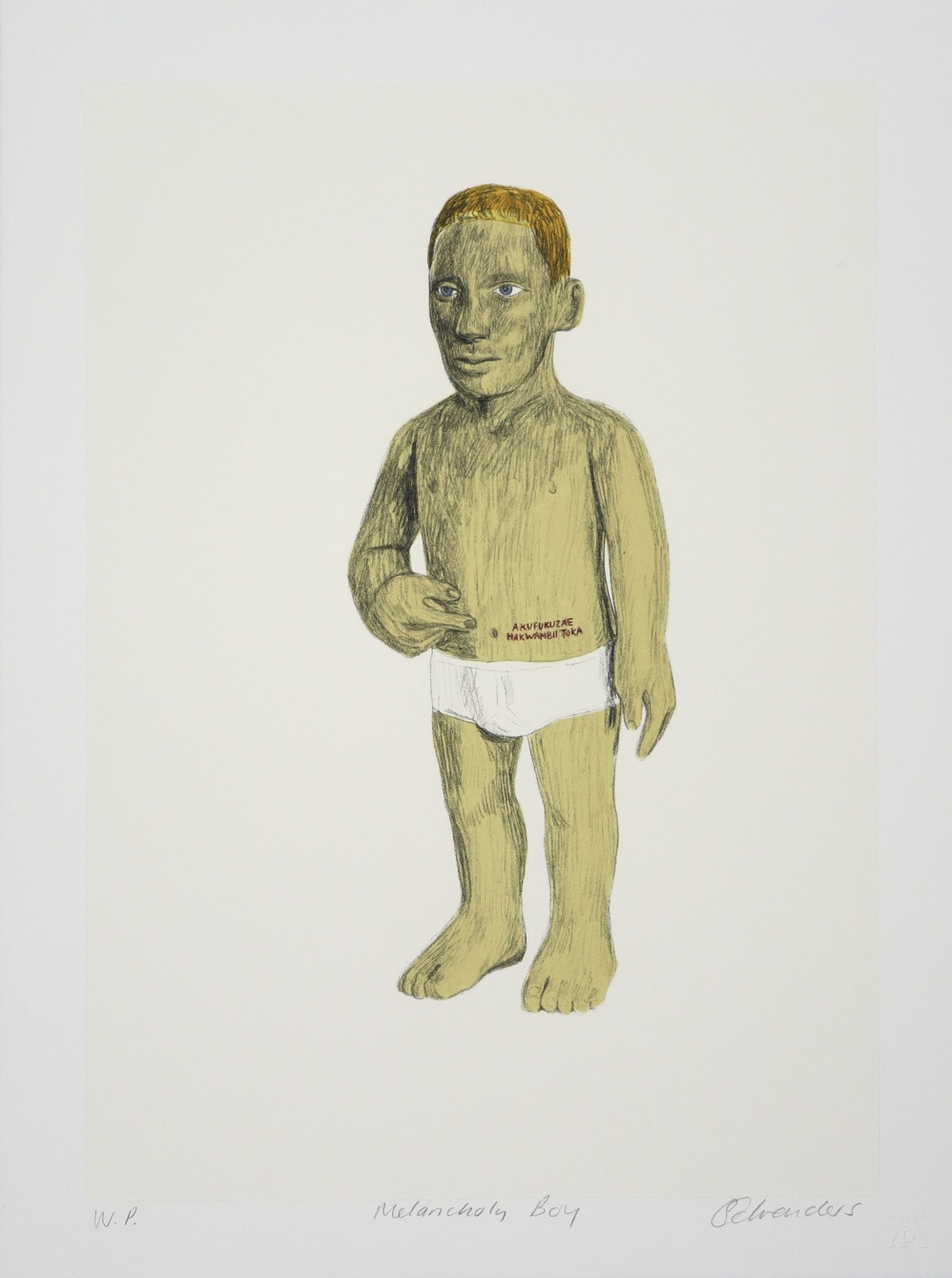 Title: Melancholy Boy
Medium: Five colour chine collé lithograph
Edition size: 45
Size: 38 x 28 cm
Date: 2005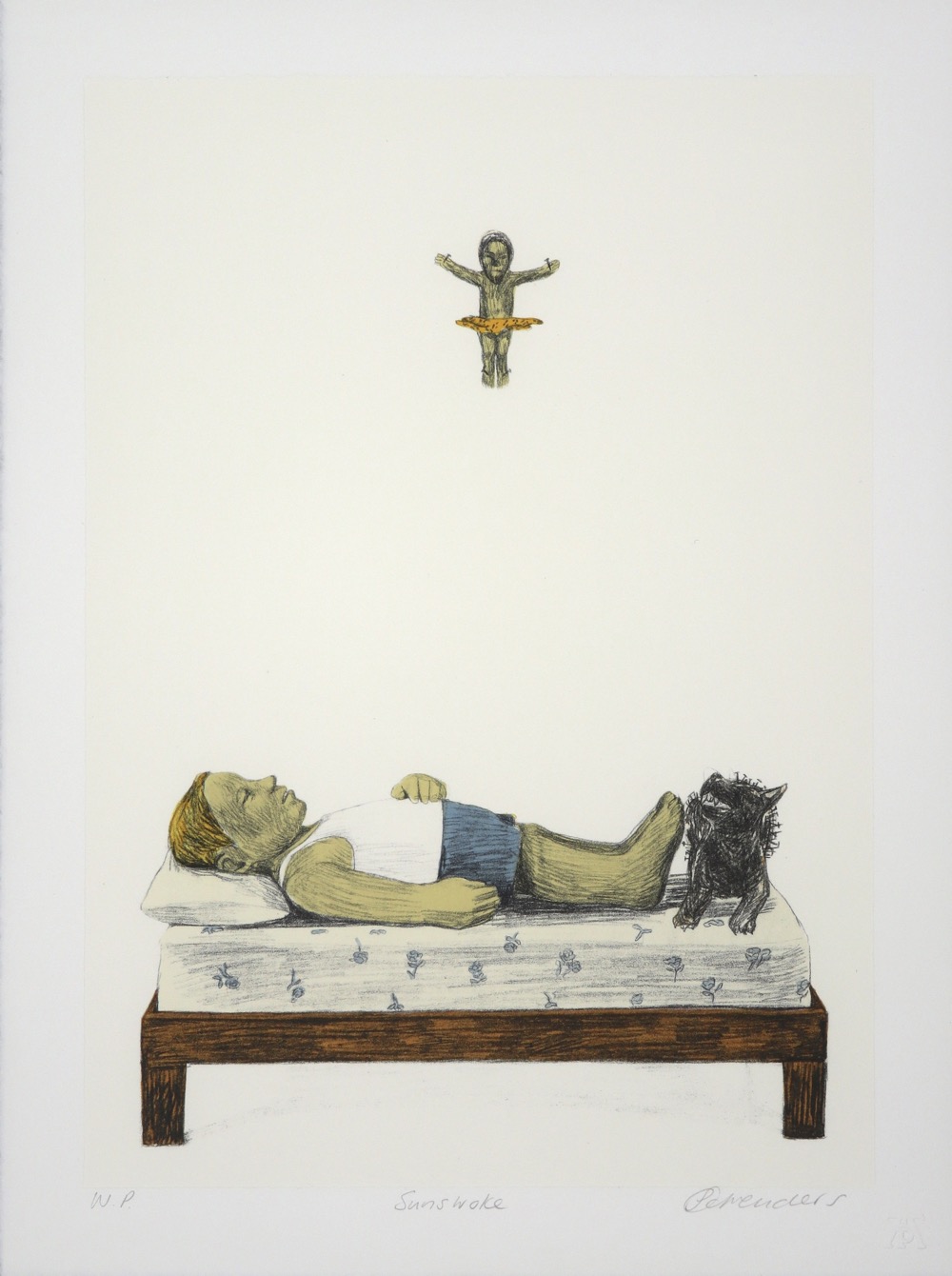 Title: Sunstroke
Medium: Six colour chine collé lithograph
Edition size: 45
Size: 38 x 28 cm
Date: 2005
Title: Mingle
Medium: Six colour chine collé lithograph
Edition size: 45
Size: 38 x 28 cm
Date: 2005
Title: Owner of two swimsuits
Medium: Five colour chine collé lithograph
Edition size: 45
Size: 38 x 28 cm
Date: 2005
Title: Love Story
Edition size: 45
Paper size: 38 x 28.5 cm
Medium: Six colour, chine collé lithograph
Date: 2005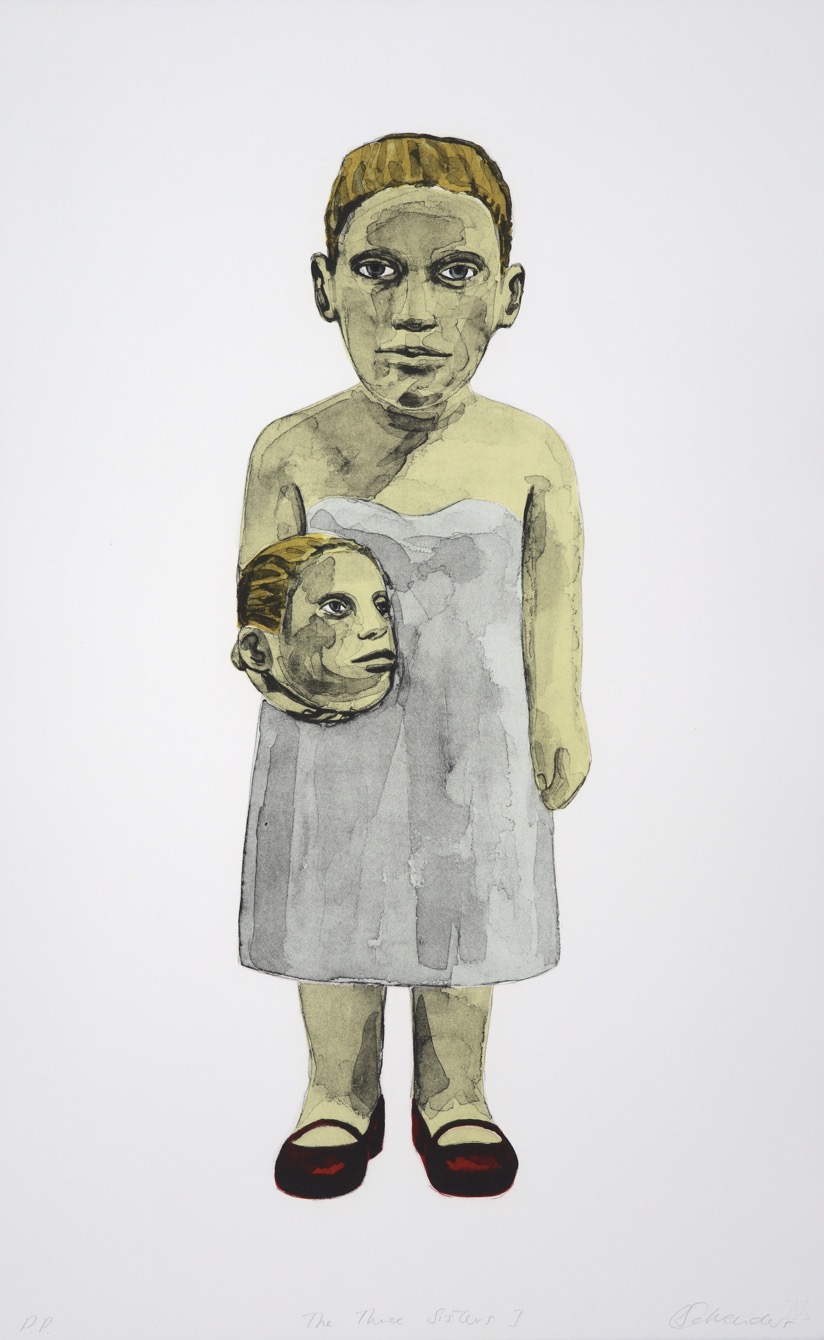 Title: The Three Sisters I
Medium: Five colour lithograph
Edition size: 45
Size: 66 x 41 cm
Date: 2005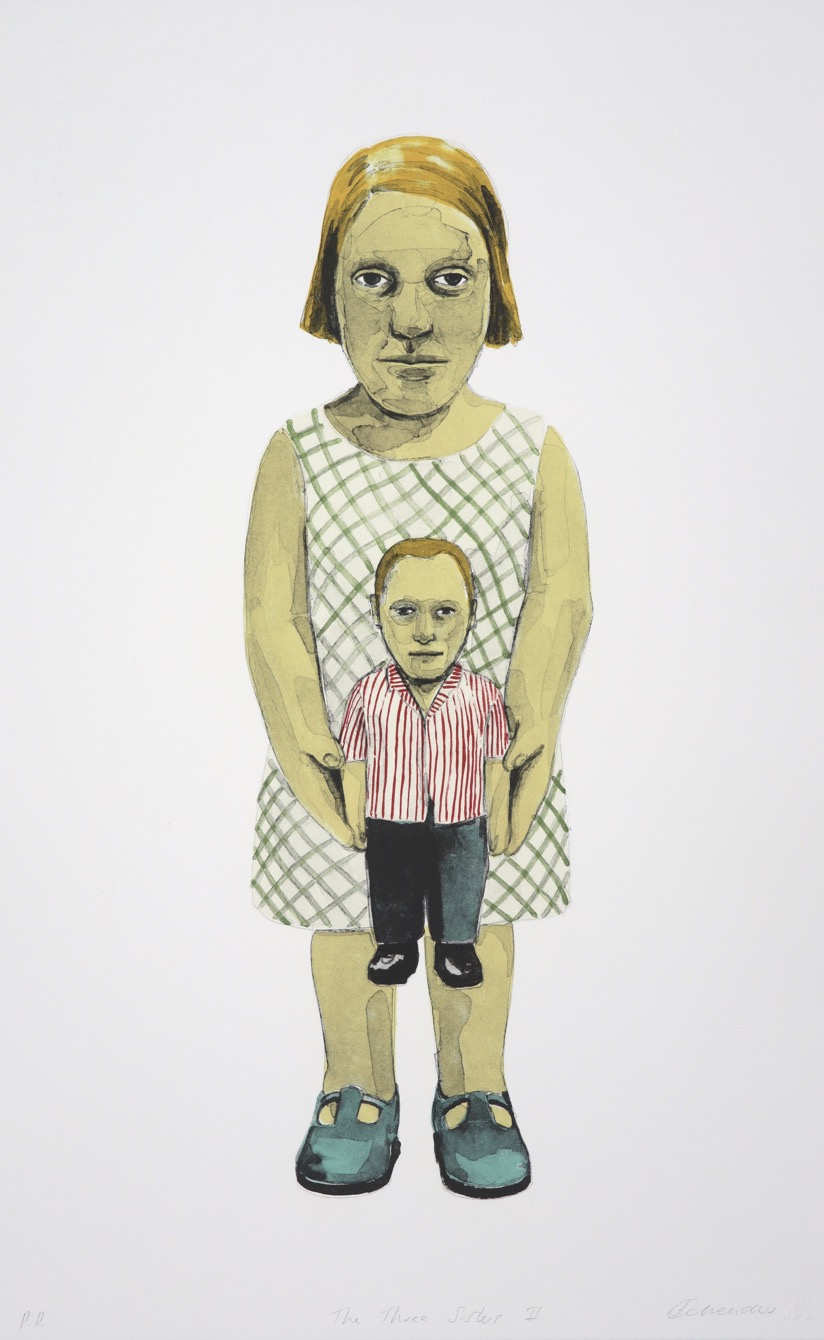 Title: The Three Sisters II
Medium: Five colour lithograph
Edition size: 45
Size: 66 x 41 cm
Date: 2005
Title: The Three Sisters III
Medium: Six colour lithograph
Edition size: 45
Size: 66 x 41 cm
Date: 2005
Title: The Writer
Medium: Five colour chine collé lithograph
Edition size: 30
Size: 38 x 28 cm
Date: 2003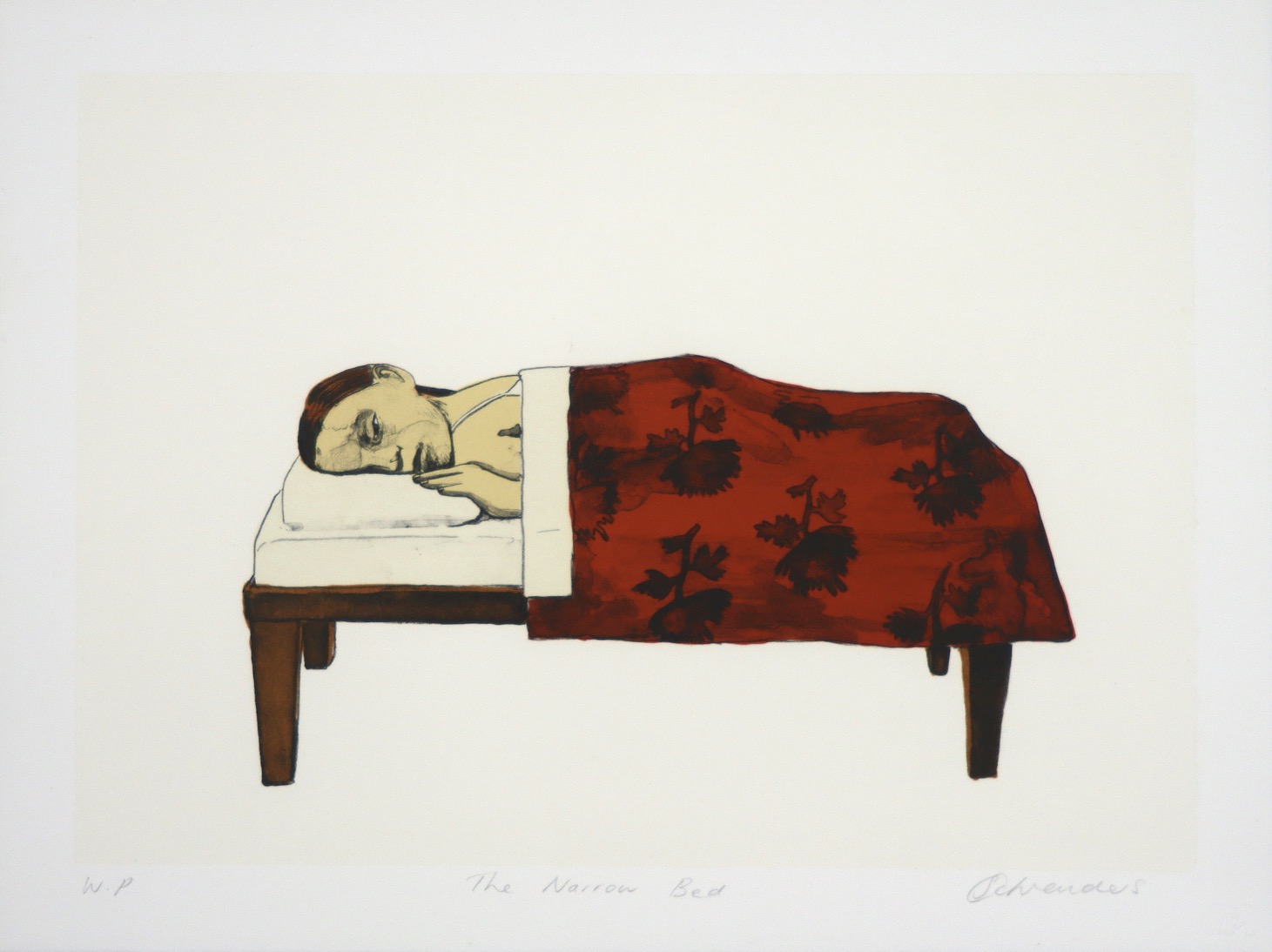 Title: The Narrow Bed
Medium: Five colour chine collé lithograph
Edition size: 30
Size: 38 x 28 cm
Date: 2003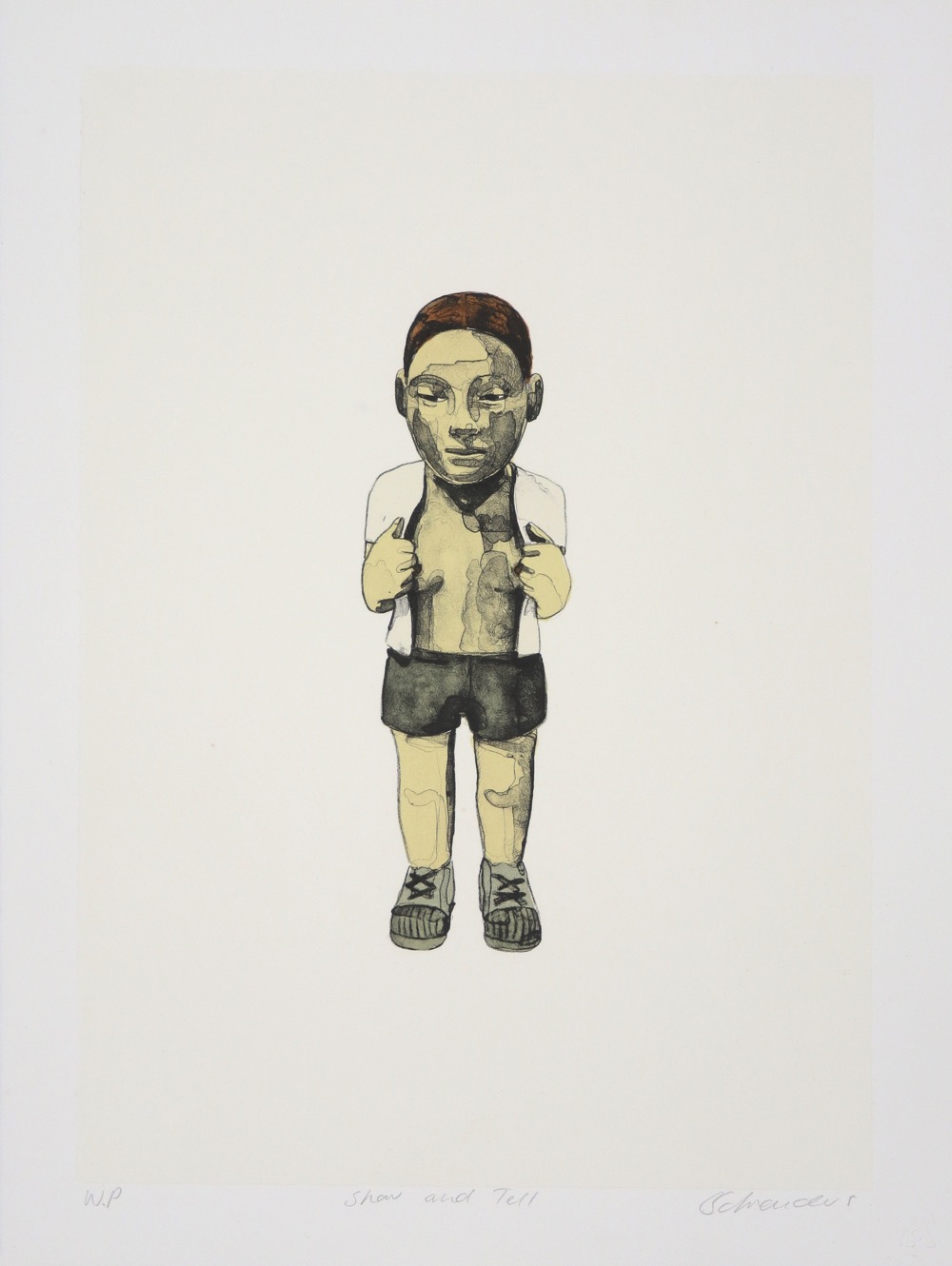 Title: Show and Tell
Medium: Five colour chine collé lithograph
Edition size: 30
Size:38 x 28 cm
Date: 2003
Title:The Lover
Medium: Five colour chine collé lithograph
Edition size: 30
Size: 38 x 28 cm
Date: 2003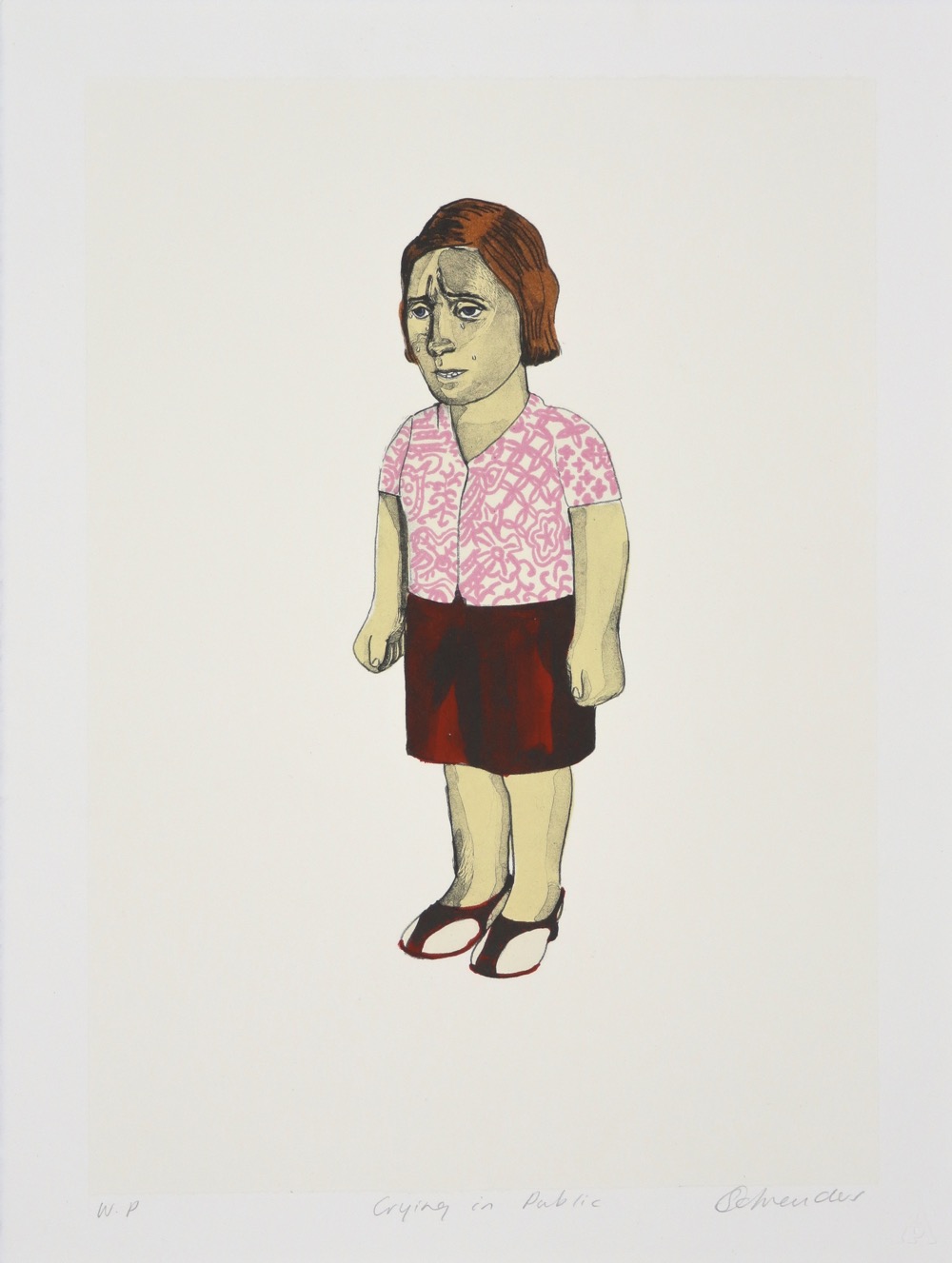 Title: Crying in Public
Medium: Six colour chine collé lithograph
Edition size: 30
Size: 38 x 28 cm
Date: 2003
Title: Baba
Medium: Two colour chine collé lithograph
Edition size: 30
Size: 28 x 38 cm
Date: 2003
Title: The Three Sisters and the Critic
Medium: Single colour chine collé lithograph
Edition size: 40
Size: 43 x 46 cm
Date: 2002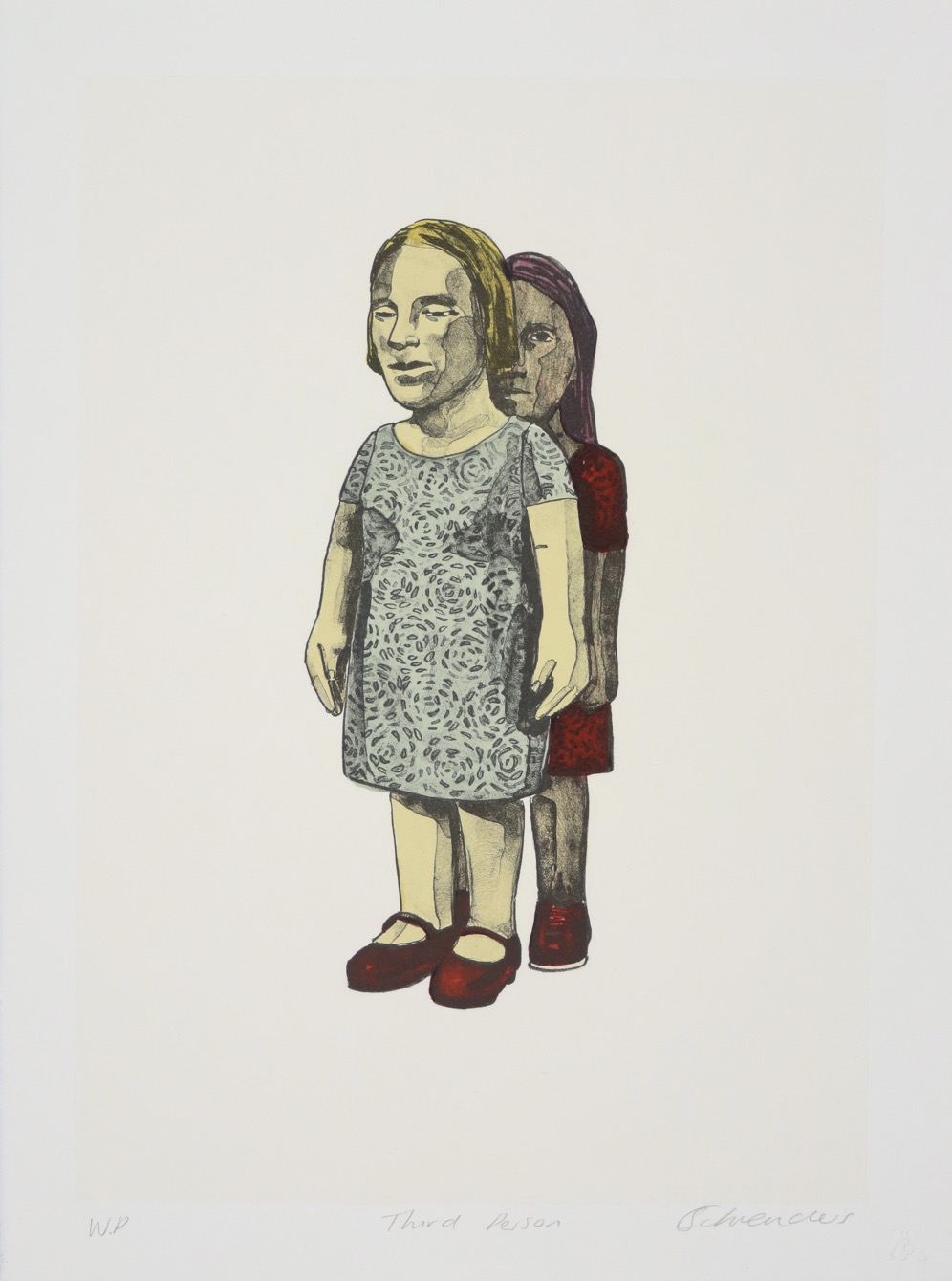 Title: Third Person
Medium: Five colour chine collé lithograph
Edition size: 30
Size: 38 x 28 cm
Date: 2002
Title: Love Story
Medium: Nine colour lithograph
Edition size: 40
Size: 76 x 56 cm
Date: 2002