Dumisani Mabaso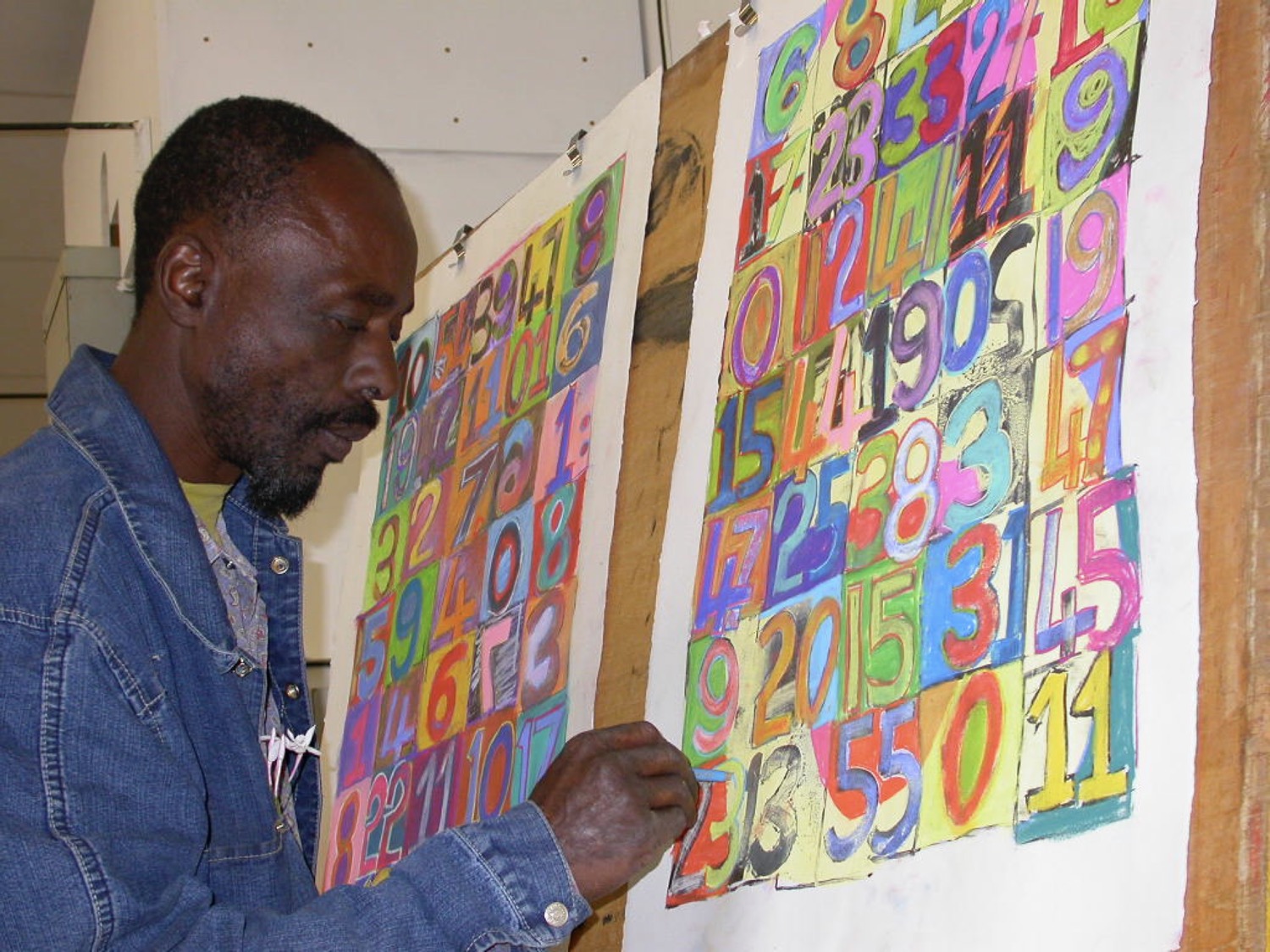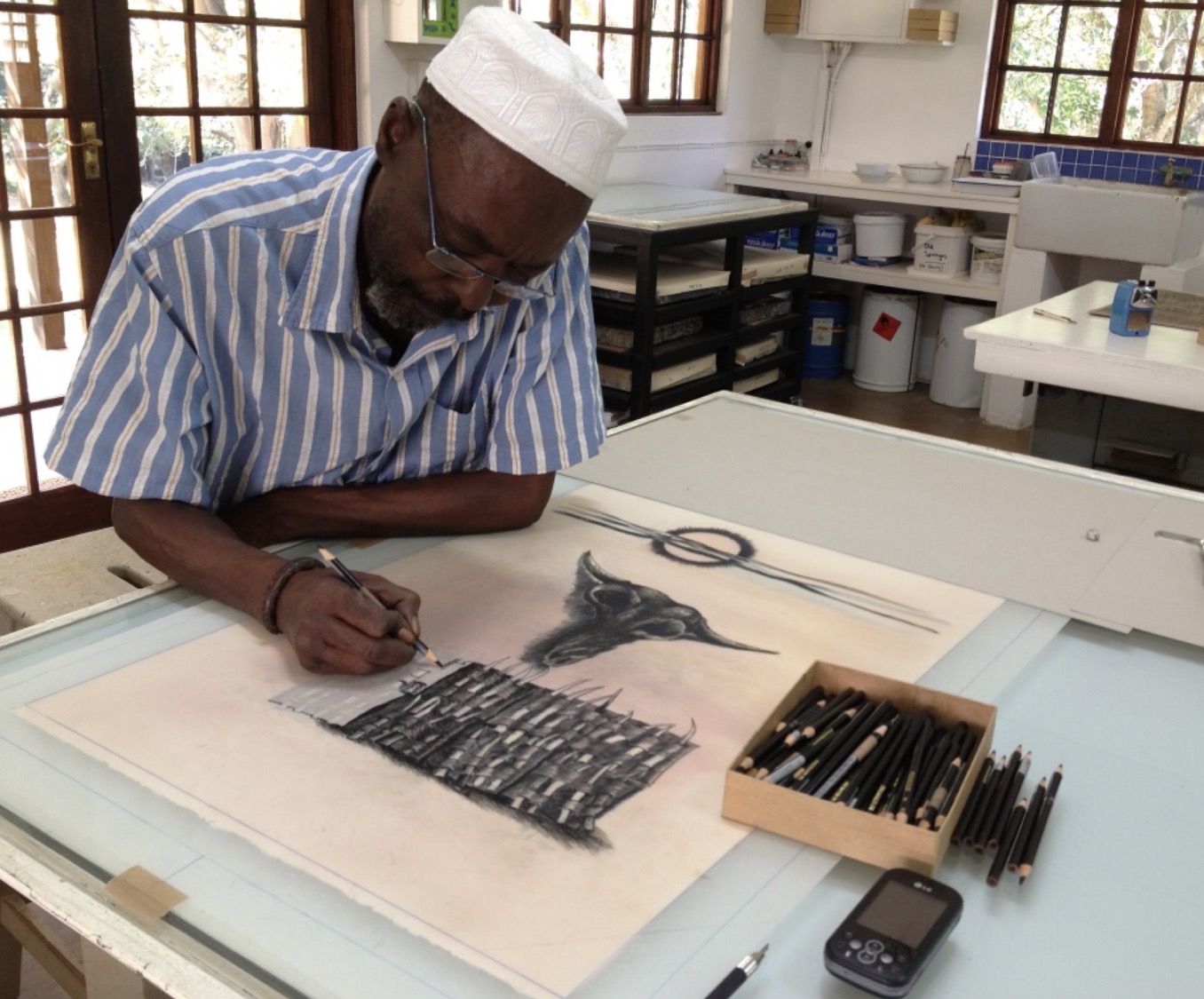 Dumisani Mabaso was a painter and printmaker. Mabaso was involved with printmaking for over two decades in South Africa and established The Sguzu Printmaker's Workshop in Johannesburg. Mabaso's father, a commercial printer, introduced his son to the world of printing presses, paper and ink at a young age. Mabaso took a turn away from the commercial world of printing and began exploring the possibilities of original prints during his time studying at Rorke's Drift.

In the first series of lithographs produced at The Artists' Press in 2002, Dumisani Mabaso worked in an abstract way, which related very closely to his painting and intaglio printmaking. Mabaso was a master of manipulating his materials and printing techniques to get maximum effect out of them. His mastery was an exciting challenge for those that collaborated with him. Mabaso was a gifted teacher and inspired many of today's up and coming artists such as Colbert Mashile.

New Editions

A beautifully written tribute to Dumisani Mabaso

Artists A - L

Artists M - X
For orders (with free shipping) or any other enquiries, click here
Shrines

(To see the prints scroll down to bottom of the text)
Dumisani Mabaso's most recent and last lithographs focus on shrines. The earthy colours that he used reflect the warm colours of African soil and tie in with the conceptual content of the work. Shrines are how we remember and celebrate people, gods and places. From the memorials on the sides of the roads where accident victims are commemorated to elaborate sculptures at specific sites, the need to place objects or record special sites is a universal one. It is poignant that these are the last lithographs that Mabaso ever did. Dumisani Mabaso died in September 2013 after being ill for many years.

Mark Attwood, who collaborated with Mabaso on these prints writes "I have been lucky enough to work with Dumi a number of times over a period of thirty years, first in Broederstroom and later in Newtown and more recently at my studio The Artists' Press in Mpumalanga. Dumi's father like mine was a commercial printer and Dumi is the only artist that I have collaborated with who has shared a childhood supported by printing". We will miss Dumisani Mabaso's gentle presence in the studio and his fine drawing abilities and sense of colour.

In Livestock Shrine Mabaso pays homage to cattle and the central role that they play in rural African life. Cattle are a sign of wealth and well being, they are central to many customs and rituals. Bride price or lobola is often made using cattle and cows are slaughtered for weddings and funerals. The beauty of Nguni cattle has become synonymous with the beauty of rural landscapes. In this print, Mabaso has made a protective fence or screen out of wooden stakes and leather. Traditionally the fence would protect the cattle from predators at night and the fenced in area or kraal also became an important site for burial and ritual. Mabaso refers to cattle via the quills in the pot and the horns on the body of the pot. The images in the print become a visual offering to cattle. Reference is also made to talismans and protective charms which help to ensure the health and abundance of the herd and their owners. The sun image runs through all of the prints and for Mabaso is a symbol of life.

Queen Modjadji's Shrine celebrates South Africa's rain queen. The Modjadji or Rain Queen is the hereditary queen of Balobedu, a people of the Limpopo Province of South Africa. The succession to the position of Rain Queen is matrilineal, meaning that the Queen's eldest daughter is the heir and that males are not entitled to inherit the throne at all. The Rain Queen is believed to have special powers, including the ability to control the clouds and rainfall. Currently, there is no ruling Rain Queen as the previous Rain Queen died on 12 June 2005 and her daughter is still a child. Mabaso has created an apron for the queen, cool blues in some of the tassels echoing rain falling across a parched African landscape. This image also recalls rock paintings found in Southern Africa that depict good rains. Soft gentle life bringing rains are associated with female energy in Southern Africa. The lines in front of the sun recall mists rising from fertile valleys, a common sight after the rains have drenched the subtropical mountains surrounding the Queen's homestead.

Queen Nandi's Shrine honours King Shaka's mother. Shaka was the leader who united and founded the Zulu nation with his tactical brilliance and harsh discipline. Queen Nandi was ostracised by Shaka's fathers' tribe, his father was a prince and Shaka was conceived out of wedlock. She was a fiercely independent woman and was very protective of her son. She remained close to her son and was by his side as he became one of the most powerful leaders of his time. The harp in the center of the print recalls lyricism and calm sounds, attributes that are associated with maternal care. The claw and quill image over the sun is a talisman for protection.

In Shaka's Shrine Mabaso remembers the great Zulu leader but there is also a bleakness to the print. The black lines in front of the sun and soft radiating lines surrounding the sun contribute an air of melancholy. This is added to with the image of a cattle skull. When Shaka's mother, Nandi, died the Zulu leader lost his mind. In his grief, Shaka had hundreds of Zulus killed, and he outlawed the planting of crops and the use of milk for a year. All women found pregnant were murdered along with their husbands. He sent his army on an extensive military operation, and when they returned exhausted he immediately ordered them out again. It was the last straw for the lesser Zulu chiefs: On September 22, 1828, his half-brothers murdered Shaka. Dingane, one of the brothers, then became king of the Zulus.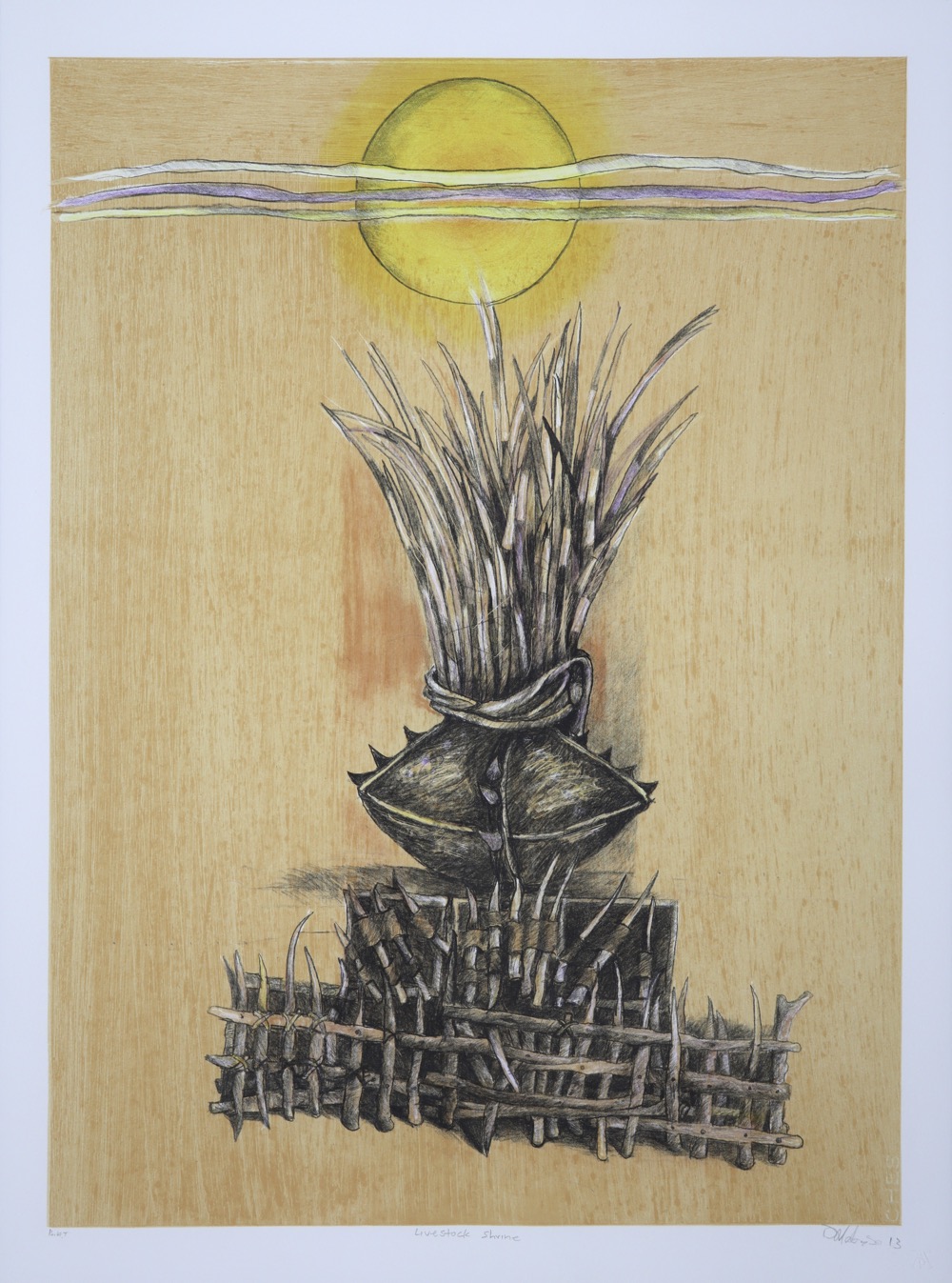 Title: Livestock Shrine
Medium: Seven colour lithograph
Paper size: 76.5 x 57 cm
Image size: 69 x 50.5 cm
Edition size: 30
Price: R 5 350 (excl.VAT)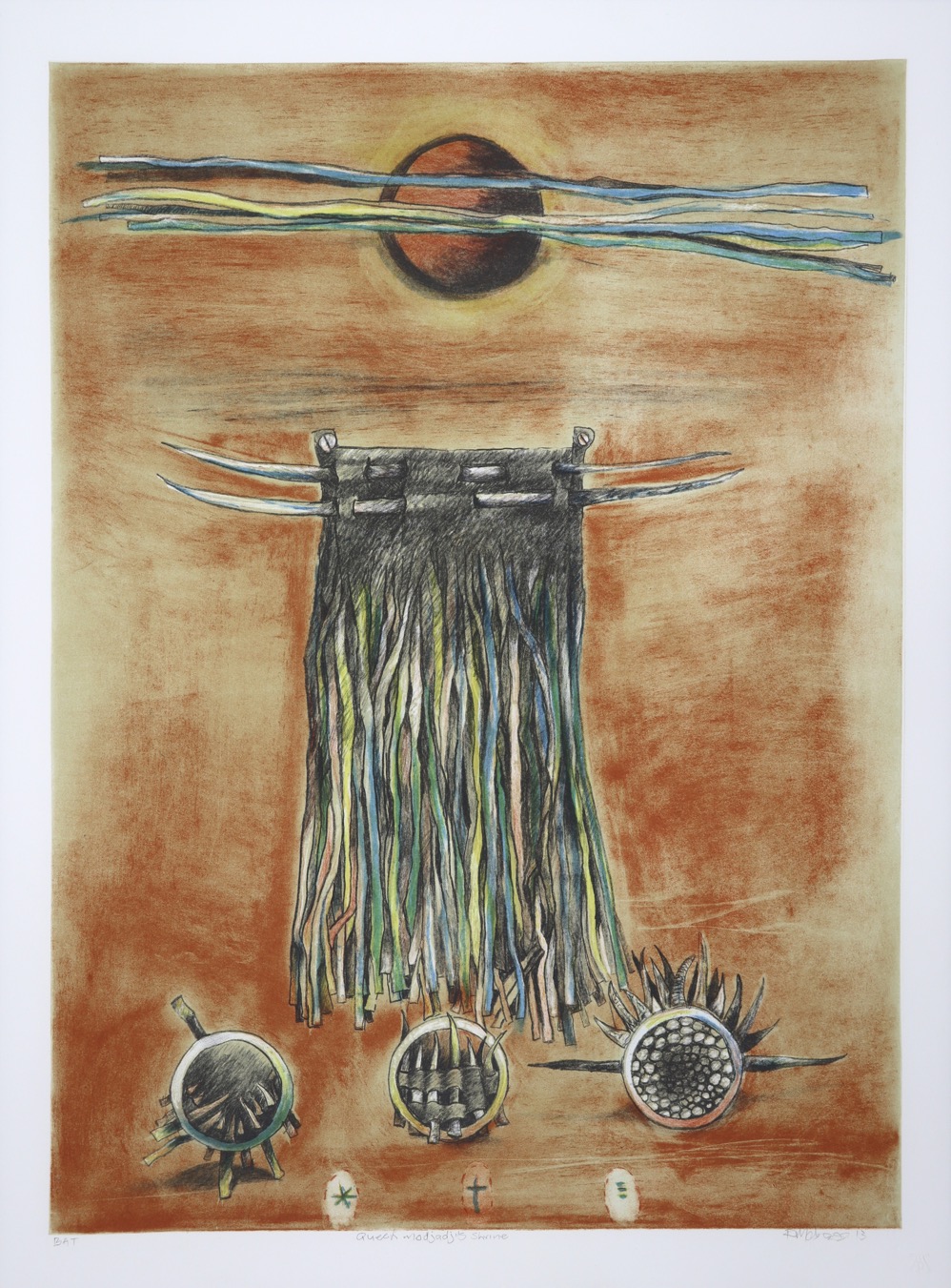 Title: Queen Modjadji's Shrine
Medium: Six colour lithograph
Paper size: 76.5 x 57cm
Image size: 69 x 50.5 cm
Edition size: 30
Price: R 5 350 (excl.VAT)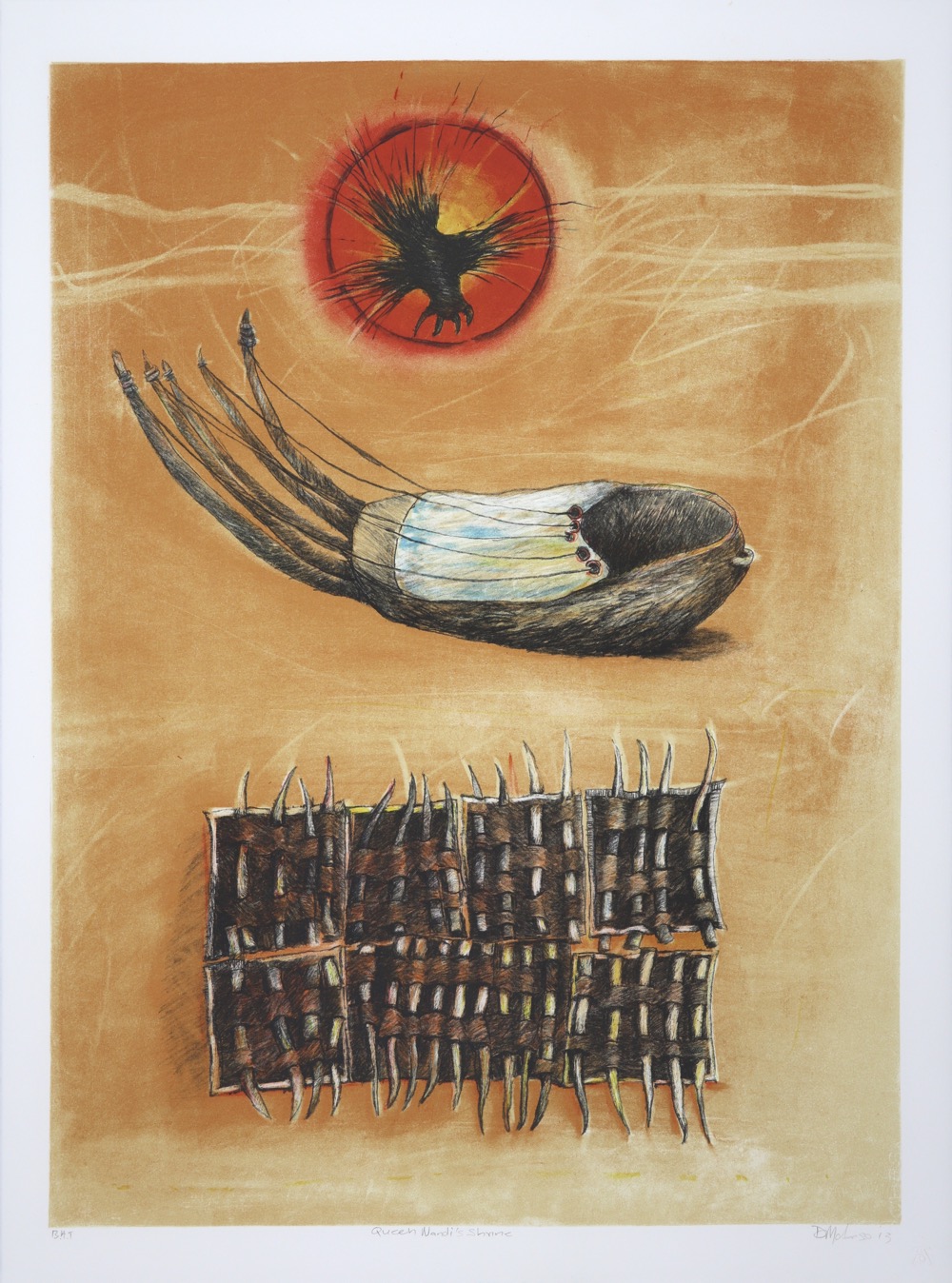 Title: Queen Nandi's Shrine
Medium: Eight colour lithograph
Paper size: 76.5 x 57 cm
Image size: 69 x 50.5 cm
Edition size: 30
Price: R 5 350 (excl.VAT)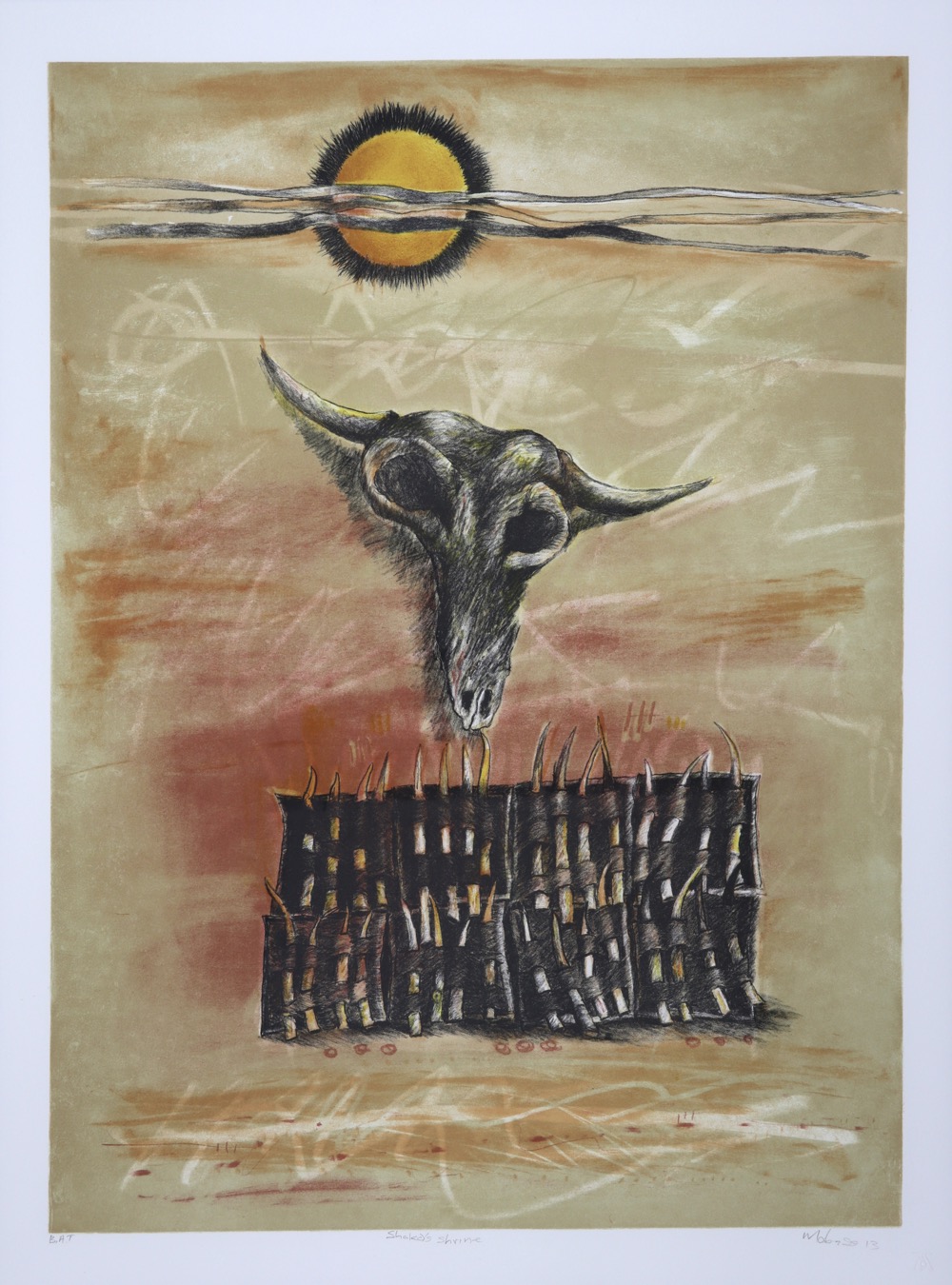 Title: Shaka's Shrine
Medium: Six colour lithograph
Paper size: 76.5 x 57 cm
Image size: 69 x 50.5 cm
Edition size: 30
Price: R 5 350 (excl.VAT)


When your number comes in...

Dumisani Mabaso began working on the When your number comes in…series of prints in the winter of 2004. He became very ill and was unable to finish the prints that year. In 2006, back in fine health, Mabaso returned to the studio and the collaboration was completed and the prints editioned. Mabaso has pushed the mixing of colours in lithography almost to its limit in this series of prints and shows off once again his fine understanding of the printing process and his ability to manipulate colour. Using the national lottery, Lotto, as his starting point Mabaso has created a series of prints that ask more questions than giving answers. Phrases that come to mind when looking at these prints are: "your number is up", "un/lucky number", "counting on winning/losing", "hitting the jackpot", "dead reckoning", "a thousand to one", "counting on something/someone", "count me in/out", and "out for the count".

The numbers like those in the Lotto are random and uncontrolled and yet they fit into a graphic order, supported by either a large one, two or three. These are philosophical questions but there is also the social side to the Lotto and how spending money on taking a chance has become a major drain on the finances of the poor in South Africa. Mabaso, who was no stranger to hard times, understood the allure of suddenly having all your financial problems solved when your number comes in.

The Lotto and those who win and lose it are a microcosm of how money and people work and the strong negative and positive aspects to either having or wishing for lots of cash. Take a chance on these prints….

Texture and pattern are an important part of the work that he created. Inspired by traditional African pottery and craft work, Dumisani Mabaso has woven the identity of Africa into his work. The tactile qualities of the lithographic drawing materials also play a role in determining the prints, with tusche, toner, crayon, rubbing, stenciling, gum stop-out and splattering all contributing to the energetic way in which the prints have been drawn.

Title: Lotto I
Medium: Ten colour lithograph
Paper size: 76.5 x 57 cm
Image size: 48 x 66 cm
Edition size: 50
Price: R 5 350 (excl.VAT)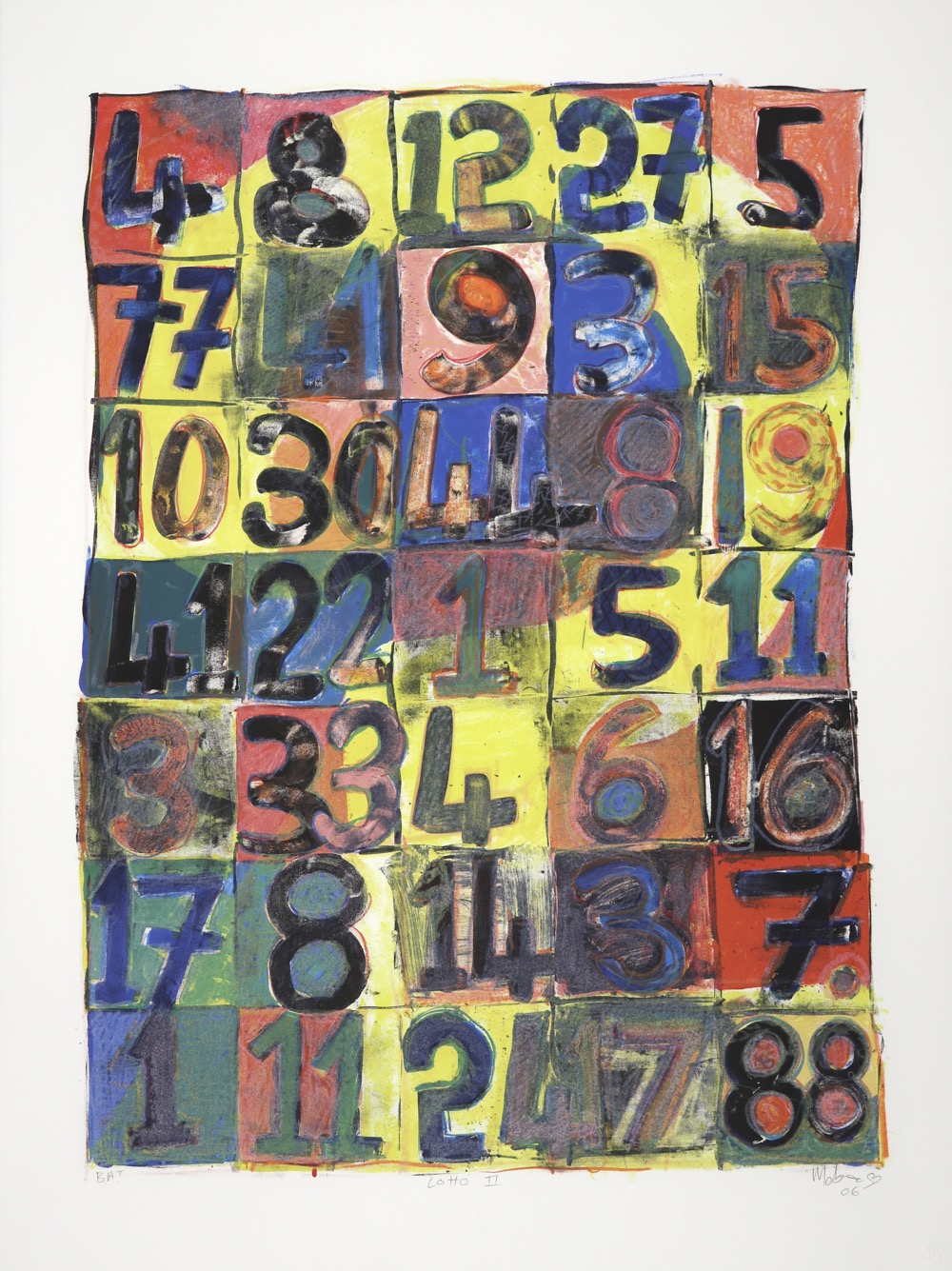 Title: Lotto II
Medium: Ten colour lithograph
Paper size: 76.5 x 57 cm
Image size: 48 x 66 cm
Edition size: 50
Price: R 5 350 (excl.VAT)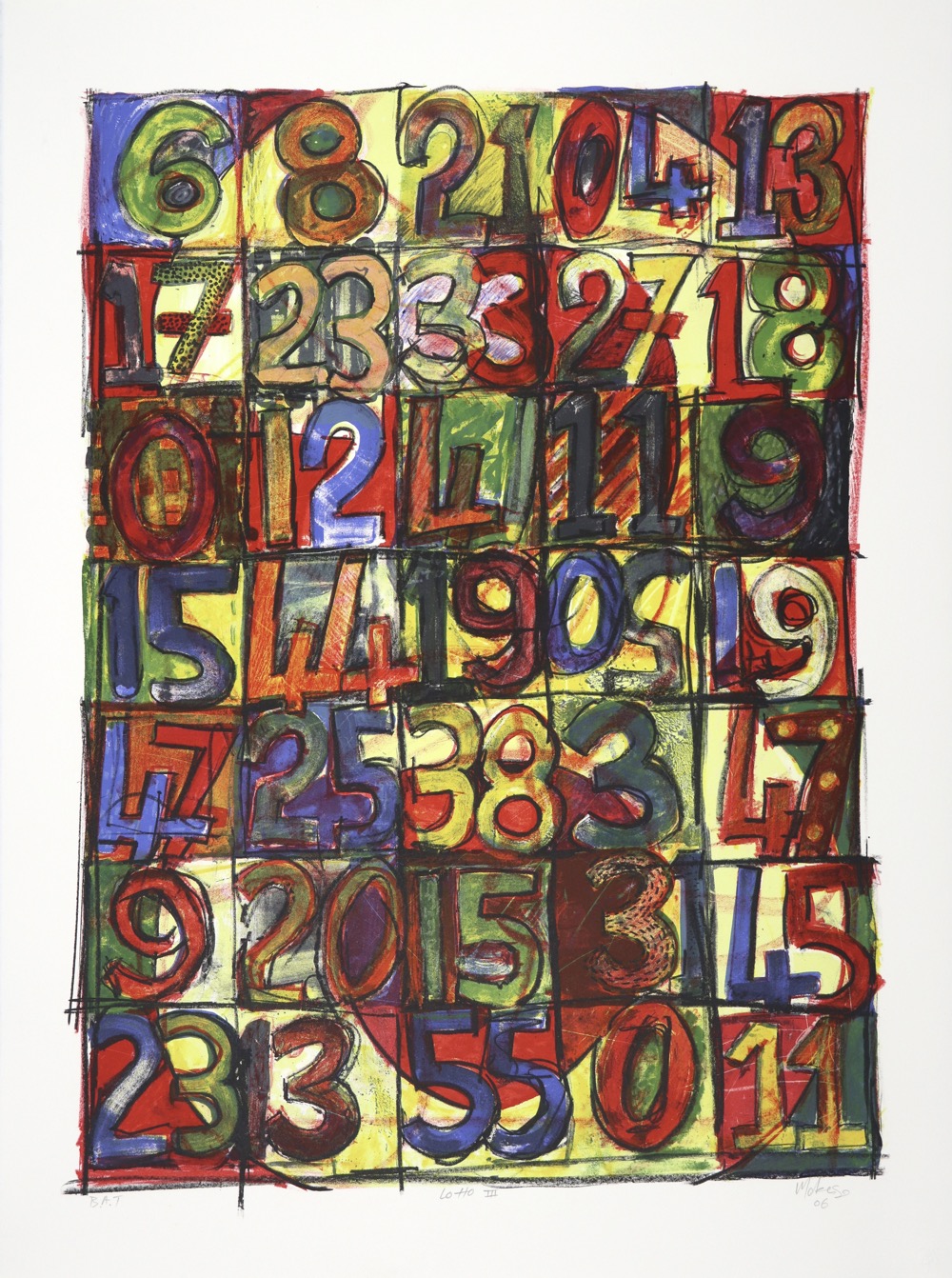 Title: Lotto III
Medium: Ten colour lithograph
Paper size: 76.5 x 57 cm
Image size: 48 x 66 cm
Edition size: 50
Price: R 5 350 (excl.VAT)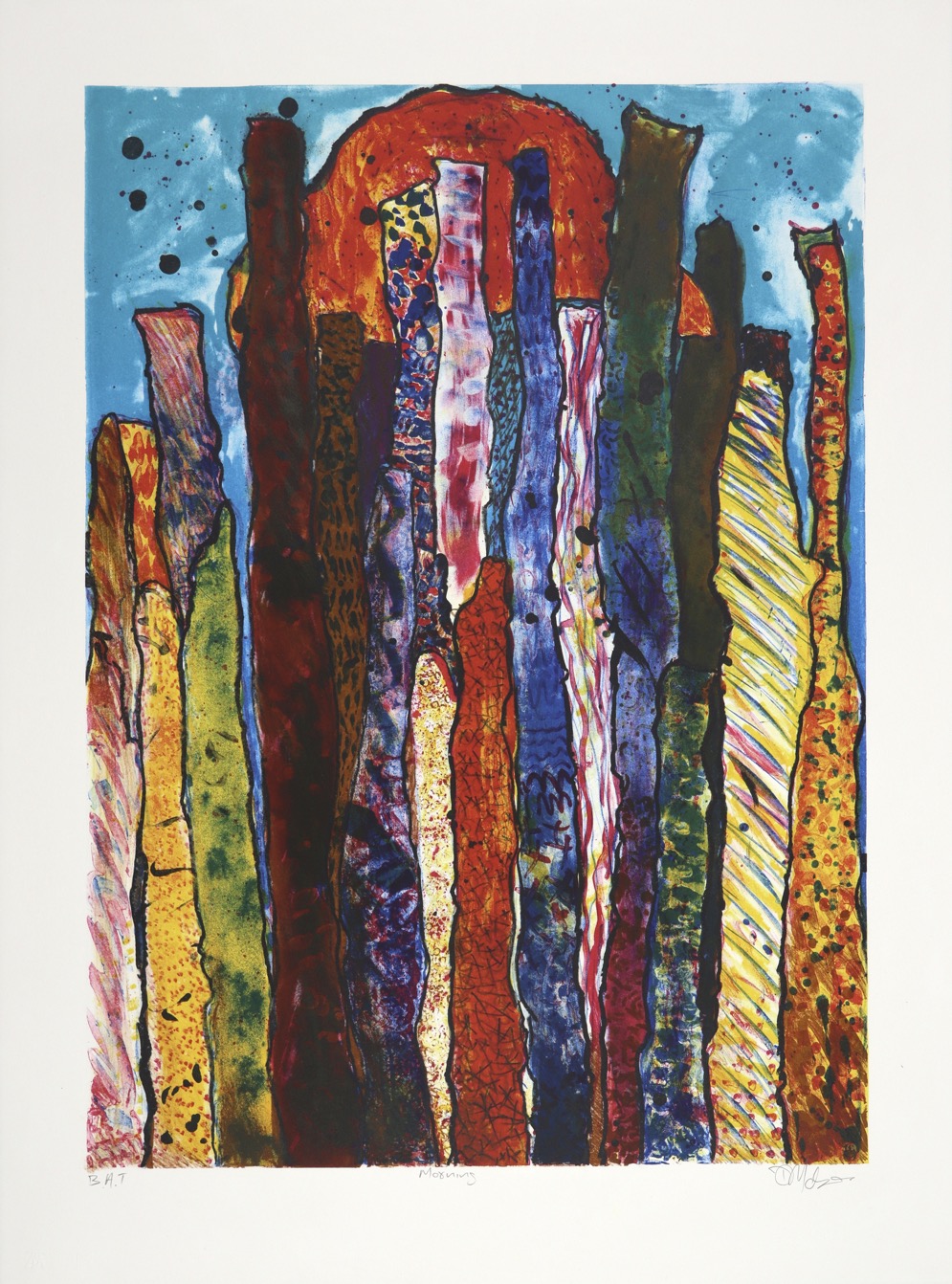 Title: Morning
Medium: Seven colour lithograph
Paper size: 76 x 57.5 cm
Image size: 64 x 46 cm
Edition size: 40
Date: 2002
Price: SOLD OUT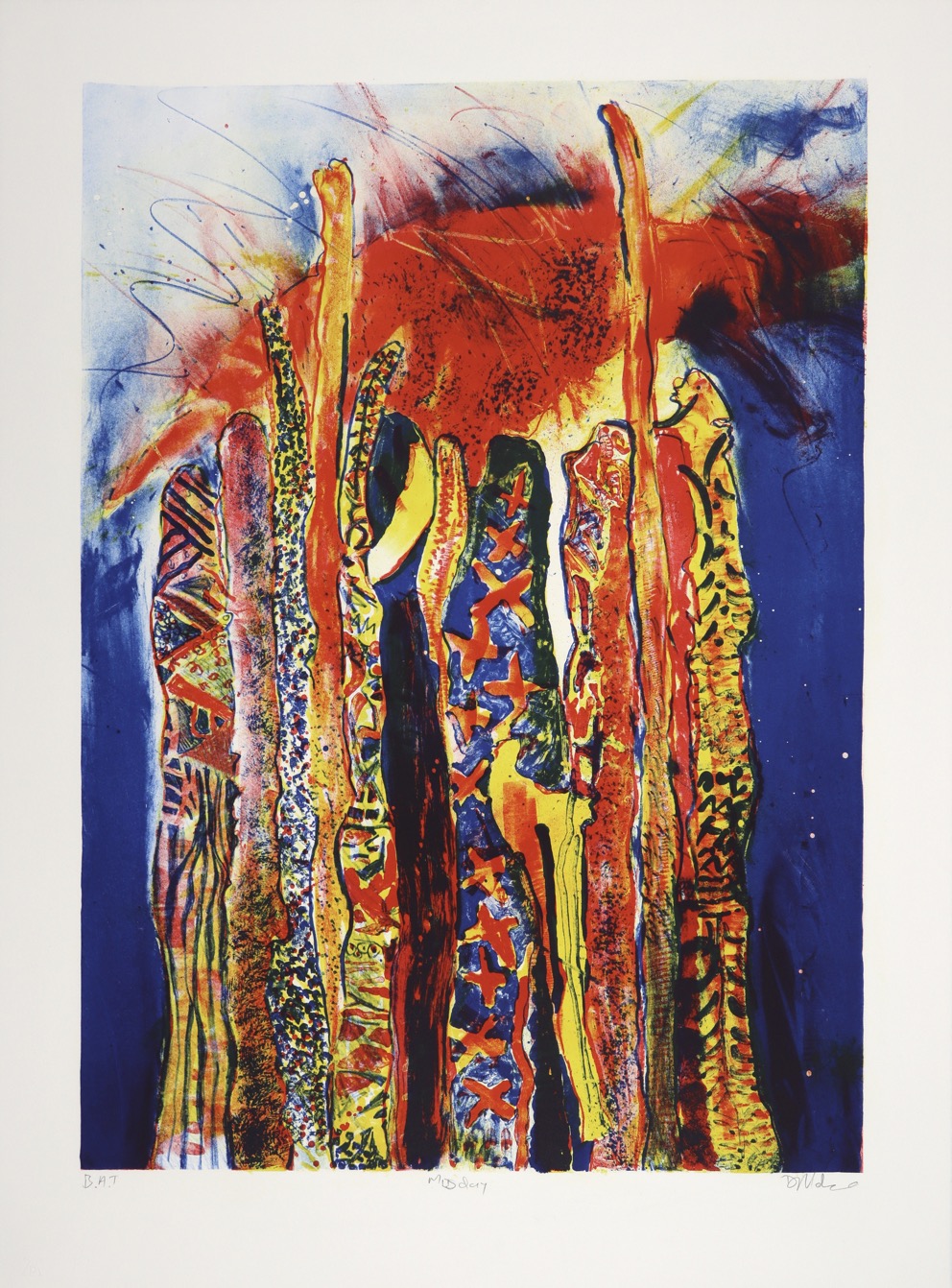 Title: Midday
Medium: Three colour lithograph
Paper size: 76 x 57.5 cm
Image size: 64 x 46 cm
Edition size: 40
Date: 2002
Price: SOLD OUT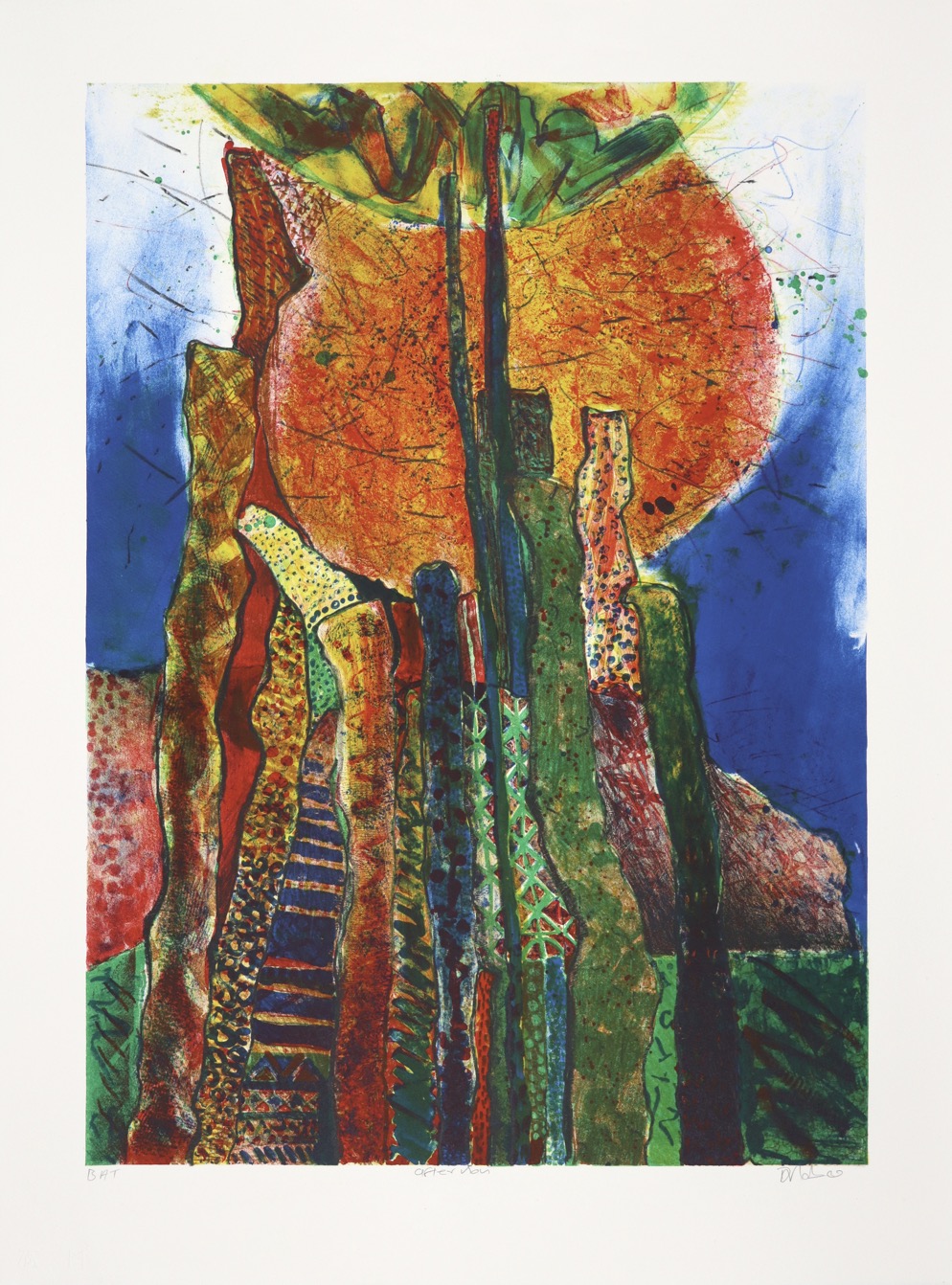 Title: Afternoon
Medium: Six colour lithograph
Paper size: 76 x 57.5 cm
Image size: 64 x 46 cm
Edition size: 40
Date: 2002
Price: SOLD OUT