Sam Nhlengethwa Joburg Selected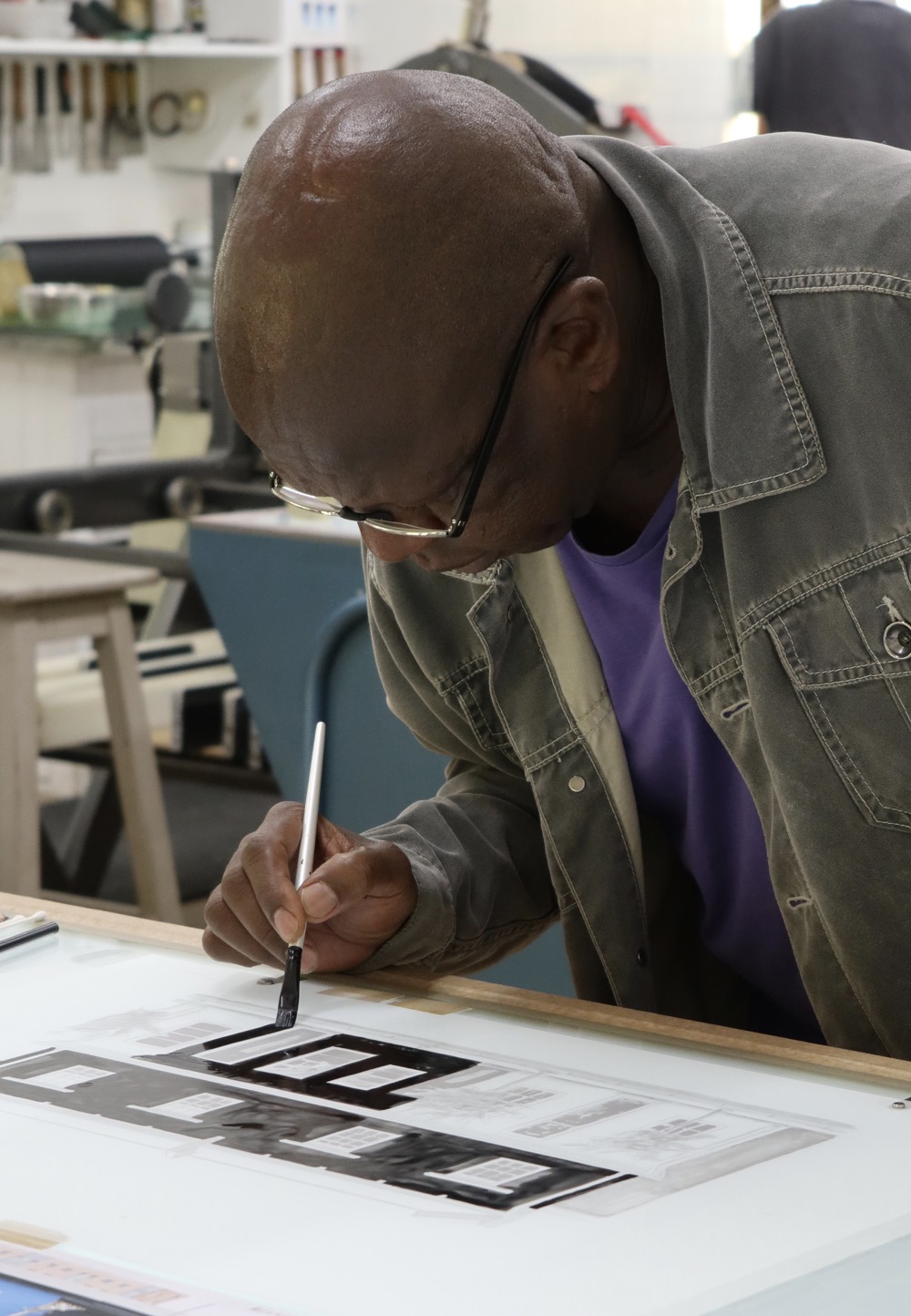 Sam Nhlengethwa was born in Payneville Springs and grew up in Ratanda Location near Heidelberg. Except for his studies at Rorkes Drift in KZN he has always lived and worked in the city of Johannesburg and its surrounds (with a preference for the East). From the dusty edges of the mining town to its dynamic inner-city revival, Sam Nhlengethwa loves the city and knows it well. He moves between his studios in the city (initially the Bag Factory and now August House) and his home studio in Benoni.
Over the years moving through the spaces in the city he has observed its changing facades and fortunes close up. In these prints, he focuses on spaces that are important to him, whether as music venues, reminders of the cities complicated past or as structures that just appeal to him in their formal qualities.
This series allows the artist to capture moments in time, to record spaces that may transform or one day be torn down. These are physical spaces but are bought to life by the people who built them and then utilised them. In his selection, Sam Nhlengethwa has made them his own. These buildings, he says "become the persona... They have their own stories and relate to our history in various ways."

For orders (with free shipping) or any other enquiries, contact us!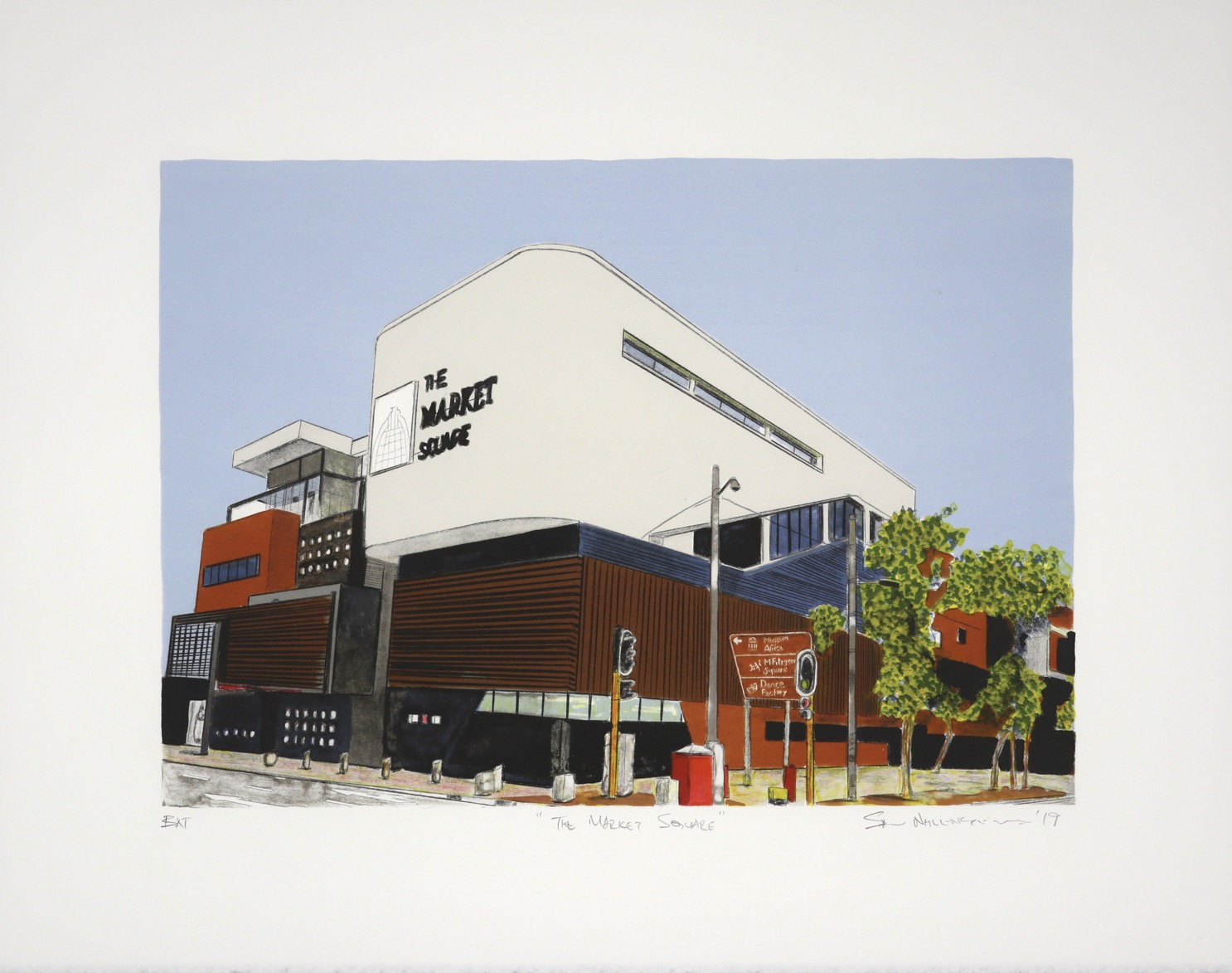 Title: The Market Square
Medium: Eight colour lithograph
Paper size: 57 x 45 cm
Image size: 42 x 29.7cm
Edition size: 25
Price: R 9 800 (excl.VAT)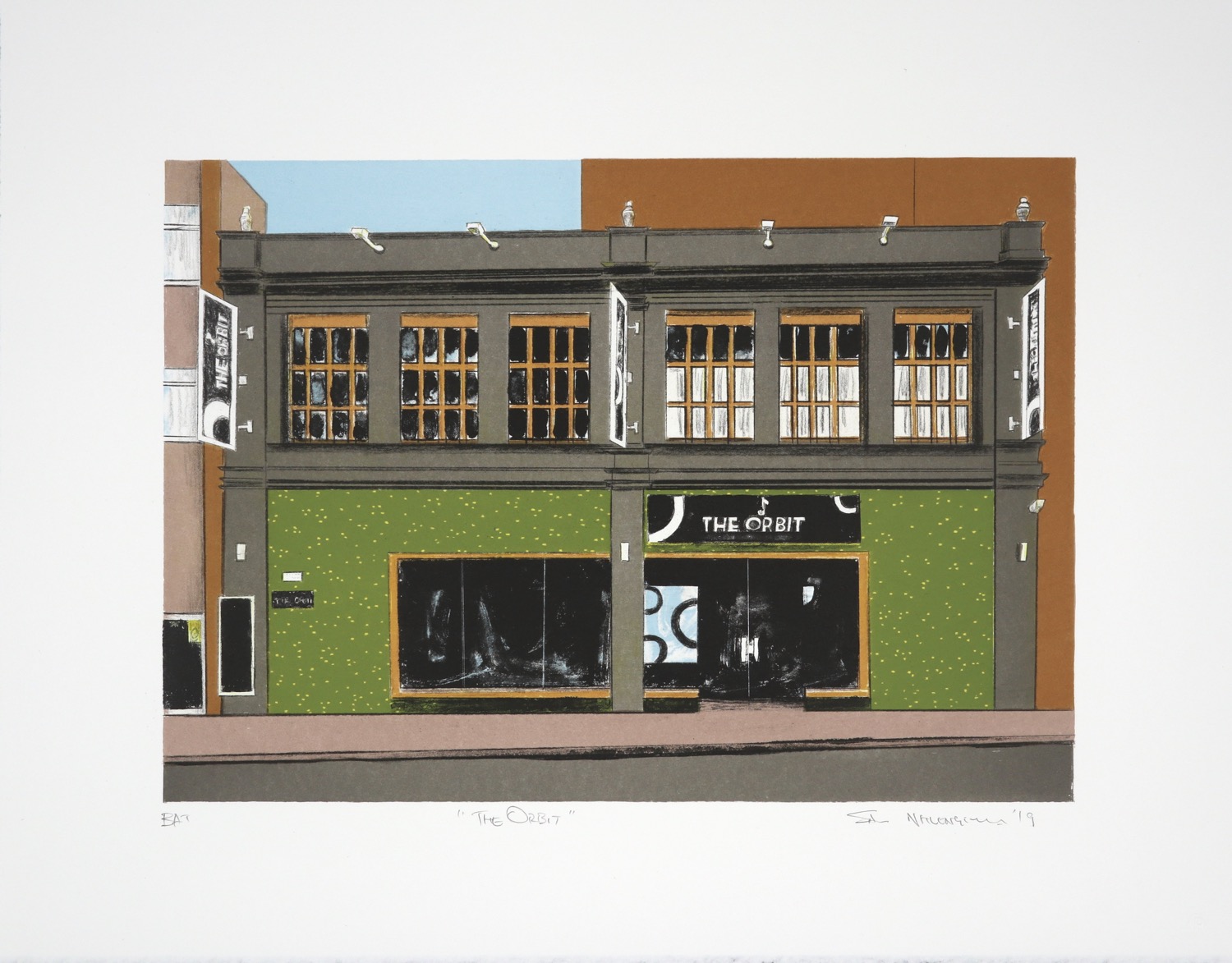 Title: The Orbit
Medium: Seven colour lithograph
Paper size: 57 x 45 cm
Image size: 42 x 29.7cm
Edition size: 25
Price: R 9 800 (excl.VAT)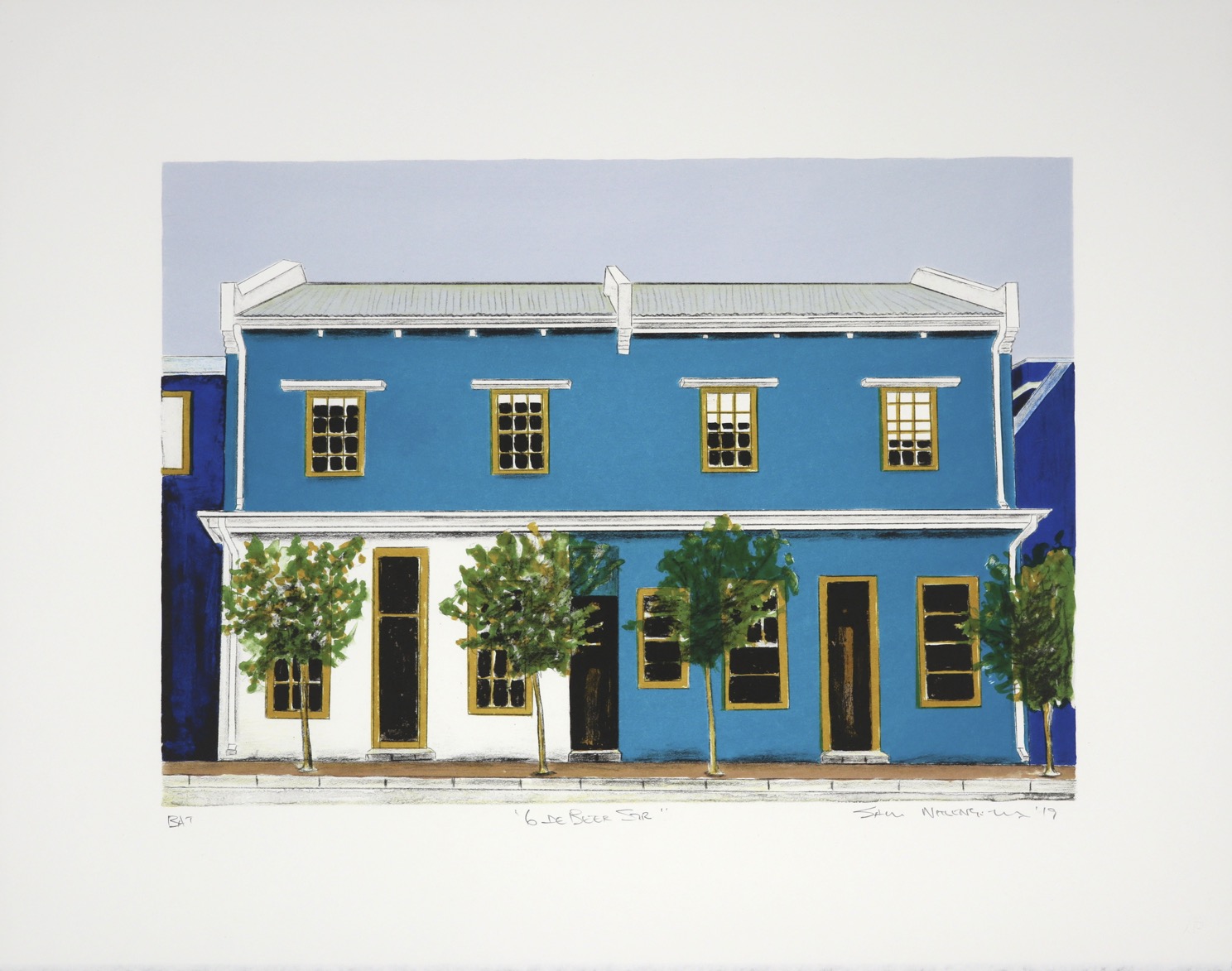 Title: 6 De Beer Str
Medium: Seven colour lithograph
Paper size: 57 x 45 cm
Image size: 42 x 29.7cm
Edition size: 25
Price: R 9 800 (excl.VAT)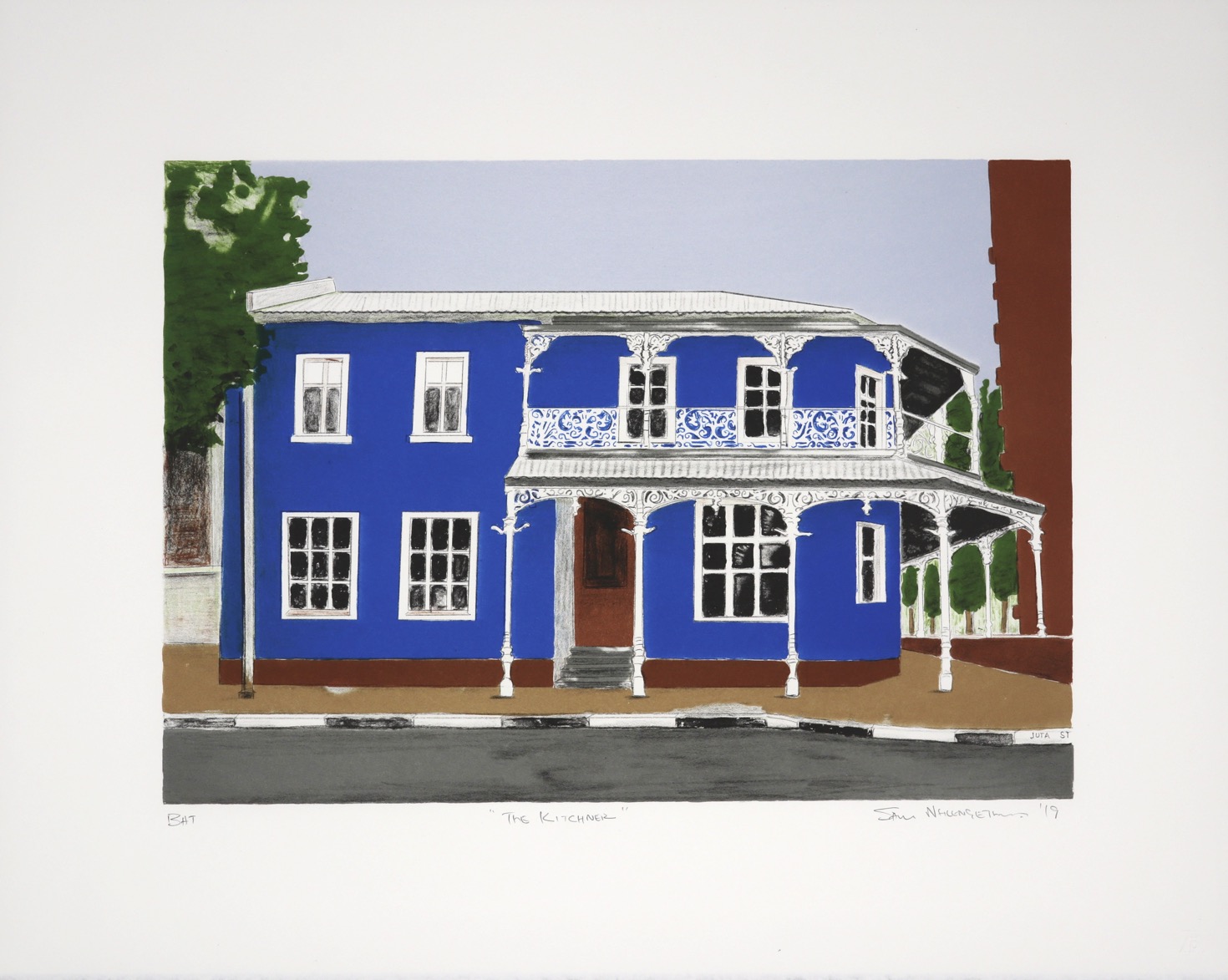 Title: The Kitchener
Medium: Eight colour lithograph
Paper size: 57 x 45 cm
Image size: 42 x 29.7cm
Edition size: 25
Price: R 9 800 (excl.VAT)
Watch Sam Nhlengethwa talking about his Joburg Selected exhibition

Take a look at other prints that Sam Nhlengethwa has done at The Artists' Press
Sam Nhlengethwa's Archive of Sold Out Prints