Sam Nhlengethwa Tribute Series Lithographs 2008 - 2014

Sam Nhlengethwa is intrigued by people and their spaces "Throughout the years, all my pieces have dealt with the movement of people. I enjoy paying homage to people and places through my art." In the tributes prints, he pays homage to some of his visual art contemporaries and others who have paved the way for South African art. He salutes and honours Ephraim Ngatane, David Goldblatt, Henri Matisse, Romare Bearden, Jean Michel Basquiat, Cecil Skotnes, Helen Sebidi, Zwelethu Mthethwa, Deborah Bell, Dumile Feni, William Kentridge, Judith Mason, Marlene Dumas, Peter Clark, David Koloane, George Pemba, Dumisani Mabaso, Esta Mahlangu, Robert Hodgins and Gerard Sekoto.

Most of these artists are South African and all of them have secured their place on the local and international art scene. By recreating the works of his contemporaries and role models and then placing them within a represented or imagined gallery space Nhlengethwa provides a new context in which to experience the work of these celebrated artists. The artist's work has been paired up with contemporary interiors and furniture that emphasise Sam Nhlengethwa's understanding of the "mental space" of that particular artist, and are then pulled together using Nhlengethwa's own distinctive style.
Sam Nhlengethwa talks about his Tribute Series (video)
For orders (with free shipping) or any other enquiries, contact us.

Title: Tribute to Esta Mahlangu
Medium: Ten colour lithograph
Paper size: 57 x 76.5 cm
Image size: 49.5 x 69 cm
Edition size: 50
Price: R 13 860 (excl. VAT)


Title: Tribute to Henri Matisse
Medium: Nine colour lithograph
Paper size: 57 x 76.5 cm
Image size: 49.5 x 69 cm
Edition size: 50
SOLD OUT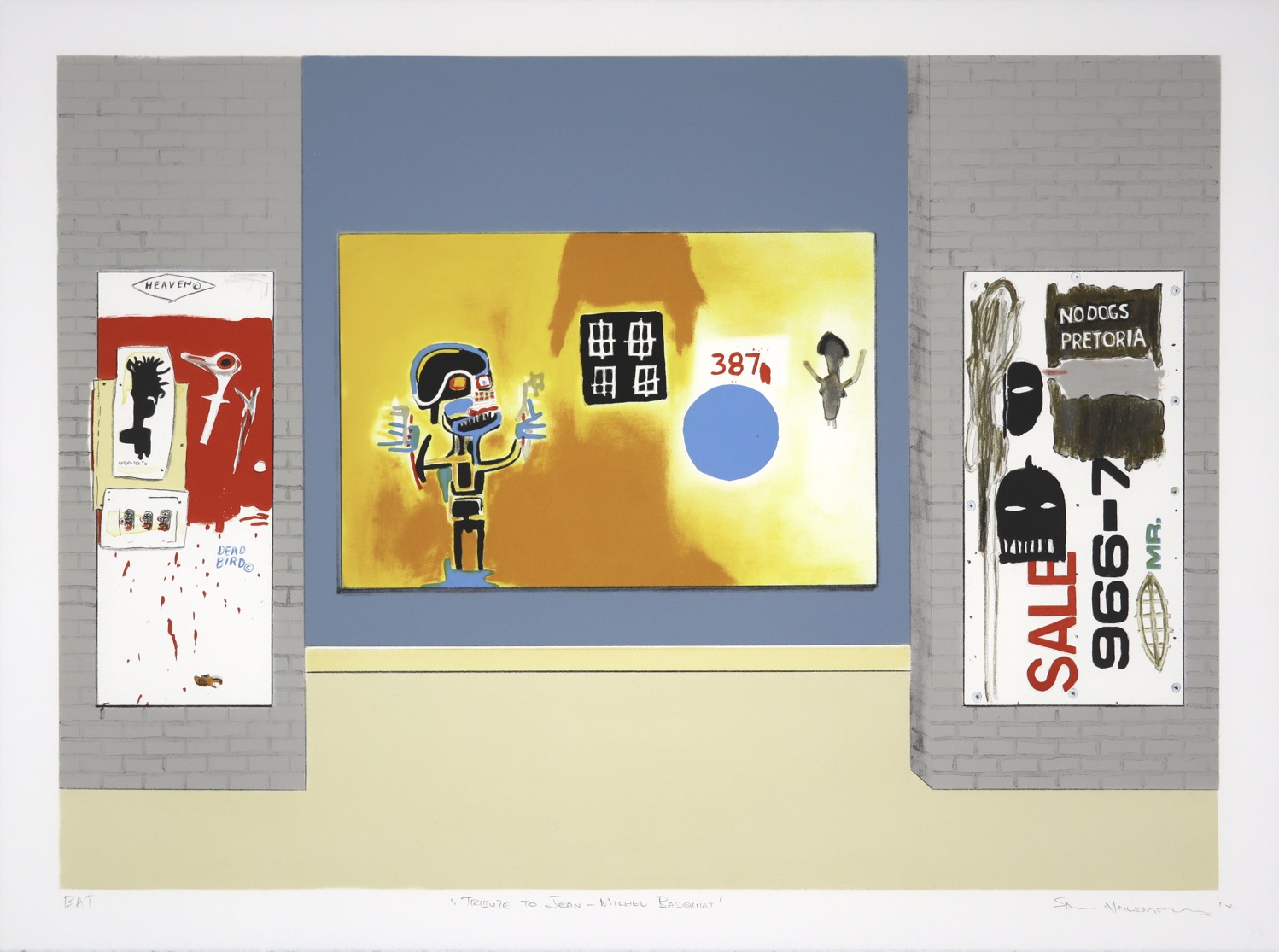 Title: Tribute to Jean-Michel Basquiat
Medium: Ten colour lithograph
Paper size: 57 x 76.5 cm
Image size: 49.5 x 69 cm
Edition size: 50
SOLD OUT


Title: A Hotel in Randfontein
Medium: Eight colour lithograph
Paper size: 50 x 65.5 cm
Image size: 28 x 23 cm
Edition size: 50
Price R 9 440 (excl.VAT)
 

Links to more work by Sam Nhlengethwa, listed by series title:
Glimpses of the 50s and 60s

Township Series

Jazz Prints

Restaurant Prints

Conversation Prints

Sam Nhlengethwa Print Archive

Artists represented by The Artists' Press A to L

Artists represented by The Artists' Press M to X

New editions from The Artists' Press where Sam Nhlengethwa made these prints