Sam Nhlengethwa, Jazz Lithographs

Sam Nhlengethwa's first lithographs at The Artists' Press were a series of five prints around the Jazz theme and were published to coincide with his exhibition at the Standard Bank Young artist of the year in 1994. This series was very popular, and after repeated requests, Sam Nhlengethwa has returned to the Jazz theme. The new set of ten prints is almost twice the size of the first series and pay tribute to the great jazz artists who have inspired Nhlengethwa over the years. The prints are hand-printed on white Arches paper, with between 4 and 7 colours on each print. Nhlengethwa drew directly on ball-grained aluminium plates using Korns pencils and Tusche.

Please note that the sold out prints from this series are in Nhlengethwa's archive.

Artist's statement: "Jazz simply inspires me. Of all the subjects that I have dealt with, none has been re-visited like jazz. Jazz is second nature to me. I come from a family of jazz lovers. My eldest brother, Ranky, was a jazz musician. I used to hang around with him and his friends a lot. I still play the flute that he gave me. I think at heart, I am a non-practising jazz musician!

Painting jazz pieces is an avenue or outlet for expressing my love for the music. As I paint, I listen to jazz and visualise the performance. Jazz performers improvise within the conventions of their chosen styles. In an ensemble, for example, there are vocal styles that include freedom of vocal colour, call-and-response patterns and rhythmic complexities played by different members. Painting jazz allows me to literally put colour onto these vocal colours.

Jazz is rhythmic and it emphasises interpretation rather than composition. There are deliberate tonal distortions that contribute to its uniqueness. My jazz collages, with their distorted patterns, attempt to communicate all of this. As a collagist and painter, fortunately, the technique allows me this freedom of expression. Like a jazz musician who can depart from the original melody altogether and improvise on its harmonic base, I create a well-balanced final product with interesting textures, perspective and dimensions from juxtaposing pieces from different original backgrounds. What I am doing is not new though, as there are other artists before me, who painted jazz pieces e.g. Gerard Sekoto, Romare Bearden, Henri Matisse.

The jazz musicians I chose inspire me. Their music is educational. Nina Simone, for instance, sings about the suffering of African Americans. I enjoy her music and message. Modern Jazz quartets music is instrumental but meaningful.

I buy jazz CDs and dvds as part of my career. Miles Davis, Keith Jarrett, John Coltrane feature highly in my collection and I also have their autobiographies. Ron Carter made me love acoustic bass especially in his album with Roberta Flack "The first time I ever saw your face" - I was 17 when I first listened to it and knew pretty little about love but I enjoyed the instruments played.

In addition to the international jazz musicians in my collection, I have a number of locals like Miriam Makeba (or Mama Africa as she is affectionately known), Lemmy "Special" Mabaso, Abdullah Ibrahim etc. Their early music reminds me of Keith Jarrett's words: "Jazz is like a vehicle that transports various traditions..." Lemmy Maseko played the penny whistle with skill; Miriam Makeba's "Malaika" backed by overseas musicians became a hit. Abdullah Ibrahim is a well-respected pianist. You can bring together jazz musicians from different backgrounds to perform and they will produce a stunning piece of music!

Thank you,

Sam Nhlengethwa"
Click on the links below to see other prints that Sam Nhlengethwa has done, listed by series title
Township Series

Restaurant Series

Conversations

Glimpses of the 50's and the 60's

Tribute Interiors
Mine series

Sam Nhlengethwa Print Archive
For orders (with free shipping) or any other enquiries, click here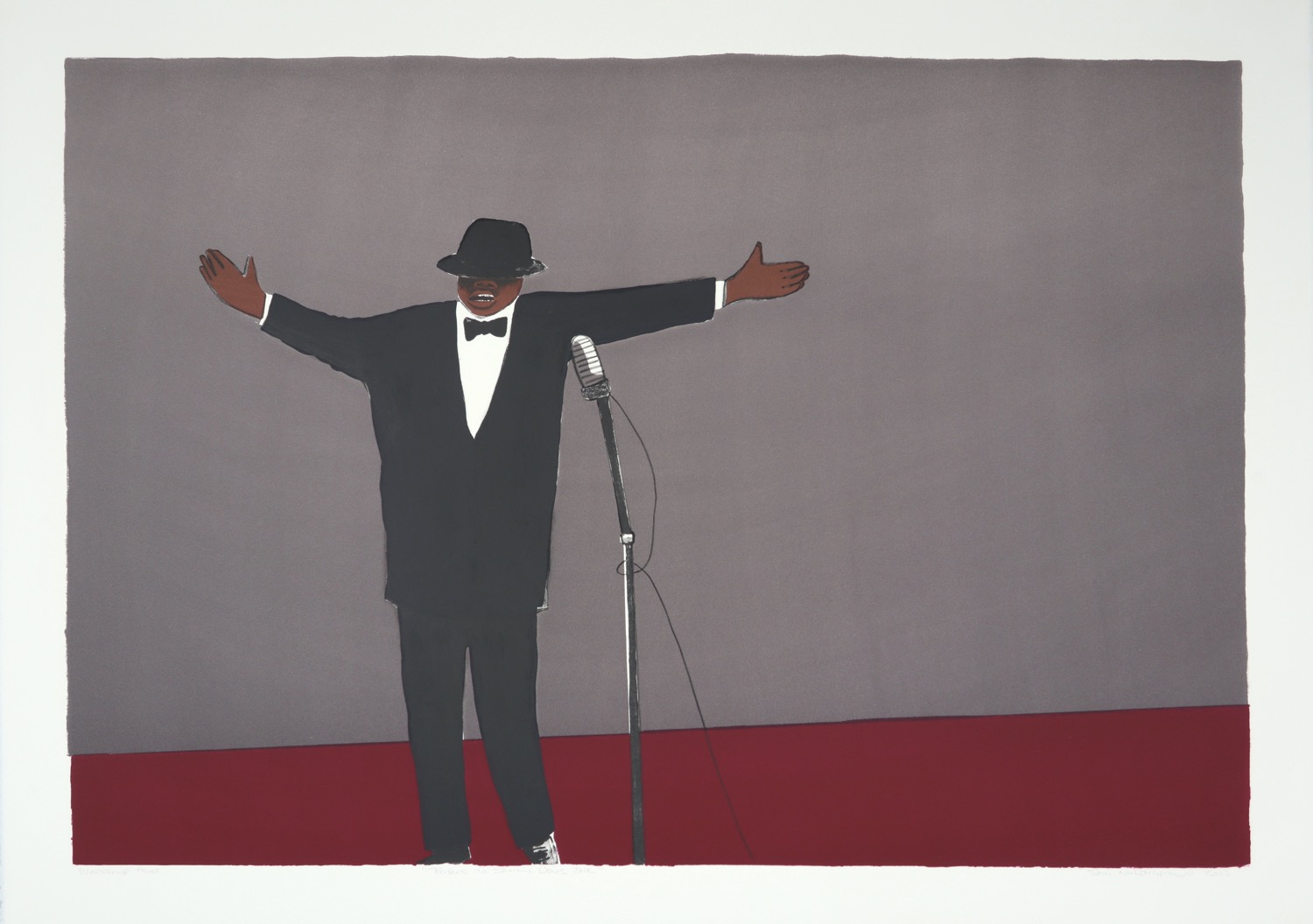 Title: Tribute to Sammy Davis Junior
Medium: Five colour lithograph
Size: 76 x 106 cm
Edition size: 50
Price: R 16 700 (excl.VAT)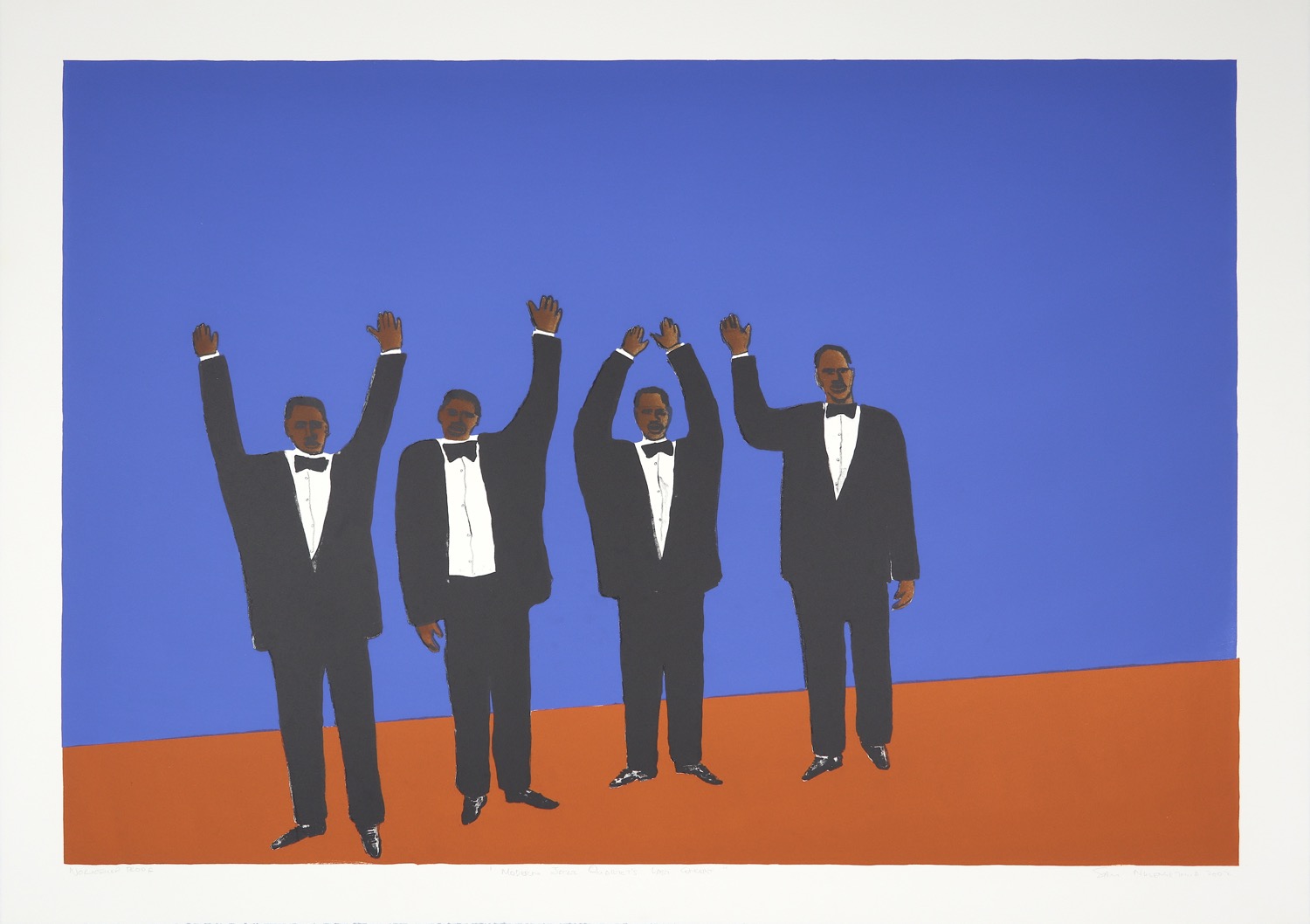 Title: Modern Jazz Quartet's Last Concert
Medium: Four colour lithograph
Size: 76 x 106 cm
Edition size: 50
Price: R 16 700 (excl.VAT)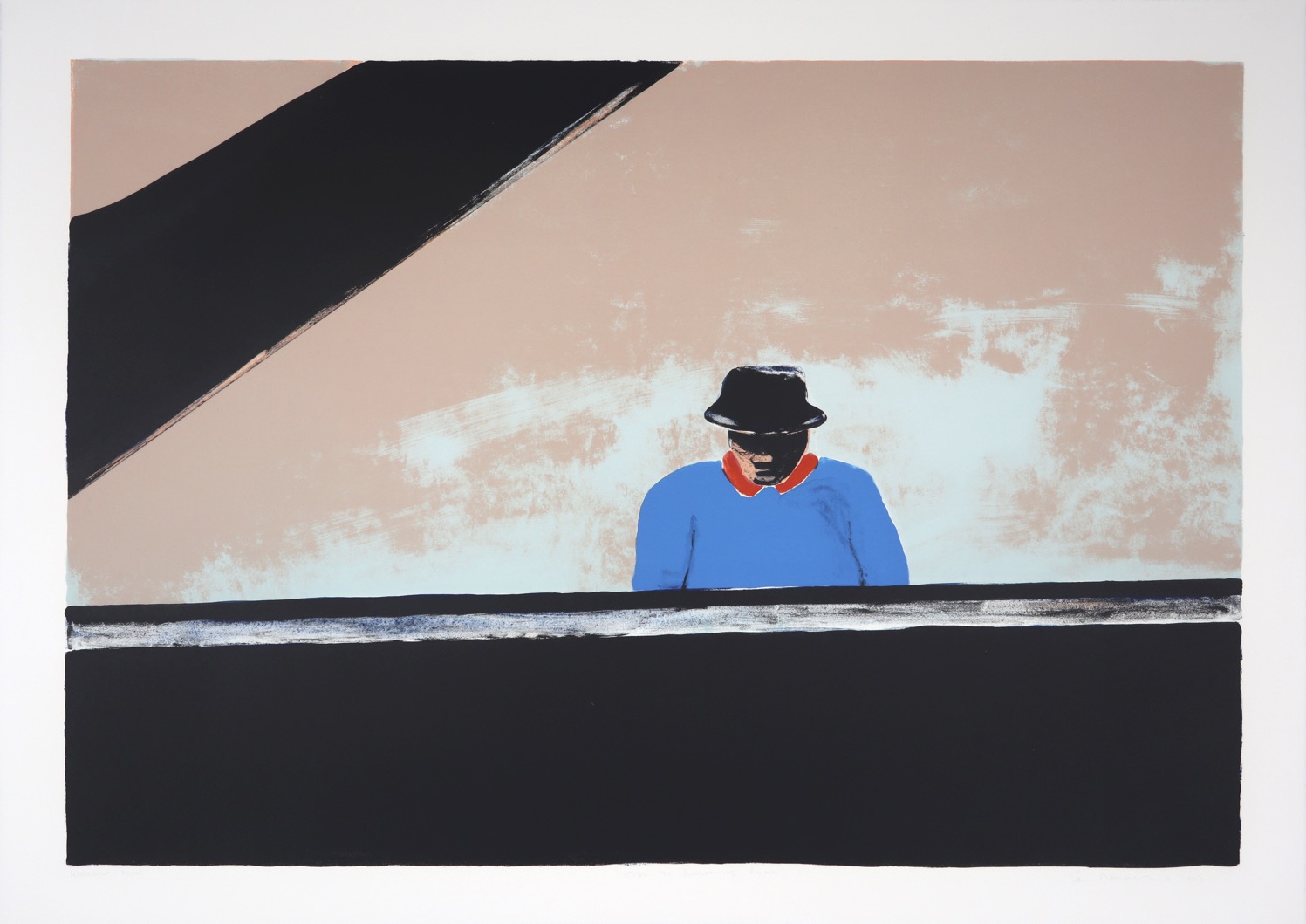 Title: Ode to Thelonius Monk
Medium: Five colour lithograph
Size: 76 x 106 cm
Edition size: 50
Price: SOLD OUT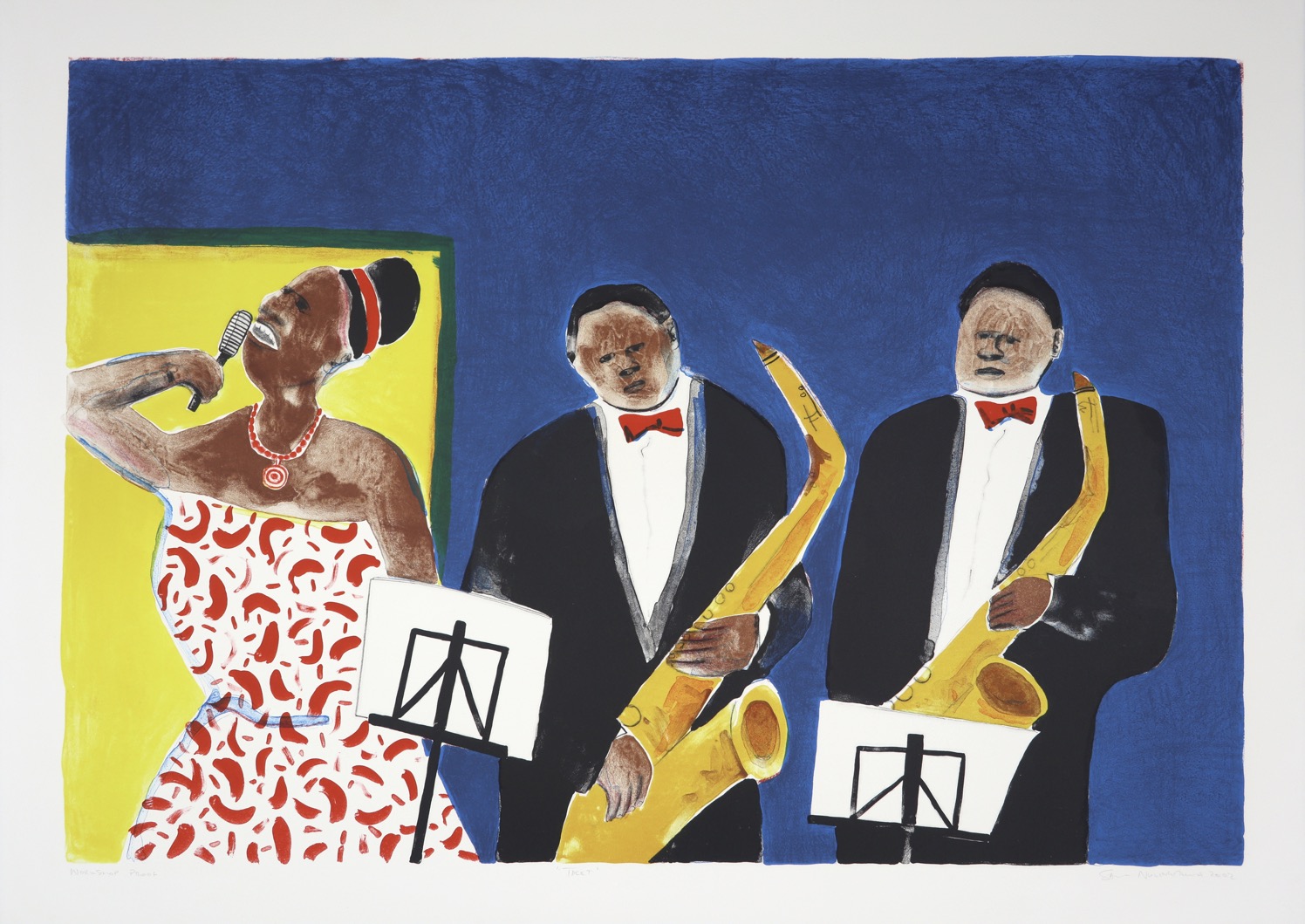 Title: Tacet
Medium: Seven colour lithograph
Size: 76 x 106 cm
Edition size: 50
Price: R 16 700 (excl.VAT)