Sam Nhlengethwa Archive

In this archive, you will find lithographs that Sam Nhlengethwa has made in collaboration with The Artists' Press. These are prints that were published by The Artists' Press and which have sold out and are no longer available from us. Please note that there some prints that Nhlengethwa did with us that are not in this list as they were done in pre-digital photography days.


Below are links to prints by Sam Nhlengethwa listed by series title that are still available

Kind of Blue

Tributes Series

Township Series

Glimpses of the 50's and the 60's

Jazz Series

Restaurant Series

Conversations
Title: Duet
Medium: Thirteen colour lithograph
Paper size: 14 x 16.5 cm
Edition size: 101 (Nhlengethwa's contribution to the artists book GIF 4)
Date: 2018
Only available as part of GIF 4.
Title: Tribute to Romare Bearden
Medium: Thirteen colour lithograph
Paper size: 57 x 76.5 cm
Image size: 49.5 x 69 cm
Edition size: 50
Date: 2014
SOLD OUT
Title: Tribute to David Goldblatt
Medium: Eight colour lithograph
Paper size: 57 x 76.5 cm
Image size: 49.5 x 69 cm
Edition size: 50
Date: 2014
SOLD OUT
Title: Tribute to Cecil Skotnes
Medium: Eight colour lithograph
Paper size: 57 x 76.5 cm
Image size: 49.5 x 69 cm
Edition size: 50
Date: 2013
SOLD OUT
Title: Tribute to Judith Mason
Medium: Eleven colour lithograph
Paper size: 57 x 76.5 cm
Edition size: 50
Date: 2013
SOLD OUT
Title: Tribute to David Koloane
Medium: Twelve colour lithograph
Paper size: 57 x 76.5 cm
Edition size: 50
date: 2013
SOLD OUT
Title: Tribute to Zwelethu Mthethwa
Medium: Thirteen colour lithograph
Paper size: 57 x 76.5 cm
Image size: 49.5 x 69 cm
Edition size: 50
Date: 2013
SOLD OUT
Title: Tribute to Helen Sebidi
Medium: Nine colour lithograph
Paper size: 57 x 76.5 cm
Image size: 49.5 x 69 cm
Edition size: 50
Date: 2011
SOLD OUT
Title: Tribute to Deborah Bell
Medium: Ten colour lithograph
Paper size: 57 x 76.5 cm
Image size: 49.5 x 69 cm
Edition size: 50
Date: 2011
SOLD OUT
Title: Left alone
Medium: Single colour chine collé lithograph
Paper size: 44.5 x 50.4 cm
Image size: 24.5 x 30.5 cm
Edition size: 25
Date: 2011
SOLD OUT


Title: Stranded
Medium: Single colour chine collé lithograph
Paper size: 44.5 x 50.4 cm
Image size: 24.5 x 30.5 cm
Edition size: 25
Date: 2011
SOLD OUT


Title: Lets go I
Medium: Single colour chine collé lithograph
Paper size: 44.5 x 50.4 cm
Image size: 24.5 x 30.5 cm
Edition size: 25
Date: 2011
SOLD OUT


Title: Lets go II
Medium: Single colour chine collé lithograph
Paper size: 44.5 x 50.4 cm
Image size: 24.5 x 30.5 cm
Edition size: 25
Date: 2011
SOLD OUT


Title: Who's the boss?
Medium: Single colour chine collé lithograph
Paper size: 44.5 x 50.4 cm
Image size: 24.5 x 30.5 cm
Edition size: 25
Date: 2011
SOLD OUT


Title: Miles Davis Solo II
Medium: Two colour chine colle lithograph
Edition size: 25
Paper size: 38 x 45 cm
Date: 2010
SOLD OUT
Title: Tribute to Dumile Feni
Medium: Seven colour lithograph
Paper size: 57 x 76.5 cm
Edition size: 50
Date: 2008
SOLD OUT
Title: Tribute to Marlene Dumas
Medium: Eight colour lithograph
Paper size: 57 x 76.5 cm
Edition size: 50
Date: 2008
SOLD OUT
Title: Tribute to William Kentridge
Medium: Ten colour lithograph
Paper size: 57 x 76.5 cm
Edition size: 50
Date: 2008
SOLD OUT
Title: Tribute to Peter Clarke
Medium: Sixteen colour lithograph
Paper size: 57 x 76.5 cm
Edition size: 50
Date: 2008
SOLD OUT
Title: Solo
Medium: Six colour lithograph
Edition size: 150
Paper size: 57 x 76 cm
Date: 2004
Commissioned by Galerie Seippel
Title: Tribute to Robert Hodgins
Medium: Four colour lithograph
Edition size: 50
Paper size: 57 x76 cm
Date: 2003
SOLD OUT
Title: Tribute to Dumisani Mabaso
Medium: Nine colour lithograph
Edition size: 50
Paper size: 57 x76 cm
Date: 2003
SOLD OUT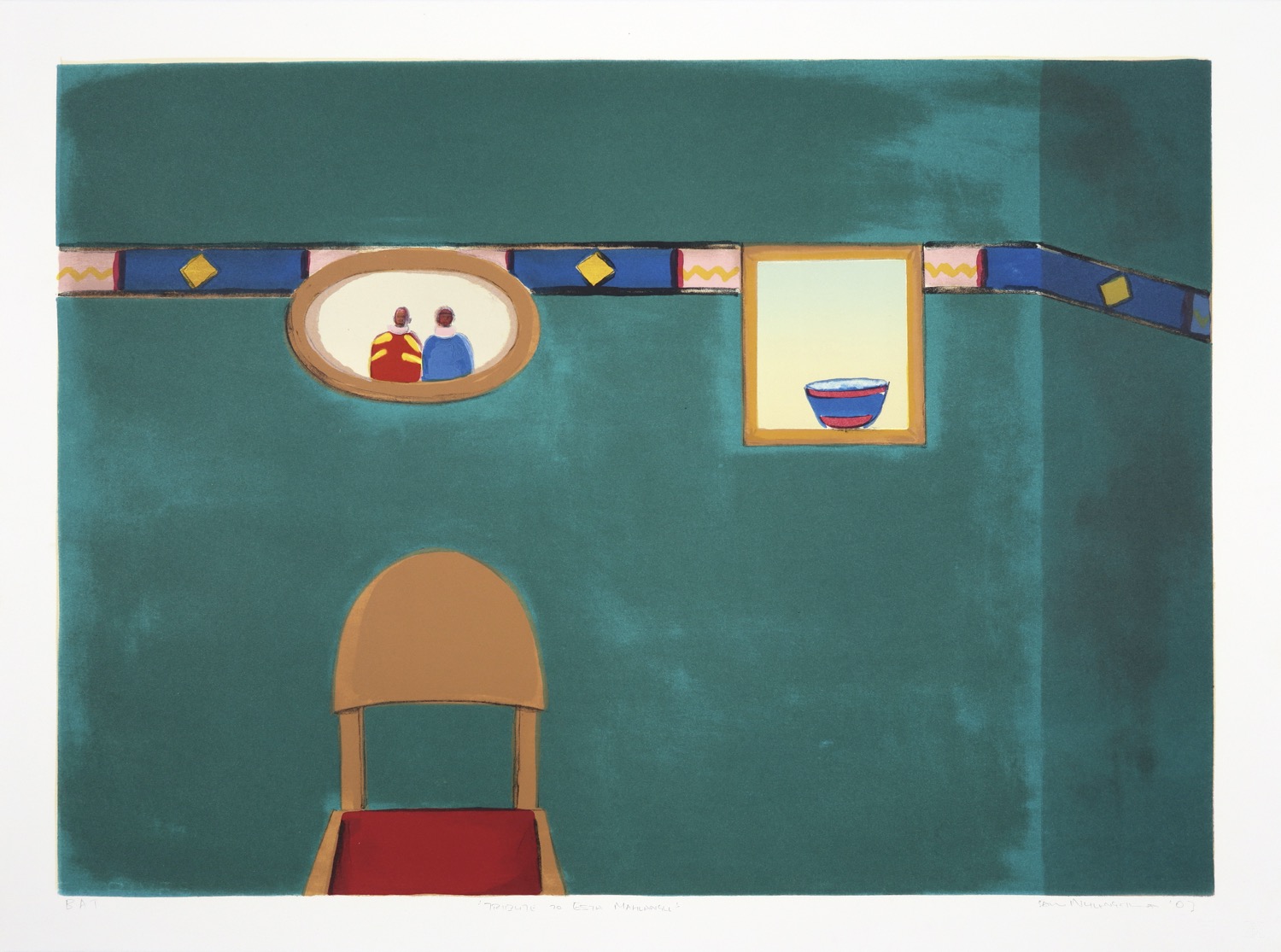 Title: Tribute to Esta Mahlangu
Medium: Ten colour lithograph
Edition size: 50
Paper size: 57 x76 cm
Date: 2003
SOLD OUT
Title: Tribute to George Pemba
Medium: Twelve colour lithograph
Edition size: 50
Paper size: 57 x76 cm
Date: 2003
SOLD OUT
Title: Tribute to Gerard Sekoto
Medium: Ten colour lithograph
Edition size: 50
Paper size: 57 x 76 cm
Date: 2003
SOLD OUT

Title: Inspired by Abdullah Ibrahim
Medium: Six colour lithograph
Size: 76 x 106 cm
Edition size: 50
Date: 2002
SOLD OUT


Title: Dear Ella Fitzgerald
Medium: Six colour lithograph
Size: 76 x 106 cm
Edition size: 50
Date: 2002
SOLD OUT


Title: Tribute to Lemmy Special Mabaso
Medium: Seven colour lithograph
Size: 76 x 106 cm
Edition size: 50
Date: 2002
SOLD OUT


Title: Tribute to Miriam Makeba
Medium: Seven colour lithograph
Size: 76 x 106 cm
Edition size: 50
Date: 2002
SOLD OUT


Title: Tribute to Nina Simone
Medium: Five colour lithograph
Size: 76 x 106 cm
Edition size: 50
Date: 2002
SOLD OUT


Title: Inspired by Ron Carter
Medium: Six colour lithograph
Edition size: 50
Paper size: 75 x 106 cm
Date: 2002
SOLD OUT
Title: Isiphithiphithi
Medium: Single colour chine collé lithograph
Paper size: 38  x 45 cm
Image size: 24.8 x 310 cm
Edition size: 30
Date: 2001
Price: SOLD OUT
Title: Idling
Medium: Single colour chine collé lithograph
Paper size: 38  x 45 cm
Image size: 24.8 x 310 cm
Edition size: 30
Date: 2001
Price: SOLD OUT
Title: One Way
Medium: Single colour chine collé lithograph
Paper size: 38  x 45 cm
Image size: 24.8 x 310 cm
Edition size: 30
Date: 2001
Price: SOLD OUT
Title: Pensioners
Medium: Single colour chine collé lithograph
Paper size: 38  x 45 cm
Image size: 24.8 x 310 cm
Edition size: 30
Date: 2001
Price: SOLD OUT
Title: Market Place I
Medium: Single colour chine collé lithograph
Paper size: 38  x 45 cm
Image size: 24.8 x 310 cm
Edition size: 30
Date: 2001
Price: SOLD OUT
Title: Market Place II
Medium: Single colour chine collé lithograph
Paper size: 38  x 45 cm
Image size: 24.8 x 310 cm
Edition size: 30
Date: 2001
Price: SOLD OUT
Title: A Black Car
Medium: Single colour chine collé lithograph
Paper size: 38  x 45 cm
Image size: 24.8 x 310 cm
Edition size: 30
Date: 2001
Price: SOLD OUT
Title: Job Done
Medium: Single colour chine collé lithograph
Paper size: 38  x 45 cm
Image size: 24.8 x 310 cm
Edition size: 30
Date: 2001
Price: SOLD OUT
Title: Rushing
Medium: Single colour chine collé lithograph
Paper size: 38  x 45 cm
Image size: 24.8 x 310 cm
Edition size: 30
Date: 2001
Price: SOLD OUT
Title: The Red Wall
Medium: Six colour lithograph
Paper size: 50  x 65.5 cm
Image size: 29.5 x 45.5 cm
Edition size: 50
Date: 1998
Price: SOLD OUT
Title: The Blue Frame
Medium: Eight colour lithograph
Paper size: 50  x 65.5 cm
Image size: 29.5 x 45.5 cm
Edition size: 50
Date: 1998
Price: SOLD OUT
Title: The Grey Door
Medium: Six colour lithograph
Paper size: 50  x 65.5 cm
Image size: 29.5 x 45.5 cm
Edition size: 50
Date: 1998
Price: SOLD OUT
Title: My Grandmother's Kitchen in the Sixties
Medium: Six colour lithograph
Paper size: 50  x 65.5 cm
Image size: 29.5 x 45.5 cm
Edition size: 50
Date: 1998
Price: SOLD OUT
Title: Team Leaders I
Medium: Four colour lithograph
Paper size: 56.5 x 76 cm
Image size: 50 x 70 cm
Edition size: 30
Date: 1996
Price: SOLD OUT
Title: Team Leaders II
Medium: Five colour lithograph
Edition size: 40
Paper size: 32 x 41 cm
Date: 1996
SOLD OUT


Title: Team Leaders III
Medium: Five colour lithograph
Paper size: 32.5 x 41cm
Image size: 28.5 x 37 cm
Edition size: 40
Date: 1996
Price: SOLD OUT
Title: Maintenance
Medium: Five colour lithograph
Edition size: 30
Paper size: 56 x 76 cm
Date: 1996
SOLD OUT
Title: A Busy Day
Medium: Single colour lithograph
Edition size: 30
Paper size: 31 x 25 cm
Date: 1996
SOLD OUT


Title: Inside the Cage
Medium: Single colour lithograph
Paper size: 38 x 27.5 cm
Image size: 30 x 15 cm
Edition size: 40
Date: 1996
Price: SOLD OUT
Title: From the Sketchbook
Medium: Two colour lithograph
Paper size: 56.4 x 76 cm
Image size: 49.5 x 69 cm
Edition size: 20
Date: 1996
Price: SOLD OUT
Title: Underground
Medium: Five colour lithograph
Edition size: 30
Paper size: 43.5 x 28.5 cm
Date: 1996
SOLD OUT
Title: Catching the boat from Goree to Dakar
Medium: Nine colour lithograph
Edition size: 25
Paper size: 38 x 56 cm
Date: 1995
SOLD OUT
Title: Oranges
Medium: Eight colour lithograph
Edition size: 25
Paper size: 38 x 56 cm
Date: 1995
SOLD OUT
Title: Senegalese Dancers II
Medium: Nine colour lithograph
Edition size: 25
Paper size: 38 x 56 cm
Date: 1995
SOLD OUT
Title: Taxis
Medium: Eight colour lithograph
Edition size: 25
Paper size: 38 x 56 cm
Date: 1995
SOLD OUT
Title: Rehearsing
Medium: Six colour lithograph
Edition size: 30
Paper size: 56 x 76 cm
Date: 1994
SOLD OUT
Title: Ode to Gideon Nxumalo and Chris Mc Gregor
Medium: Six colour lithograph
Edition size: 30
Paper size: 56 x 76 cm
Date: 1994
SOLD OUT
Title: Dedicated to Victor Ndlazilwana
Medium: Five colour lithograph
Edition size: 30
Paper size: 56 x 76 cm
Date: 1994
SOLD OUT
Title: Ode to Charles Mingus
Medium: Five colour lithograph
Edition size: 30
Paper size: 76 x 56 cm
Date: 1994
SOLD OUT
Title: Discussing Jazz at the Shebeen
Medium: Seven colour lithograph
Edition size: 30
Paper size: 56 x 76 cm
Date: 1994
SOLD OUT

New editions from the studio where Sam Nhlengethwa made these prints