Willem Boshoff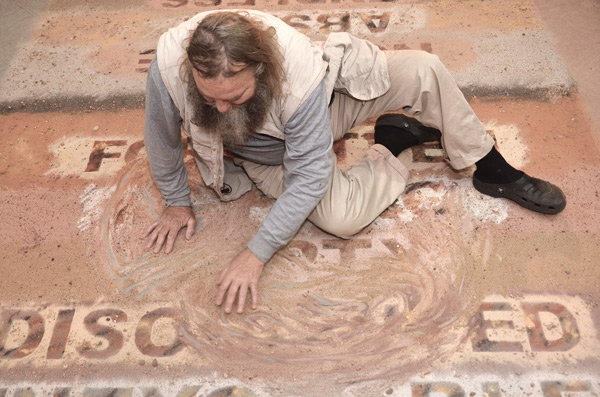 Willem Boshoff is a gentle giant of a man. He is tall, he is broad and his knowledge of words, plants, stones and philosophies is huge. He arrived to work on his prints with a trailer. In the trailer was a large computer. Much of his time here was spent wandering around the garden, camera in hand. Boshoff is the ideal visitor to one's garden. We had been struggling for months to identify a few tricky trees in the garden. Hours of paging through books, leaves and flowers in hand had merely resulted in frustration. And then the Druid arrived...

A Brazilian Pepper Tree was identified (it has since been turned into firewood) and the incredible Ficus sansibarica (Zanzibar Fig) on our dam wall now has a name full of associations. It is remarkably easy to go off on tangents with Willem Boshoff. A casual reference to keys results in an analysis of the name for someone who keeps keys, a claviger, and then leads to someone who is obsessed with keys, and the conversation ends up in heaps of laughter.

Lost in dark I and II

Lost in dark I and II are the first prints made at The Artists' Press that incorporate sandblasting, a technique that connects the prints with the sand-based work that Boshoff has done. When one is lost in the dark, things are not clear, text and directions become difficult to read and decipher. Panic sets in. Much like the current turmoil at tertiary educational institutions in South Africa, many of which are beset with burning issues relating to language.

Lost in dark I and II are based on an earlier work of Boshoff's titled: BOOK OF SAND 2014 Medium: Various types of sand Measurements: 3320 mm (open 'book' format – left to right) X 2410 mm ('book' format top of 'pages' to bottom) Early test titles: Lost in the Book of Sand, When a tree falls in the desert ...  

Seven words on page 1: NOWHERE, ABSENT, ENDLESS NAMELESS, FUTURELESS, UNSEEING, NONEXISTENT

Seven words on page 2: FORGOTTEN, NOTHING, EMPTY, DISORIENTED, INEXORABLE, IMPOSSIBLE, NEVERMORE  

"Oliewenhuis Art Museum in Bloemfontein invited me to be part of their INQUISITIVE MIND exhibition in 2014. The exhibition aimed to pair fine artists with aspects of research and collections offered by the National Museum in the centre of Bloemfontein. In August I had the great delight to meet Ina Marais, librarian, curator and custodian of the museum's historical book collection.   Ina led me into a vault in the very centre of the museum complex, and in the vault, she opened a safe to show me their most valuable set of books dating from 1648 to 1655 – Toonneel des Aerdrijcx by Willem & Johannes Blaeu. Imagine, books of maps initiated before Jan van Riebeeck landed in the Cape.

The mystery surrounding these unusual books is partly brought about by the fact that no-one knows how they made their way to Bloemfontein. They simply seem to have appeared from nowhere. Astonishingly, a number of countries, like Prussia, so richly illustrated in the books, is no longer in existence. The thick paper and the hand coloured maps made a lasting impression on me and I wondered how I might respond to this unusual encounter.  

I decided to ponder South Africa at the time when the rare book was made, a time when no maps yet charted its vast territories. I was drawn to the idea that without maps and today's GPS one might always be uncertain of where one is. To be lost, especially in a desert, with no hope of others looking for one, must be one of the most terrifying human experiences. Because of this, I decided to make the impression of an open book on the ground in sandy materials, a substance as fugitive as our very existence – 'dust to dust, ashes to ashes'.  

I looked for words that might describe the experience of being lost in the desert. One might, for example, feel that one has no future and so the word 'futureless' was 'written' down in the sand. Because no-one might be looking for one, one might feel that one's name and very existence would be forgotten, and so I selected the word 'nameless'.

I also realised that this experience of being lost is not only applicable to a far-away desert. One can be lost in a crowd or at home, in fact, anywhere and at any time. I made a long list of words describing in some way to me the things that might mill around in a lost individual's head and from this list I selected the fourteen words listed above". Willem Boshoff 2016      

Boshoff's website is extraordinary, go to:
New Editions

Artists A - L

Artists M - X
For orders (with free shipping) or any other enquiries, click here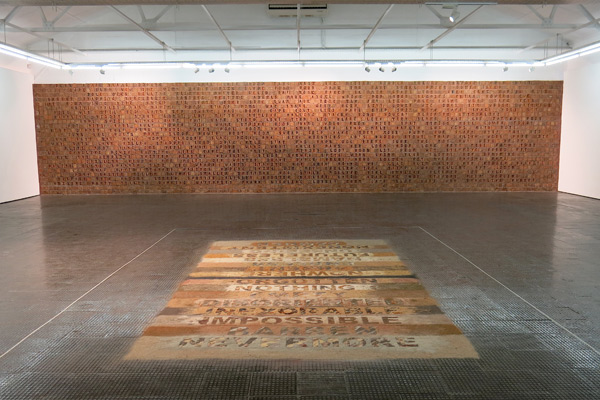 BOOK OF SAND installation, Cape Town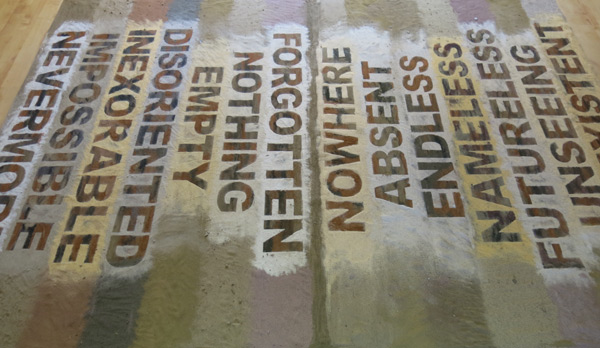 BOOK OF SAND installation, Bloemfontein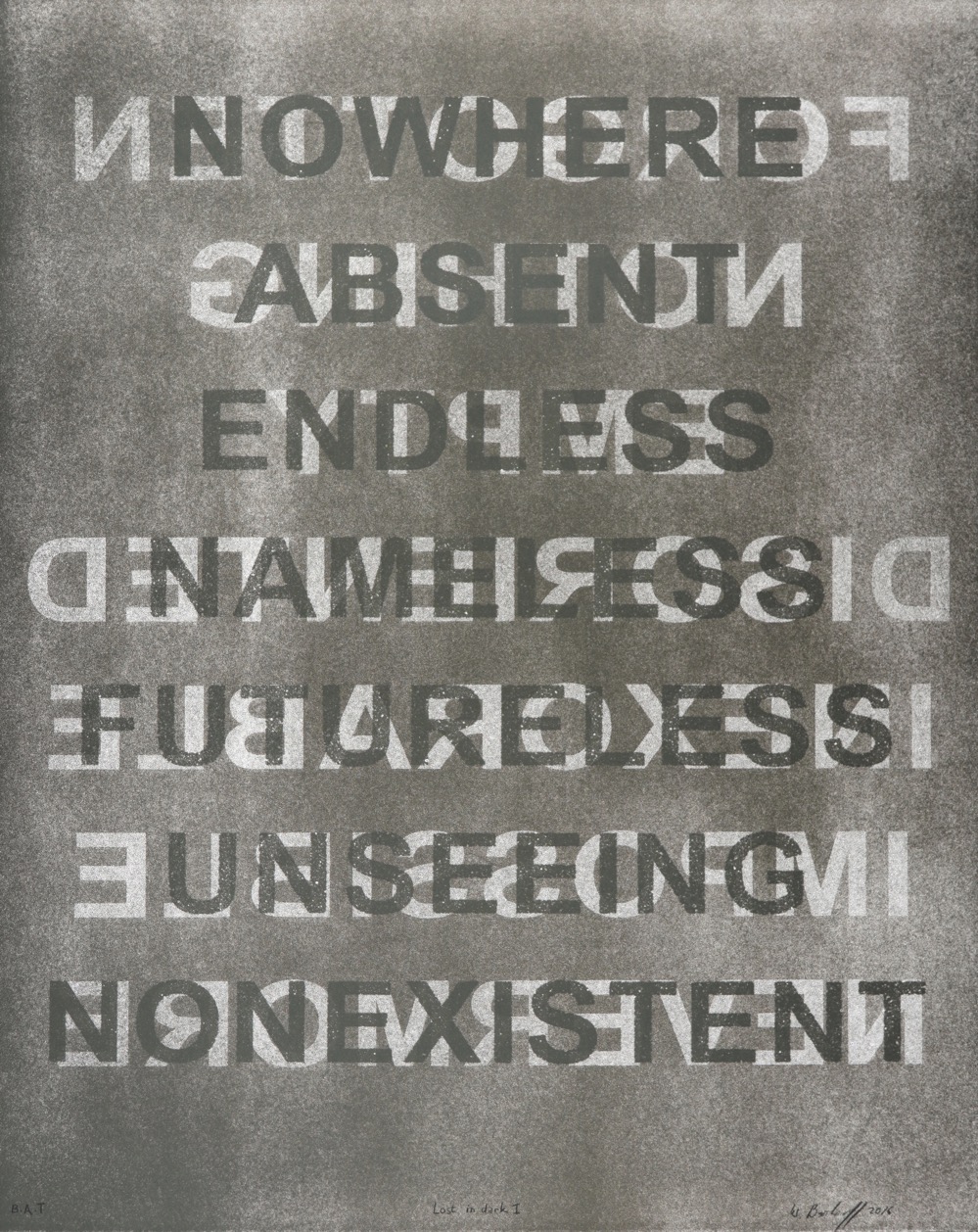 Title: Lost in dark I
Medium: Two colour lithograph and relief print
Paper size: 75 x 60 cm
Edition size: 25
Price: R 10 700 (excl.VAT)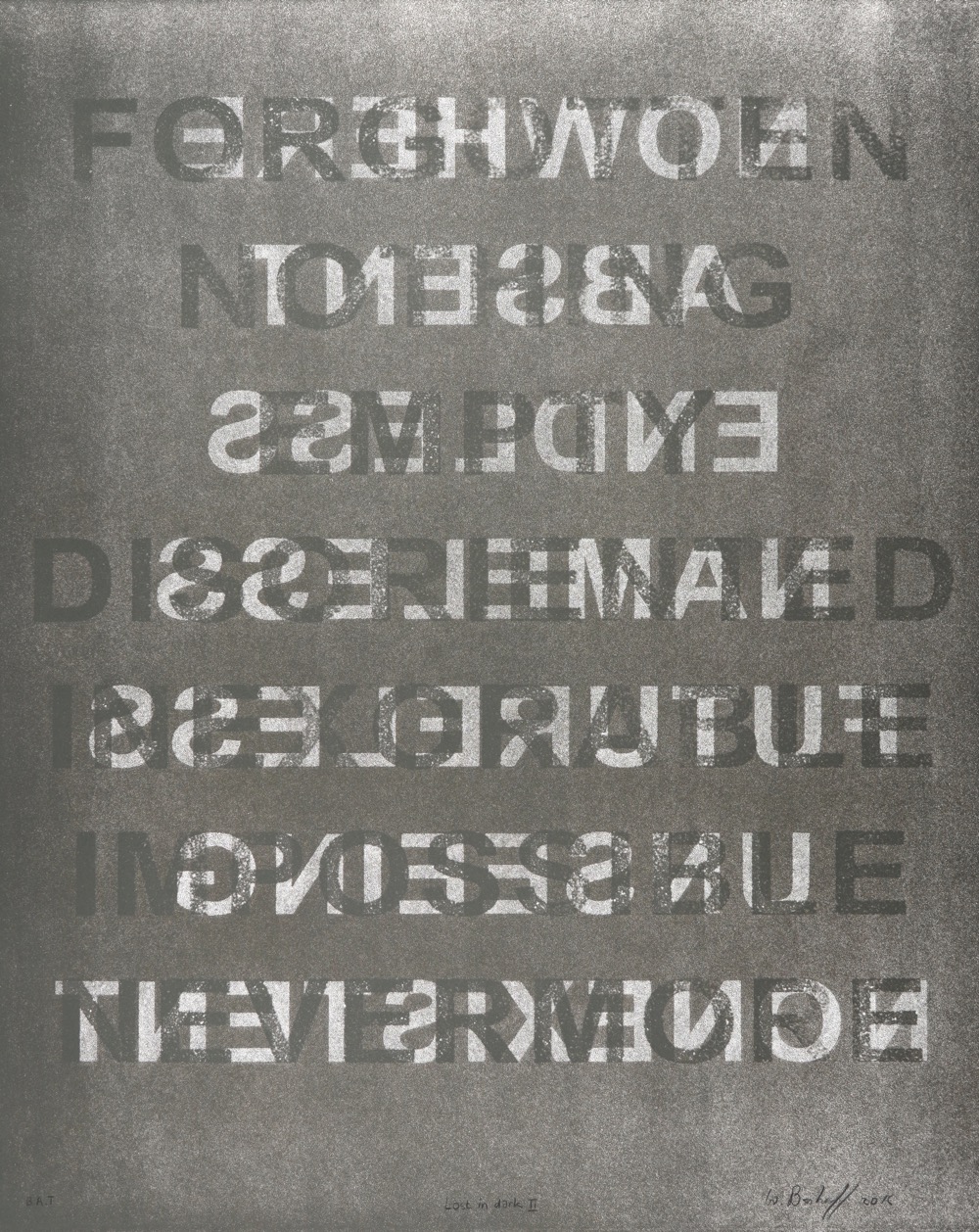 Title: Lost in dark II
Medium: Two colour lithograph and relief print
Paper size: 75 x 60 cm
Edition size: 25
Price: R 10 700 (excl.VAT)
Lost track I and II

In "Lost track I and II" one sees the negative spaces and not the letters for what they are. The letters build up a texture, much like grains of sand that are then flattened and become "ordered" once a vehicle has moved over them. The prints read as a single track or foot path when viewed on their own. When viewed together they become a road. The letters were placed deliberately not to make up any words.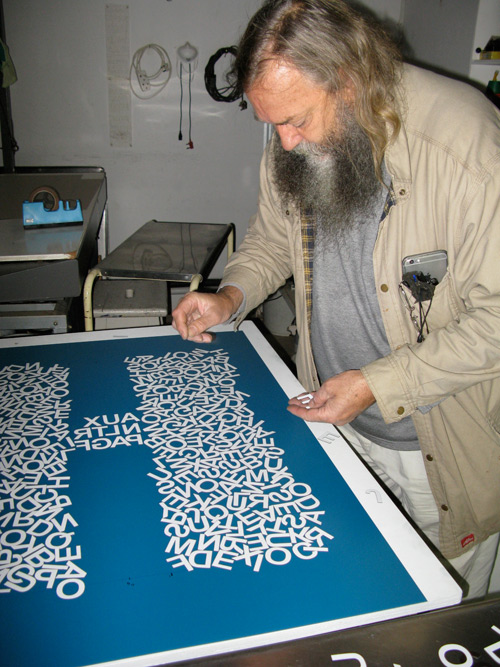 Willem Boshoff placing text onto printing plate.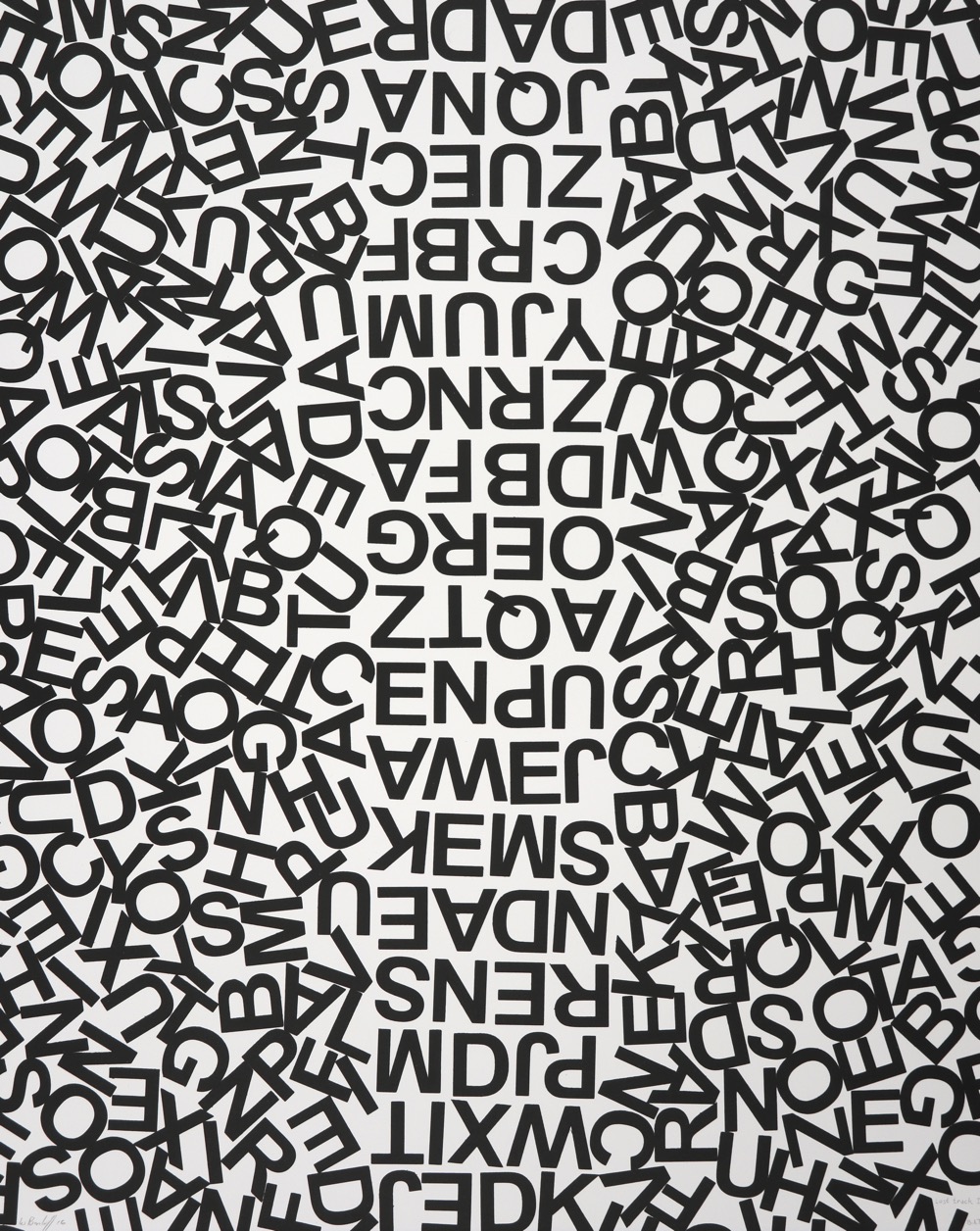 Title: Lost track I
Medium: Single colour lithograph
Paper size: 75 x 60 cm
Edition size: 15
Price: R 11 750 (excl.VAT)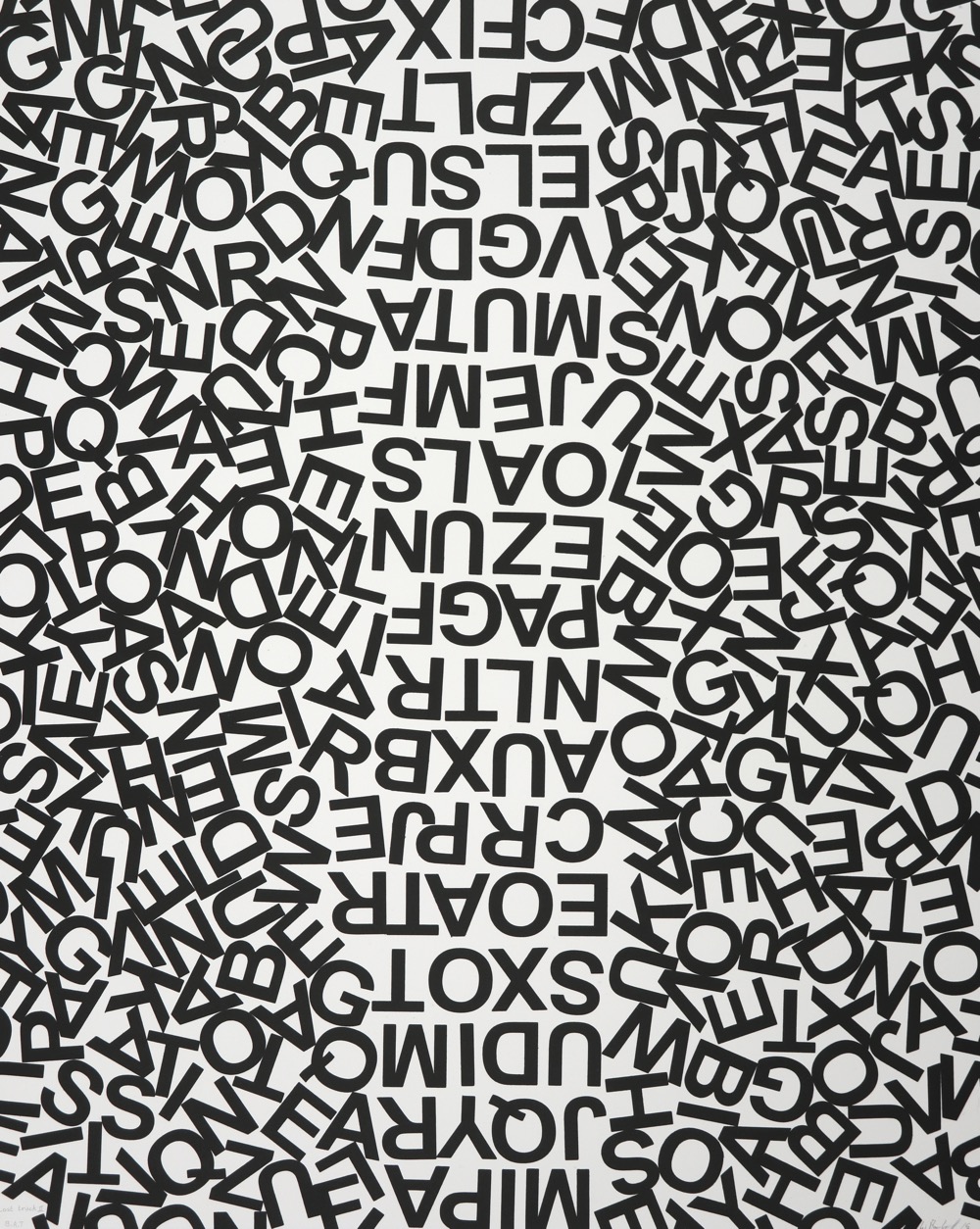 Title: Lost track II
Medium: Single colour lithograph
Paper size: 75 x 60 cm
Edition size: 15
Price: R 11 750 (excl.VAT)
Quixotic Upset
Whilst working on this image, first by sketching the landscape in pencil and then by arranging bits of bent wire on top of the drawing, Boshoff's cellphone fell out of his jacket pocket onto the wire "drawing' and shifted the wire pieces. The accident was a happy one and he decided to leave the wire as it lay. The image was then transferred to a computer screen and text from the novel placed where the drawn lines of the landscape were as well as where the wire had fallen. A photopolymer plate was made from the computer generated image and the print was printed by letterpress. Much like Don Quixote who was able to  see things in clearly in chaos.
Don Quixote fully titled "The Ingenious Gentleman Don Quixote of La Mancha" is a Spanish novel by Miguel de Cervantes Saavedra. Published in two volumes, in 1605 and 1615, Don Quixote is considered the most influential work of literature from the Spanish Golden Age and the entire Spanish literary canon.
The novel's farcical elements make use of punning and similar verbal playfulness.
The novel is considered a satire of orthodoxy, veracity and even nationalism. In exploring the individualism of his characters, Cervantes helped move beyond the narrow literary conventions of the chivalric romance literature that he spoofed, which consists of straightforward retelling of a series of acts that redound to the knightly virtues of the hero. The character of Don Quixote became so well known in its time that the word quixotic was quickly adopted by many languages. Characters such as Sancho Panza and Don Quixote's steed, Rocinante, are emblems of Western literary culture. The phrase "tilting at windmills" to describe an act of attacking imaginary enemies, derives from an iconic scene in the book.
Text on Don Quixote taken from: https://en.wikipedia.org/wiki/Don_Quixote
Quixotic definition
: foolishly

impractical

especially in the pursuit of ideals;
especially
: marked by lofty romantic ideas or extravagantly

chivalrous

action.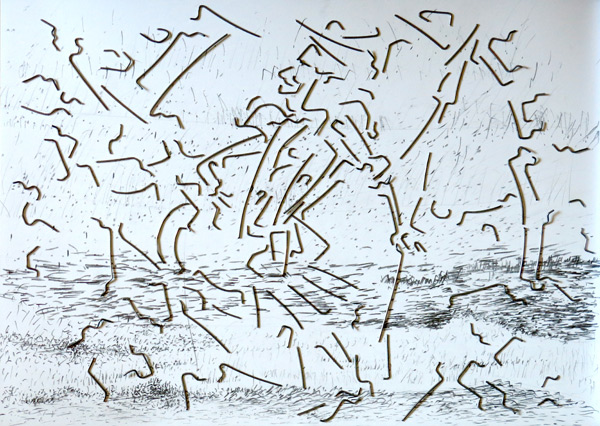 The pencil drawn landscape with the wire figure placed on top, before the cellphone fell onto it.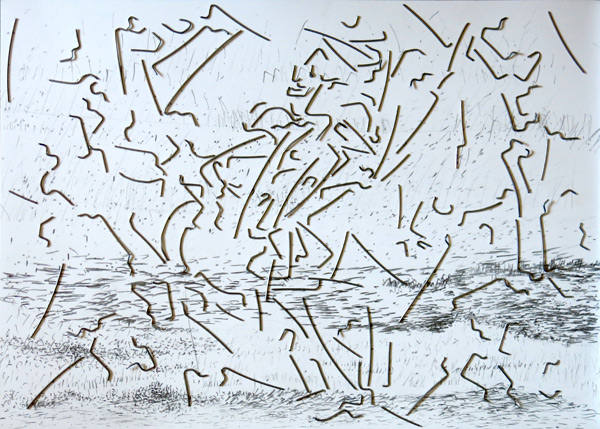 After the cell phone fell.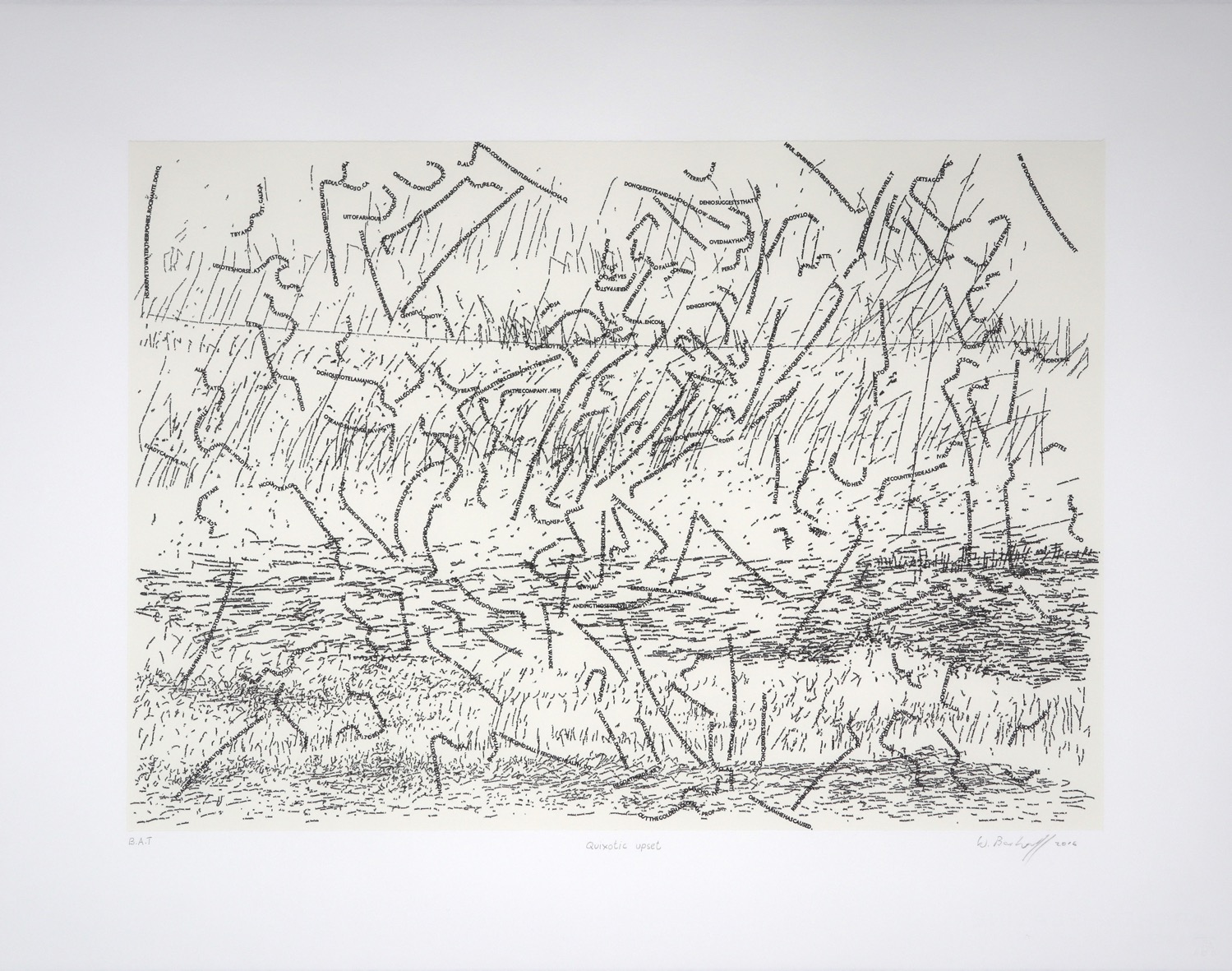 Title: Quixotic upset
Medium: Chine collé/letterpress
Paper size: 57.5 x 72.5 cm
Image size: 40.4 x 57 cm
Edition size: 25
Price: R 12 000 (excl.VAT)
The Oh No! Prints
For close-up detailed images of the prints please go to the bottom of this page.
Boshoff has a remarkable ability to weave simple things into complex threads (like the beautiful installation outside the main entrance to the Mpumalanga Legislature which consists of jars of soil collected from sites around the country, poignantly reminiscent of healing, memory and belonging). And then he does the reverse, taking a complicated Latin sounding word and making it accessible, by turning it into a print. Here is what he wrote about the print Culmiculous.

"I wanted to make something that has a feeling of straw, chaff or grass. In my anthology 'Kykafrikaans' I had a visual poem called 'Bol Strooi' (ball of straw) – written because of the Afrikaans idiom: "Hy praat strooi," (he speaks inconsequential rubbish).

I found some fine bits of straw and turned them into the Oh No! print. Then I checked all my notes on grass and straw in the Oh No! Dictionary, but there was nothing I could use as a title. The title I chose, culmiculous, is not included the Oh No! Dictionary, but I noted that it rhymes with 'ridiculous' and I put it in as the title of the print.

The entry culmiculous is in fact from my new dictionary What every Druid Should Know. The entry reads:
Culmicolous: Living in straw or on the stems of grass, as certain fungi do – from the Latin culm 'stalk' and colere 'to inhabit'.

Words like culmiculous and nidicolous (living in a nest) are pronounced close to ridiculous. A culm is the stem of a plant, especially a jointed grass stalk and a culmiferous plant grows stalks. Culm is also soot and mud."
Willem Boshoff, 2010

The "imagery" on these prints is constructed out of words that relate to the dictionary that the title of the print is from. Dromomania was drawn whilst listening to rugby on the radio, wherever the ball went Boshoff drew a line along which text was later imposed.

Willem Boshoff has decided that he is a Druid. A while ago he realised that all the things that interested him, the things he collects and the way he lives is druidic. His take on Druid is not the new age Stonehenge version. His is more local, an African outsider who collects, ponders, creates and occasionally comments.

Most of the prints in this series relate to The Oh No! Dictionary that Boshoff has compiled.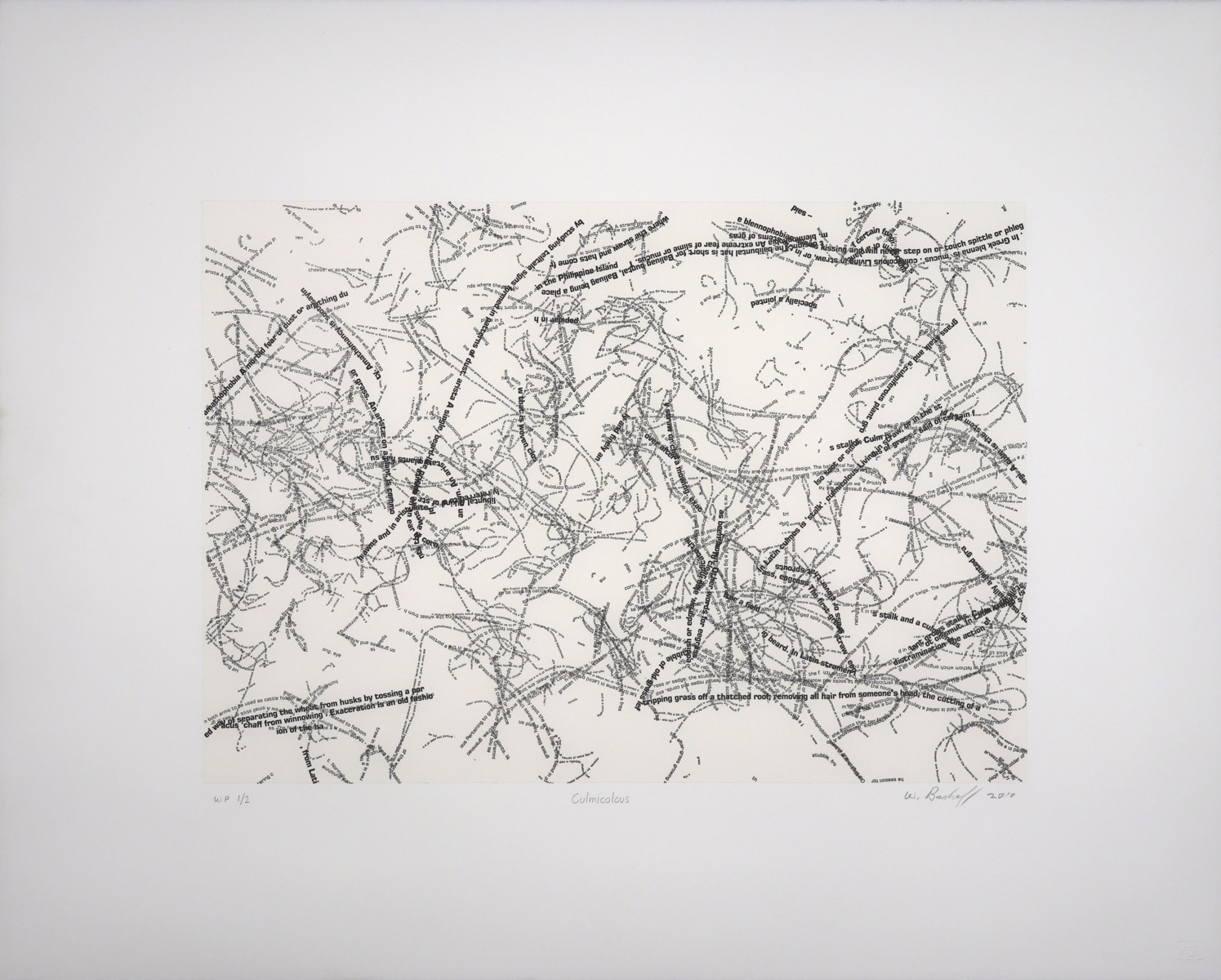 Title: Culmicolous
Definition: Living in straw or on the stems of grass, as certain fungi do – from the Latin culm 'stalk' and colere 'to inhabit'.
Medium: Chine collé/letterpress
Paper size: 50.5 x 62.8 cm
Image size: 29.7 x 42 cm
Edition size: 35
Price: R 10 300 (excl.VAT)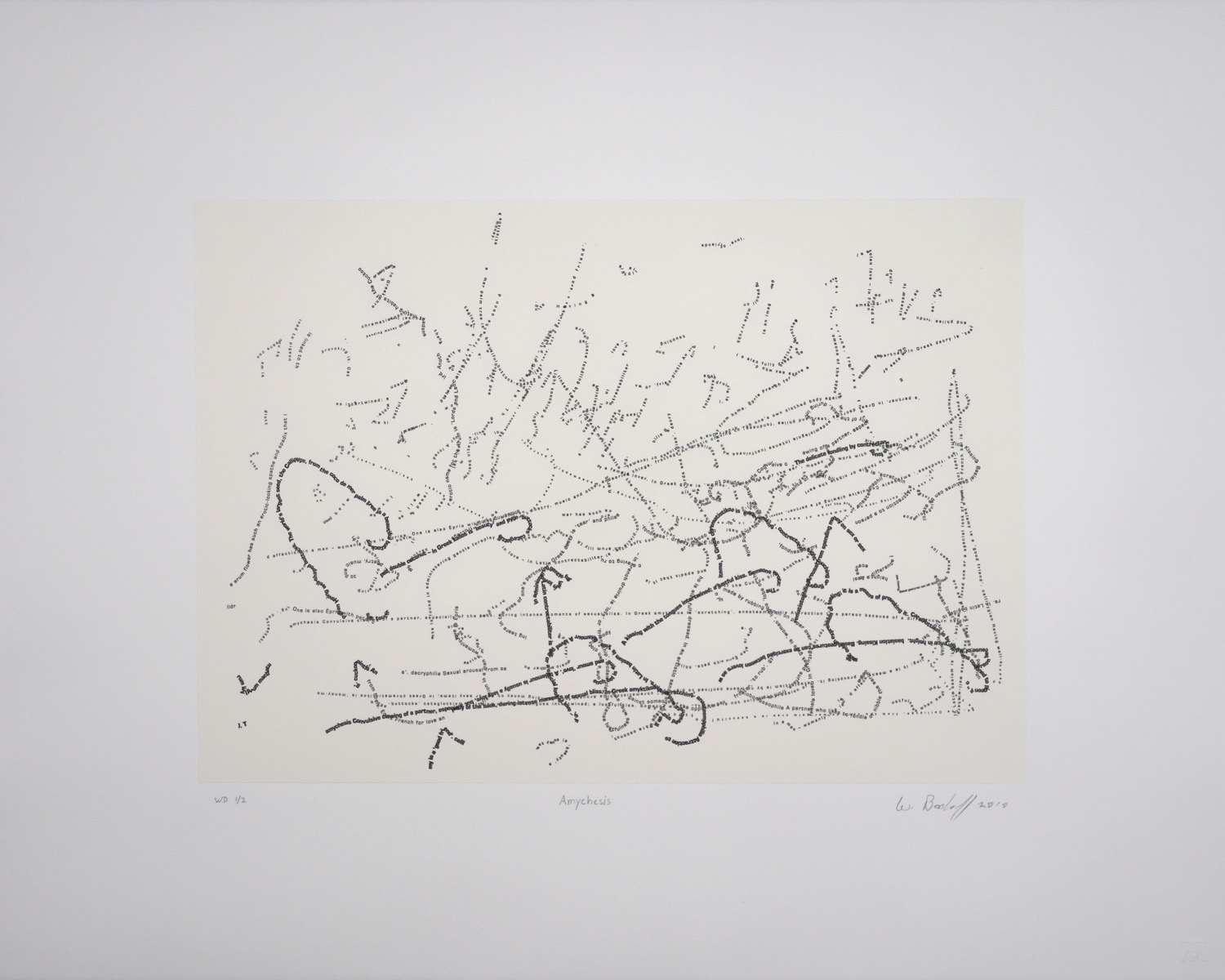 Title: Amychesis
Definition: Convulsive clawing of a partner, especially of the back, during intense moments of sexual bliss. In Greek amyktikos is 'scratching'.
Medium: Chine collé/letterpress
Paper size: 50.5 x 62.8 cm
Image size: 29.7 x 42 cm
Edition size: 35
Price: R 10 300 (excl.VAT)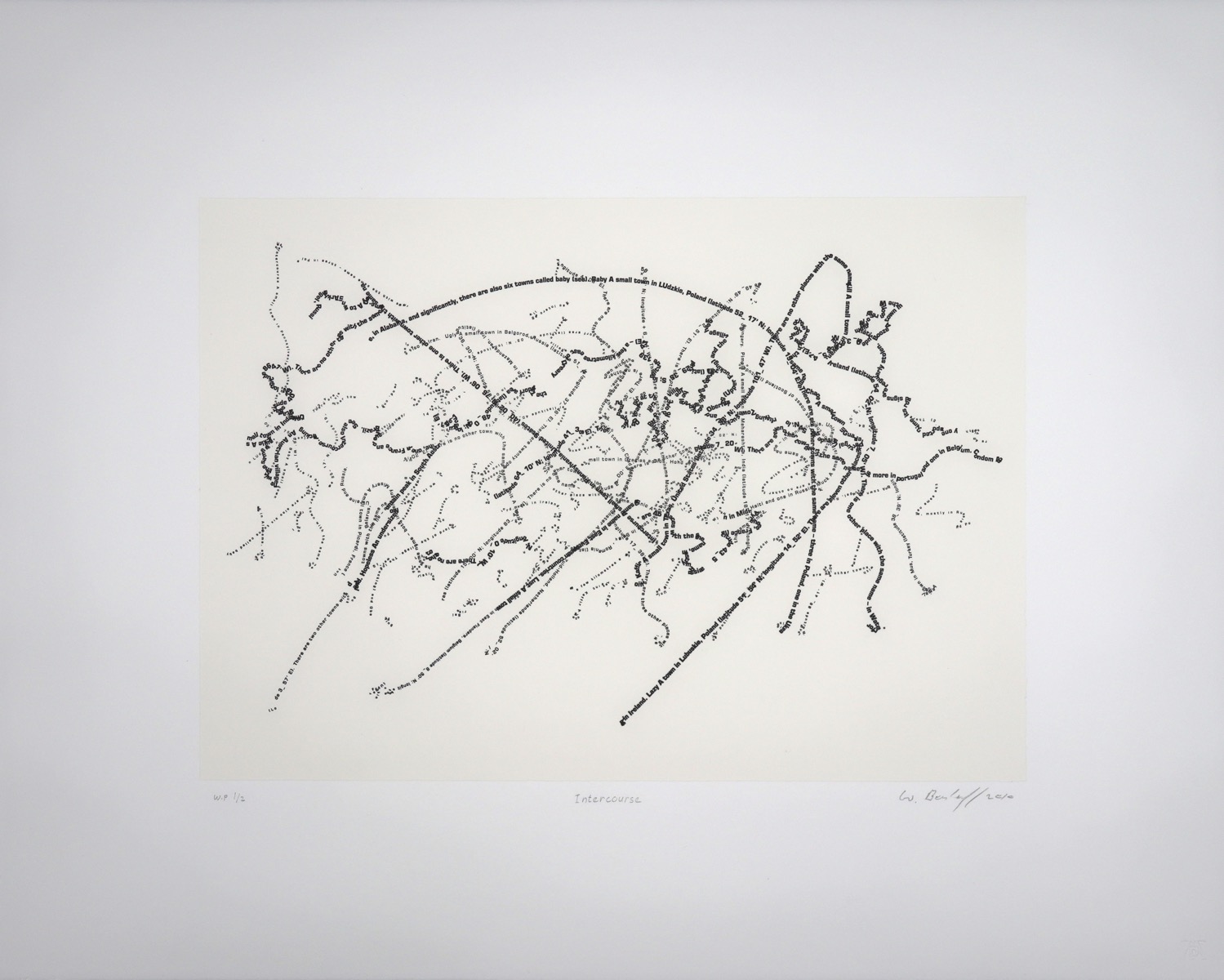 Title: Intercourse
Definition: A small town in Pennsylvania, United States (40º 02' N; 76º 06' W). There is one other town with the same name, in Alabama, and significantly, there are also six towns called baby.
Medium: Chine collé/letterpress
Paper size: 50.5 x 62.8 cm
Image size: 29.7 x 42 cm
Edition size: 35
Price: R 10 300 (excl.VAT)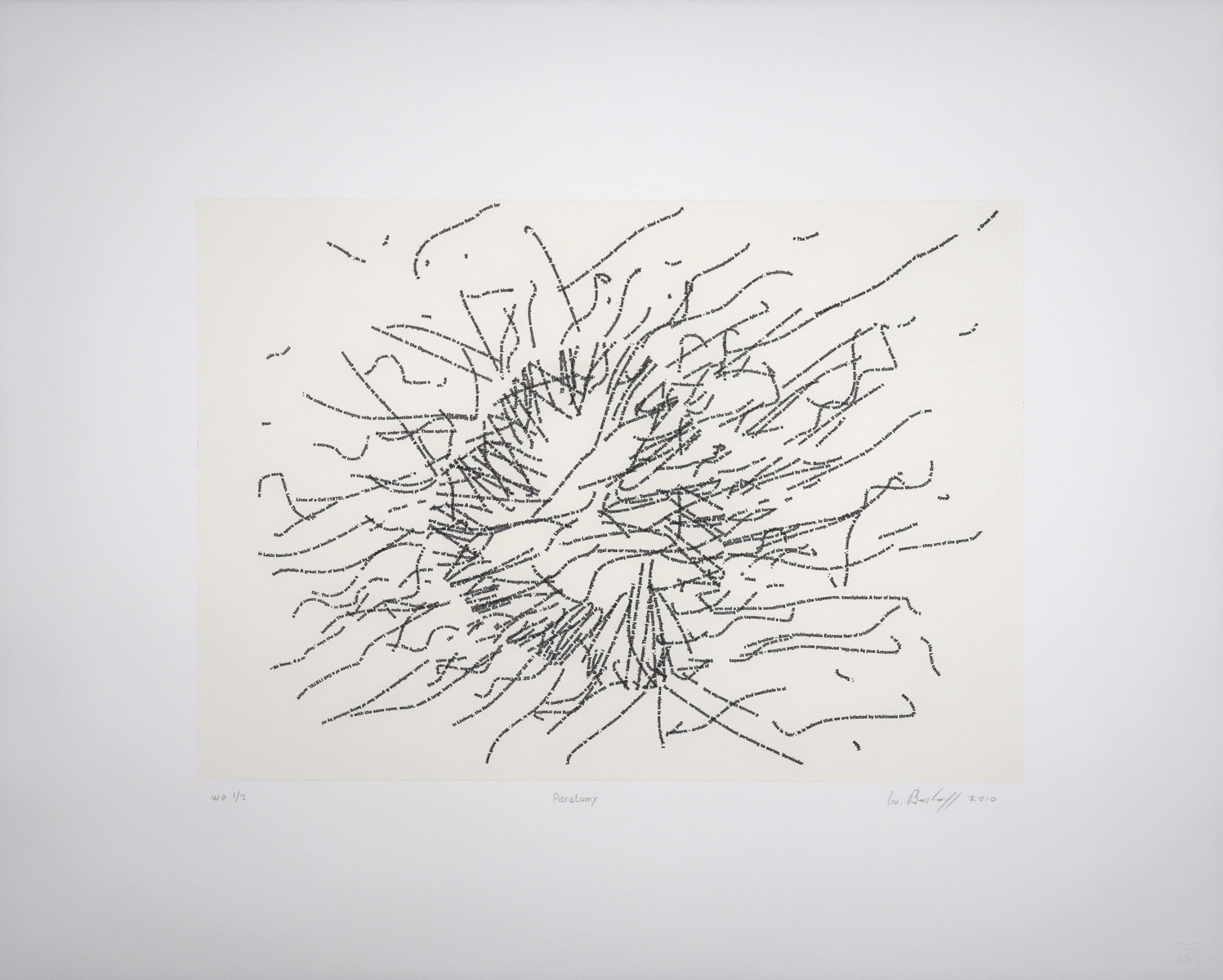 Title: Paratomy
Definition: In worms, a way of multiplying, based on the tendency of the worm to divide into parts, each of which grows its own head. If the heads grow on before the parts break off, the process is called architomy. In Greek tomos is 'cutting'.
Medium: Chine collé/letterpress
Paper size: 50.5 x 62.8 cm
Image size: 29.7 x 42 cm
Edition size: 35
Price: R 10 300 (excl.VAT)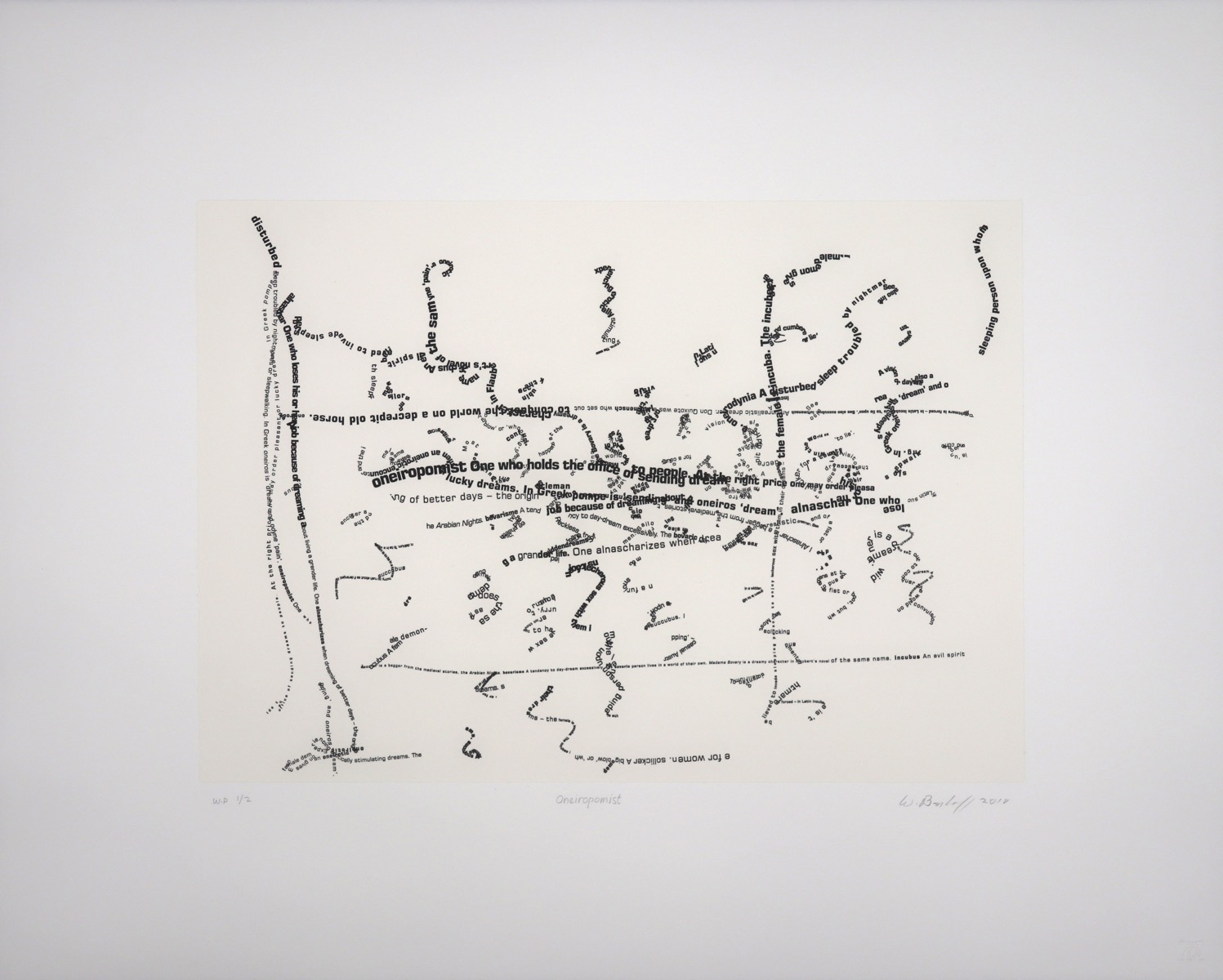 Title: Oneiropomist
Definition: One who holds the office of sending dreams to people. At the right price one may order pleasant or lucky dreams. In Greek pompe is 'sending' and oneiros 'dream'.
Medium: Chine collé/letterpress
Paper size: 50.5 x 62.8 cm
Image size: 29.7 x 42 cm
Edition size: 35
Price: R 10 300 (excl.VAT)


Title: Dromomania
Definition: A craving to run, roam or travel around. The jogging craze is undoubtedly supported by free-spirited dromomaniacs. Dromophobia is a fear of motion as sensed in moving vehicles. In Greek dromas is 'runner'.
Medium: Chine collé/letterpress
Paper size: 50.5 x 62.8 cm
Image size: 29.7 x 42 cm
Edition size: 35
Price: SOLD OUT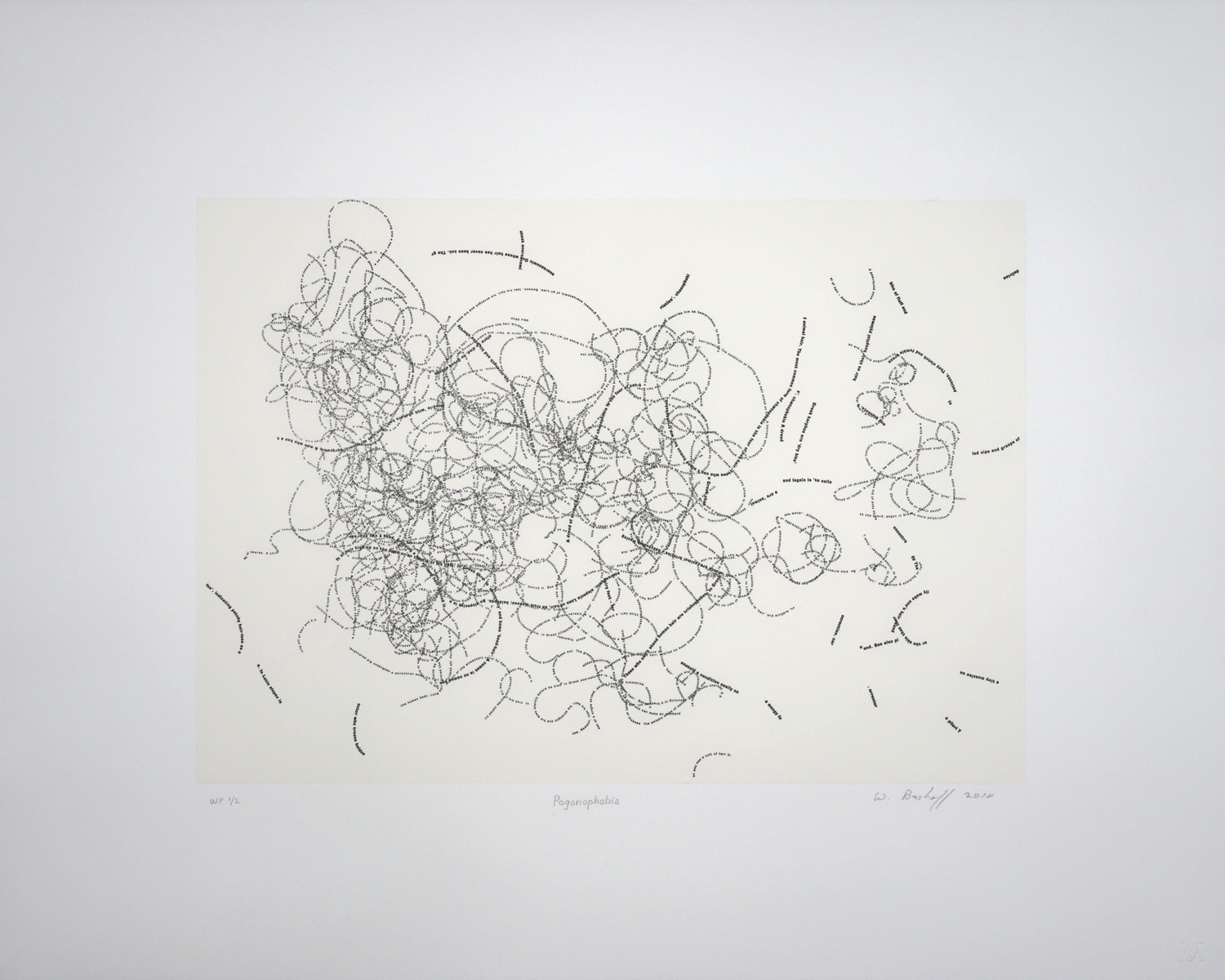 Title: Pogonophobia
Definition: A dread of beards. A philopogon is a lover (usually female) of beards, or a man so fond of his own beard, he never shaves it – in Greek pogon is 'beard'.
Medium: Chine collé/letterpress
Paper size: 50.5 x 62.8 cm
Image size: 29.7 x 42 cm
Edition size: 35
Price: R 10 300 (excl.VAT)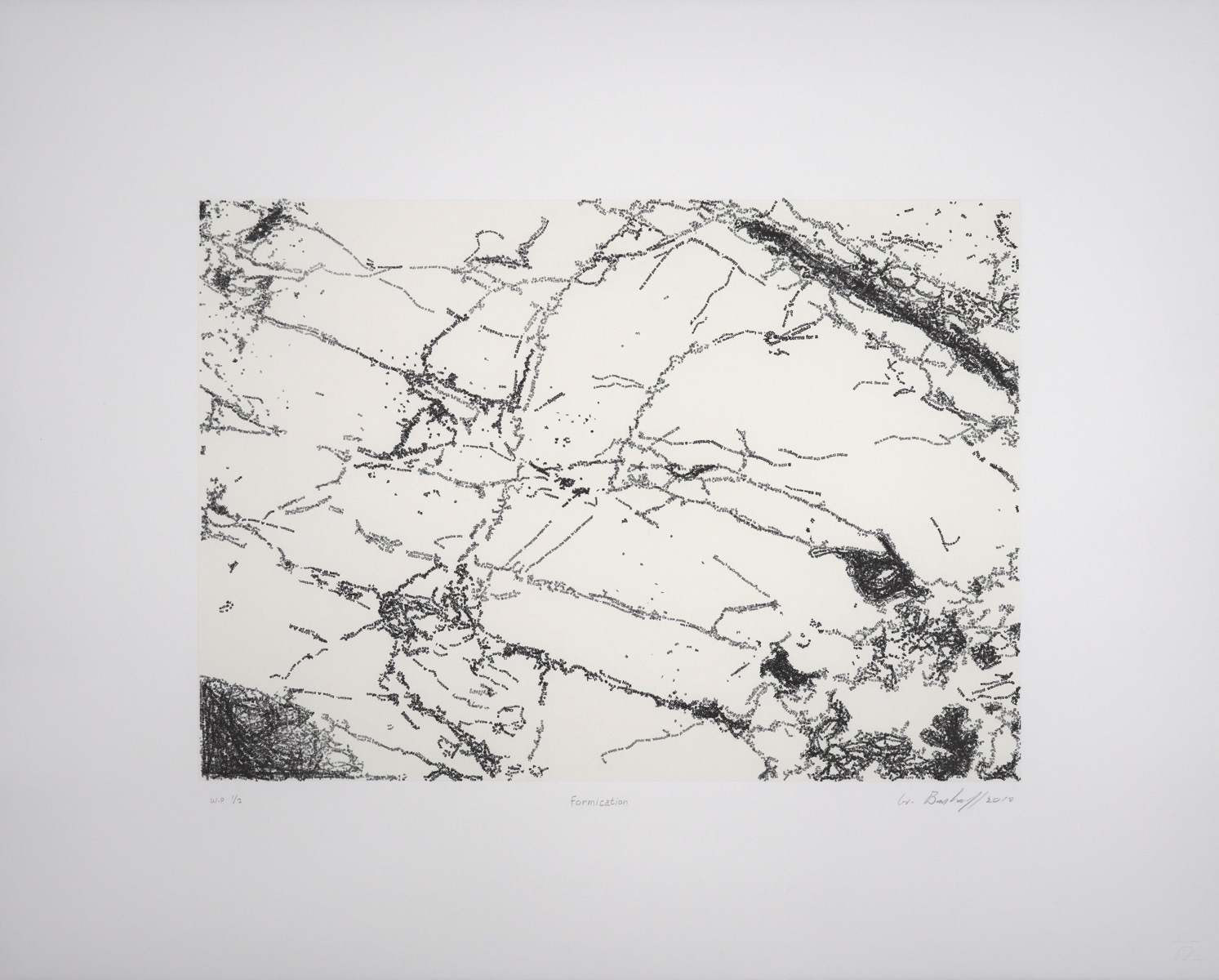 Title: Formication
Definition: A creepy sensation as if ants are crawling on one's skin. In Latin formica is 'ant'.
Medium: Chine collé/letterpress
Paper size: 50.5 x 62.8 cm
Image size: 29.7 x 42 cm
Edition size: 35
Price: SOLD OUT


Close-up view of prints to show detail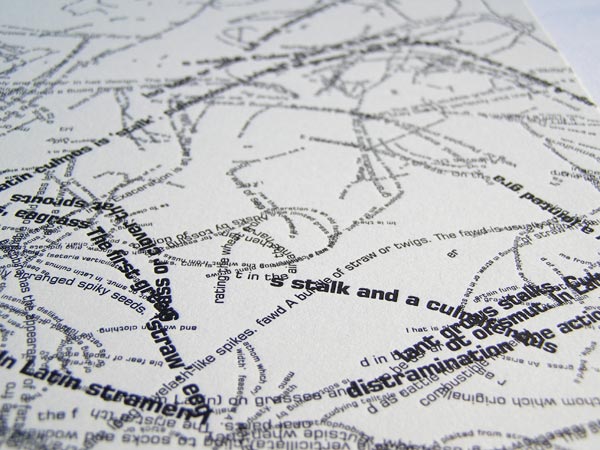 Culmiculous (detail)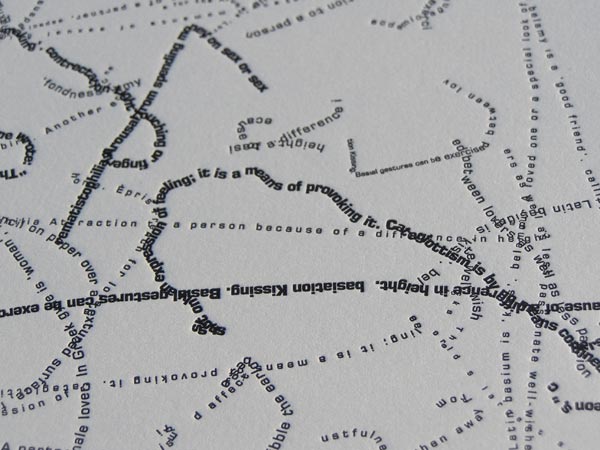 Amychesis (detail)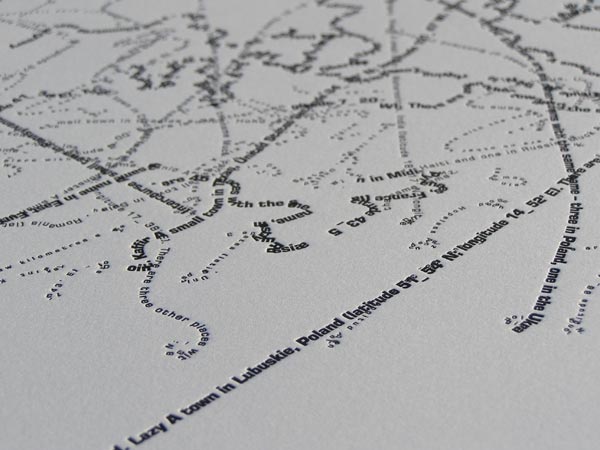 Intercourse (detail)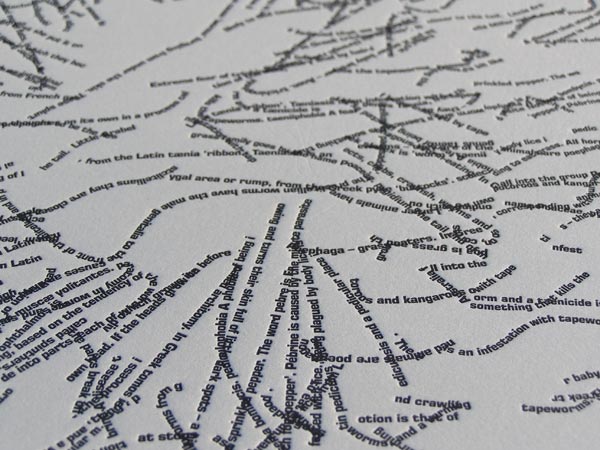 Paratomy (detail)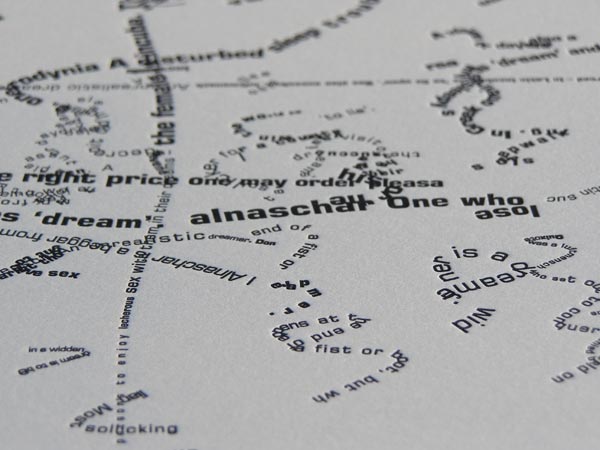 Oneiropomist (detail)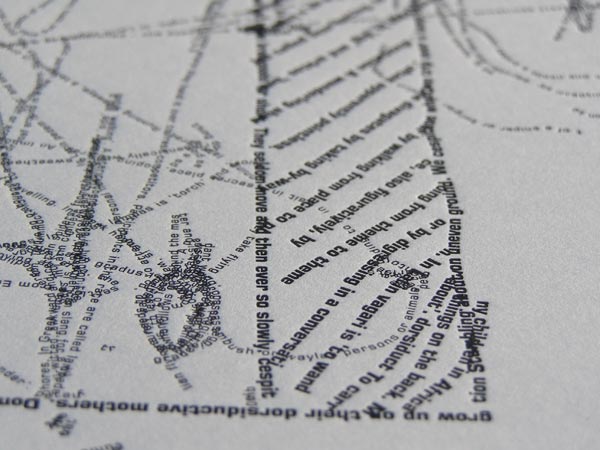 Dromomania (detail)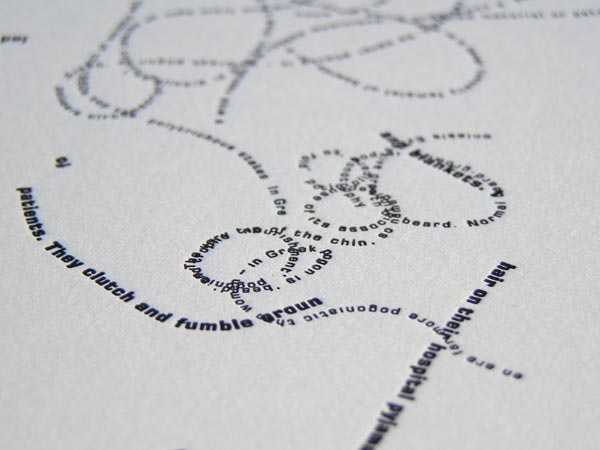 Pogonophobia (detail)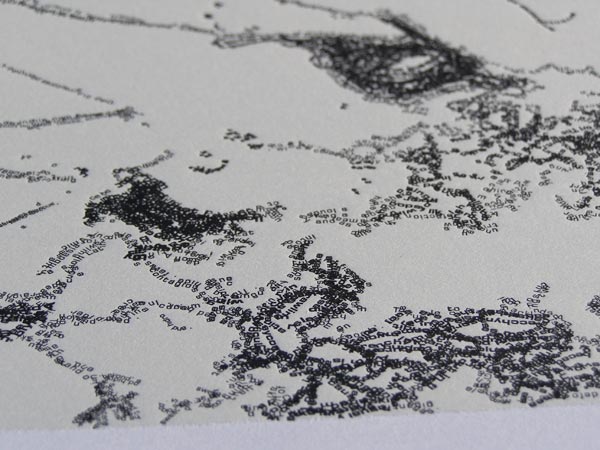 Formication (detail)


OH NO! WORDS
I have often wondered why some authors apologise for using difficult and forgotten words. To me, the experience of the languages I speak is like travelling through the landscape I grew up in, the landscape I love and know so well. The trees and plants are mostly familiar to me, but every now and then I spot a rare and curious species. It usually makes me stop dead in my tracks and makes me reach for my camera and identification manuals. When I read a text and I see a word that I have not yet encountered, I get thoroughly excited. I believe that there are those who get really annoyed.

I wrote my first dictionary in 1977 – DICTIONARY OF COLOUR. Since then I have written quite a number of them. The biggest one, with over 18,000 entries, was completed in 1999 – A DICTIONARY OF PERPLEXING ENGLISH. In order to compile this dictionary I spent nearly four years, carefully reading page for page the seventeen volumes of the proper OXFORD ENGLISH DICTIONARY. I made careful notes on all the words I usually found puzzling and obscure and turned them into dictionary entries. I tried to give each word a 'face' so that it might become endearing and desirable. I gave its meaning/s, wrote a little of its etymology, related anecdotes and gave examples of its usage. I have often worked with the extinction of plants and trees in my artworks and in a way I am trying to save old and difficult words from vanishing.

I have not yet published my dictionaries as books. Instead I turn them into artworks, shown at exhibitions. In a way, exhibiting artworks is 'publishing' them or making them public. In my BLIND ALPHABET PROJECT, for example, I have created a dictionary for blind people to walk around in. The 'pages' are really metal bases with knee-high wire-mesh boxes concealing wooden sculptures that cannot be seen by sighted people. Blind people find the boxes or 'pages' conveniently accessible in rows, next to each other and do not have to look for them. The sighted are made to feel somewhat blind by the frustrating gallery signs that say "Don't touch." The Braille plates on the boxes discuss strange words for shapes, structures and textures – a dictionary of morphology. To date I have made close to 400 of these three-dimensional 'pages'. The Letter 'A' forms chapter one. Chapters two and three comprise the letter 'B' and can be seen in different locations. Nine 'chapters' of THE BLIND ALPHABET 'dictionary' have been completed and can be viewed in different countries and cities.

The OH NO! DICTIONARY is a collection of strange words from some of my existing dictionaries, namely :
DICTIONARY OF PERPLEXING ENGLISH
BEYOND THE EPIGLOTTIS
DICTIONARY OF -OLOGIES AND –ISMS
VISUUM AND TUTAMINA OCULI
DICTIONARY OF MANIAS AND PHOBIAS
OH NO! DICTIONARY OF ITCHY CUM SCRATCHY
OH NO! DICTIONARY OF RED NAMES
OH NO! DICTIONARY OF UNMENTIONABILIA
OH NO! DICTIONARY OF PLACES MOTHER MIGHT NOT APPROVE OF.


The OH NO! in the title plays on my fascination with words and names that create an incredulous or surprising reaction. One might be taken aback when hearing a really shocking place name like 'Fucking', a town in Austria or 'Shit', a small town in Afghanistan. The involuntary reaction would be to say "Oh No!"

To celebrate my OH NO! DICTIONARY, I made eight word 'drawings' that were 'translated' into 'text' by my daughter Karen Boshoff. These are called OH NO! WORDS and feast on the craziness of eight intriguing words that exist in the OH NO! DICTIONARY.
Willem Boshoff 2010
Click here to follow Willem Boshoff on Instagram
Click here to follow Willem Boshoff on Facebook

More prints from The Artists' Press where Willem Boshoff worked