Simon Attwood

Simon Attwood (b.1997) is a young artist who became interested in linocut printing whilst working on his high school art portfolio. In August 2018 he will begin his studies at the School of the Art Institute of Chicago, USA where he has been awarded the Presidential Scholarship.
"As an artist, I am interested in the relationship between the individual and their environment (namely the socio-political structures they interact within and the natural environment that they eke sustinance from). In my work I aim to make the viewer reflect on their own interactions in these fields and the impact that they have on the world. I do this by critisizing the shortfalls of the politically powerful and addressing the devastating impacts of human greed on the environment".
Watch Simon Attwood's animations  " The Scavengers of a Broken Country"
and "Coligny"

New editions from The Artists' Press

Artists A - L (listed by surname)
Artists M- X (listed by surname)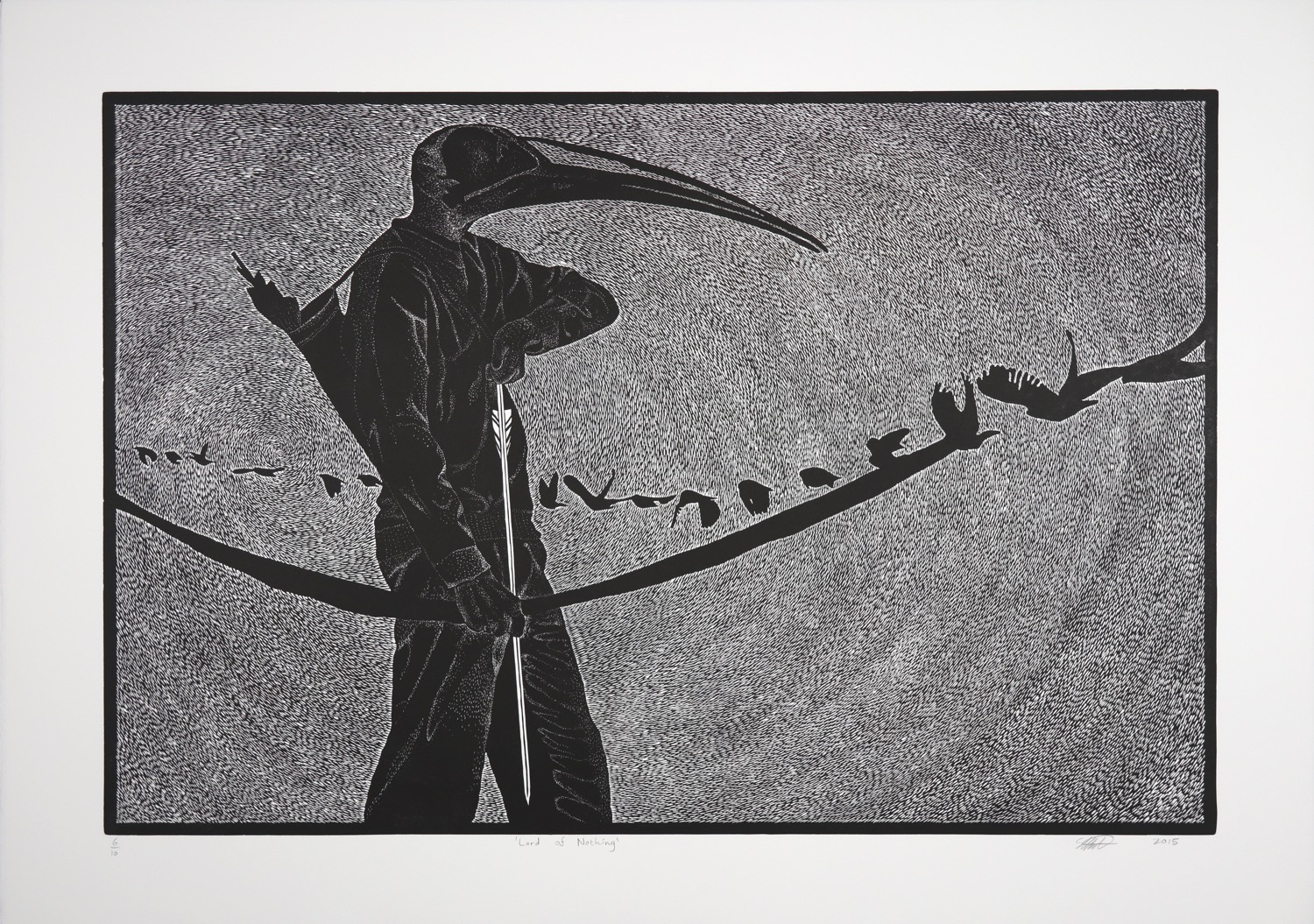 Title: Lord of Nothing
Medium: Single colour linocut
Paper size: 75 x 106 cm
Edition size: 10
Price: SOLD OUT

"The therianthropic form of a human with the head of an ibis indicates how people are an integrated part of the environment. Humans cannot assume that they are not part of the environment. If we cut down all the forests of the world and hunt every last bird and animal we will be unable to survive. By firing an arrow into the heart of a bird we are firing an arrow into the heart of humanity. By killing the natural world, people are killing themselves. After the natural resources run out, people will become the rulers of a world containing nothing other than them selves. Just like the ominous figure in this linocut, we will become the lord of nothing. People will be left stranded in a world of dust and homogenous, lifeless emptiness. The birds receding in the background represent the loss of species and the scarcity of the world's natural resources. The ibis skull is symbolic of the knowledge and wisdom that the ancient Egyptian god, Thoth, represented. People have such a great scientific understanding of the world, yet we are destroying it. The skull is lifeless and represents the cruel, thoughtless, cold-hearted way in which people kill the beings of the natural world in order to gain a surplus of wealth. A surplus of human wealth ultimately causes a scarcity of natural resources". Simon Attwood 2016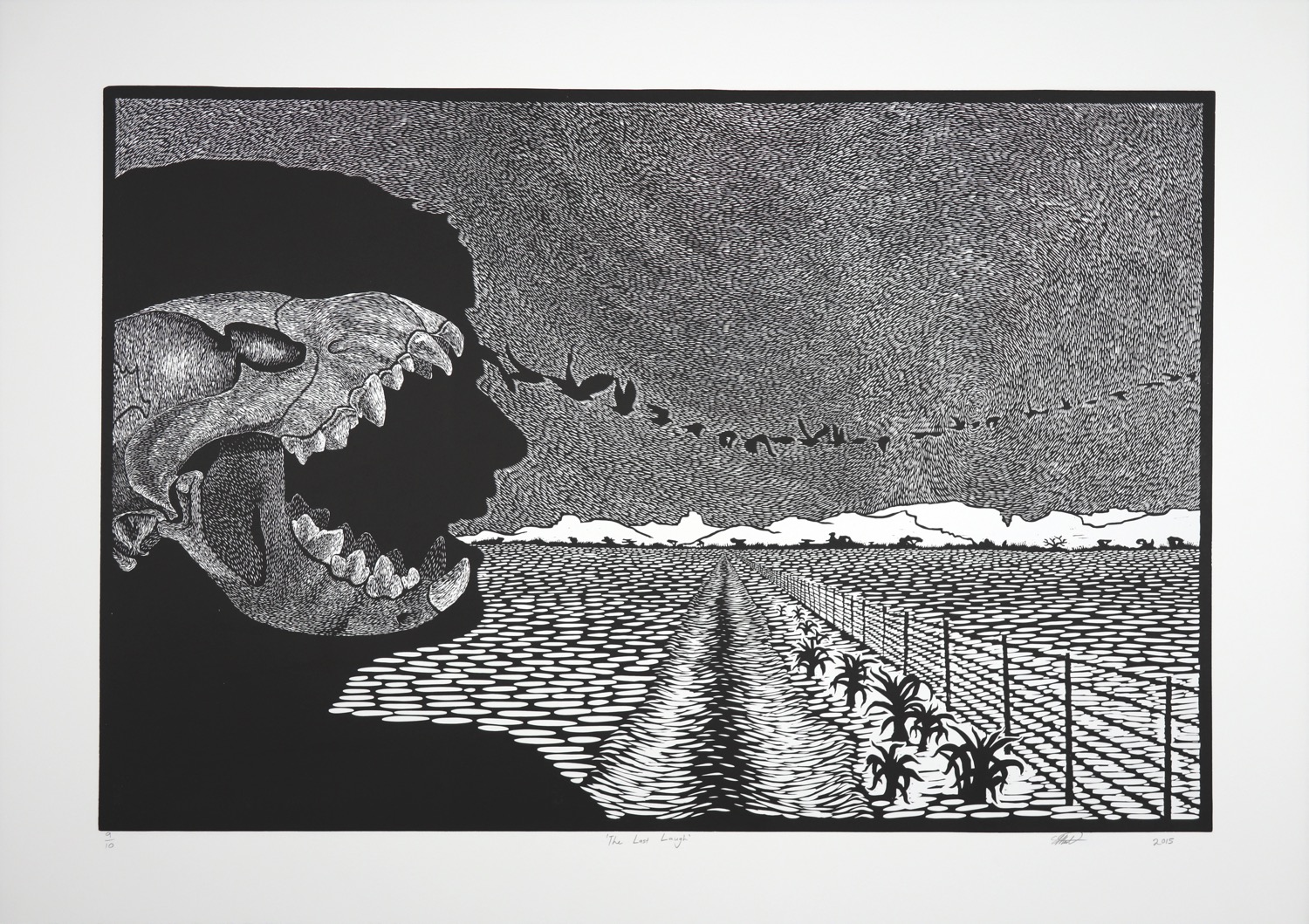 Title: The Last Laugh
Medium: Single colour linocut
Paper size: 75 x 106 cm
Edition size: 10
Price: R 3 000 (excl. VAT)
Title: Sikhova (Owl)
Medium: Maniere noir lithograph
Paper size: 42.5 x 50 cm
Edition size: 20
Price: R 1 500 (excl. VAT)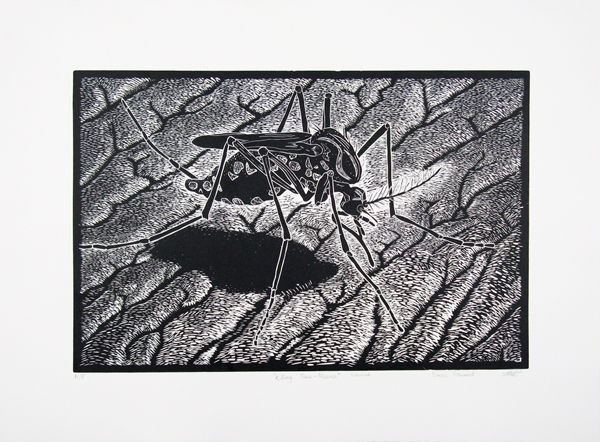 Title: Killing Time: Disease
Medium: Single colour linocut
Paper size: 55.5 x 76.5 cm
Edition size: 10
Price: SOLD OUT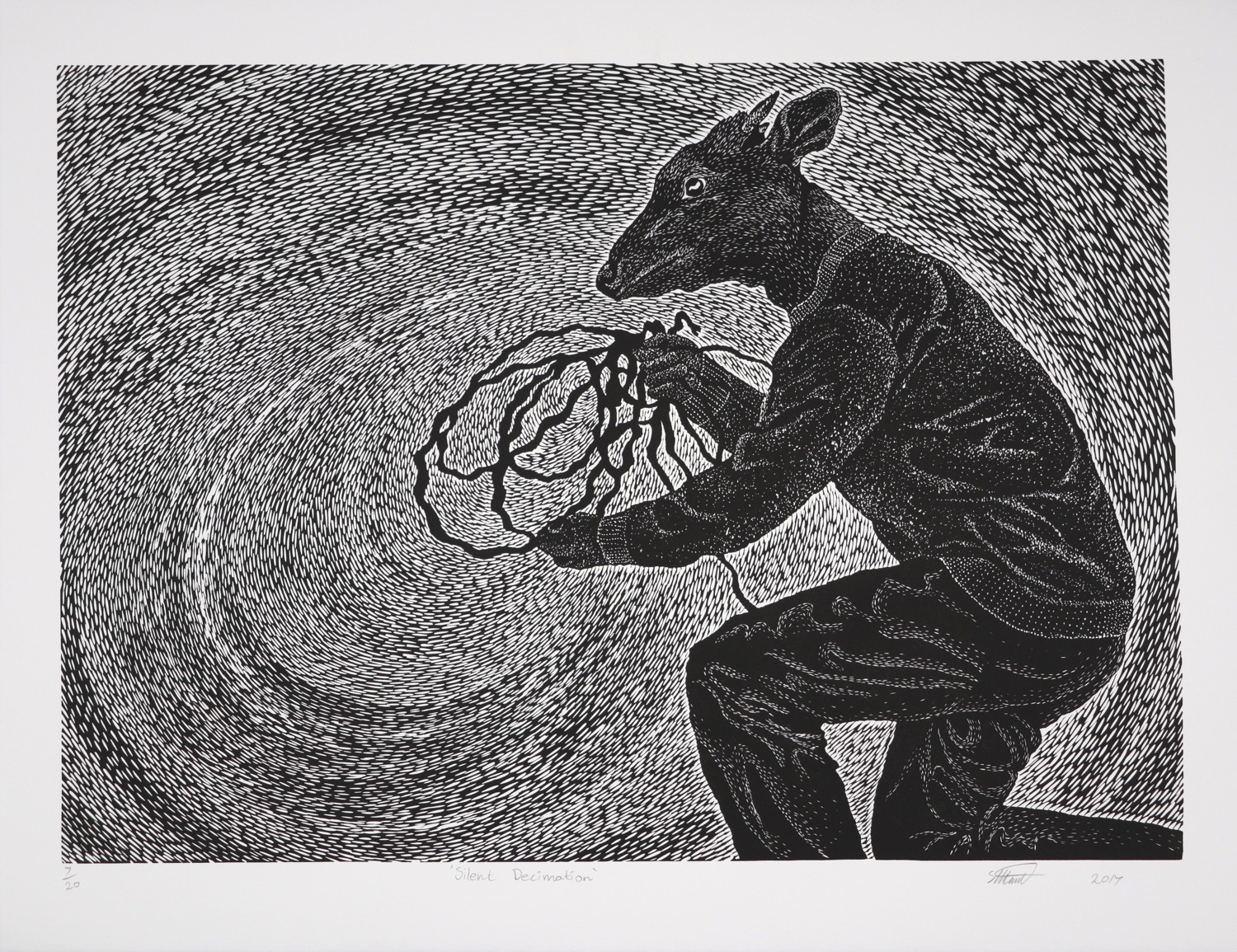 Title: Silent Decimation
Medium: Single colour linocut
Paper size: 48 x 61.5 cm
Edition size: 20
Price: R 1 500 (excl. VAT)
Title: King Liar
Medium: Single colour linocut
Paper size: 38 x 46 cm
Edition size: 20
Price: R 1 000 (excl. VAT)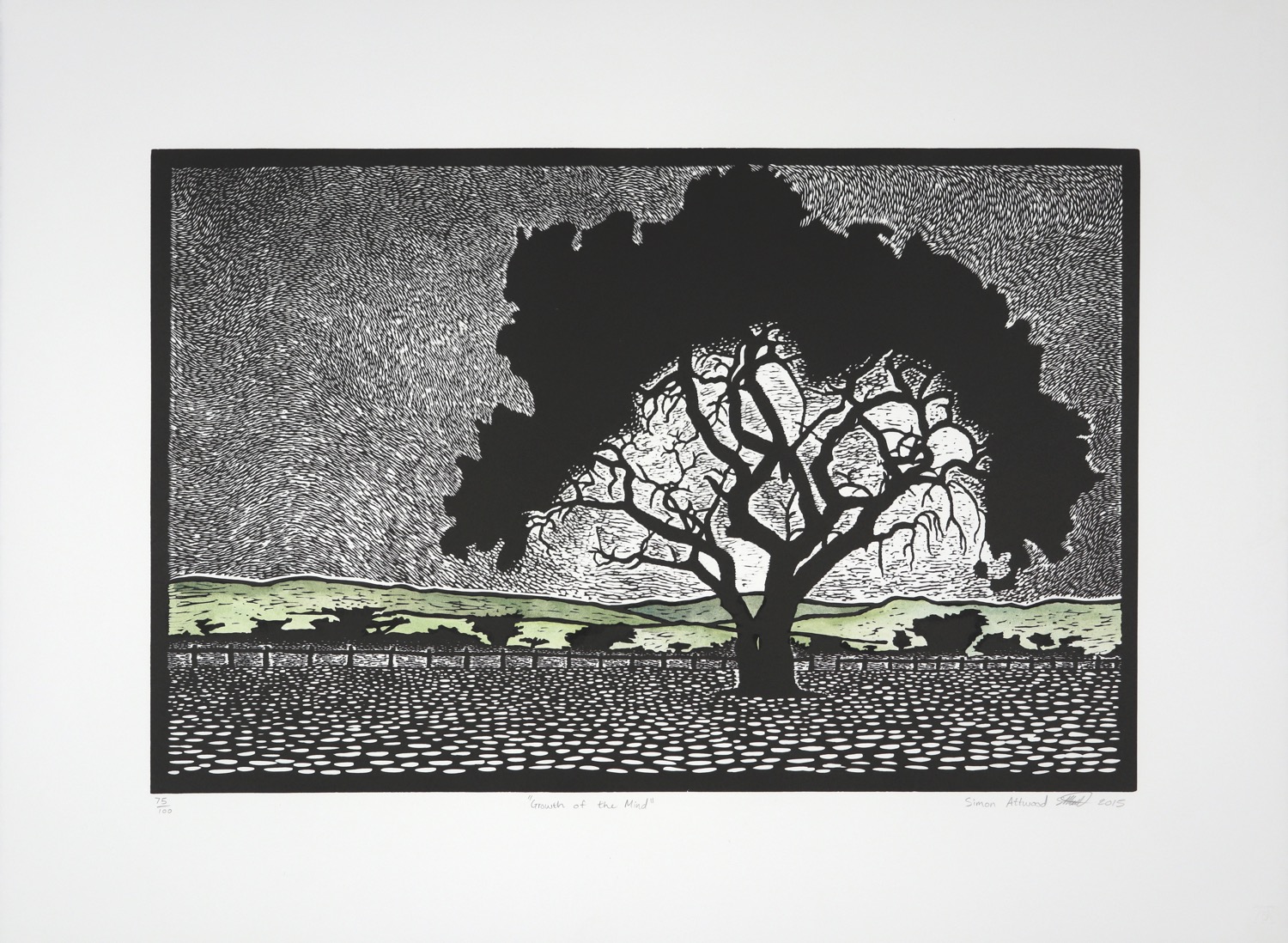 Title: Growth of the Mind
Medium: Hand Coloured linocut
Paper size: 56 x 77 cm
Edition size: 100
Price: R 1 500 (excl. VAT)
Title: Face It
Medium:  16 x single colour linocuts adhered to cotton sheeting
Total size:  132 x 100 cm
Edition size: 1
Price: SOLD
Portraits
"A series of sixteen portraits that I have compiled of people from around the world that I have got to know since 2016, six of which were for a commission for Radio Kalahari Orkes. These portraits acknowledge the role that normal people play in building the society we all live in. This series recognizes individuals as important role players in the bigger picture and the fabric of society. It aims to draw the recognition away from the powerful and influential leaders of the world who often times do more damage and less good than the individual who has little political influence". Simon Attwood, 2017
Title: Abi Shetlane
Medium: Single colour linocut
Paper size: 33 x 25 cm
Edition size: 7
Price: R 300 (excl. VAT)
Title: Bradley Cooper
Medium: Single colour linocut
Paper size: 33 x 25 cm
Edition size: 7
Price: R 300 (excl. VAT)
Title: Friso Woudstra
Medium: Single colour linocut
Paper size: 33 x 25 cm
Edition size: 7
Price: R 300 (excl.  VAT)
Title: Ibraheem Ameen
Medium: Single colour linocut
Paper size: 33 x 25 cm
Edition size: 7
Price: R 300 (excl. VAT)
Title: Kelvin Sassen
Medium: Single colour linocut
Paper size: 33 x 25 cm
Edition size: 7
Price: R 300 (excl. VAT)
Title: Ian Roberts
Medium: Single colour linocut
Paper size: 33 x 25 cm
Edition size: 7
Price: R 300 (excl. VAT)
Title: Alicia van Dyk
Medium: Single colour linocut
Paper size: 33 x 25 cm
Edition size: 7
Price: R 300 (excl.  VAT)
Title: Lerato Takana
Medium: Single colour linocut
Paper size: 33 x 25 cm
Edition size: 7
Price: R 300 (excl.  VAT)
Title: Wynand Davel
Medium: Single colour linocut
Paper size: 33 x 25 cm
Edition size: 7
Price: R 300 (excl. VAT)
Title: Chaeyeong Jeong
Medium: Single colour linocut
Paper size: 33 x 25 cm
Edition size: 7
Price: R 300 (excl. VAT)
Title: Samirah Jaigidar
Medium: Single colour linocut
Paper size: 33 x 25 cm
Edition size: 7
Price: R 300 (excl. VAT)
Title: Barry Steenkamp
Medium: Single colour linocut
Paper size: 33 x 25 cm
Edition size: 7
Price: R 300 (excl. VAT)
Title: Leticia Muiuane
Medium: Single colour linocut
Paper size: 33 x 25 cm
Edition size: 7
Price: R 300 (excl. VAT)
Title: Mohab Younis
Medium: Single colour linocut
Paper size: 33 x 25 cm
Edition size: 7
Price: R 300 (excl. VAT)
Title: Jeanne Coppens
Medium: Single colour linocut
Paper size: 33 x 25 cm
Edition size: 7
Price: R 300 (excl. VAT)
Title: Mohamed Diallo
Medium: Single colour linocut
Paper size: 33 x 25 cm
Edition size: 7
Price: R 300 (excl. VAT)