Winston Thekiso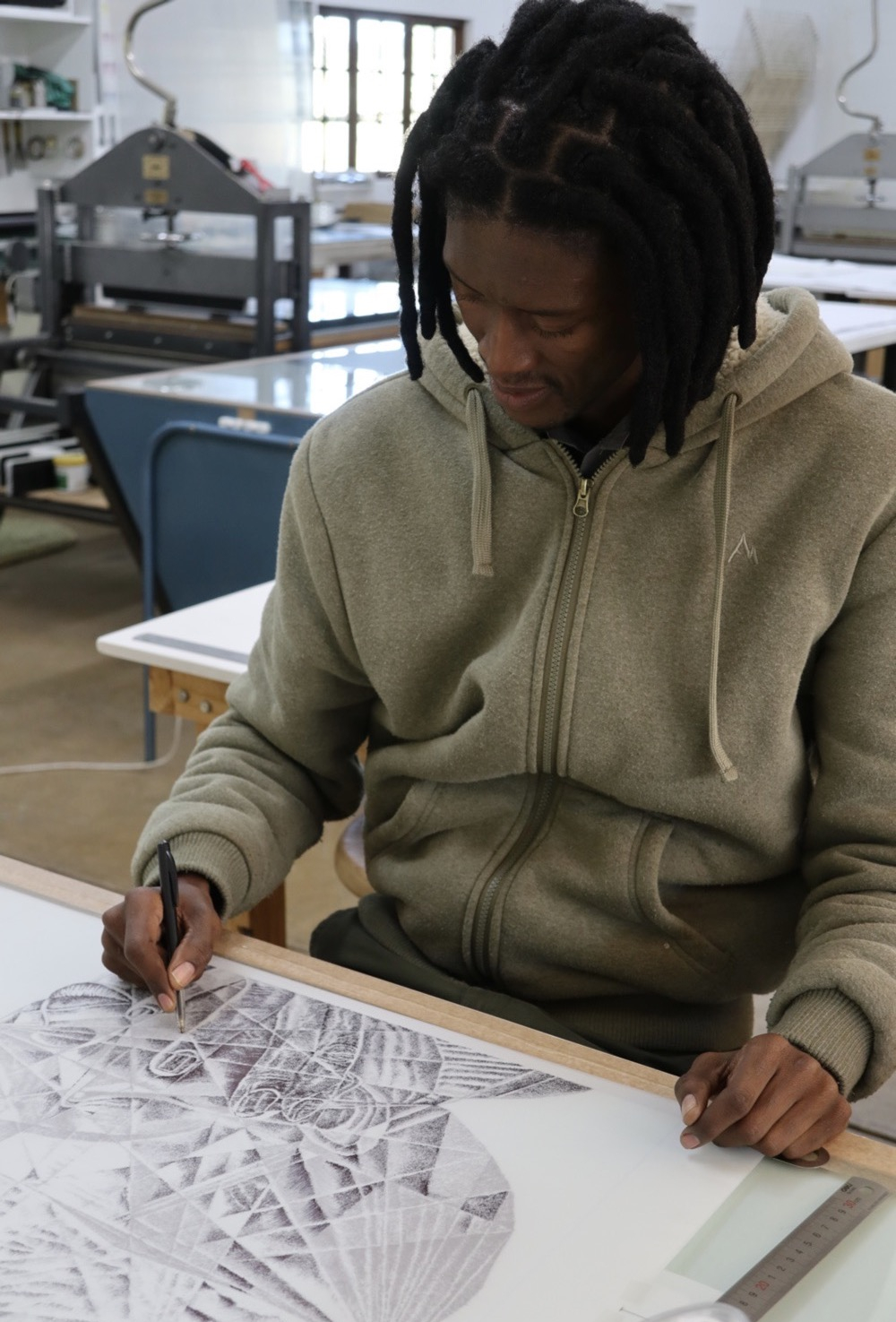 Winston Mojalefa Thekiso is an artist based in Mbombela, Mpumalanga. He was born and raised in Evaton, Gauteng and graduated with a diploma in Graphic Design at the Technikon Witwatersrand in 2000.

Thekiso's preferred drawing medium is ballpoint pen which he uses to slowly build up the images that he makes. His work quietly and calmly tracks the social, political and economic concerns of living in South Africa.

He draws inspiration from observing events that occur around him and is particularly interested in the way a human mind works, thought processes, philosophy, spirituality as well as his personal life encounters. He likes to explore the thinking behind the behaviour of people which are influenced by the societies they live in, their belief systems, culture and moral fiber.

Artistically, his work serves to as a comment on stereotypes and offers a channel for a totally fresh outlook on social issues. Also to present the viewer with an opportunity to analyse and attach some form of meaning to the work before their eyes.  His work can be classified as being abstract though he does not believe in putting it into a box because he does not create art with an intention to fit it into any description. He, therefore, uses geometric shapes and flowers to create detailed work (mostly a combination of portraiture and landscape) and that has become his signature mark.

Winston is fascinated by creating works that do not offer an immediate identification with the known but challenge the viewer to explore and come up with their own understanding of what each piece is about.
Artists A - L (ordered by surname)
Artists M - X (ordered by surname)
New Editions from The Artists' Press
For orders (with free shipping) or any other enquiries, click here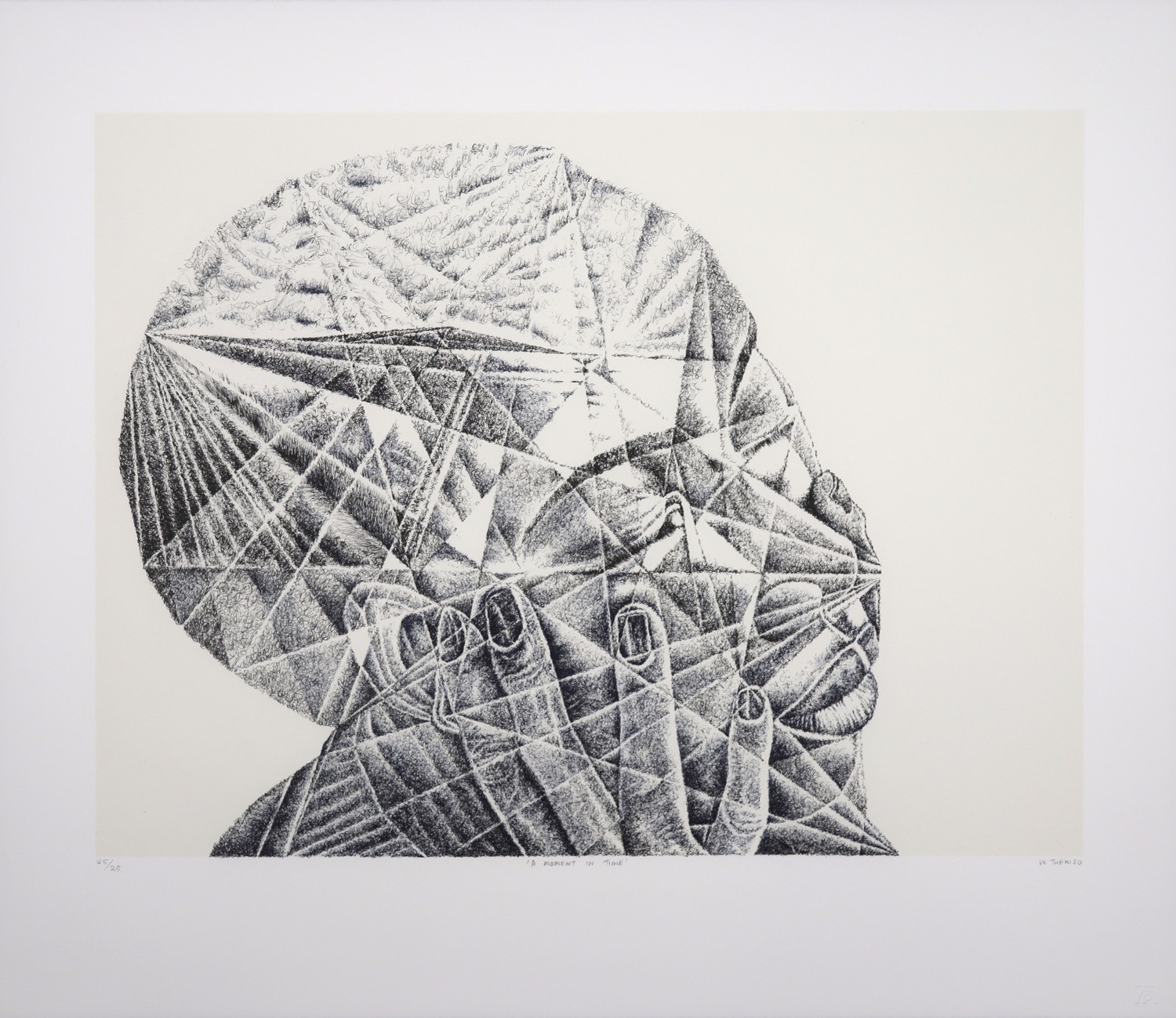 Title: A Moment in Time
Medium: Three colour lithograph
Paper size: Size: 57.5 x 66 cm
Image size: 41.5 x 55 cm
Edition size: 25
Price: R 4 000 (Excl. VAT)
"The landscape where our thoughts occur is a serene place. But, overwhelming it with constant reminders of a painful past and anxiety about the future sometimes robs us of the joy of living in the moment.

In modern-day South Africa, it may refer to the painful political history where the issues of land ownership are concerned versus the uncertainty of what the current land policy may bring.

Technically, it is a point at which the artist has challenged himself to fuse landscape and portraiture in one image. It seeks to show emotions through a human figure and thoughts using a landscape a metaphor". Winston Thekiso, 2018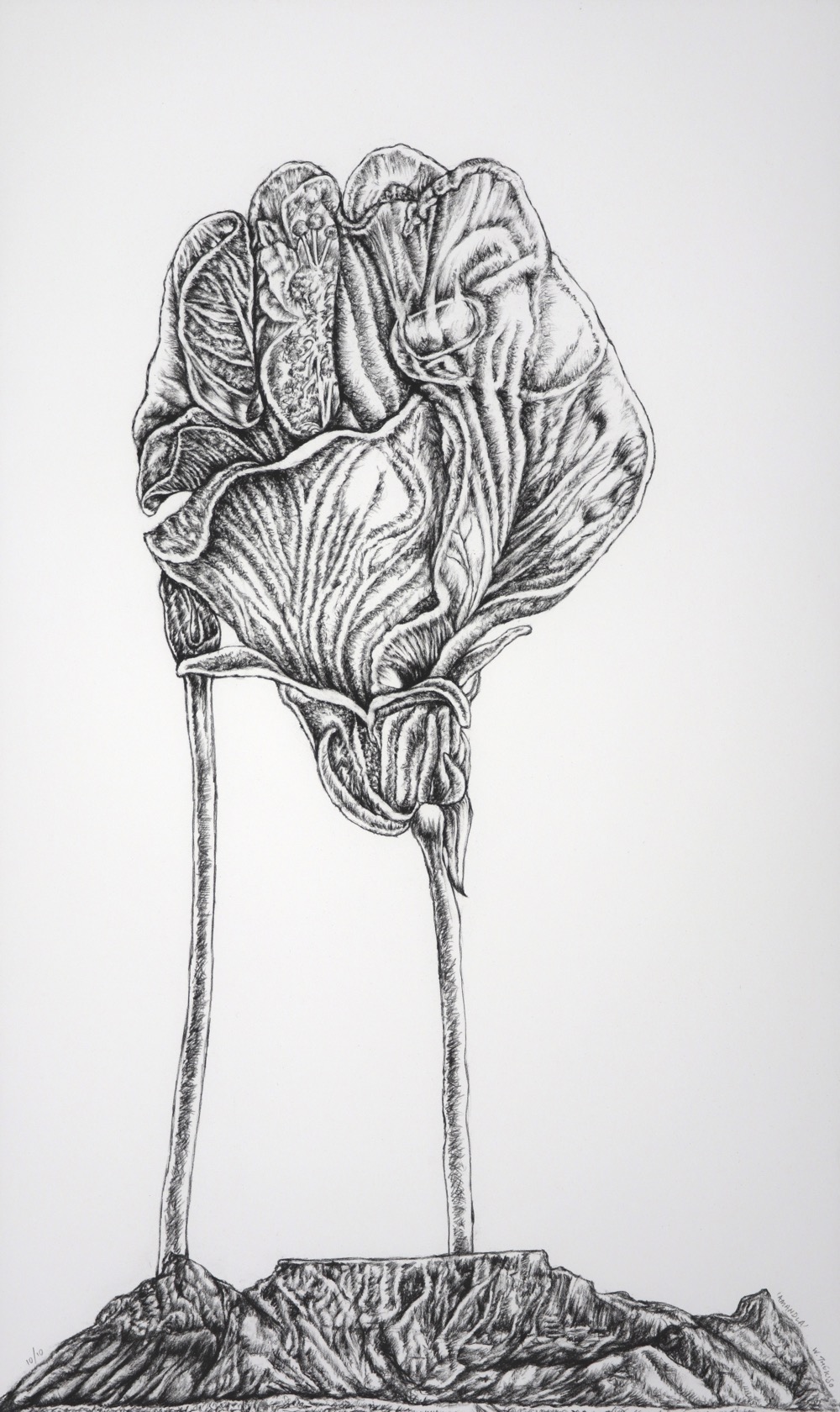 Title: Amandla
Medium: Single colour lithograph
Paper size: Size: 57.5 x 35. 8 cm
Edition size: 10
Price: R 1 800 (Excl. VAT)
"The work presents a play between two ideas. One about Nelson Mandela seen through the eyes of the World as a Messiah that played a pivotal role as the hero who helped bring about an end to racial oppression in South Africa. The work does not intend to draw attention to a political figure but to demonstrate that no one is ever alone. We may die but our spirits will remain alive in the memories of those whose lives we have touched. And those who only got to marvel in our footsteps, long after we are gone!

The second idea is about the imagery itself. Table mountain...Robben Island...synonymous with being cursed land in the Apartheid era. The prison was meant to beat the spirit out of a martyr's heartbeat. It's about a flower that rose from a cold flat stone. To be a beacon in its corner. The piece carries a message of a persistent will to thrive in the face of adversity. Through it all, life is worth living". Winston Thekiso, 2018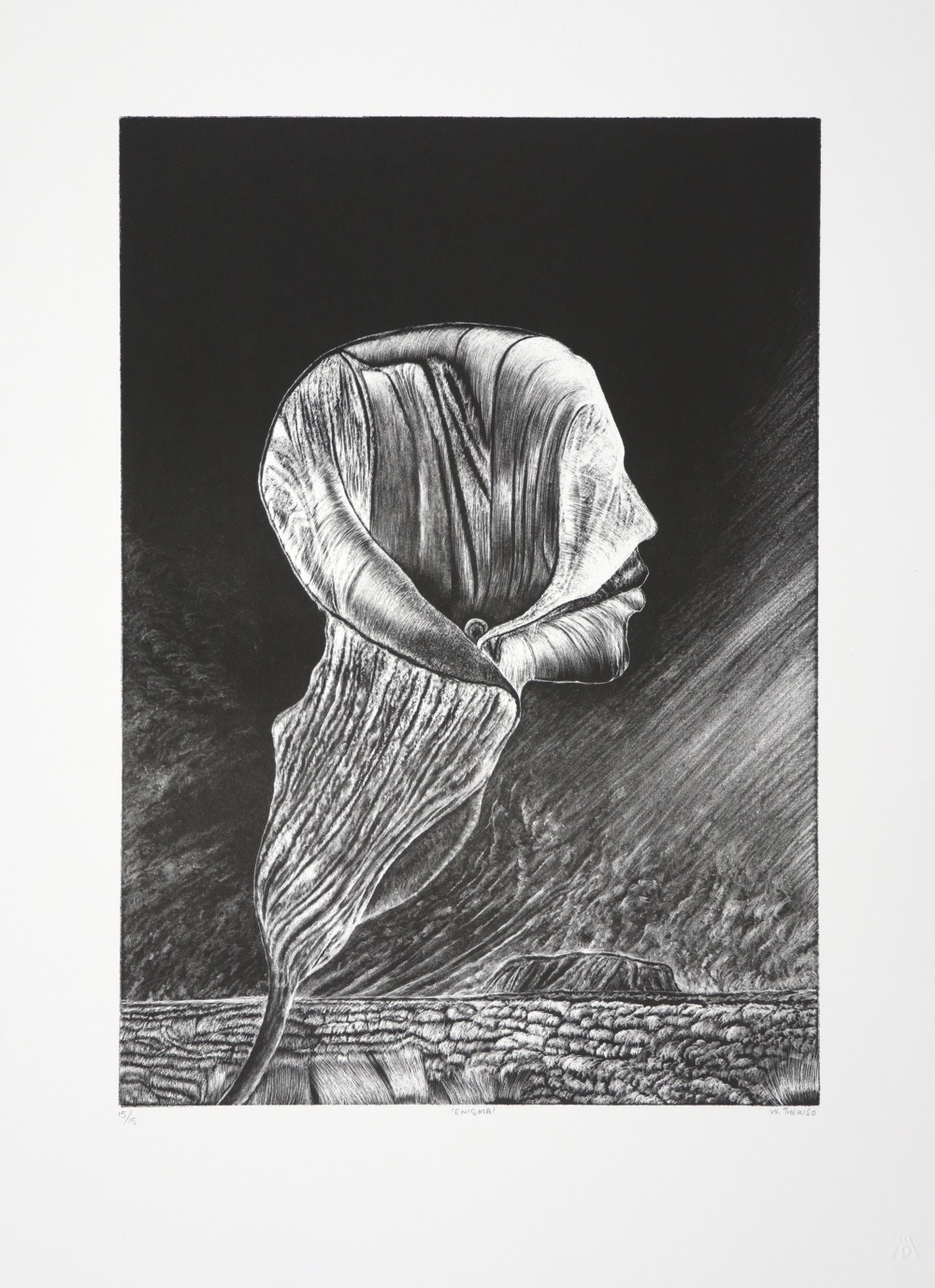 Title: Enigma
Medium: Single colour lithograph
Paper size: Size: 55 x 40 cm
Image size: 42 x 29.8 cm
Edition size: 15
Price: R 1 600 (Excl. VAT)
"Imagine a flower blossoming into a human face. This assumes no title or name, which is the beginning of a human struggle that is the love of defining everything. We then expect it to behave according to its name at all times. Much time is lost in putting things into boxes instead of understanding and accepting what is. Some things are better left undefined". Winston Thekiso, 2018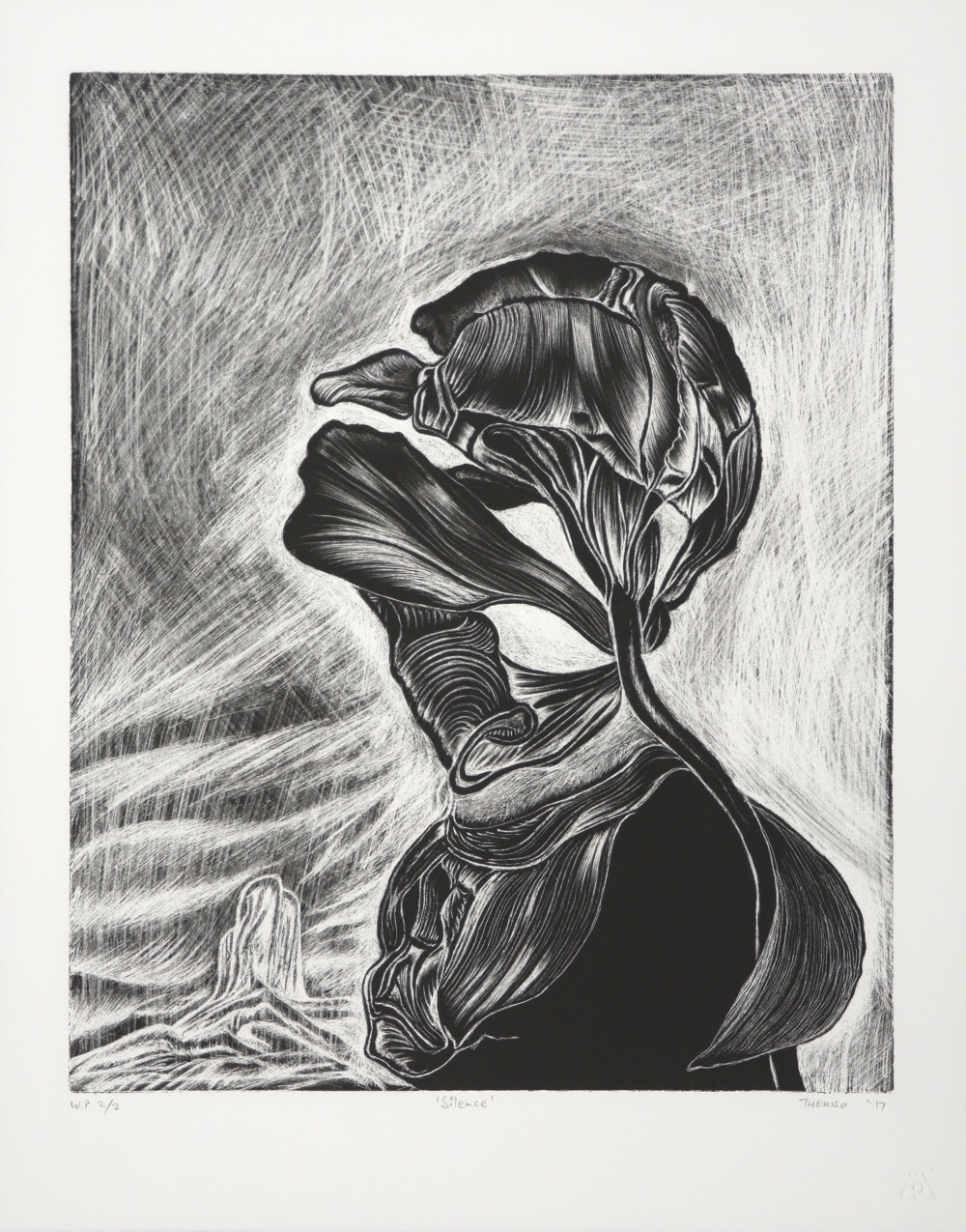 Title: Silence
Medium: Single colour lithograph
Size: 41.5 x 33.4 cm
Edition size: 20
Price: R 1 600 (Excl. VAT)
"It takes a great deal of attention to be conscious of one's thoughts and actions. Just to look without any judgement or an intention to change or stop a train of thought. To observe in silence, fully aware of all that happens in a moment. And to see it for what it truly is without giving any thought to it.
 
The piece aims, therefore, aims to explore a human mind that is endlessly involved in thought and never seems to rest. It never lets one to stop and smell the flowers along the beautiful journey of life. Hence the image of a person made out of a flower with a very turbulent background which represents an uncomfortable life situation". Winston Thekiso, 2017
Click here to follow Winston Thekiso on Instagram
Click here to follow Winston Thekiso on Facebook