Nina Torr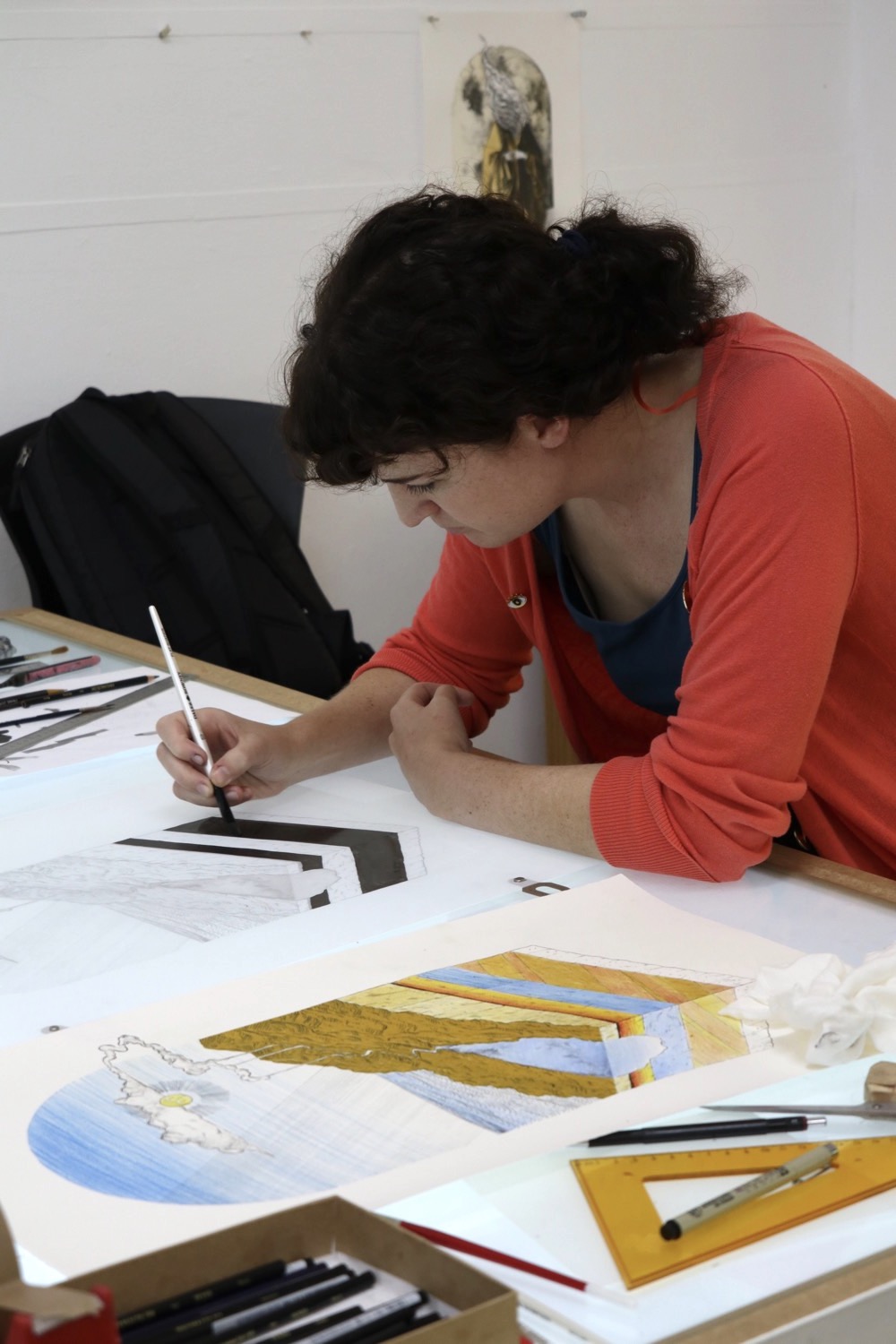 Nina Torr is an artist/illustrator based in Tshwane. After obtaining her BFA from Parsons School of Design in 2010, Torr returned to South Africa, commenting that living and studying in New York enabled her to appreciate how full living in South Africa is. Torr is a lecturer in illustration at the Open Window in Tshwane and recieved her Mtech (with distinction) at The University of Johannesburg in 2020. Torr has held a number of solo exhibitions as well as participating in group shows, sometimes under the pseudonym Andy Wyeth.

Torr's work explores subverted spaces inhabited by characters pursuing a journey of sorts. Her characters insinuate narratives that are suggested, yet remain open-ended. The viewer as such becomes a participant in concluding these narratives by engaging with them on a personal level. The titles for these prints are taken from songs by Bob Dylan and The Talking Heads. These are combined with imagery that pays tribute to miniatures, illuminated manuscripts and early explorers journals.
Nina Torr's work invites the viewer to take up the mantle of explorer in her imagined worlds. For Torr, making is a way to uncover or reveal knowledge, rather than the product of it. Torr's world shows itself to her through what she describes as 'pangs' and 'clicks', results of attunement to intuitive, rather than explicit understanding, or the ability to explain or talk about something. Although she may not know in advance what her work means, she nonetheless knows indirectly that it is meaningful, and sets about finding her way by following these hunches. In this way, Torr is the facilitator of the work, which realises itself into being. The process of making is not dissimilar to a creation myth, an illustration of a symbolic narrative.

Peculiar, empty landscapes with waves washing up on the deserted shores, clouds suspended upside down, land masses rising up out of the water or mountains rained upon with meteoric showers. Figures float, like fragments of a dream – headless, or smiling, or grimacing, creatures that dance to the tune of their own phenomenology. Fragments of the sun, fragments of the moon, shining down a domain that imagines itself into being.

"In this series, I try to make sense of histories beyond my own recollection and understanding through a series of personal creation myths. The environments act as metaphors for mental landscapes and the characters navigate and explore these spaces in an attempt to make sense of their surroundings and experiences." Nina Torr, 2019
New Editions from The Artists' Press

Artists A - L (listed by surname)
Artists M- X (listed by surname)
For orders (with free shipping) or any other enquiries, please contact us.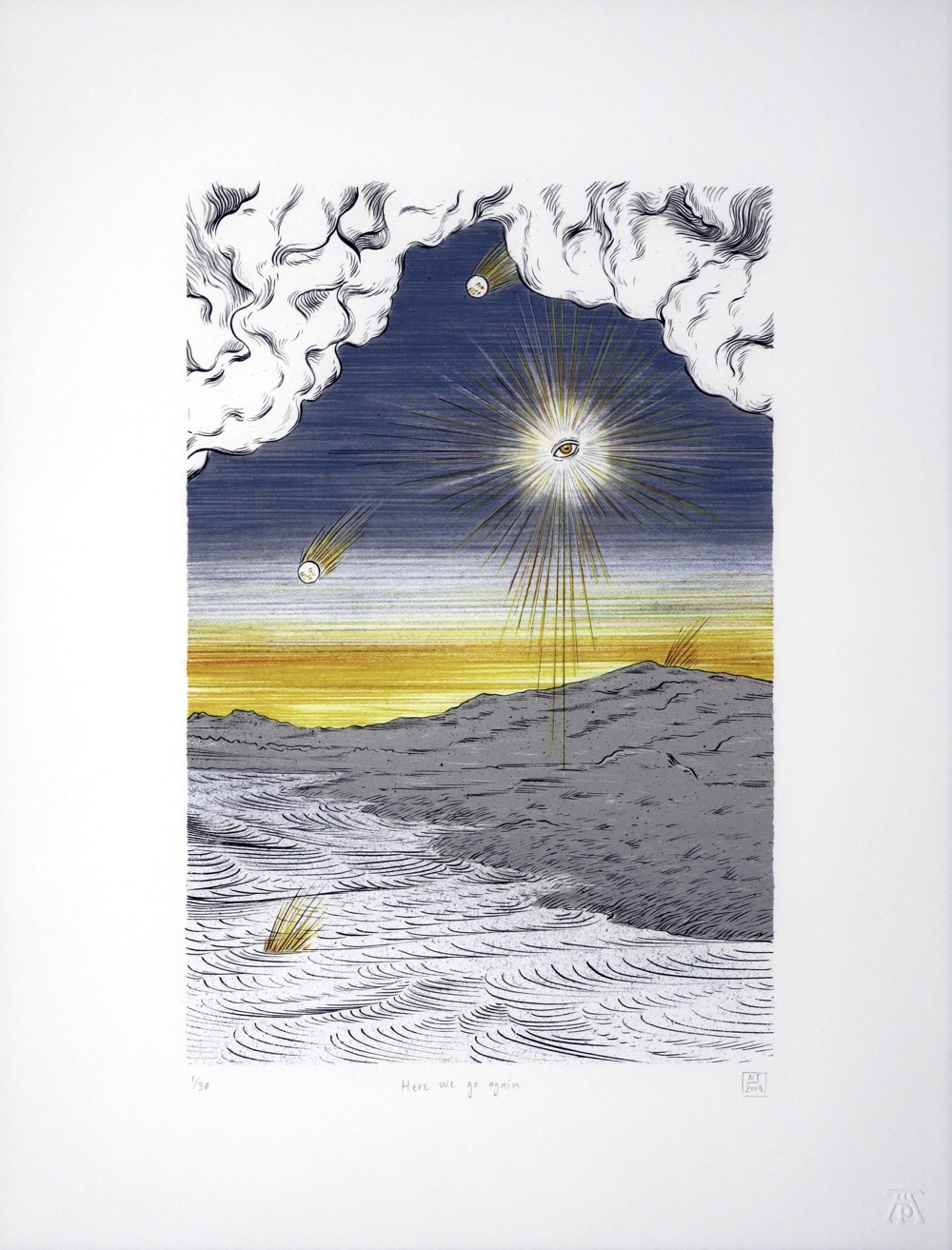 Title: Here we go again
Medium: Six colour lithograph
Paper size: 40.7 x 31 cm
Edition size: 30
Price: R 4 300 (excl. VAT)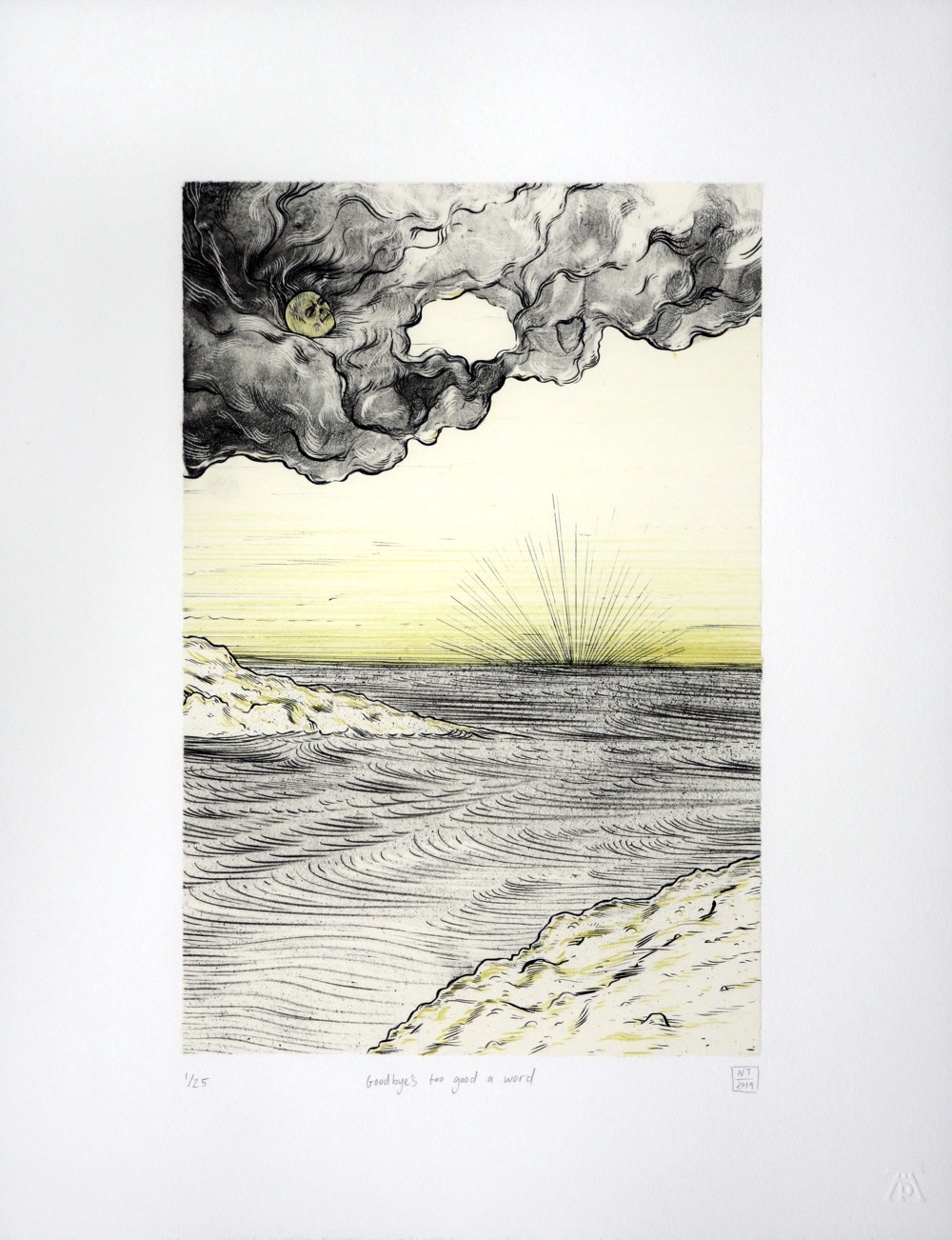 Title: Goodbye's too good a word
Medium: Two colour chine collé lithograph
Paper size: 40.5 x 31 cm
Edition size: 25
Price: R 4 000 (excl. VAT)


Title: Letting the days go by
Medium: Single colour chine collé lithograph
Paper size: 40.5 x 31 cm
Edition size: 25
Price: R 3 200 (excl. VAT)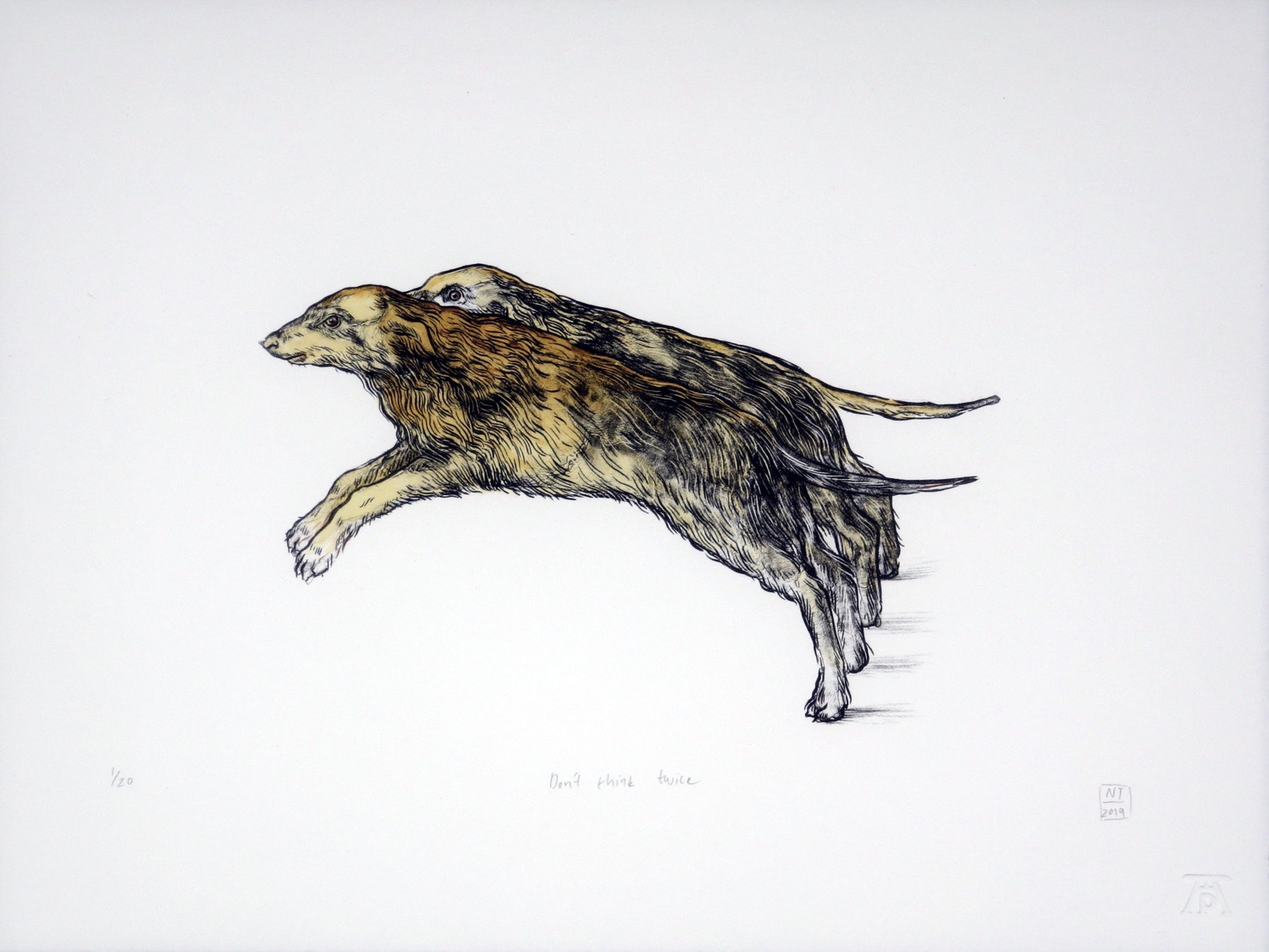 Title: Don't think twice
Medium: Hand coloured lithograph
Paper size: 25 x 33 cm
Edition size: 20
Price: R 3 000 (excl. VAT)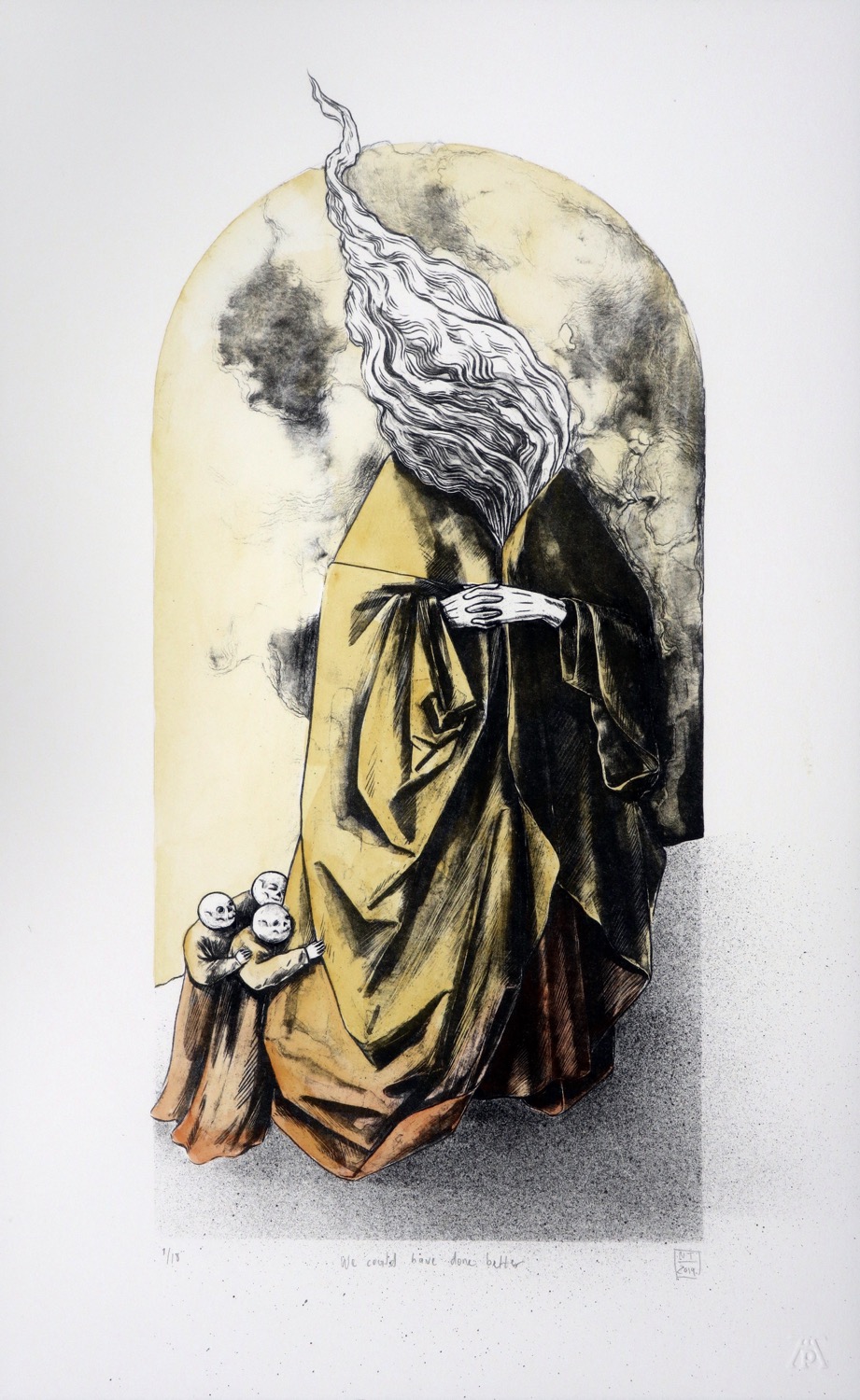 Title: We could have done better
Medium: Hand coloured lithograph
Paper size: 45 x 28 cm
Edition size: 18
Price: R 4 600 (excl. VAT)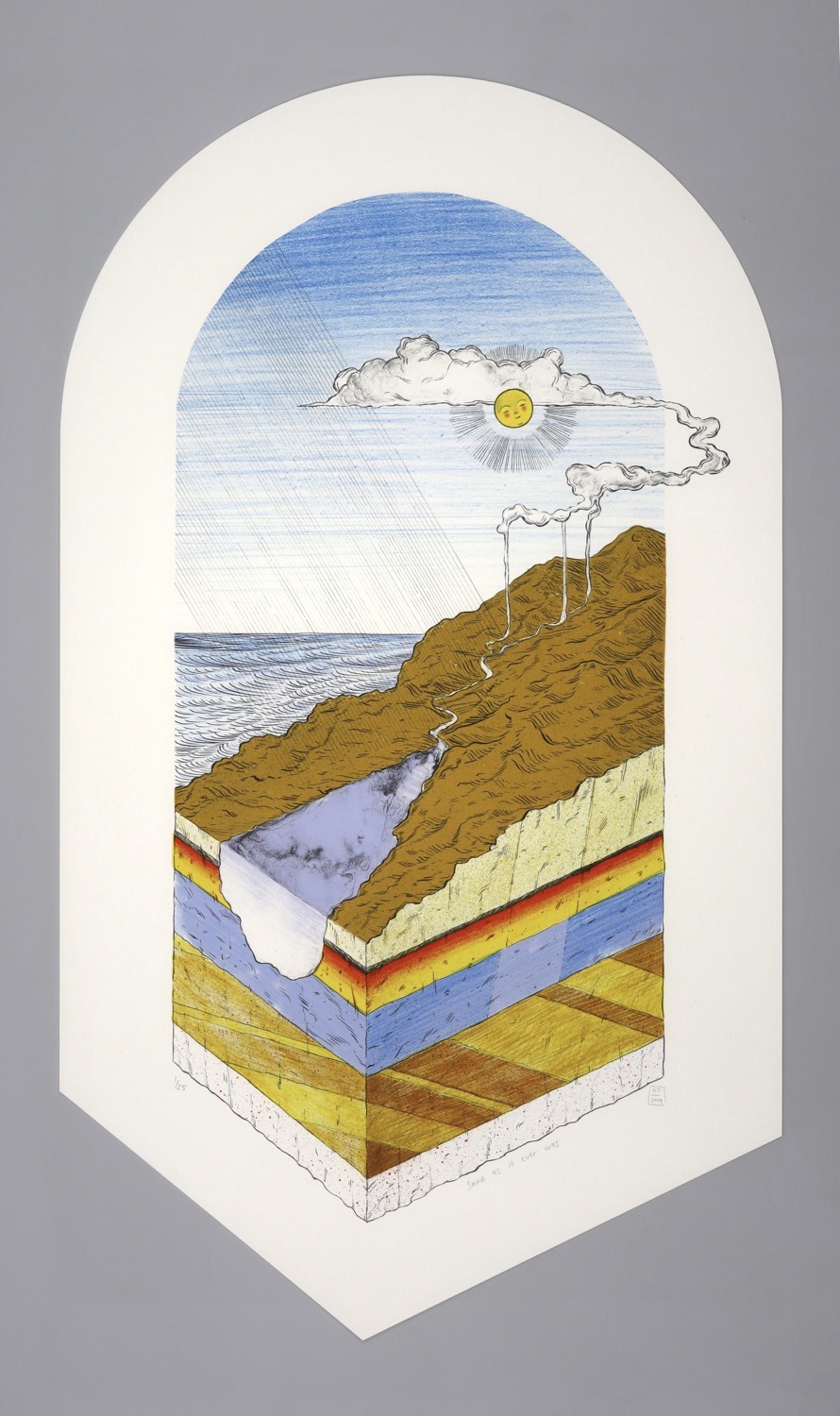 Title: Same as it ever was
Medium: Seven colour lithograph
Paper size: 59.8 x 34 cm (with hand cut curved top and angled bottom)
Edition size: 25
Price: R 6 500 (excl. VAT)
Print below in a beautiful custom-made frame by David Lewis-Browne (Johannesburg)