Simon Attwood Archive

In the Simon Attwood print archive, you will find prints that he has made in collaboration with The Artists' Press.These prints are sold out and are no longer available from us. They are recorded in this print archive so that a record of his work in print is available online for reference purposes.
Prints by Simon Attwood that are Still Available
New Editions from The Artists' Press

Title: Muskeljaatkat
Medium: Single colour linocut in 16 panels adhered to cotton fabric
Size: 99 x 129 cm
Edition size: 20
SOLD OUT


"Muskeljaatkat is a linocut of a large kirkia tree from the Kruger Park. This particular tree caught my attention with its twisting and turning branches. After starting the linocut I decided to add a silhouette of a genet to the composition and to title the print Muskeljaatkat , which is both a play on the form of the word (which mirrors the form of the tree) and the idea of visually framing the focal point such that it is not immediately obvious. Muskeljaatkat coincidentally came to life in April 2020 when my dog caught a melanistic genet in our garden (this being only the second recorded incidence of melanism in South African genets). The black silhouette of the genet in Muskeljaatkat became a real animal in my life".
Simon Attwood, 2020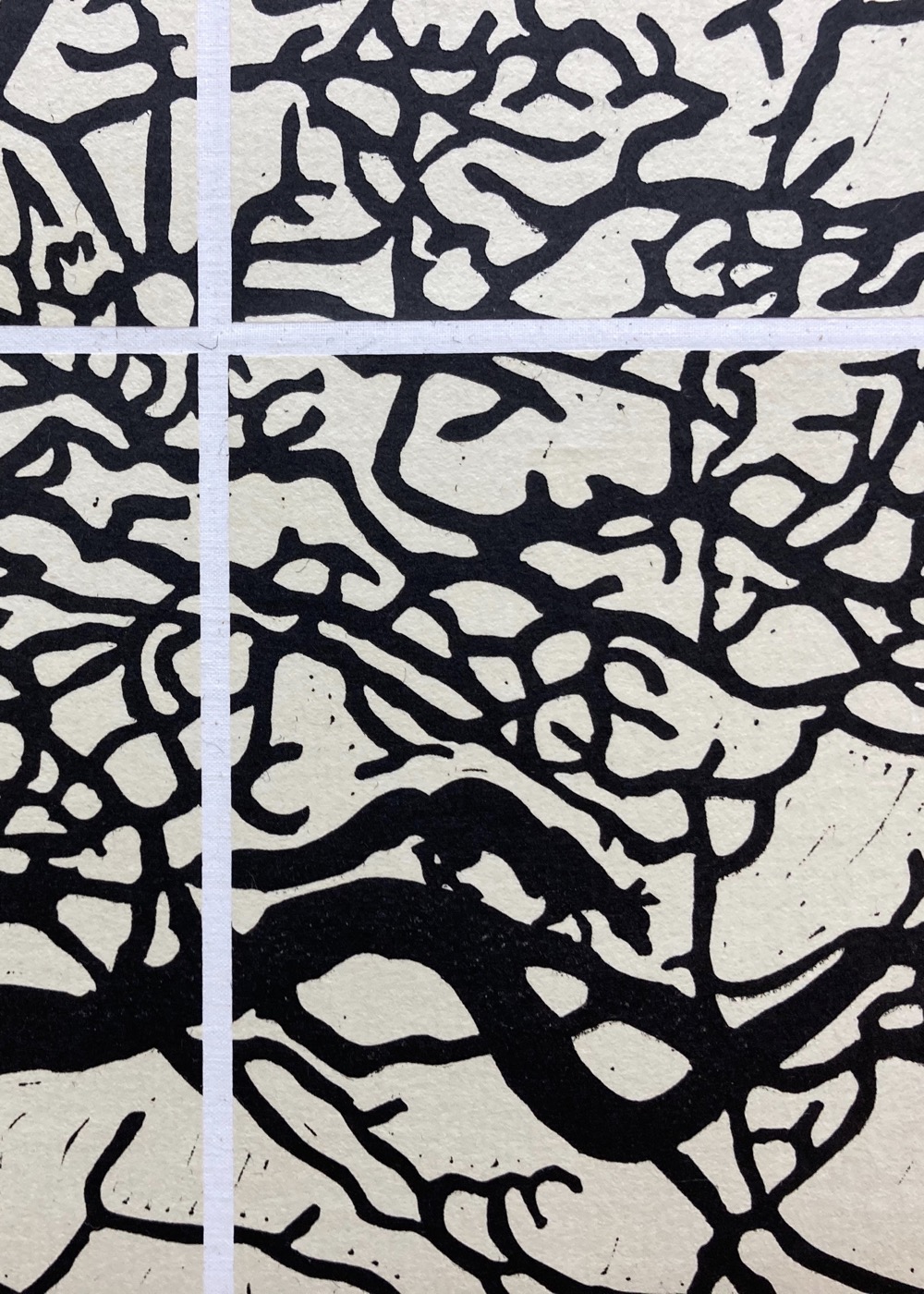 Muskeljaatkat detail, showing genet.
Title: Sikhova (Owl)
Medium: Maniere noir lithograph
Paper size: 42.5 x 50 cm
Date: 2018
Edition size: 20
SOLD OUT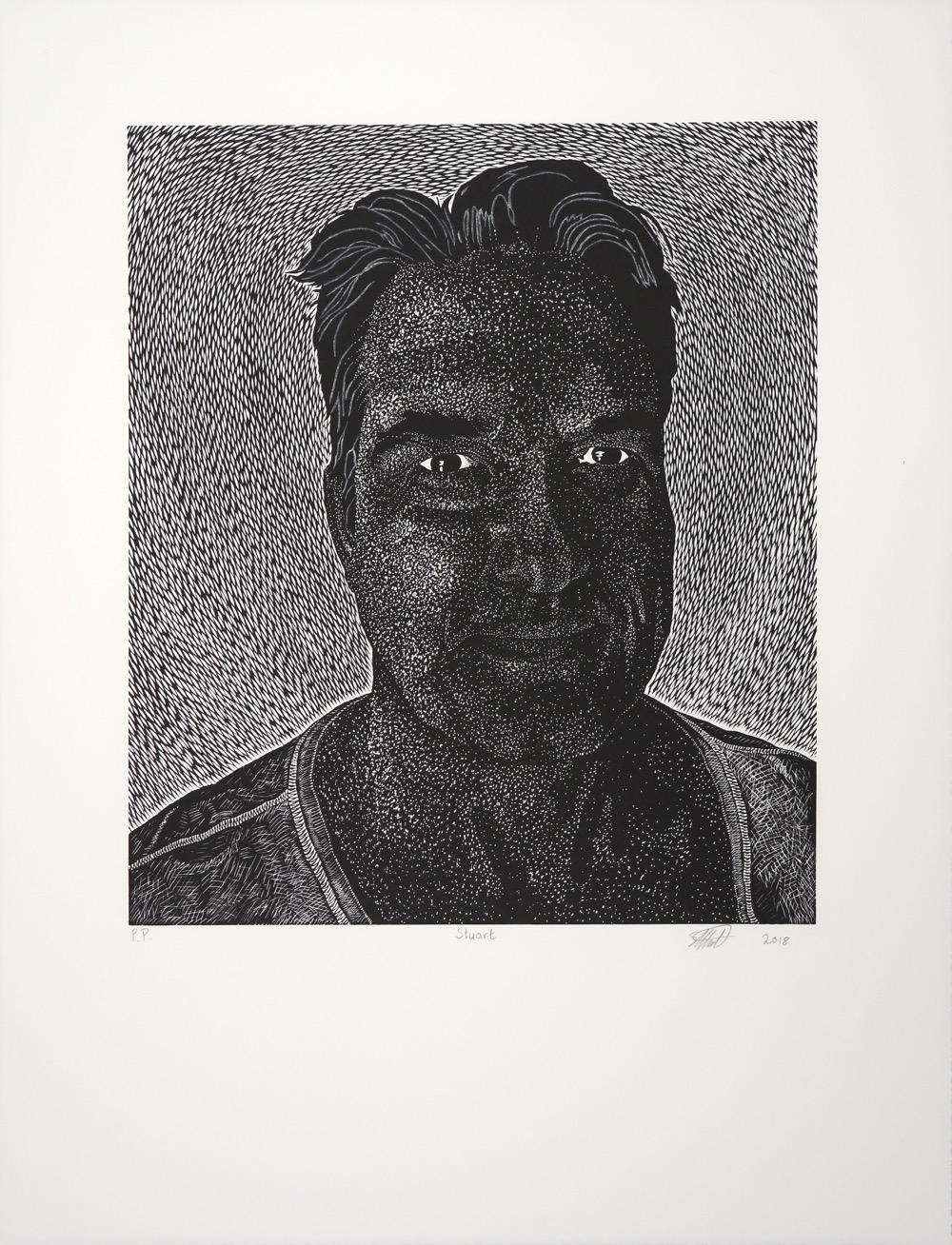 Title: Stuart Trent
Medium: Single colour linocut with hand colouring
Edition size: 1
Price: Commissioned by Stuart Trent for his collection of portraits 2018.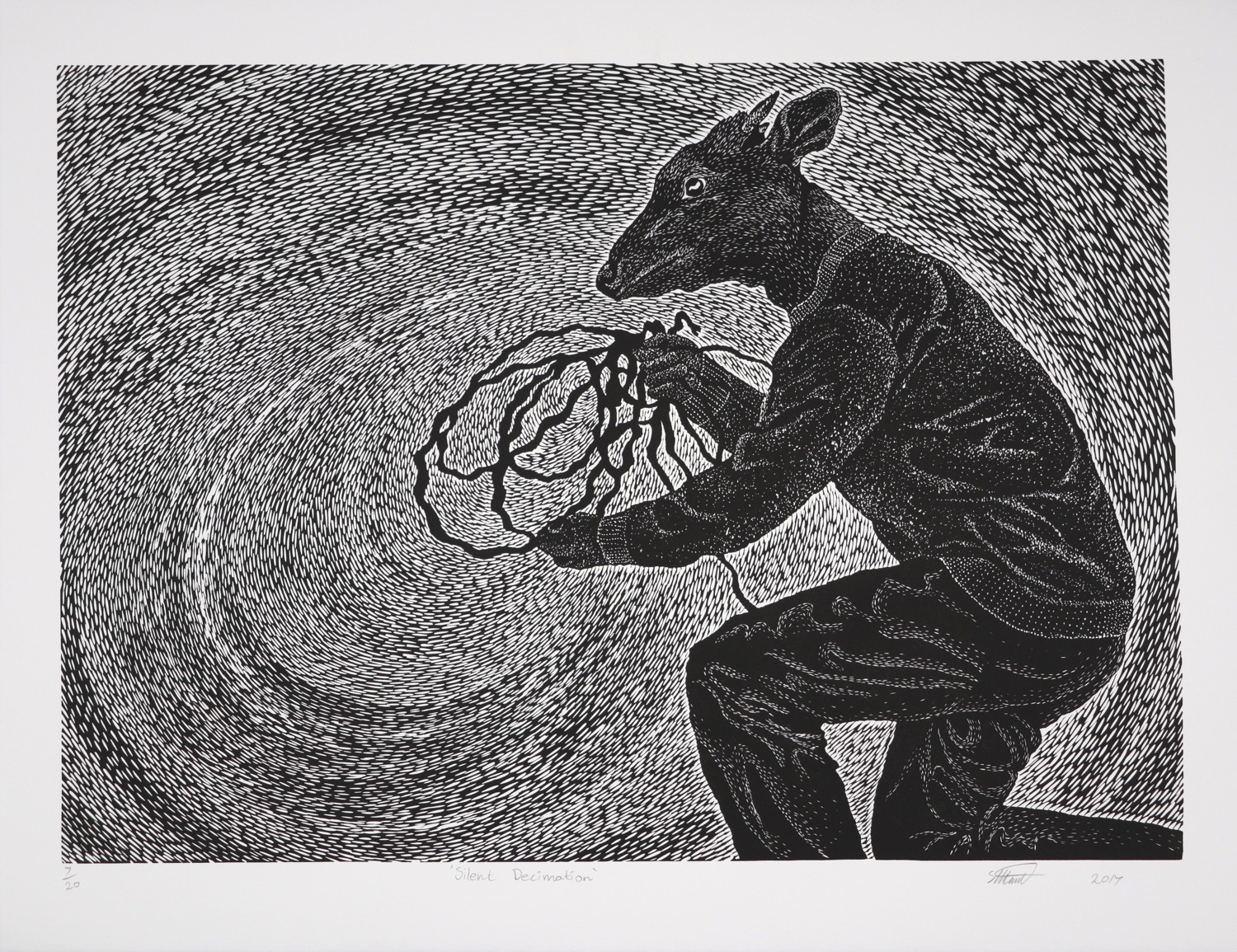 Title: Silent Decimation
Medium: Single colour linocut
Paper size: 48 x 61.5 cm
Edition size: 20
Date: 2017
SOLD OUT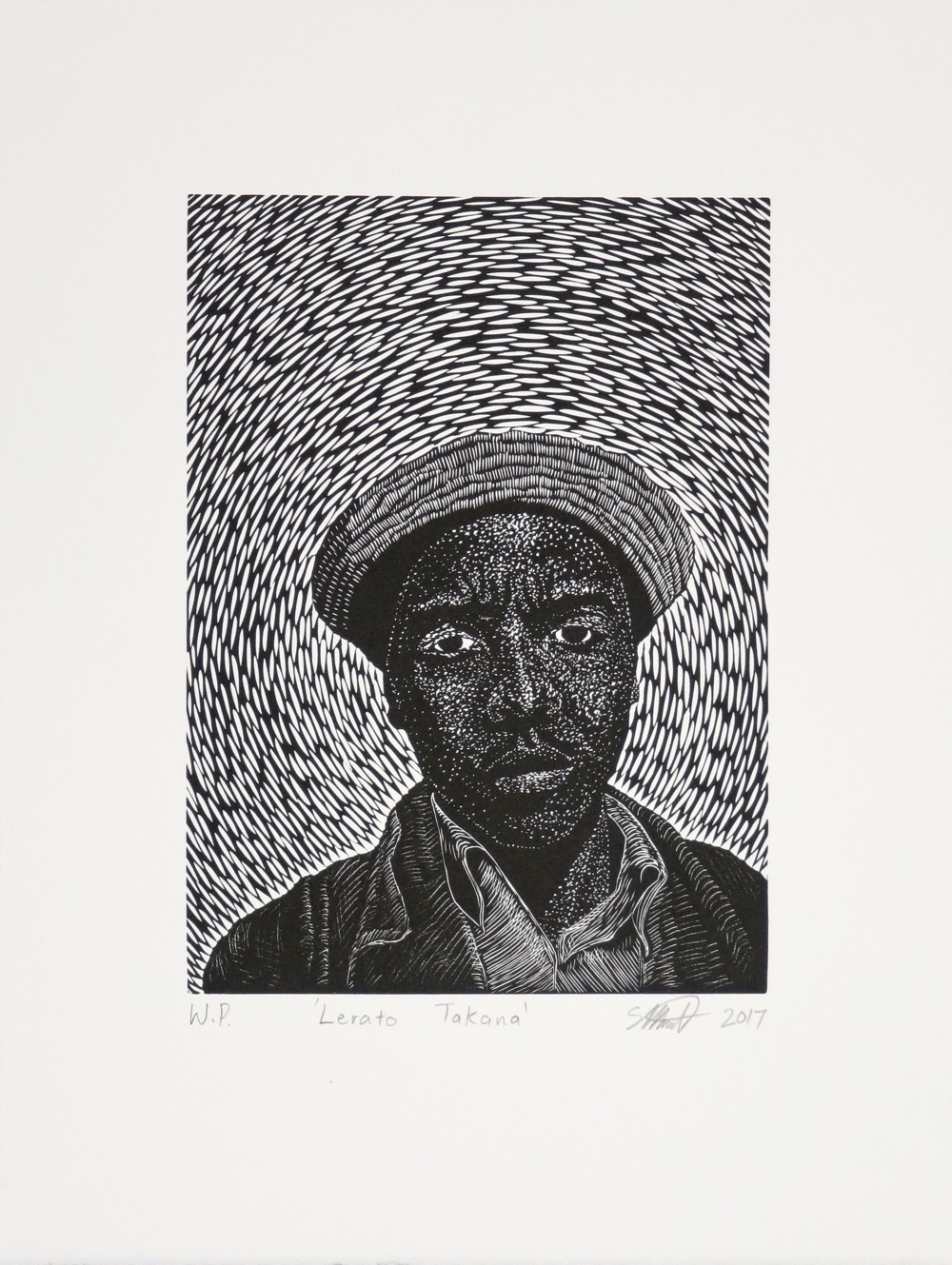 Title: Lerato Takana
Medium: Single colour linocut
Paper size: 33.5 x 25 cm
Edition size: 7
Date: 2017
SOLD OUT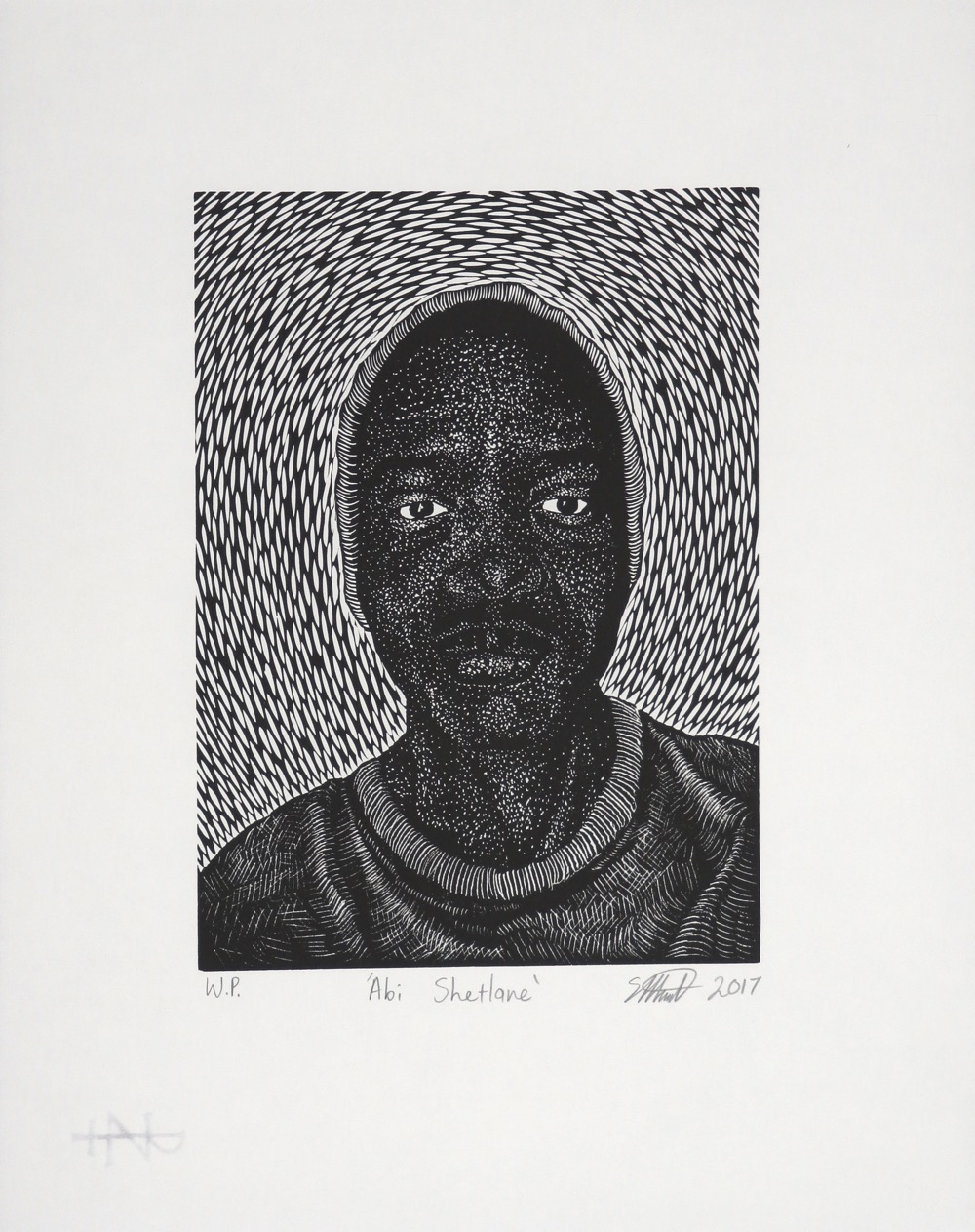 Title: Abi Shetlane
Medium: Single colour linocut
Paper size: 33.5 x 25 cm
Edition size: 7
Date: 2017
SOLD OUT


Title: Marula
Medium: Single colour  linocut
Paper size: 57.5 x 60 cm
Edition size: 20
Date: 2017
SOLD OUT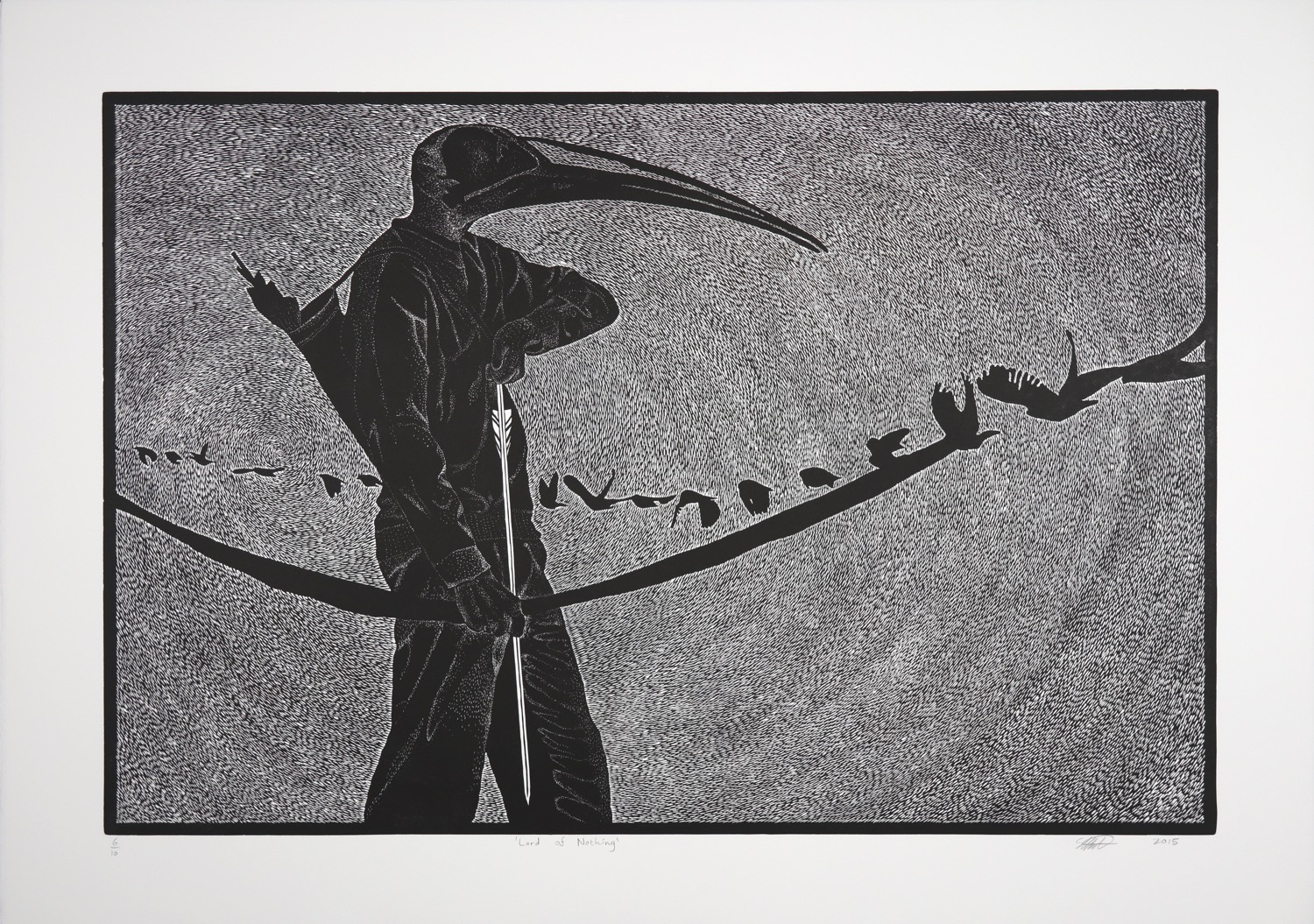 Title: Lord of Nothing
Medium: Single colour linocut
Paper size: 75 x 106 cm
Edition size: 10
Date: 2015
SOLD OUT

"The therianthropic form of a human with the head of an ibis indicates how people are an integrated part of the environment. Humans cannot assume that they are not part of the environment. If we cut down all the forests of the world and hunt every last bird and animal we will be unable to survive. By firing an arrow into the heart of a bird we are firing an arrow into the heart of humanity. By killing the natural world, people are killing themselves. After the natural resources run out, people will become the rulers of a world containing nothing other than them selves. Just like the ominous figure in this linocut, we will become the lord of nothing. People will be left stranded in a world of dust and homogenous, lifeless emptiness. The birds receding in the background represent the loss of species and the scarcity of the world's natural resources. The ibis skull is symbolic of the knowledge and wisdom that the ancient Egyptian god, Thoth, represented. People have such a great scientific understanding of the world, yet we are destroying it. The skull is lifeless and represents the cruel, thoughtless, cold-hearted way in which people kill the beings of the natural world in order to gain a surplus of wealth. A surplus of human wealth ultimately causes a scarcity of natural resources". Simon Attwood, 2015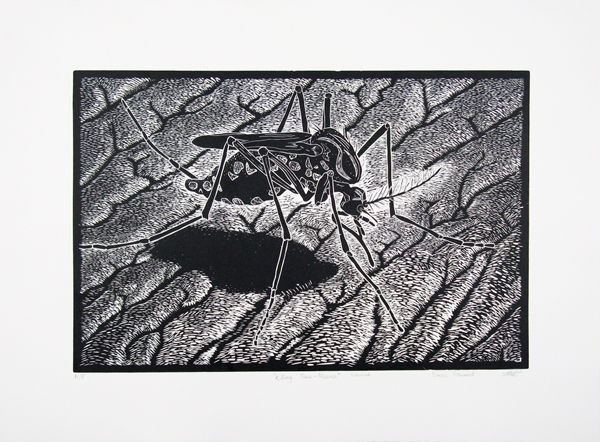 Title: Killing Time: Disease
Medium: Single colour linocut
Paper size: 55.5 x 76.5 cm
Edition size: 10
Date: 2015
SOLD OUT