Moleleki Frank Ledimo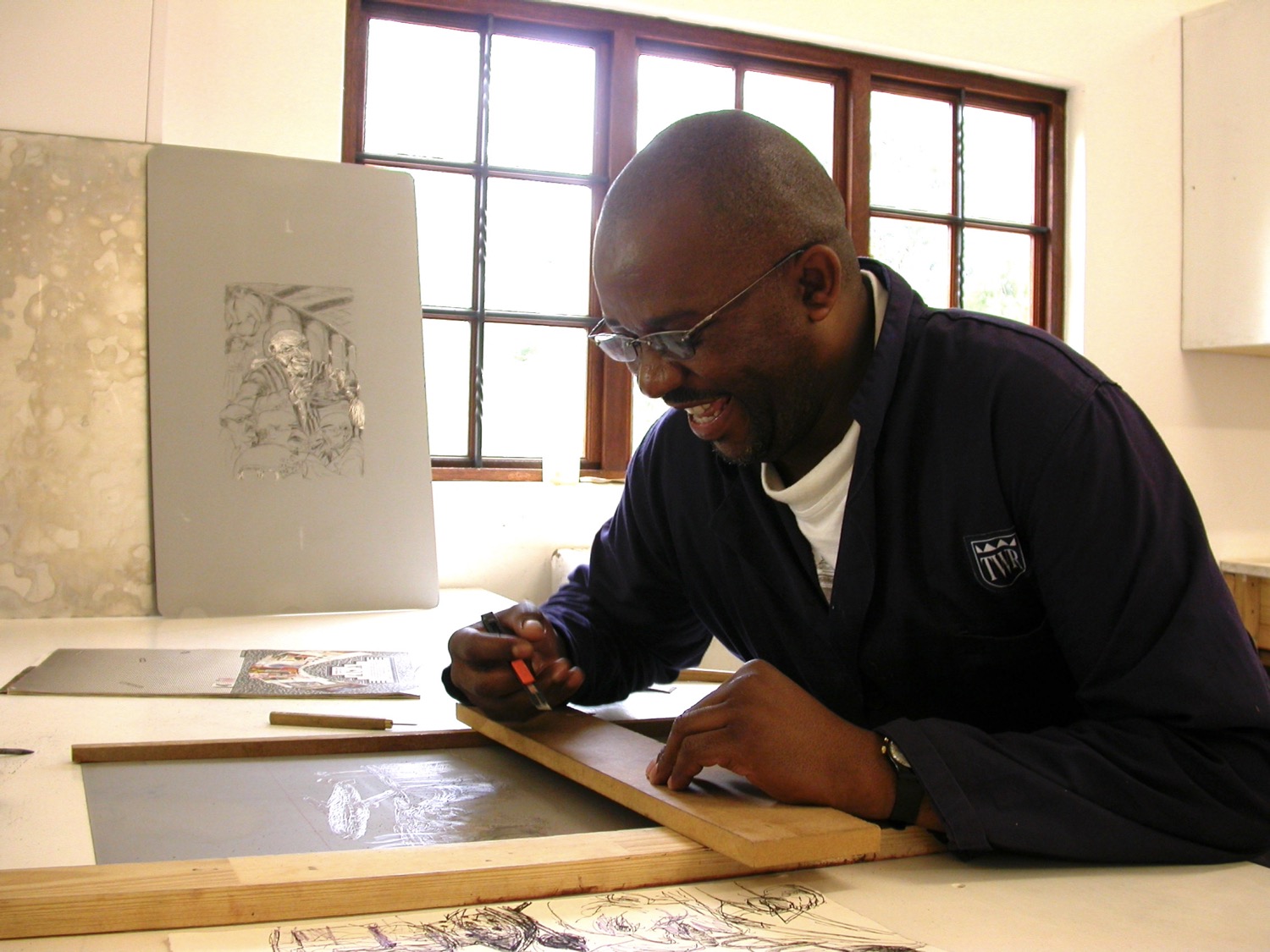 Moleleki Frank Ledimo is as much a cultural activist as he is an artist. A large portion of his art making is devoted to printmaking. Ledimo was involved with The Artist Proof Studio in Johannesburg for many years and one has the sense that he feels at home within the world of "democratic multiples".

Ledimo's prints are carefully hand coloured and serve as a visual documentation of inner city and evolving suburban life in Gauteng. The prints in this series are available as single colour lithographs or as hand coloured lithographs. The hand coloured prints form part of the same edition. So 1/40 may be a single colour print and 2/40 may be a hand coloured one.

"I create work that is based on the urban landscape in which I live. I have been fascinated by the representation of the figure to relay messages of urban squalor, city life, survivors and victims of urbanisation. I am interested in how the city offers an array of aspects of life - exploitation, forced migration, various encounters and passing scenes as if from a film storyboard.

The medium of scratch lithography has allowed me to use fresh, expressive lines & work spontaneously with each line building the image and each line being an important expressive mark. On the other hand experimenting and pushing the boundaries of traditional lithography & am fascinated by accidents that one discovers through this new medium." Moleleki Frank Ledimo, 2003
Artists represented by The Artists' Press (A to L)

Artists represented by The Artists' Press (M to X)
For orders (with free shipping) or any other enquiries, please contact us.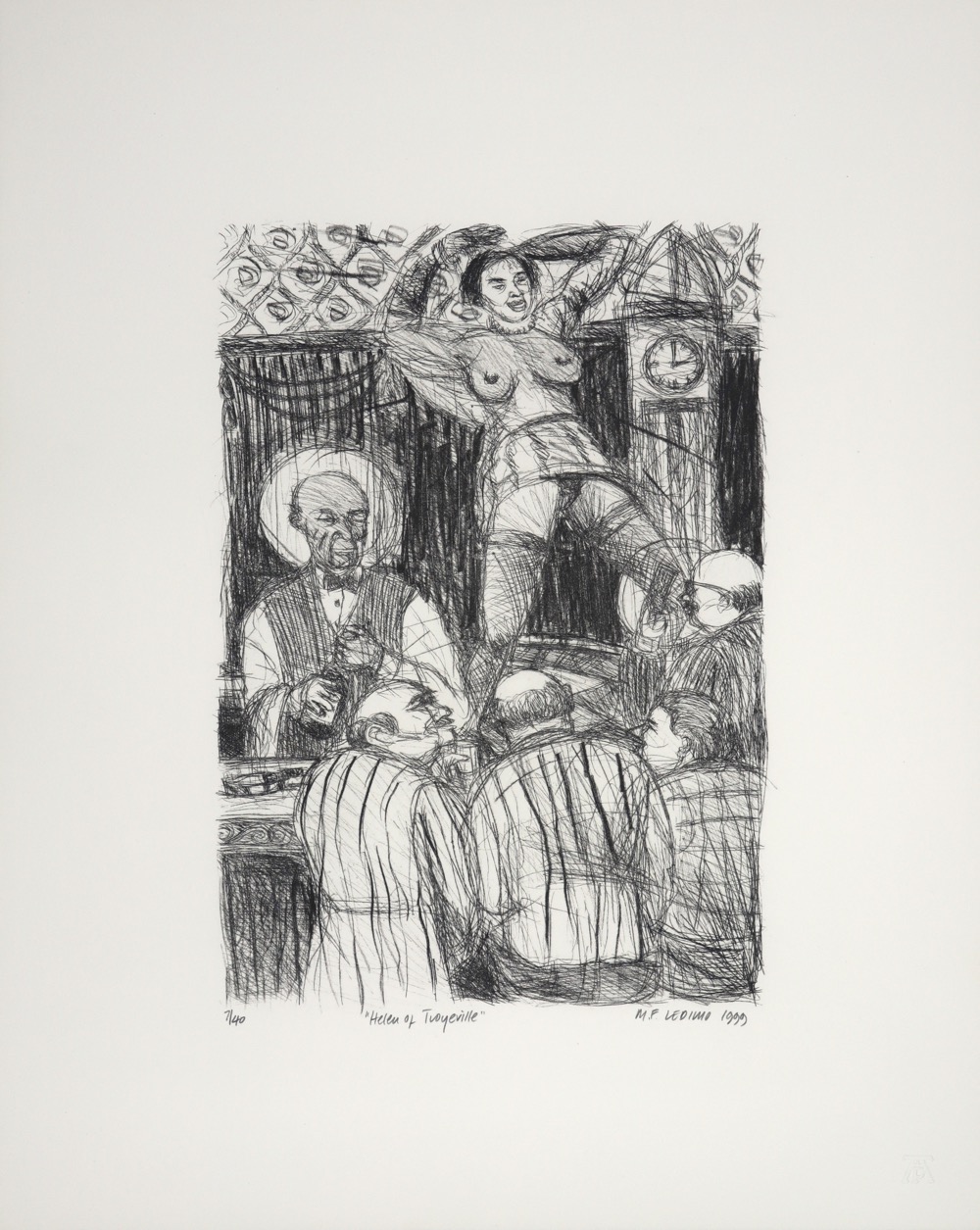 Title: Helen of Troyeville
Medium: Single colour lithograph
Paper size: 47 x 38 cm
Image size: 30 x 21 cm
Edition size: 40
Price: R 2 200 (excl.VAT)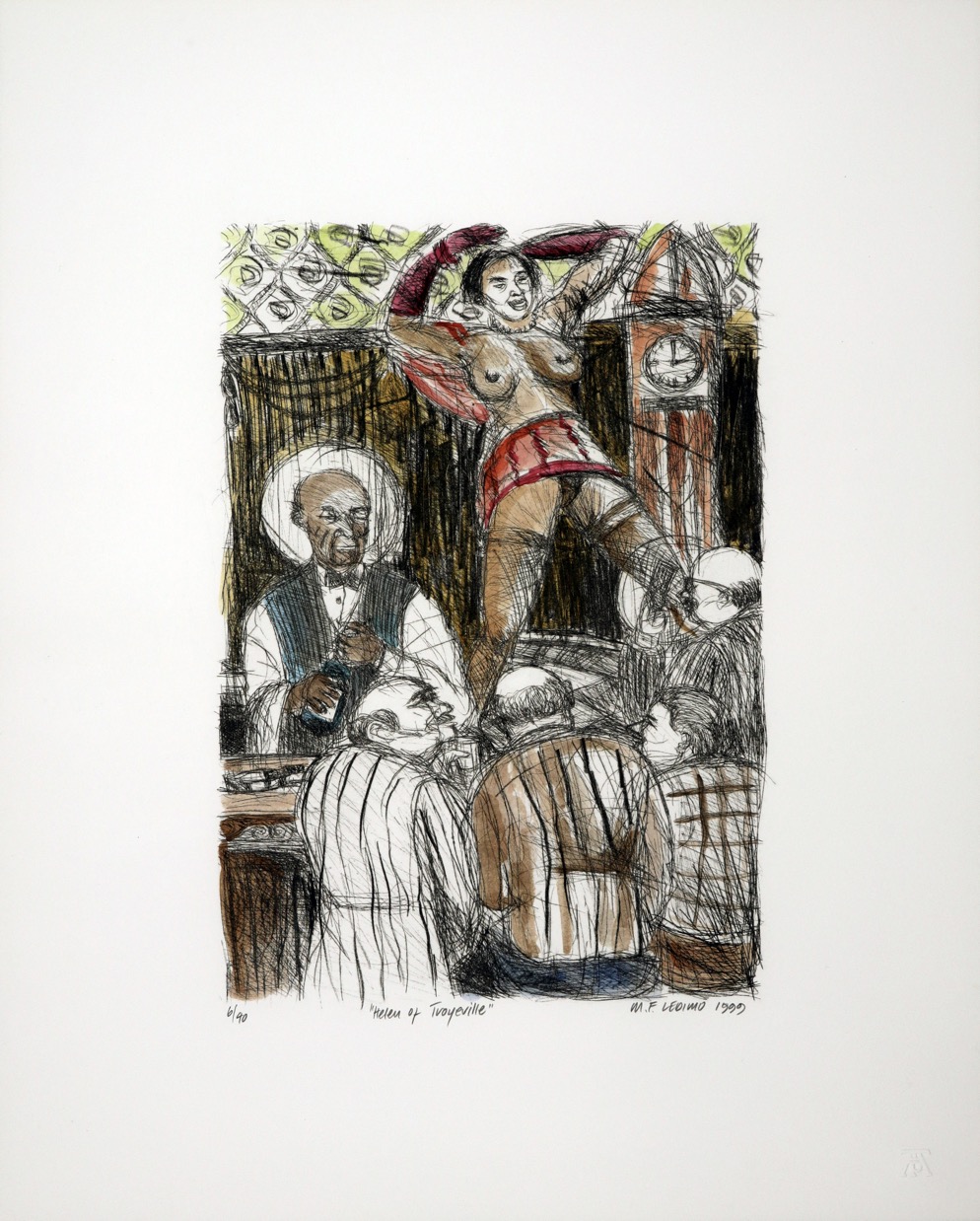 Title: Helen of Troyeville
Medium: Hand coloured lithograph
Paper size: 47 x 38 cm
Image size: 30 x 21 cm
Edition size: 40
Price: R 3 675 (excl.VAT)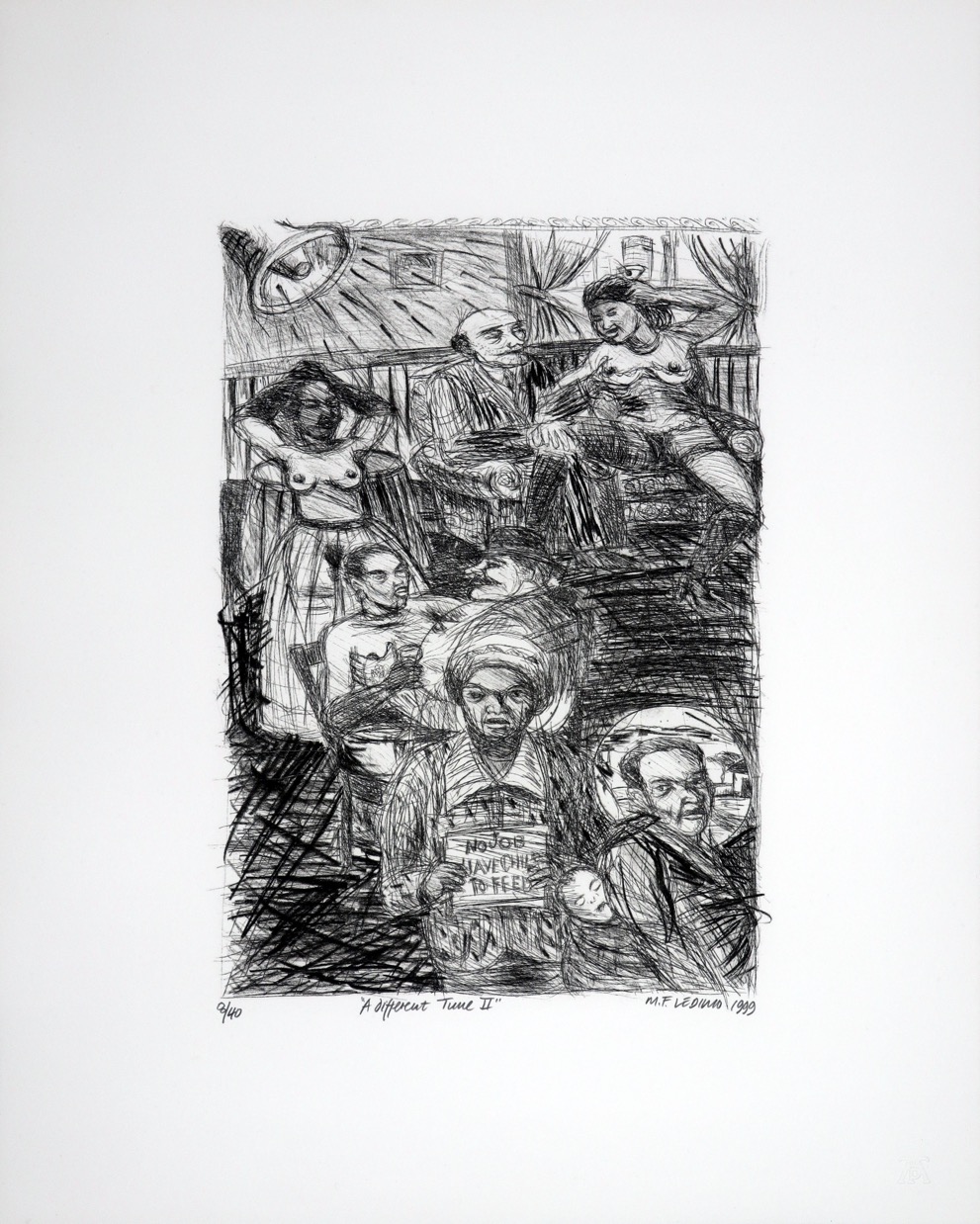 Title: A Different Tune II
Medium: Single colour lithograph
Paper size: 47 x 38 cm
Image size: 30 x 21 cm
Edition size: 40
Price: R 2 200 (excl.VAT)


Title: A Different Tune II
Medium: Hand coloured lithograph
Paper size: 47 x 38 cm
Image size: 30 x 21 cm
Edition size: 40
Price: R 3 675 (excl.VAT)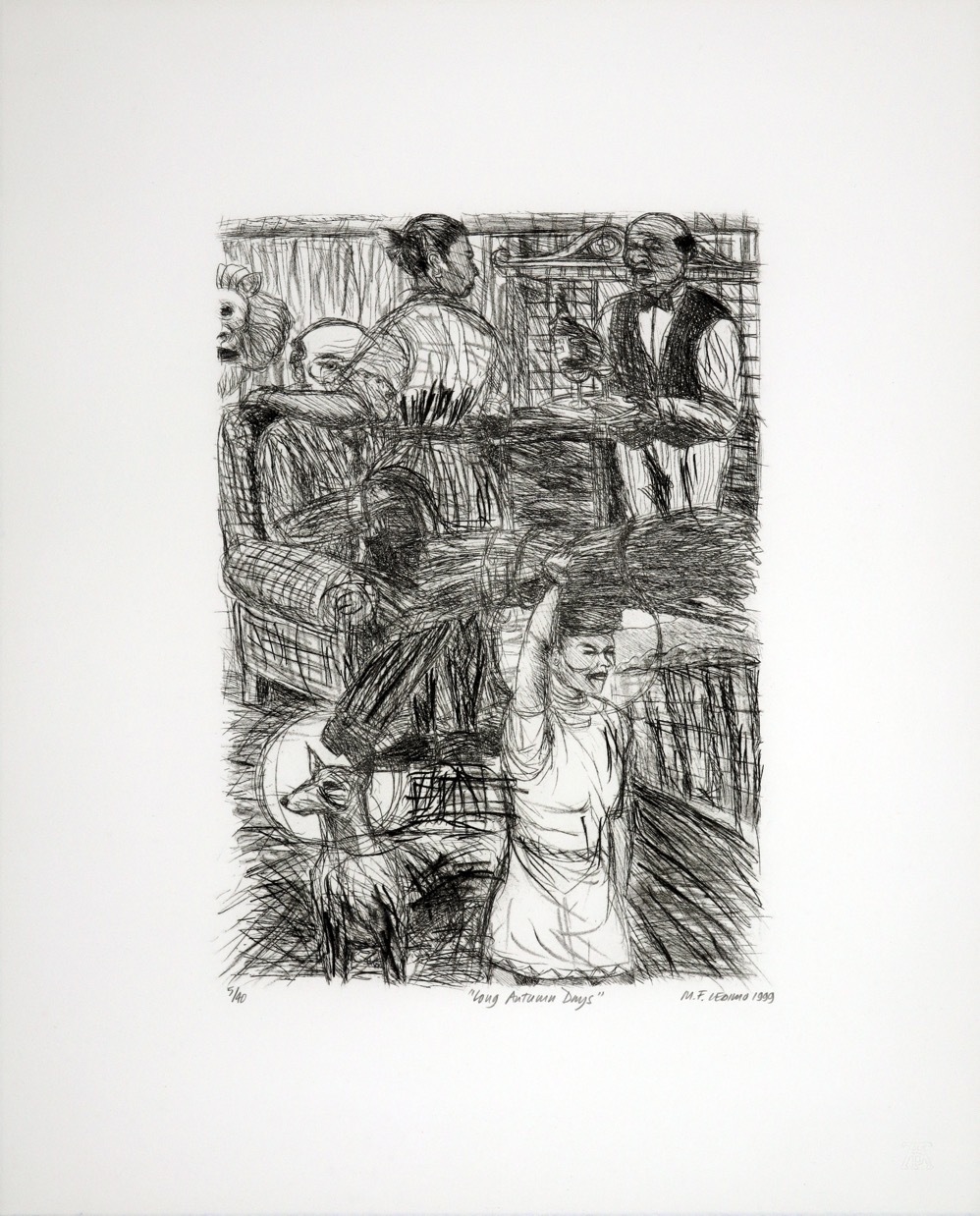 Title: Long Autumn Days
Medium: Single colour lithograph
Paper size: 47 x 38 cm
Image size: 30 x 21 cm
Edition size: 40
Price: R 2 200 (excl.VAT)


Title: Long Autumn Days
Medium: Hand coloured lithograph
Paper size: 47 x 38 cm
Image size: 30 x 21 cm
Edition size: 40
Price: R 3 675 (excl.VAT)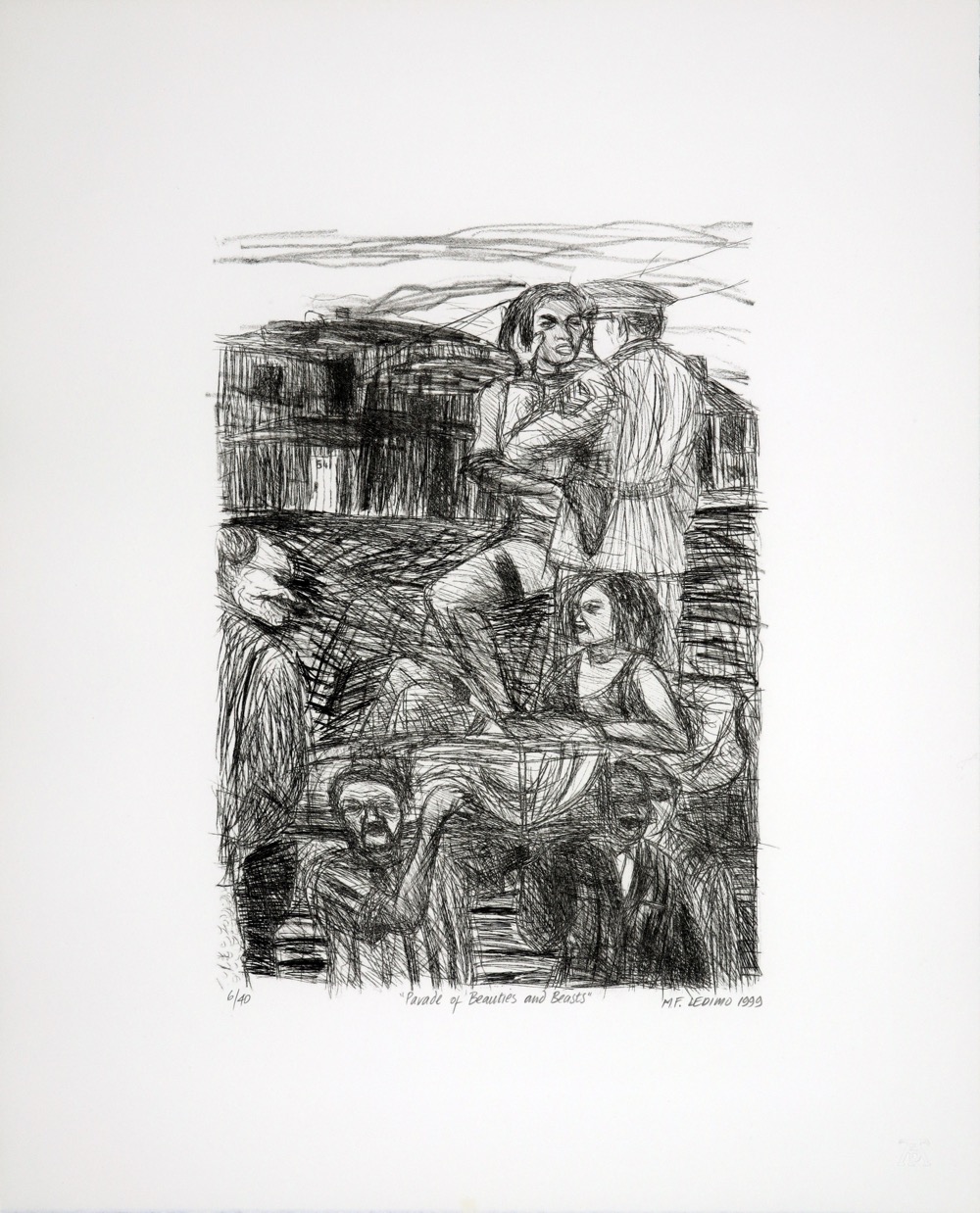 Title: Parade of Beauties and Beasts
Medium: Single colour lithograph
Paper size: 47 x 38 cm
Image size: 30 x 21 cm
Edition size: 40
Price: R 2 200 (excl.VAT)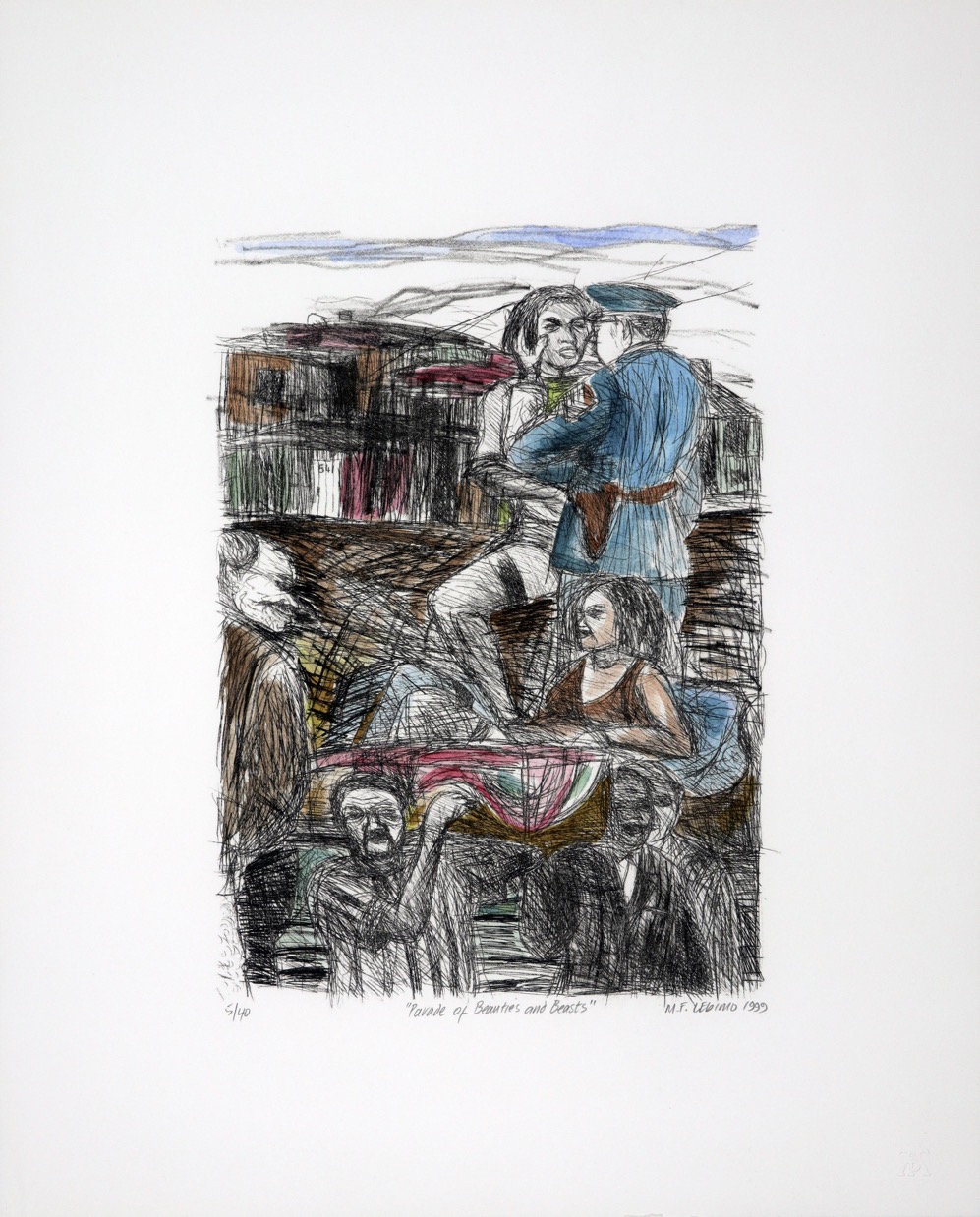 Title: Parade of Beauties and Beasts
Medium: Hand coloured lithograph
Paper size: 47 x 38 cm
Image size: 30 x 21 cm
Edition size: 40
Price: R 3 675 (excl.VAT)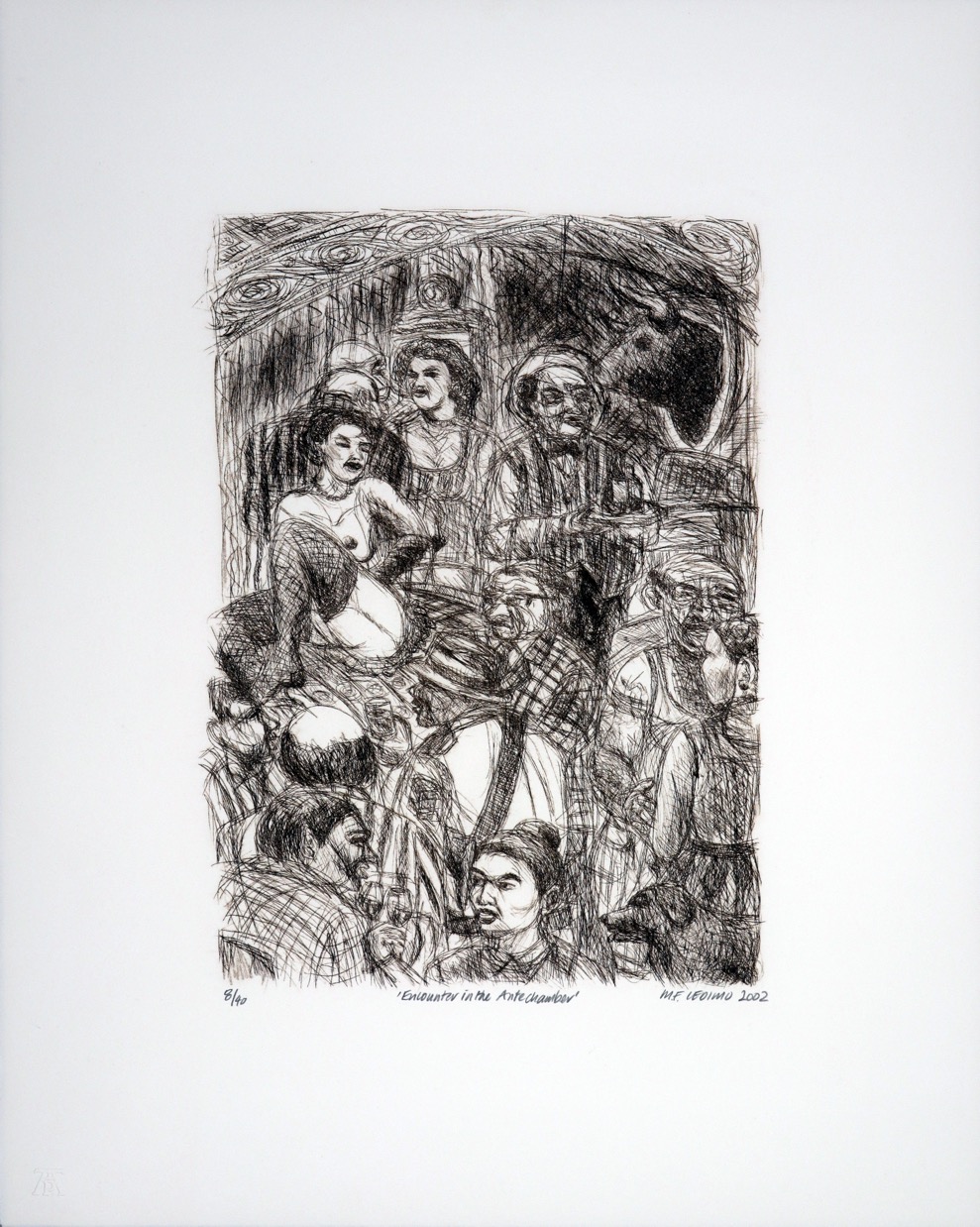 Title: Encounter in the Antechamber
Medium: Single colour lithograph
Paper size: 47 x 38 cm
Image size: 30 x 21 cm
Edition size: 40
Price: R 2 200 (excl.VAT))


Title: Encounter in the Antechamber
Medium: Hand coloured lithograph
Paper size: 47 x 38 cm
Image size: 30 x 21 cm
Edition size: 40
Price: R 3 675 (excl.VAT)


Title: King Ubu Encounter
Medium: Single colour lithograph
Paper size: 47 x 38 cm
Image size: 30 x 26.4 cm
Edition size: 40
Price: R 2 200 (excl.VAT)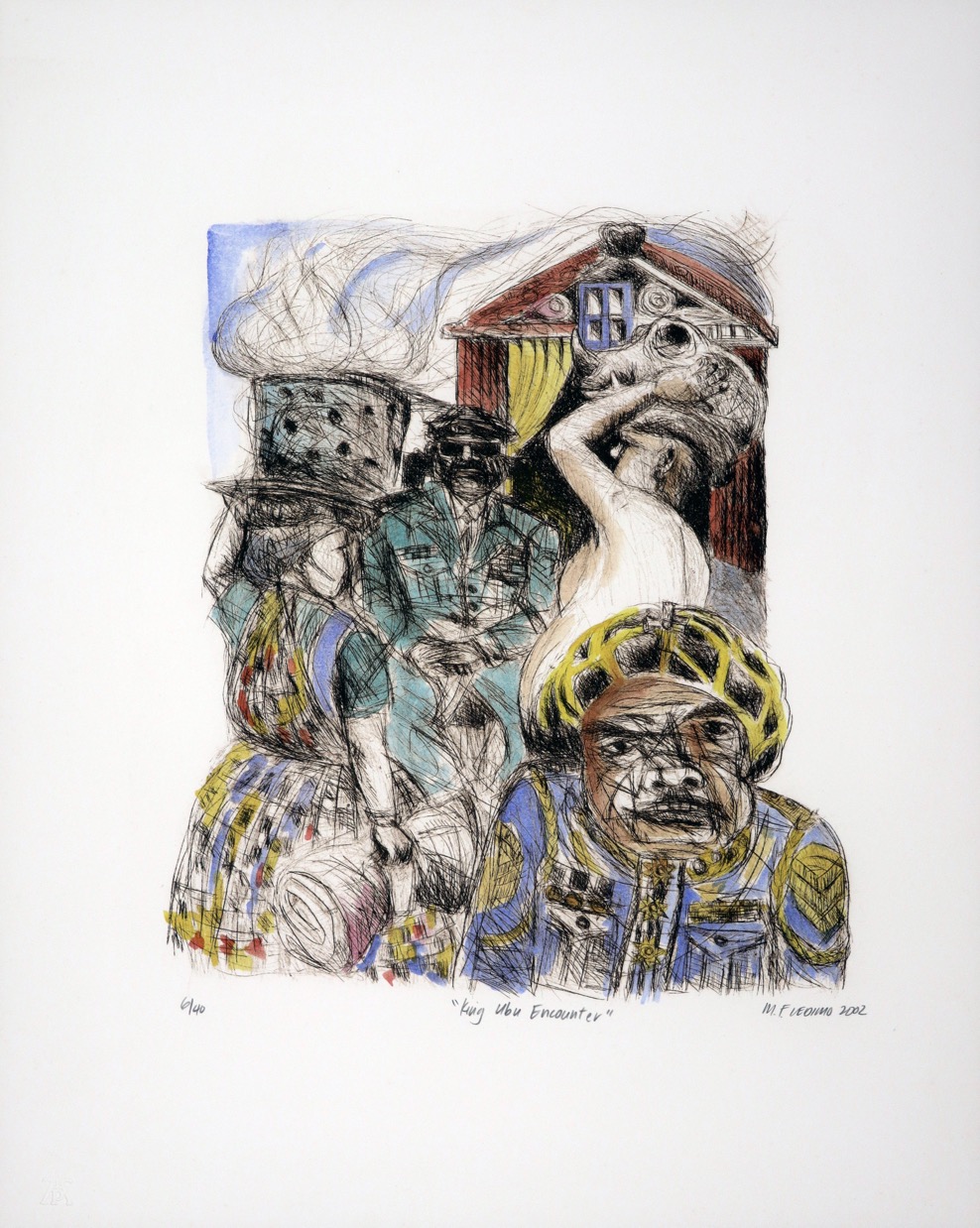 Title: King Ubu Encounter
Medium: Hand coloured lithograph
Paper size: 47 x 38 cm
Image size: 30 x 26.4 cm
Edition size: 40
Price: R 3 675 (excl.VAT)


Title: Encounter - History
Medium: Single colour lithograph
Paper size: 47 x 38 cm
Image size: 30 x 22 cm
Edition size: 40
Price: R 2 200 (excl.VAT)


Title: Encounter - History
Medium: Hand coloured lithograph
Paper size: 47 x 38 cm
Image size: 30 x 22 cm
Edition size: 40
Price: R 3 675 (excl.VAT)


Title: Historic Moment
Medium: Single colour lithograph
Date: 1996
SOLD OUT