David Koloane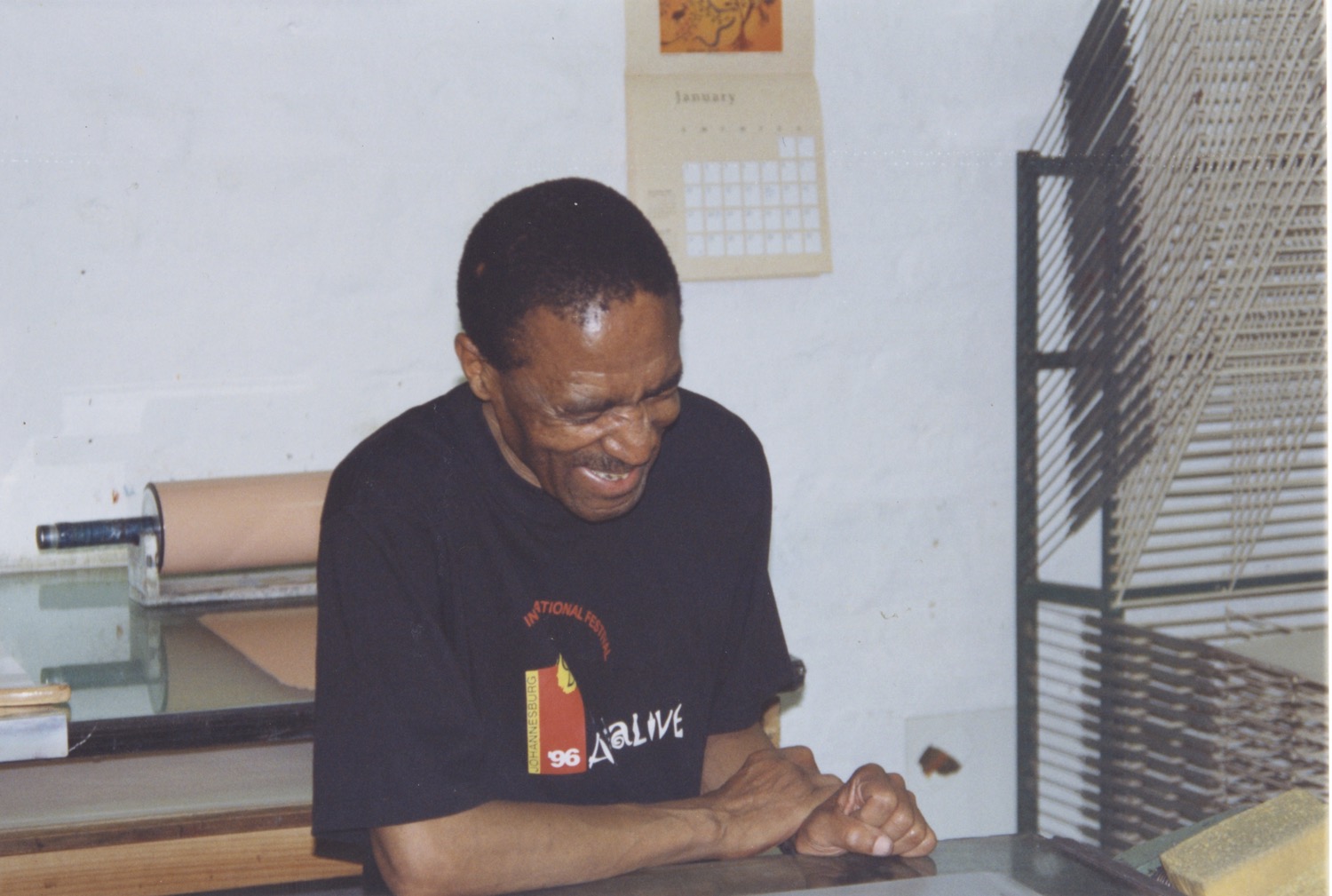 David Koloane (1938 - 2019) was born in the Johannesburg township of Alexandra. Koloane became interested in art during high school and made art in his spare time, in between earning an income in various jobs to support his family. Between 1974 and 1977 he attended art classes at the Bill Ainslie Studios, which later became the Johannesburg Art Foundation. David Koloane's increasing commitment to art led him to a part-time and later full-time teaching position in a township high school. Koloane then went on to become the head of the Fine Art section of the Federated Union of Black Artists (FUBA) in Johannesburg. David Koloane participated in a number of The Triangle International Artists Workshops. This experience led to the establishment of the Thupelo Workshops in South Africa, a concept that spread to Botswana, Mozambique, Zimbabwe and Namibia.

Koloane realised that what was needed in Johannesburg, particularly for Black artists was access to permanent studio space. To this end, he was instrumental in establishing The Fordsburg Artists Studios (The Bag Factory) with Robert Loder and Ricky Burnett in 1991.

David Koloane's creative activities were diverse. He always combined his own artwork with his social involvement. He contributed to several catalogues, curated exhibitions, sat on judging panels, The National Arts Council advisory panel and delivered numerous papers abroad and at home, while attending workshops and conferences all over the world. In 1998, the government of The Netherlands honoured Koloane with The Prince Claus Fund Award for his contribution to the development of the visual arts in South Africa.

Mgodoyi Series (1993). The first democratic elections in South Africa were held in 1994. This was made possible by the peaceful handover of power that was CODESA. The Mgodoyi Series reflects Koloane's thoughts around the negotiations. Mgodoyi is an insulting Zulu term for a man who behaves like a mongrel. In these prints, mongrel dogs maul each other. It is not clear which is the victor or whether they are in fact playing rather than fighting. These are the ambiguities that the artist examined in the prints.

Koloane often used the dog as a metaphor in his work of the late 1980's and early 1990's. Wild mangy dogs scavenge on the streets of the Black townships whilst overweight pampered dogs bark and threaten one from behind fences in White suburbia.

Celebration. Celebration joyfully reflects a Zionist prayer meeting. The Zionist church in South Africa is an "indigenous" Black church that combines Christianity with elements of traditional African belief systems. It is the largest church in the country and on weekends one often sees members of the church dressed in their colourful outfits on their way to religious gatherings which are often held outdoors.

Mirror and The Three Sisters. Here Koloane depicted the women who work the streets of inner-city Johannesburg. These sex workers line some of the main streets in the city after dark. Koloane portrayed them in a sympathetic way without revealing who the real person is behind the veneer of makeup and hairstyles.
"My concern in sociopolitical matters and contributions to the furtherance of disadvantaged black South African artists during and after the apartheid era is evident. My work can be said to reflect the sociopolitical landscape of South Africa both past and present. The sociopolitical conditions created by the apartheid system of government have to a large extent transfixed the human condition as the axis around which my work evolves. The human figure has become the icon of creative expression". David Koloane.

Artists represented by The Artists' Press A to L (by surname)
Artists represented by The Artists' Press M to X (by surname)
For orders (with free shipping) or any other enquiries, click here
Lithographs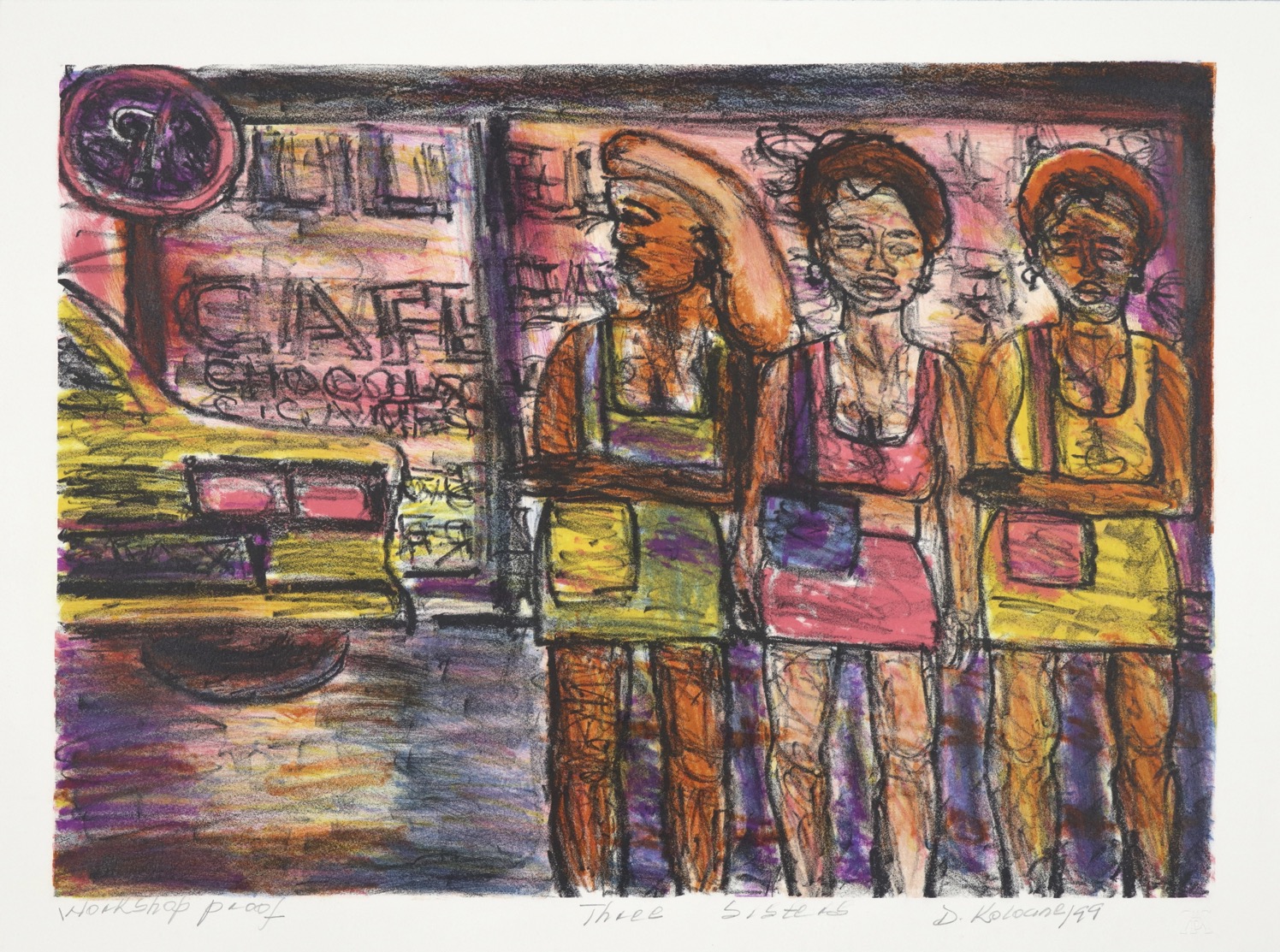 Title: Three Sisters
Medium: Six colour lithograph
Size: 38 x 51 cm
Edition size: 30
Price: SOLD OUT


Title: Mirror
Medium: Seven colour lithograph
Size: 38 x 51 cm
Edition size: 30
Price: SOLD OUT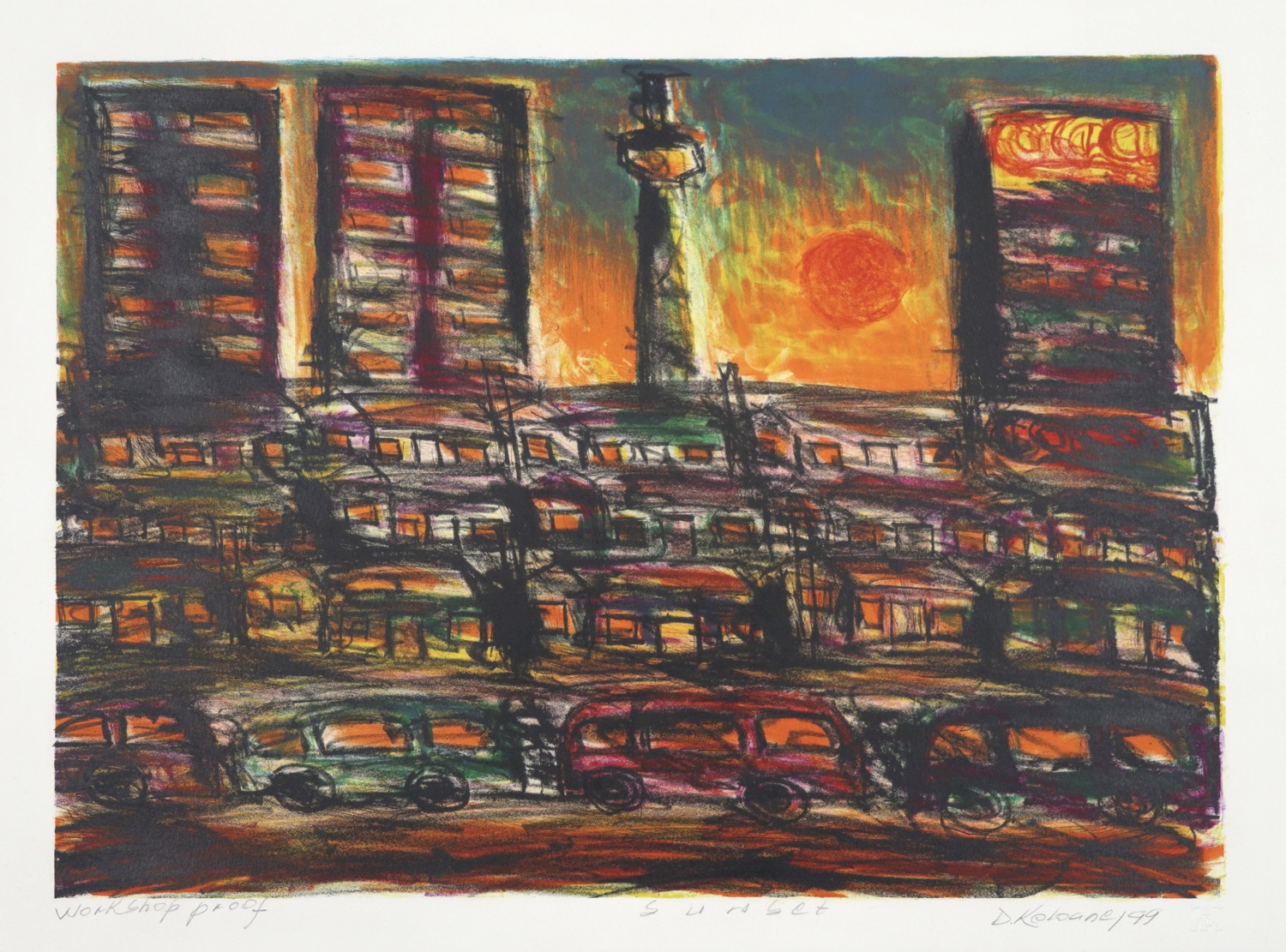 Title: Sunset
Medium: Eight colour lithograph
Size: 38 x 51 cm
Edition size: 30
Date: 1999
Price: SOLD OUT
Title: A la Ponte
Medium: Eight colour lithograph
Size: 38 x 51 cm
Edition size: 30
Date: 1999
Price: SOLD OUT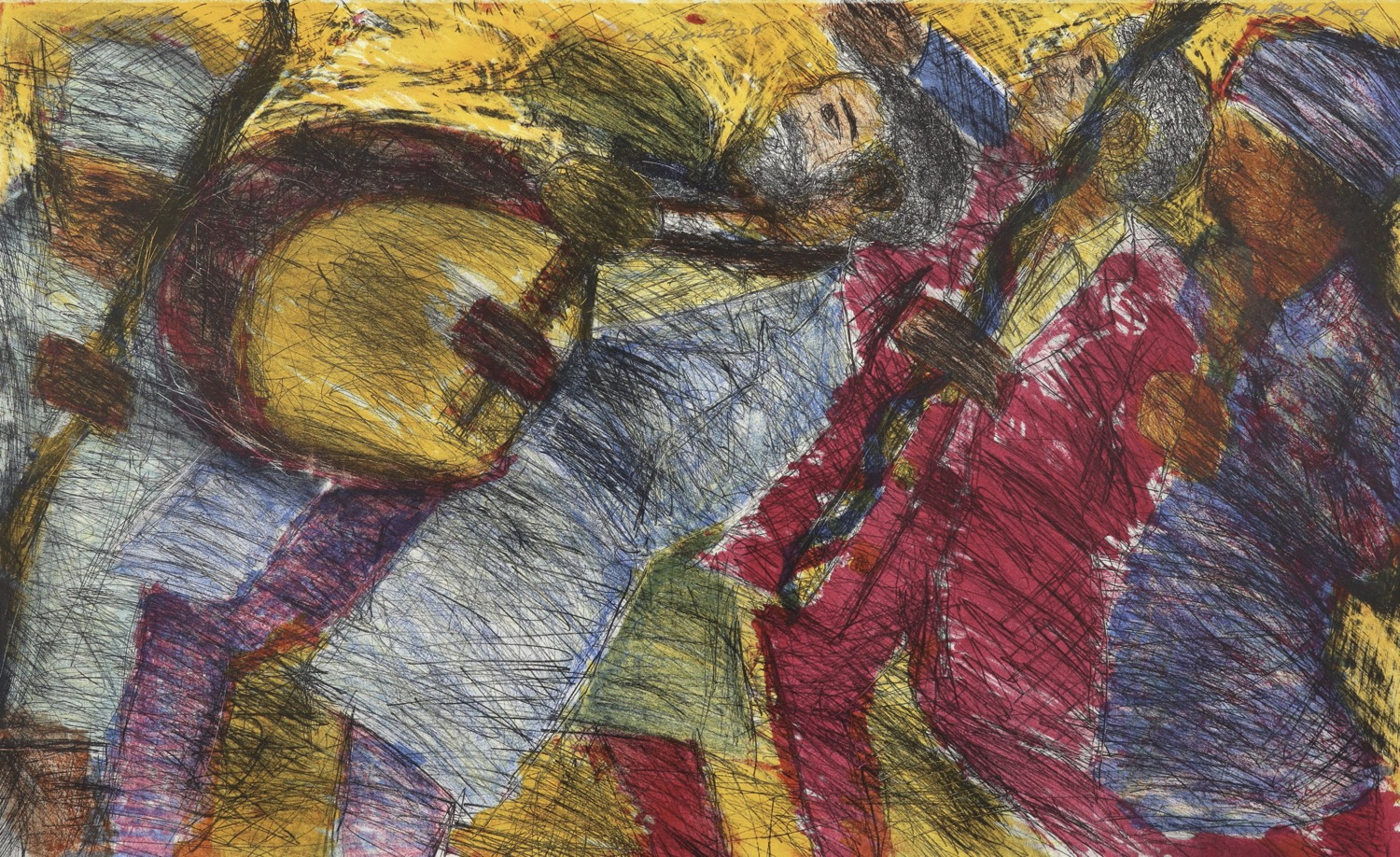 Title: Celebration
Medium: Six colour lithograph
Size: 41.7 x 68.3 cm
Edition size: 40
Price: R 5 830 (excl.VAT)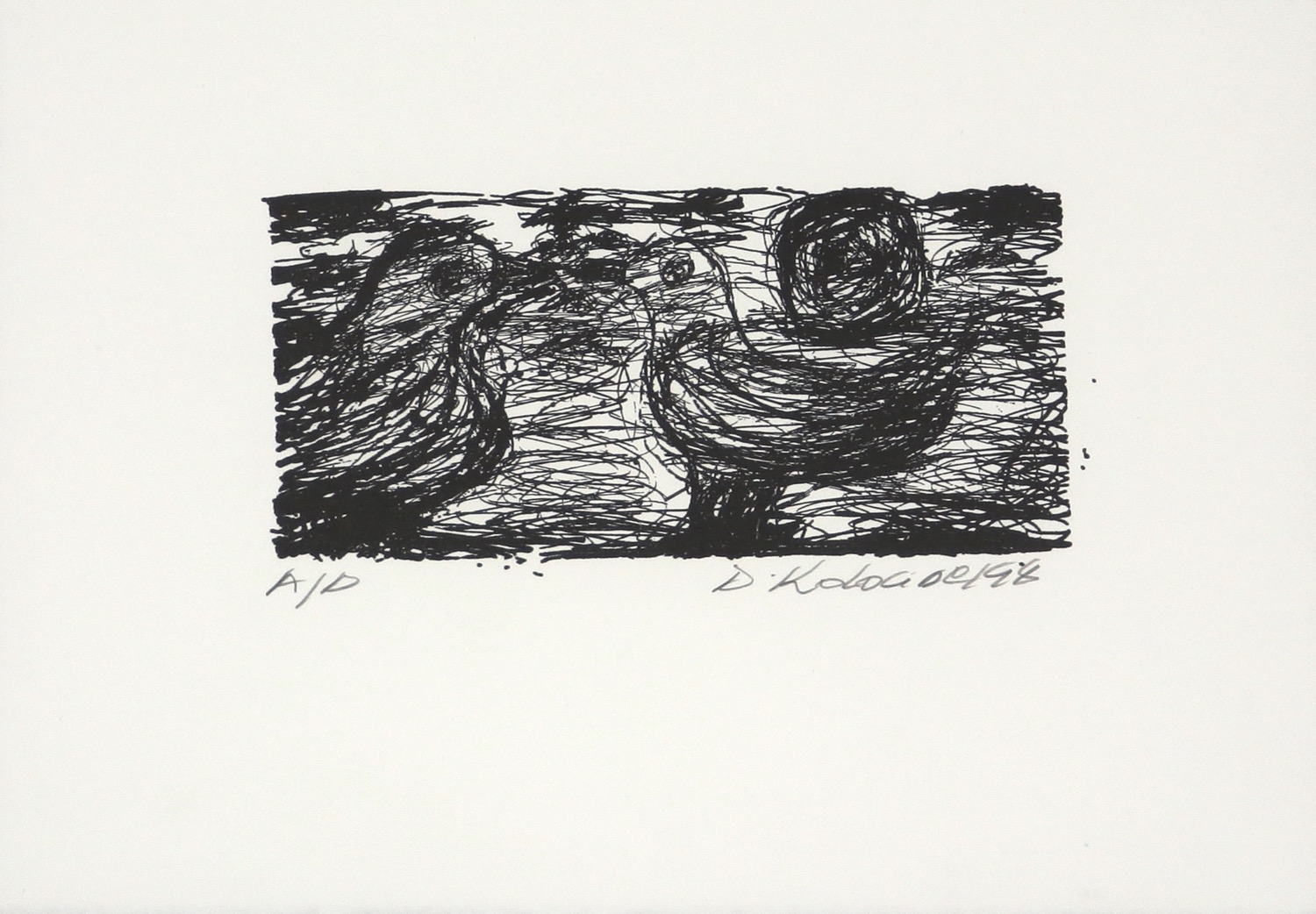 Title: Untitled
Medium: Single colour lithograph
Date: 1998
Price: SOLD OUT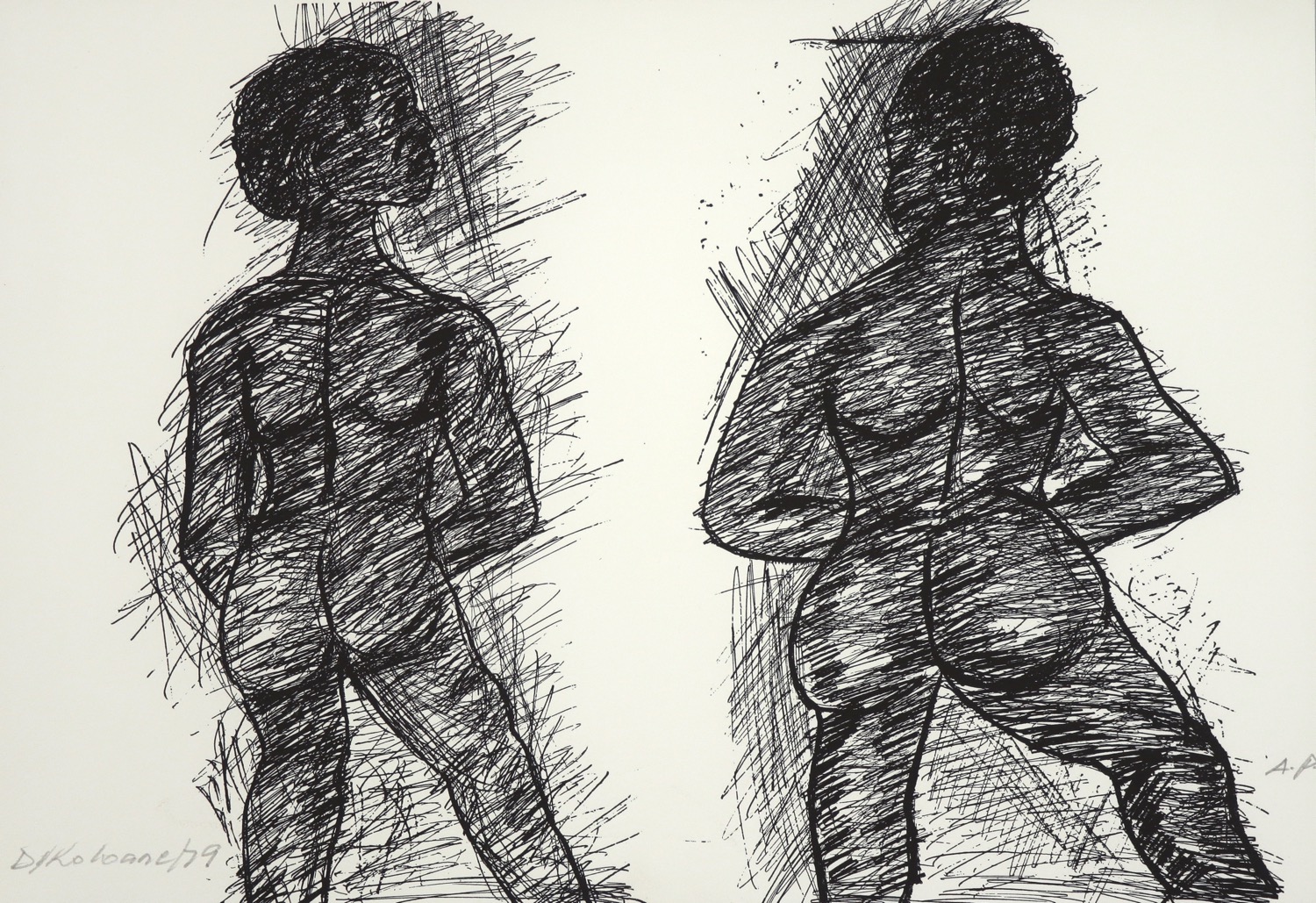 Title: Untitled
Medium: Single colour lithograph
Edition size: 30
Date: 1997
Details: David Koloane's contribution to the artists book "Emandulo Re-Creation" initiated by Kim Berman and Robbin Silverberg at The Artists Proof Studio, Johannesburg.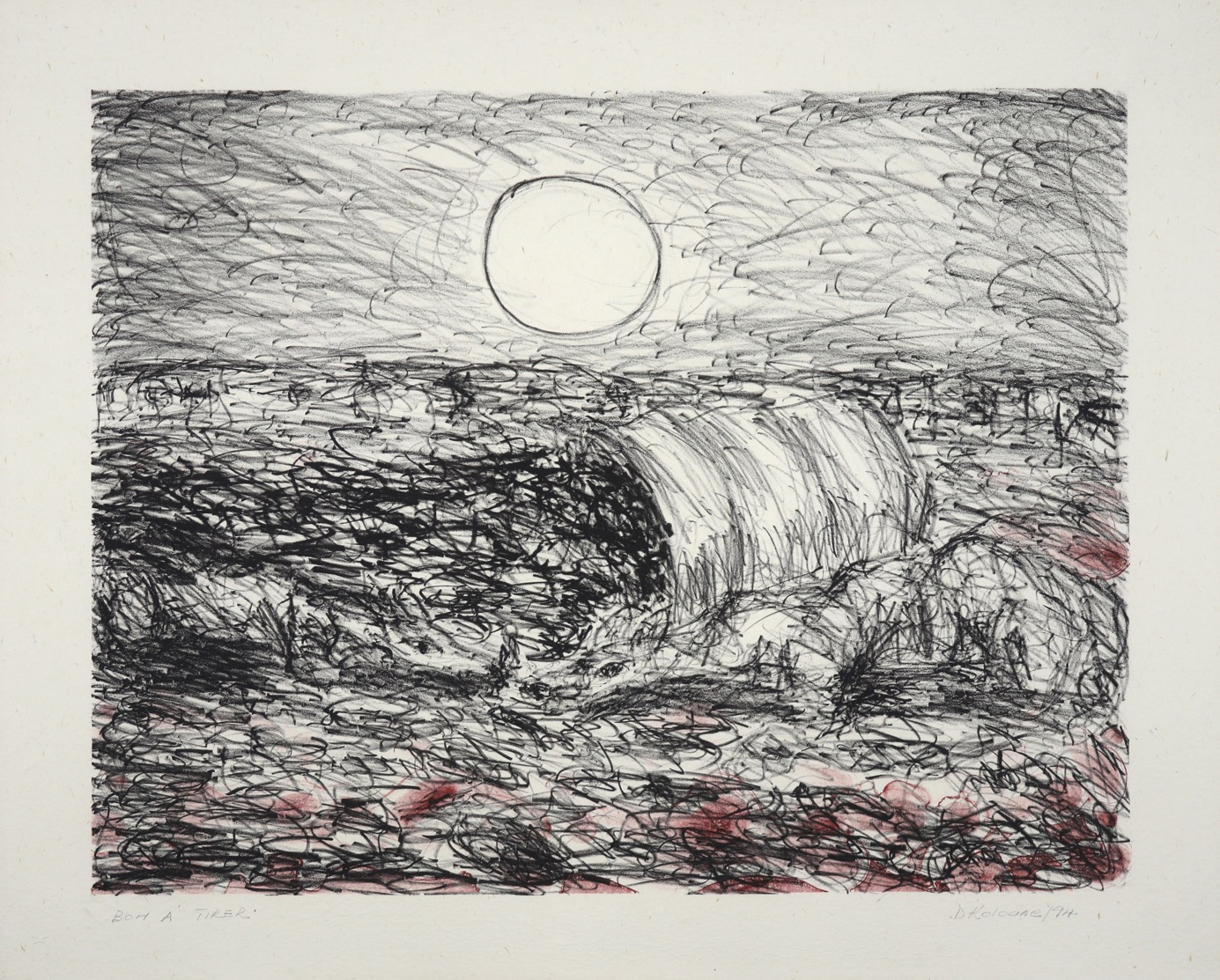 Title: Untitled
Medium: Two colour lithograph
Size: 51.5 x 63.5 cm cm
Edition size: 15
Date: 1994
Price: SOLD OUT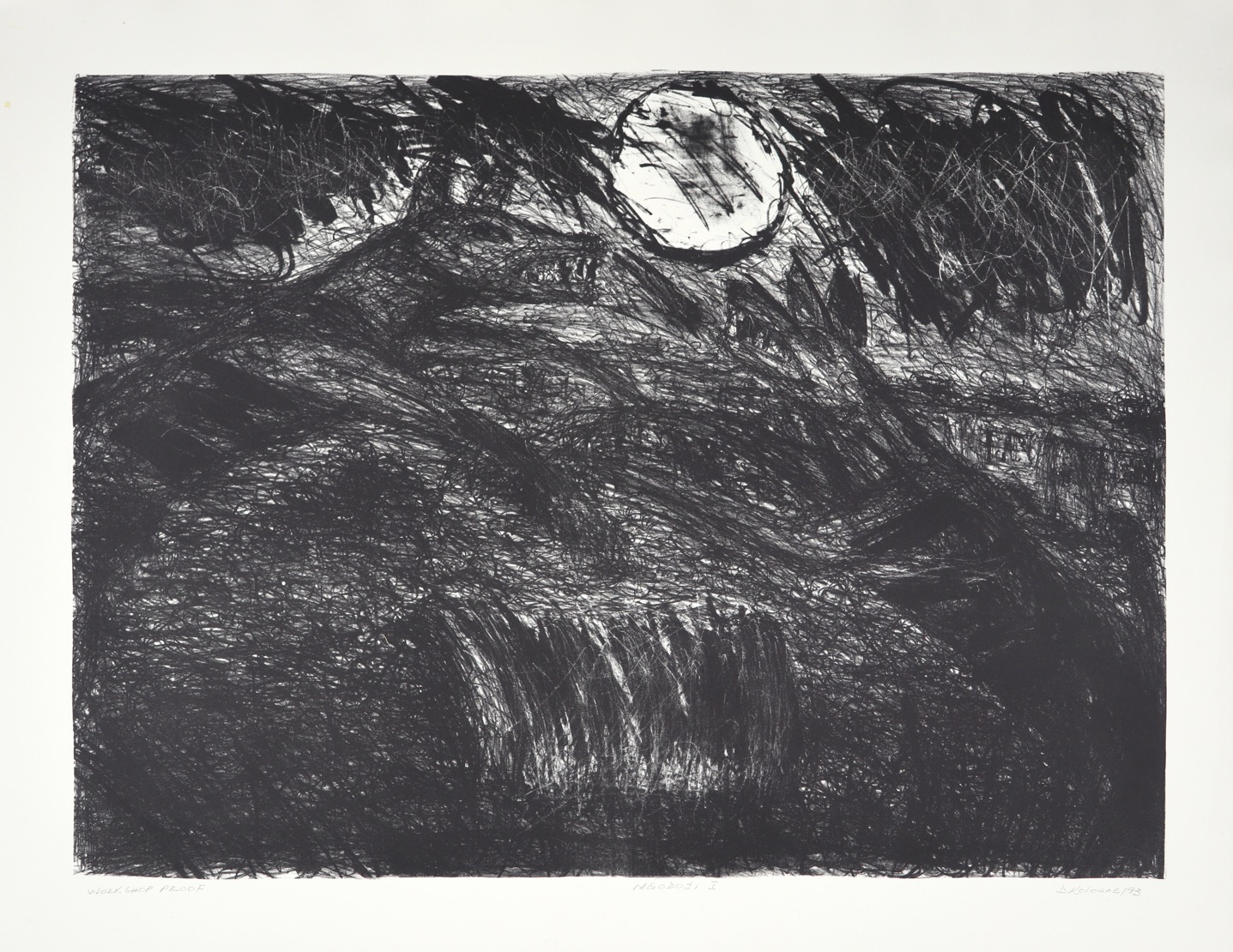 Title: Mgodoyi I
Medium: Single colour lithograph
Size: 56 x 76 cm
Edition size: 20
Date: 1993
Price: SOLD OUT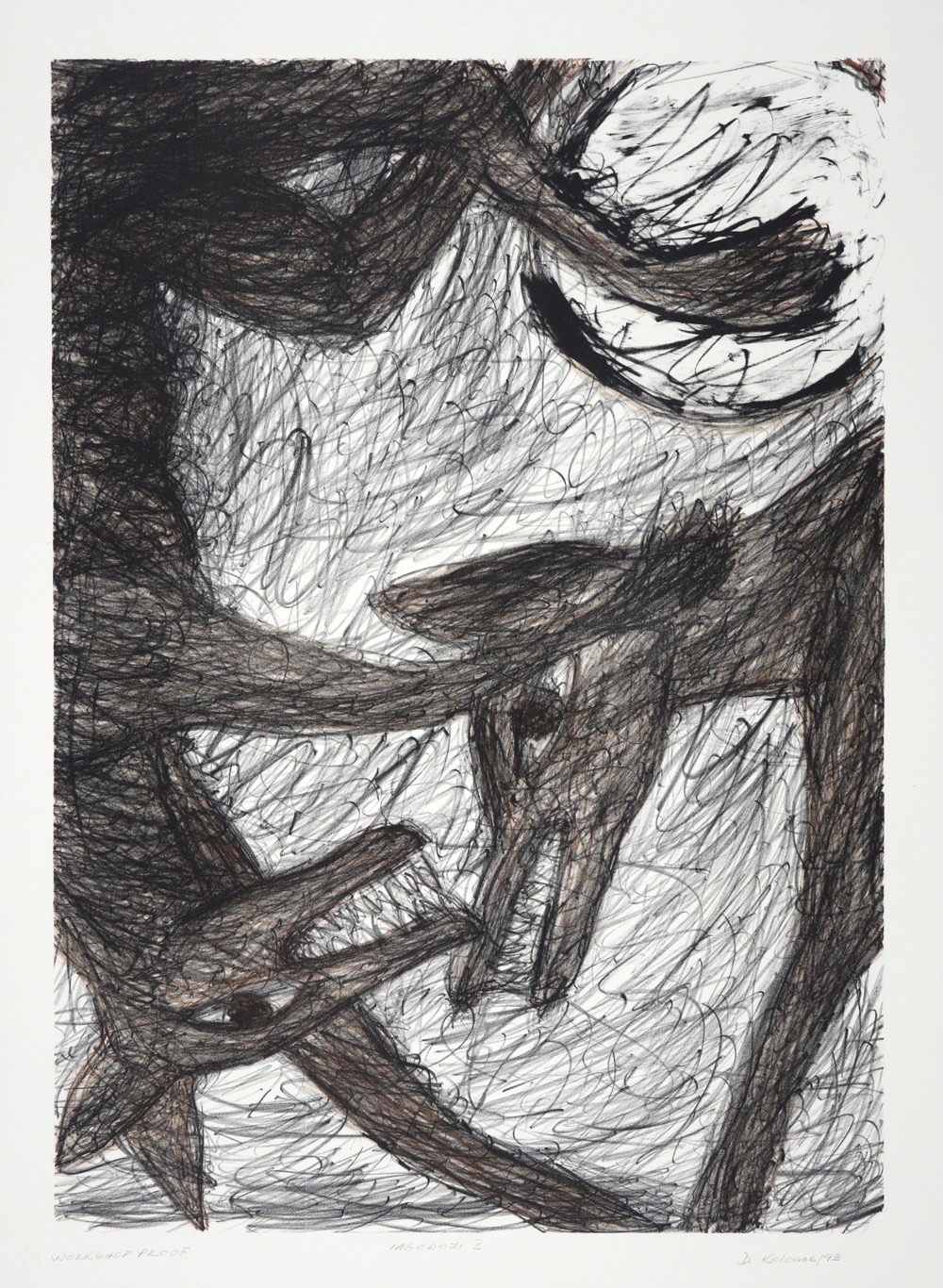 Title: Mgodoyi II
Medium: Two colour lithograph
Size: 76 x 56 cm
Edition size: 20
Date: 1993
Price: SOLD OUT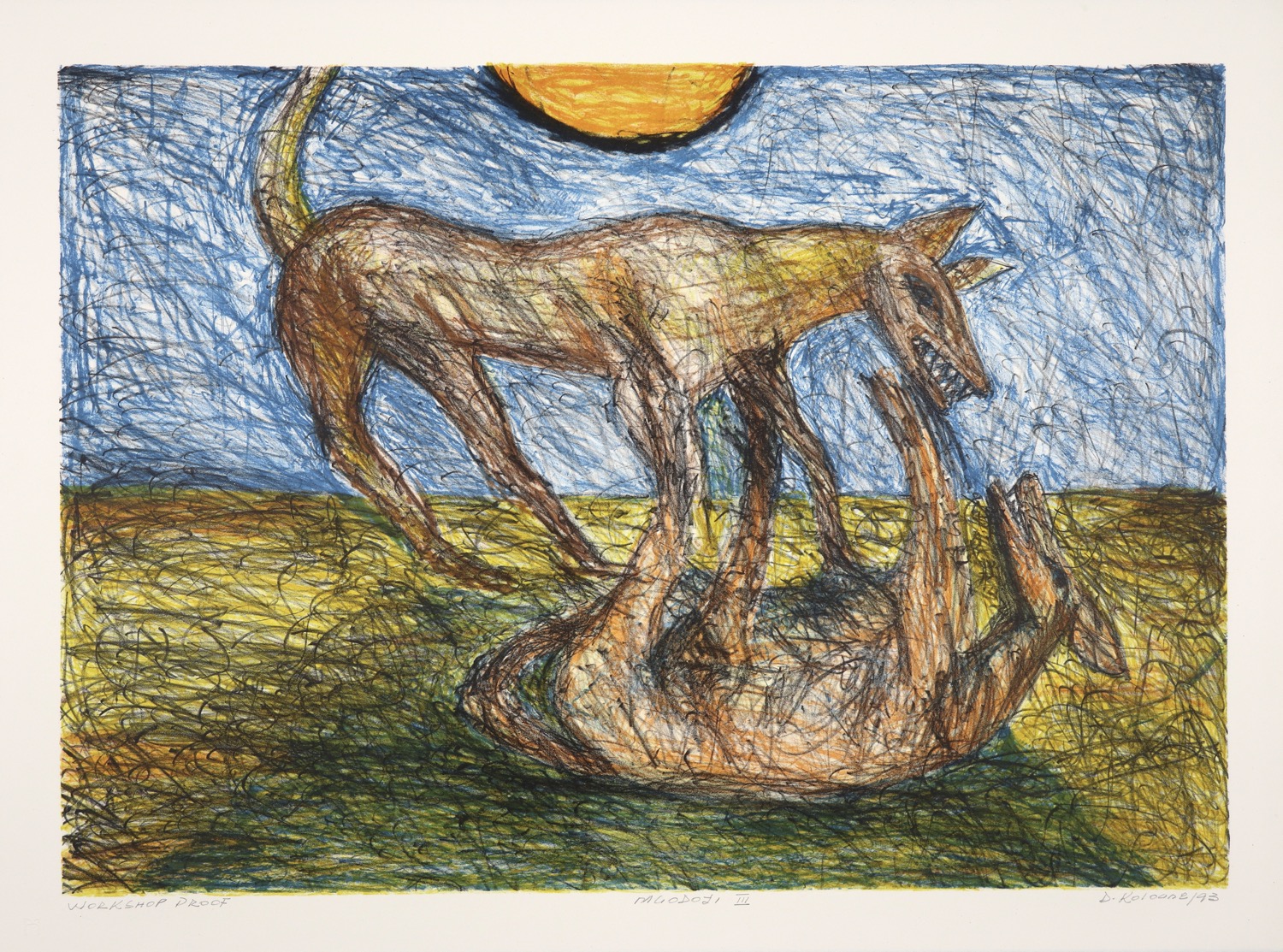 Title: Mgodoyi III
Medium: Five colour lithograph
Size: 56 x 76 cm
Edition size: 20
Date: 1993
Price: SOLD OUT
Community art centres such as those that David Koloane was involved with