Copyright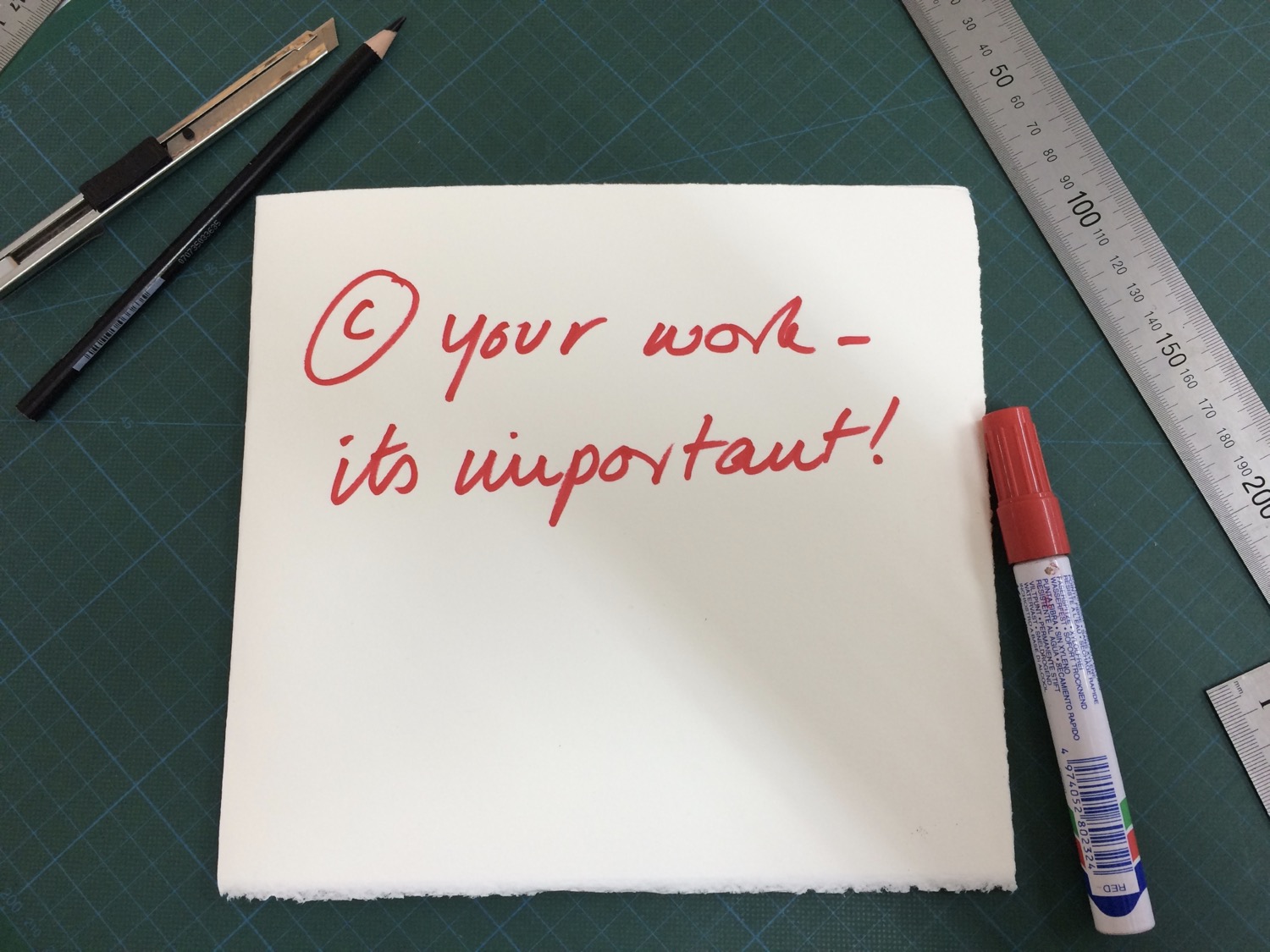 In South Africa, many artists and their clients are unaware of copyright.  The copyright to any artwork remains with the artist (even if the work is commissioned or sold) unless the artist gives written permission to another person or organisation to use the artwork as they see fit. Copyright resides with the artist and is there to make sure that the work is reproduced in ways that the artist is happy with and that the artist gets paid for the use of their work. Much like musicians get paid royalty fees each time their music is played (even if only on the radio).

There are many horror stories out there of artists seeing their work printed onto fabric for lampshades, used on book covers, on perfume bottles etc. It is easy and free (no signing up costs) to get DALRO to take care of your copyright for you. Tommy Motswai, Judith Mason, Jane Alexander and the heirs of Irma Stern, Maggie Laubser, and Durant Sihlali have all joined DALRO. At The Artists' Press, we advise all the artists that we work with to be represented by DALRO. Below are some FAQ that DALRO has supplied to us.

FREQUENTLY ASKED QUESTIONS

These questions and answers are related to the terms and conditions of DALRO'S Visual Arts Mandate from the perspective of an artist or the deceased artist's heirs or successors. An introduction to the Visual Arts Mandate and various formats of the agreement can be found at the DALRO website, click here. Words used in Capital letters are also defined in the Visual Arts Mandate agreement.

1. Do I have to pay DALRO for its services if I sign a Visual Arts Mandate?

There is no separately charged fee payable for granting DALRO a Visual Arts Mandate. DALRO deducts its Administration Fee from the licensing income it actually receives from the persons or entities it authorises to reproduce your Works in terms of your mandate, namely the Users. The Administration Fee is deducted at the time of distribution of any licensing income.

DALRO'S administration Fee is 25% from licence fees it collects for reprographic reproduction (photocopying) and 20% from license fees it collects from all other forms of licensing, plus VAT (Clause 6 of the Agreement). These percentages are in line with those levied by visual arts societies in other countries and equal to what DALRO is permitted to deduct from licence fees collected for the use of works of foreign artists.

2. If I grant DALRO a Visual Arts Mandate, will my works be protected in other countries?

DALRO has entered into reciprocal agreements with a number of Associated Societies in other countries which means that your rights will be protected and enforced in those countries in the same manner as DALRO is obliged to protect the rights of Associated Societies' members. DALRO currently has reciprocal agreements with the following societies and further agreements are
under negotiation:

Visual Entidad de Gestion de Artistas Plasticos (VEGAP) - Spain

Societa Italiana degli Autori ed Editori (SIAE) – Italy

Societe de Auteurs dans les Arts Graphiques et Plastiques (ADAGP) – France

Verwertungsgesellschaft Bild Kunst (VG BILD KUNST) – Germany

Design and Artists Copyright Society (DACS) – United Kingdom

Bildkonst Upphovsratt Sverige (BUS) – Sweden

Copy – Dan Billedkunst – Denmark

Visual Arts and Galleries Association (VAGA) – United States of America

Societe d'Auteurs Belge – Belgische Auteurs Maatschappij (SABAM) – Belgium

Society for Reproduction Rights of Authors, Composers and Publishers in Canada (SODRAC) – Canada

 3. Which of my works will be covered by the DALRO Visual Arts Mandate?

The DALRO Visual Arts Mandate mandates DALRO to licence all Works of which you are the artist and in respect of which you have not advised DALRO in writing that you do not own the copyright or in respect of which you have already granted an exclusive licence or that you want to have excluded from the mandate.

The DALRO Visual Arts Mandate has schedules at the end of it in which you can identify works which must be excluded from the mandate.

4. For what purposes will DALRO licence the use of my Works?

DALRO licences very specific uses of your Works, i.e. the forms of exploitation that Users routinely require. These uses are called Standard Uses in the Agreement (Clause 3.5). DALRO will contact you if it receives a request for a licence for other uses of your Work.

5. What will DALRO charge Users for the use of my Works, and what do I get from it?

DALRO applies tariffs for the various Standard Uses which conform to internationally accepted standards. These tariffs apply to all artistic works entrusted to DALRO's collective management and are revised annually. DALRO deducts its Administration Fee and VAT from the royalty income relating to your Works and distributes the balance to you.

Collected royalties are distributed twice annually, in February and August. DALRO's February distribution accounts on royalties collected during the last six months of the year, whereas the August distribution accounts on royalty collections during the first six months of the current year. Each distribution is accompanied by a detailed royalty statement. Distribution statements are only sent to those artists whose Works had earned royalties during the applicable six-months distribution period.

6. What must I do if I've granted DALRO a mandate and want to authorise someone to use my Work free of charge?

Should you wish to authorise someone to use your Works free of charge, for example reproductions on your personal website, reproductions on websites where your Works are promoted, reproductions by galleries with which you have a special relationship, please notify DALRO in writing and provide full details of the licences you wish to grant gratis (Clause 5.5 of the Agreement). DALRO will then refrain from licensing the identified uses.

7. What information will DALRO need from me in granting a mandate?

The minimum information required is:

-   Your full names, identity number and citizenship

-   Your street address, postal address, telephone number, e-mail address and bank account details for payment of the net licence fees. You must also promptly notify DALRO of any changes.

-   Any other personal information which could be relevant and updates as and when this changes, such as the name(s) you use to sign your Work, details of any website where you publicise your Works, changes in citizenship.

-   Details of Works of which you are the artist or co-artist, but of which you are not the copyright owner or sole copyright owner.

-   If the artist is deceased, the mandate will be signed by the heirs of the deceased artist who owns the copyright in the Works. DALRO will need proof (for instance a copy of the Will and estate account) that the heirs claiming to own copyright do actually own it. It is advisable for them to select one of them to be the contact person for all the heirs (the Representative Owner)

 
8. What must I do if I find someone using a copy of my work without my permission?
Notify DALRO by email or through the website at. You will need to specify where and when you saw the copy and send a sample (e.g. screen print of a web page containing the infringing copy).

9. How do I cancel DALRO Visual Arts Mandate I had granted?

 You may terminate the mandate by giving DALRO twelve months' notice (Clause 8.1)

10. How can I contact DALRO about it's Visual Arts Mandate?

You may contact DALRO through the link given on its website.