Politics...
In this selection of prints from The Artists' Press is work that relates to socio-political issues. These may be specific to South Africa such as Colbert Mashile's Barometer or broader such as Hanneke Benadé's No more bobby pins. South African artists have a long tradition of using imagery to pass comment on society and politics.
To see more work by a specific artist click on their name.
Browse more? Take a look at these links:

Animals, Insects and Creatures
Latest Editions from The Artist' Press
For orders (with free shipping) or any other enquiries, please contact us.

Artist: Sam Nhlengethwa
Title: Protest
Medium: Three colour lithograph
Size: 52.2 x 40.2 cm
Edition size: 22
Price: R  10 290 (excl.VAT)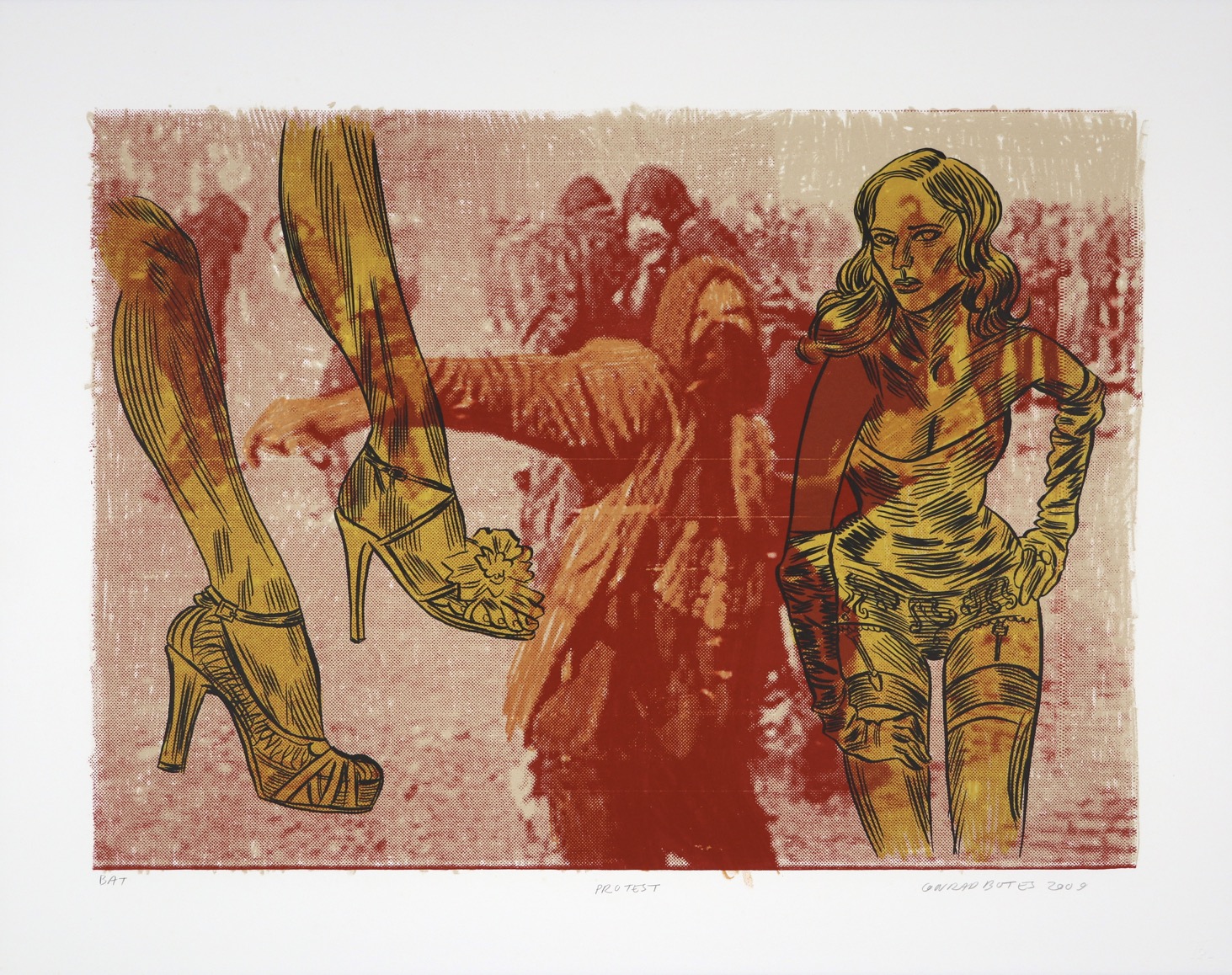 Artist: Conrad Botes
Title: Protest
Medium: Five colour lithograph
Paper size: 50.7 x 64 cm
Image size: 40.5 x 54.5 cm
Edition size: 30
Price: R 7 455 (excl.VAT)
Artist: Tommy Motswai
Title: Studying by Lamplight
Medium: Eight colour lithograph
Size: 57 x 76 cm
Edition size: 30
Price: R 5 565 (excl.VAT)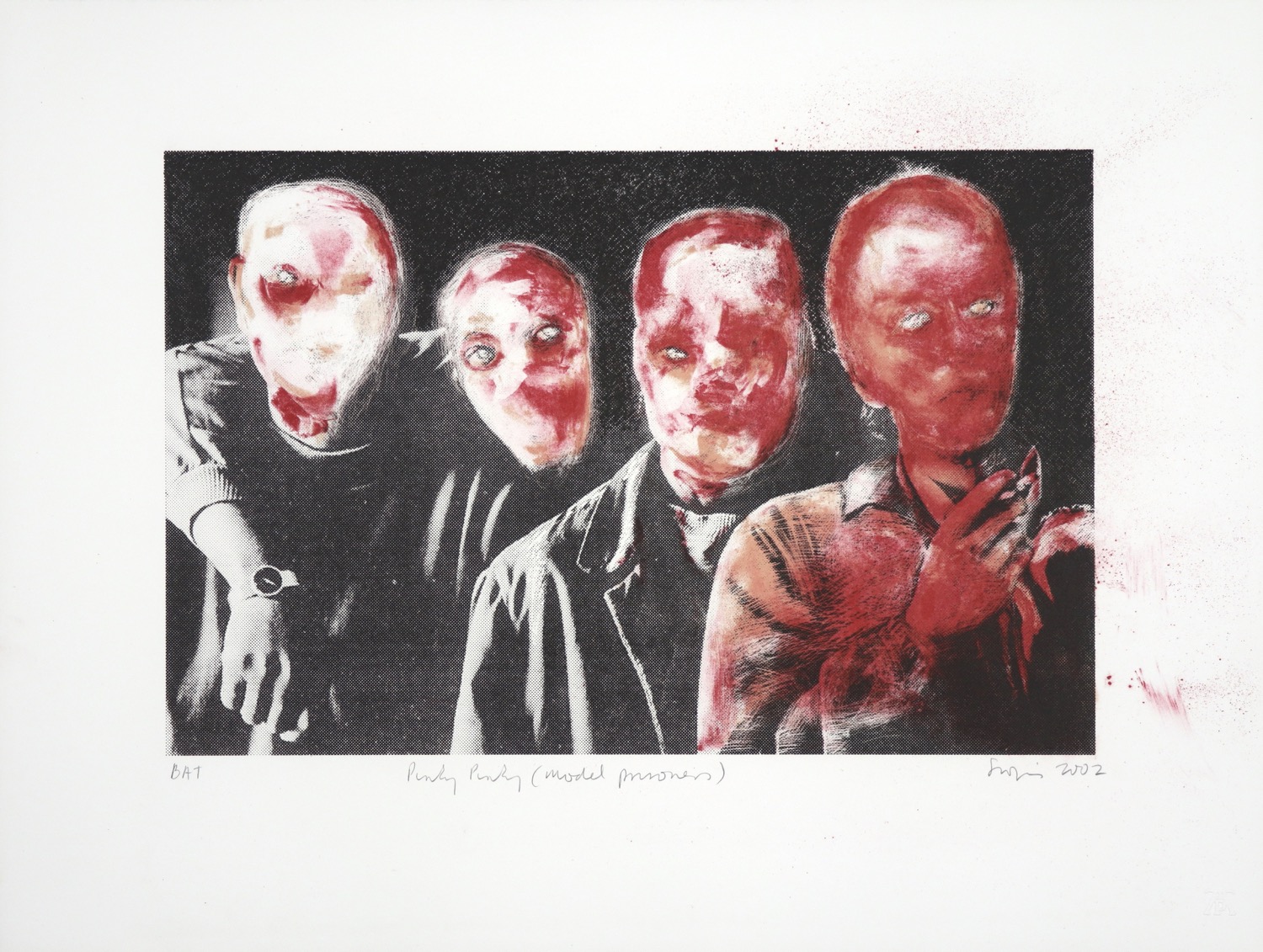 Artist: Penny Siopis
Title: Model Prisoners
Medium: Six colour lithograph
Size: 38 x 50.5 cm
Edition size: 40
Price: R 6 980 (excl.VAT)


Artist: Sam Nhlengethwa
Title: What about AU?
Medium: Seven colour lithograph
Paper size: 50 x 30 cm
Image size: 30 x 33 cm
Edition size: 35
Price: R 7 470 (excl. VAT)


Artist: Paul Stopforth
Title: Robben Island II
Medium: Three colour lithograph
Paper size: 36 x 37.5 cm
Image size: 30 x 28 cm
Edition size: 25
Price: R 5 150 (excl.VAT)
Artist: Paul Stopforth
Title: Robben Island IV
Medium: Three colour lithograph
Paper size: 36 x 37.5 cm
Image size: 30 x 28 cm
Edition size: 25
Price: R 5 150 (excl.VAT)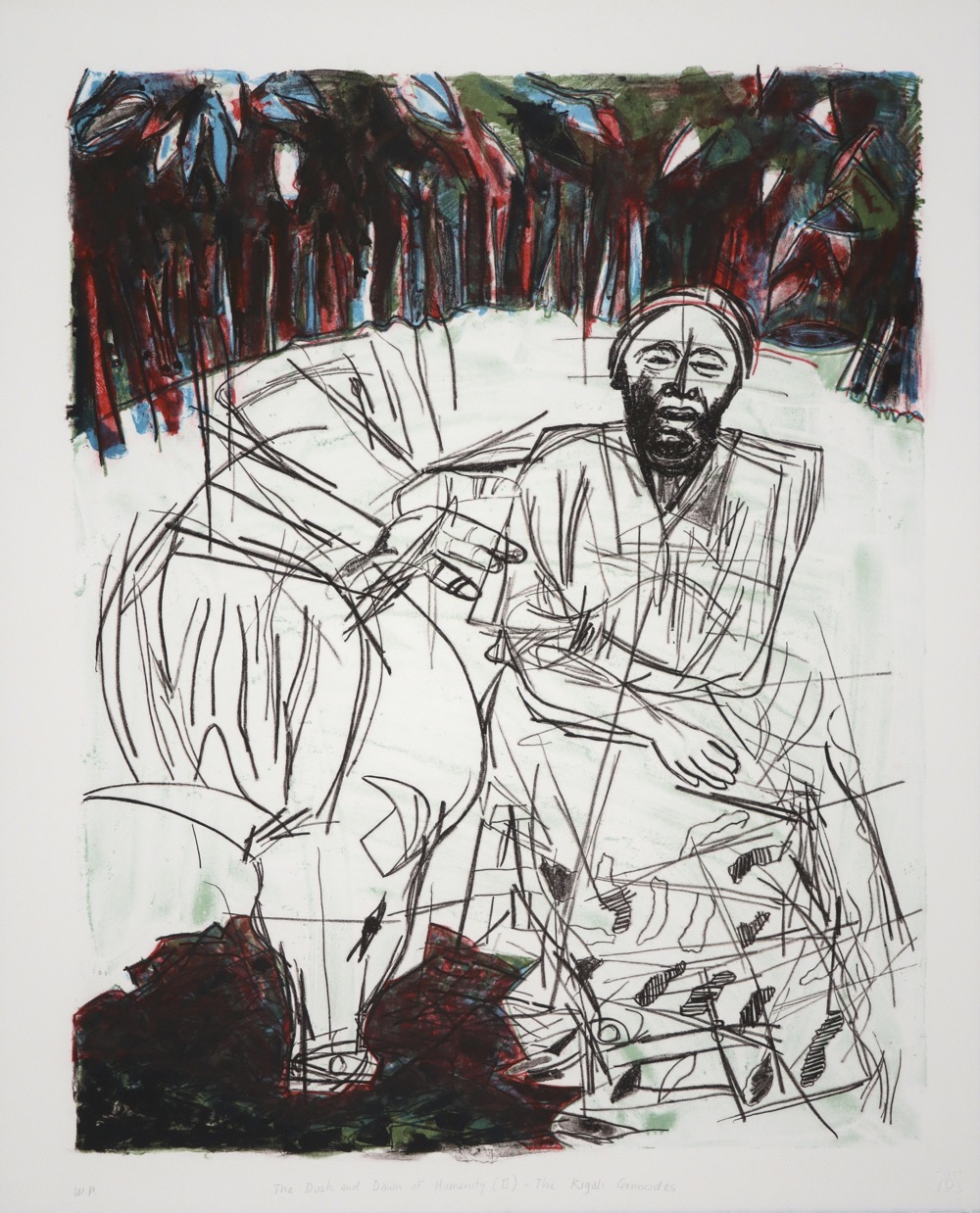 Artist: Nhlanhla Xaba
Title: The Dusk and Dawn of Humanity (II) - The Kigali Genocide
Medium: Four colour lithograph
Size: 54 x 44 cm
Edition size: 40
SOLD OUT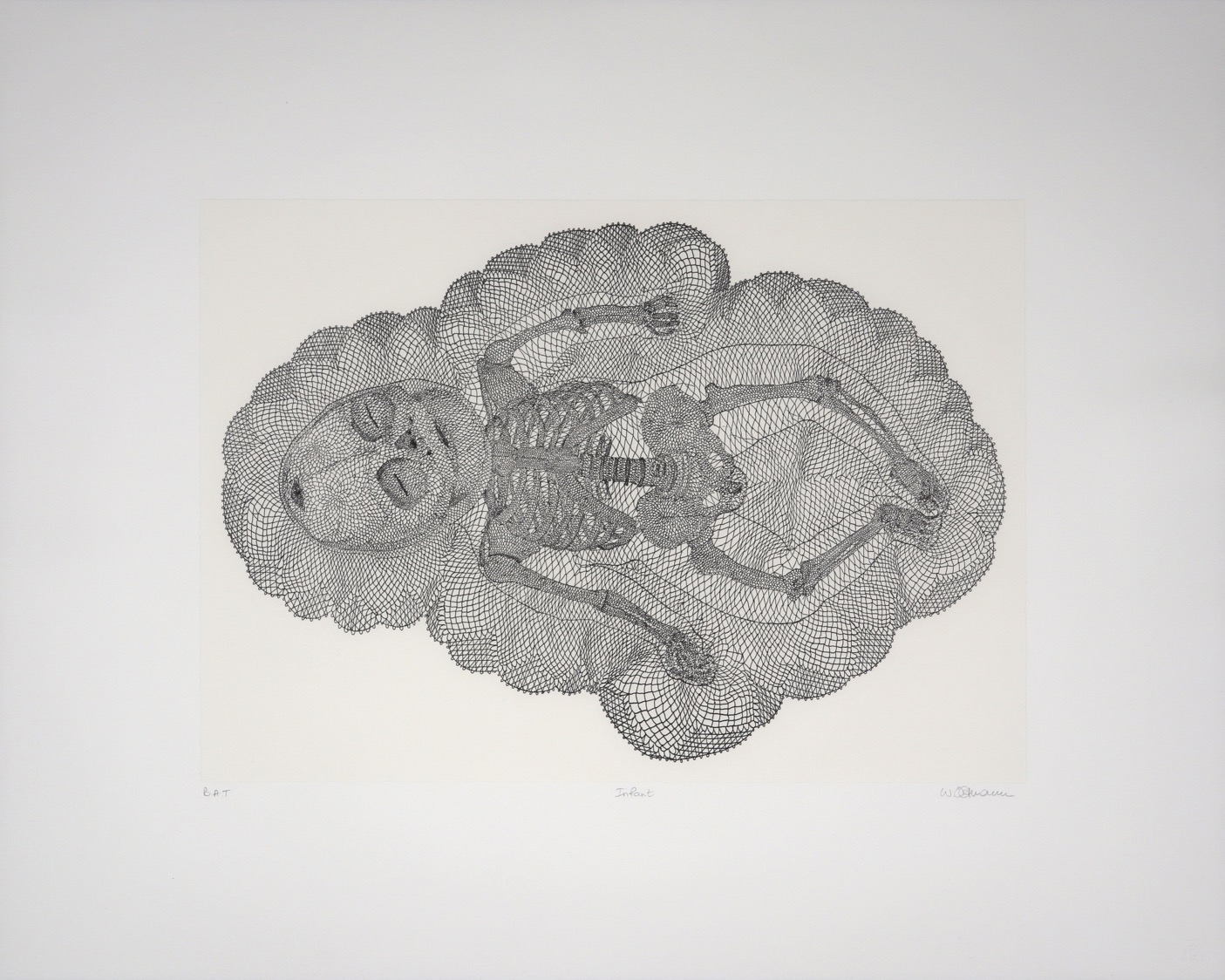 Artist: Walter Oltmann
Title: Infant
Medium: Chine collé/letterpress
Paper size: 50 x 63 cm
Image size: 29 x 42 cm
Edition size: 30
Price: R 5 560 (excl. VAT)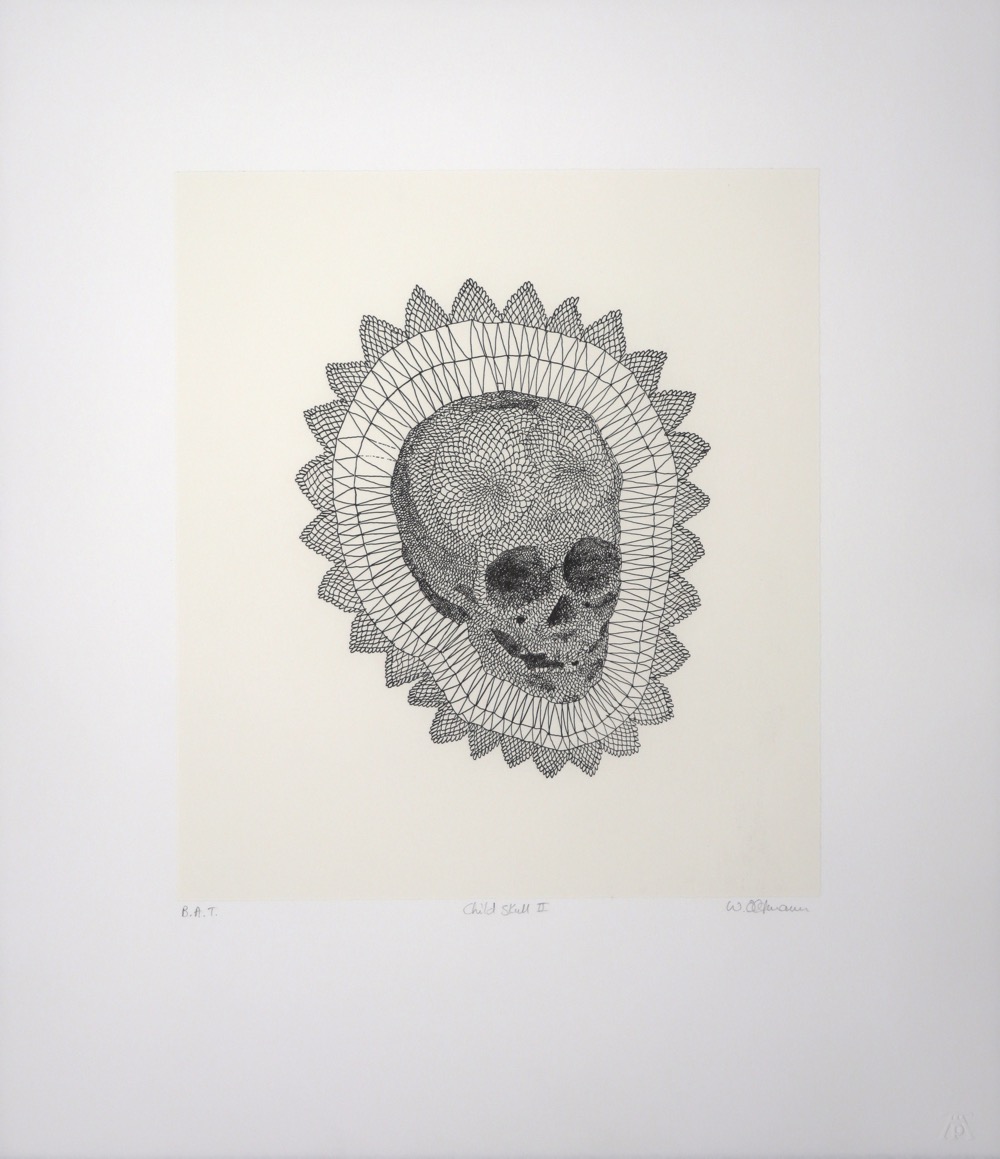 Artist: Walter Oltmann
Title: Child Skull II
Medium: Chine collé/letterpress
Paper size: 44 x 38 cm
Image size: 42 x 29 cm
Edition size: 30
Price: R 4 350 (excl. VAT)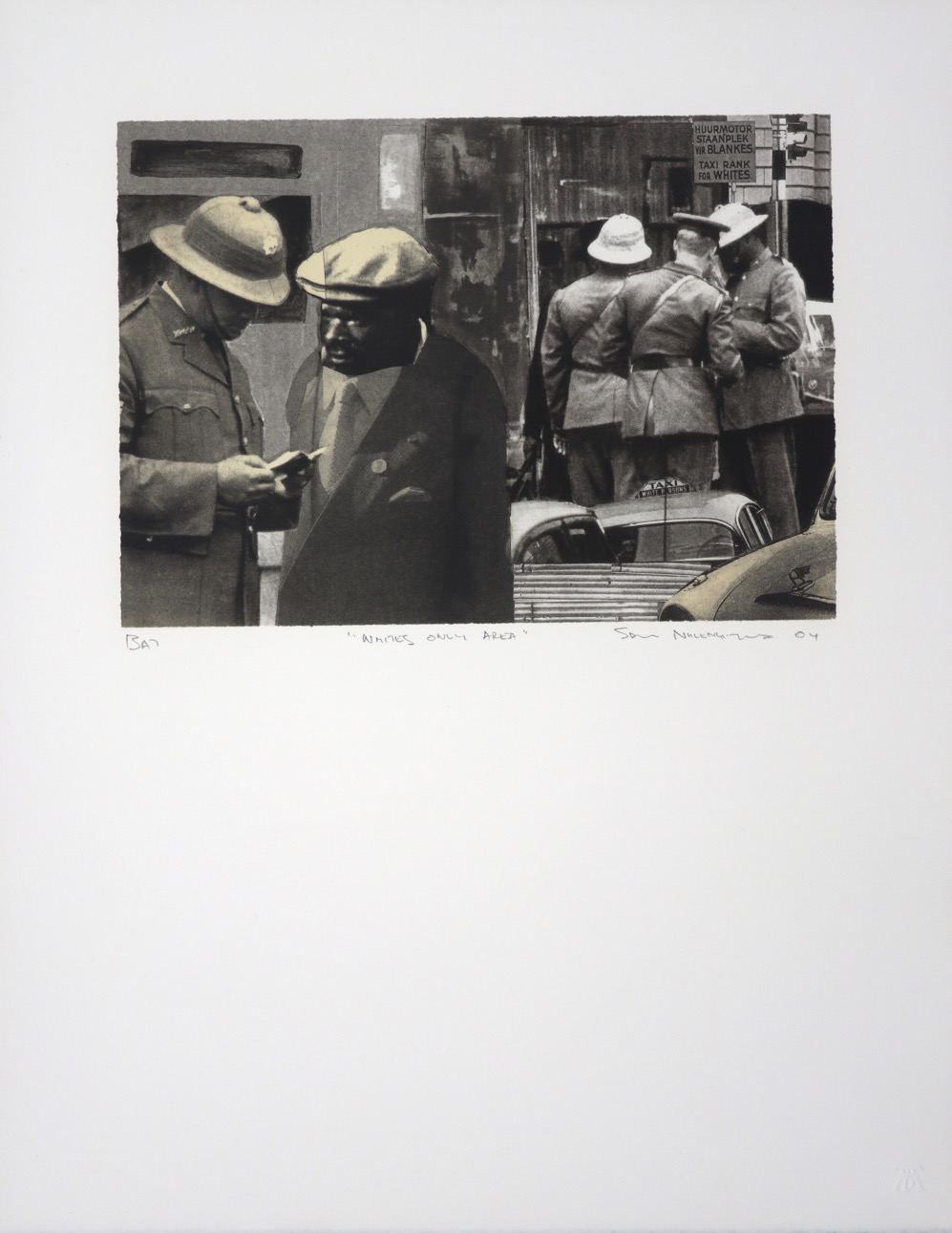 Artist: Sam Nhlengethwa
Title: Whites Only Area
Medium: Five colour photo-lithograph
Paper size: 49 x 38 cm
Image size: 20 x 28 cm
Edition size: 25
Price: R 6 560 (excl.VAT)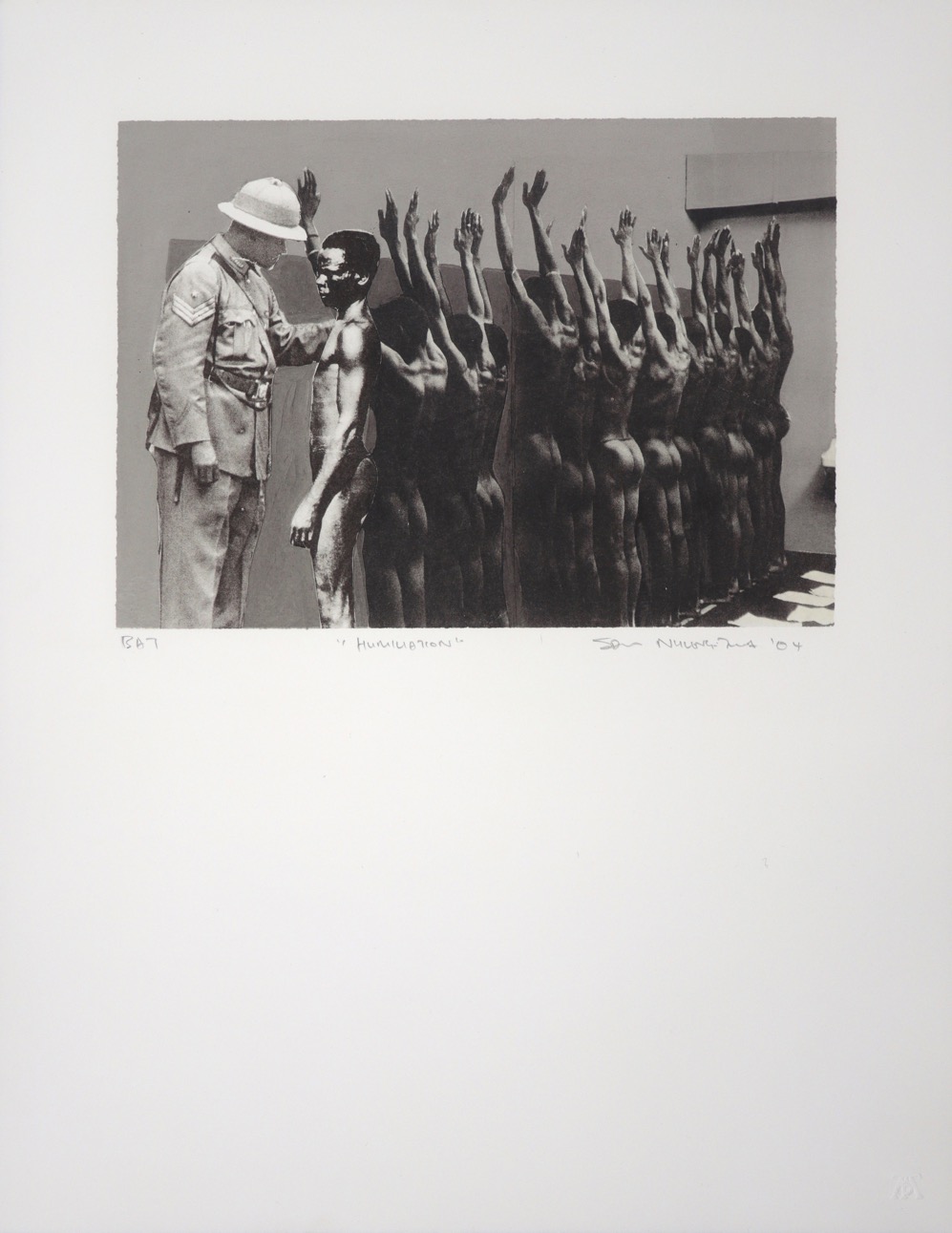 Artist: Sam Nhlengethwa
Title: Humiliation
Medium: Five colour photo-lithograph
Paper size: 49 x 38 cm
Image size: 20 x 28 cm
Edition size: 25
Price: R 6 560 (excl.VAT)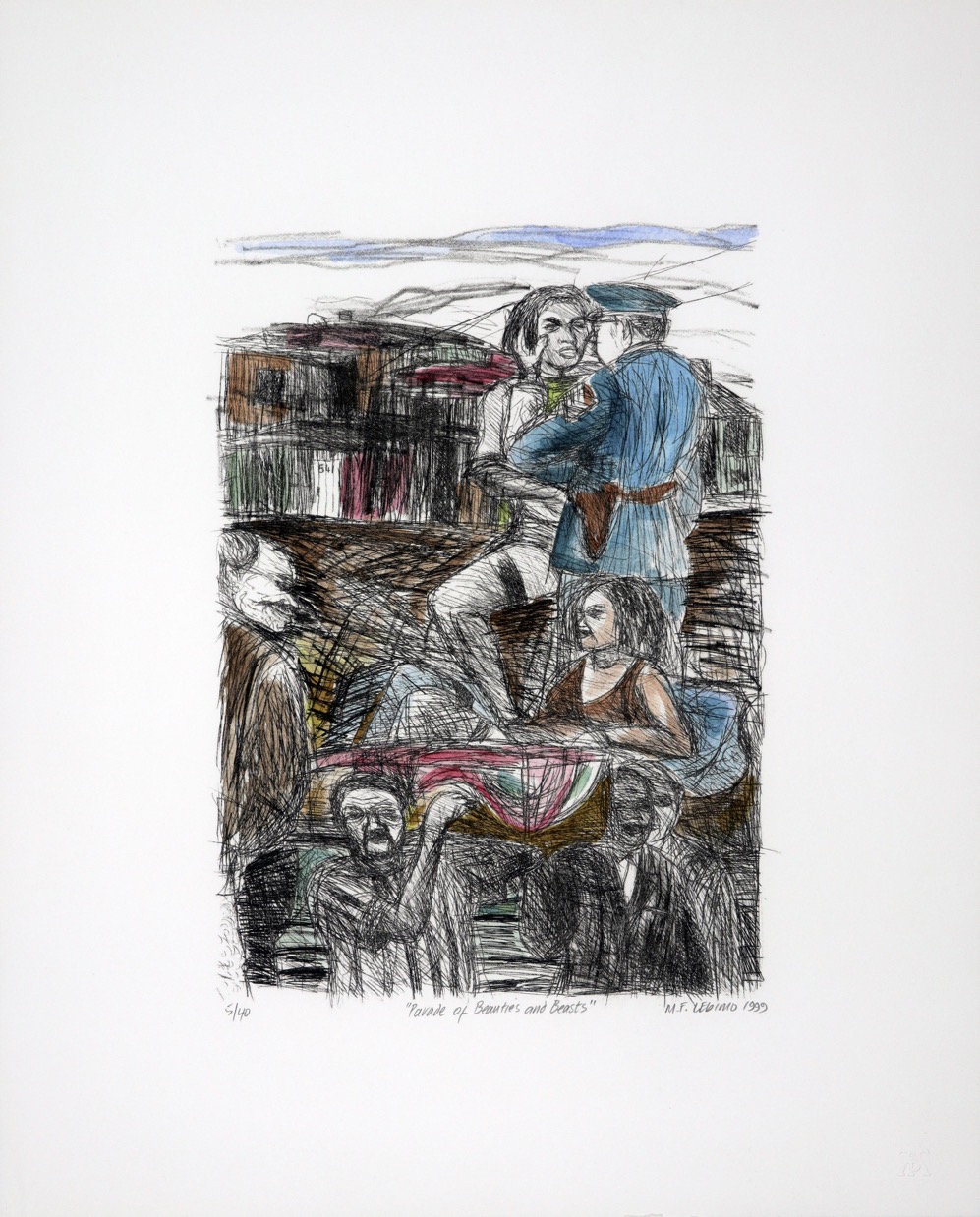 Artist: Moleleki Ledimo
Title: Parade of Beauties and Beasts
Medium: Hand coloured lithograph
Paper size: 47 x 38 cm
Image size: 30 x 21 cm
Edition size: 40
Price: R 3 675 (excl.VAT)


Artist: Moleleki Ledimo
Title: Long Autumn Days
Medium: Hand coloured lithograph
Paper size: 47 x 38 cm
Image size: 30 x 21 cm
Edition size: 40
Price: R 3 675 (excl.VAT)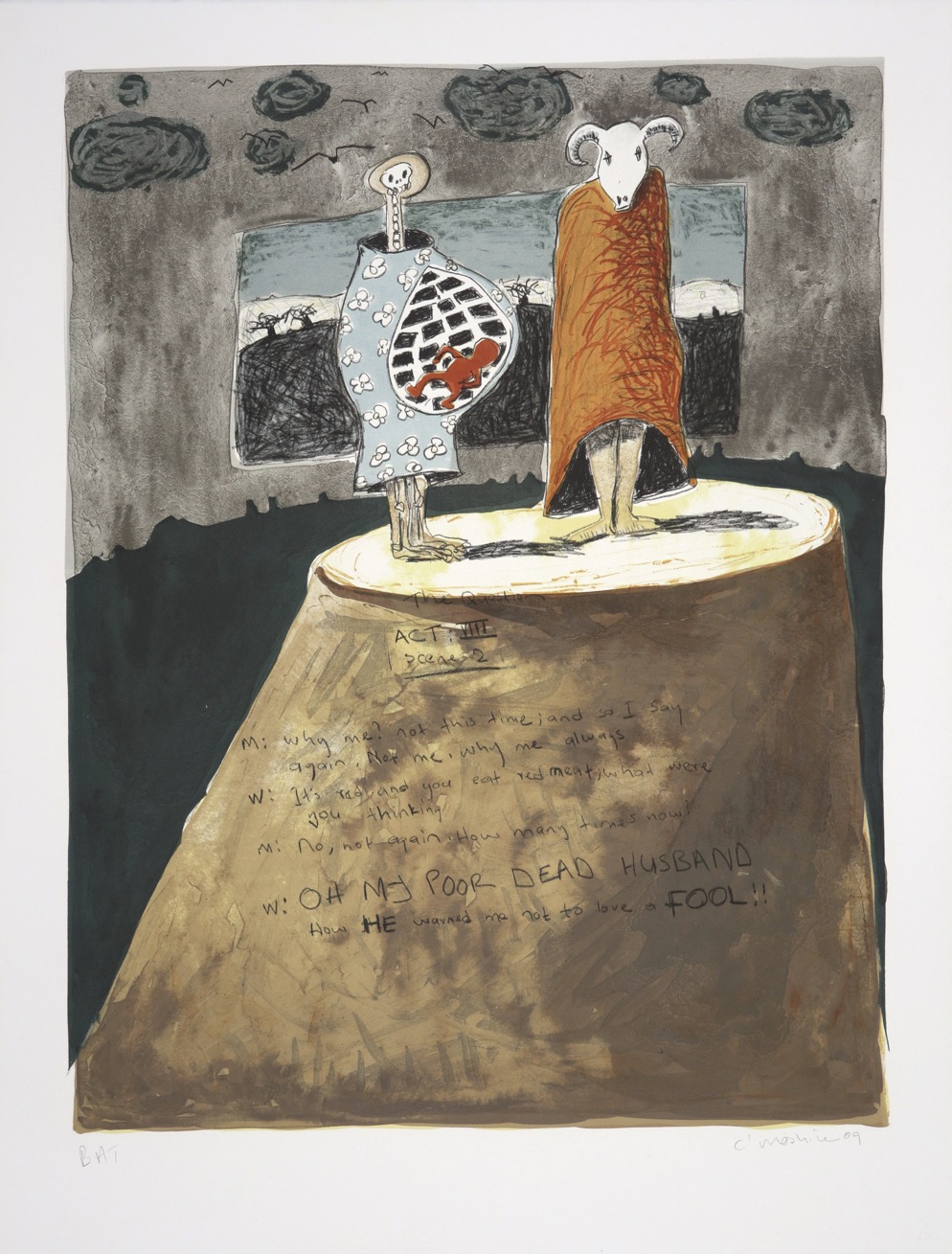 Artist: Colbert Mashile
Title: The Question
Medium: Nine colour lithograph
Paper size: 66 x 50.5 cm
Image size: 56 x 43 cm
Edition size: 25
Price: R 4 985 (excl.VAT)


Artist: Colbert Mashile
Title: The Barometer
Medium: Nine colour lithograph
Paper size: 66 x 50.5 cm
Image size: 56 x 43 cm
Edition size: 25
Price: R 4 985 (excl.VAT)


Artist: Conrad Botes
Title: Beggar
Medium: Five colour lithograph
Paper size: 50.7 x 60 cm
Image size: 42 x 49.5 cm
Edition size: 30
Price: R 7 455 (excl.VAT)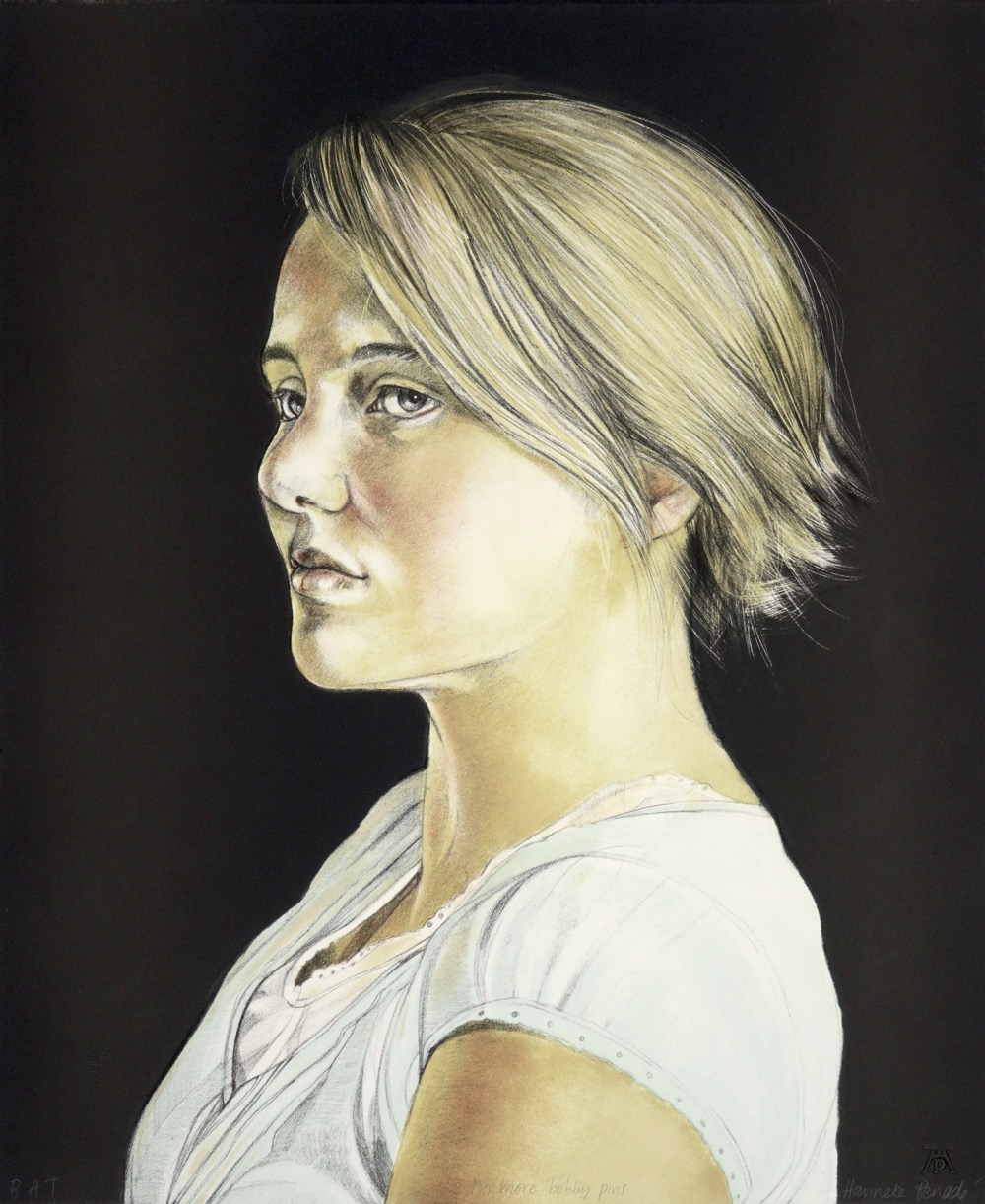 Artist: Hanneke Benadé
Title: No more bobby pins
Medium: Six colour lithograph
Paper size: 46 x 38.5 cm
Image size: 46 x 38.5 cm
Edition size: 30
Price: R 5 670 (excl.VAT)
Artist: Kim Berman
Title: Stripped, Lowveld Plantation I
Medium: Seven colour lithograph
Size: 57 x 76 cm
Edition size: 30
Price: R 5 670 (excl. VAT)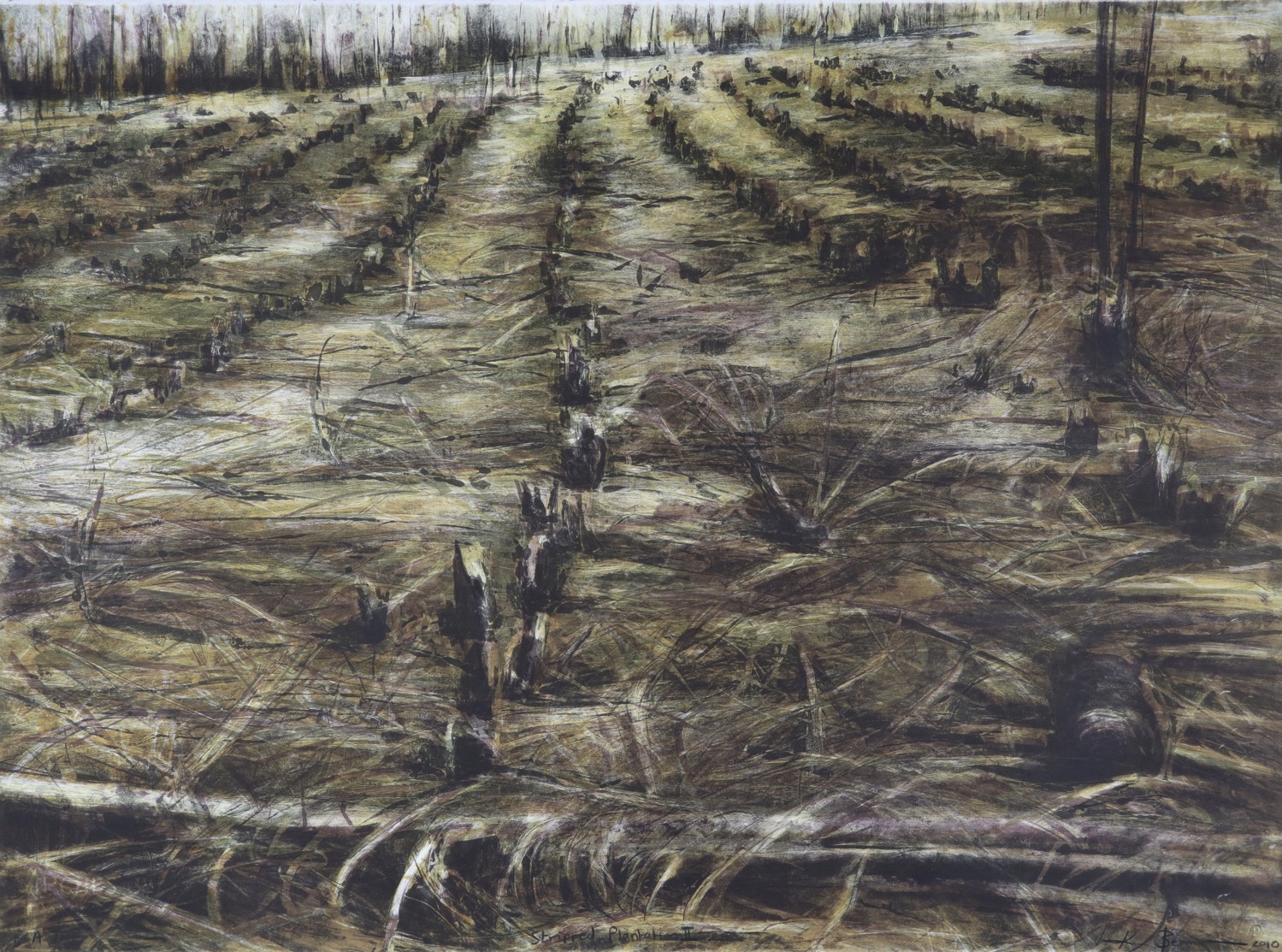 Artist: Kim Berman
Title: Stripped, Lowveld Plantation II
Medium: Seven colour lithograph
Size: 57 x 76 cm
Edition size: 30
Price: R 5 670 (excl. VAT)


Artist: Conrad Botes
Title: Valley of Death
Medium: Five colour lithograph
Paper size: 50.7 x 62.5 cm
Image size: 40.5 x 53 cm
Edition size: 30
Price: R 7 455 (excl.VAT)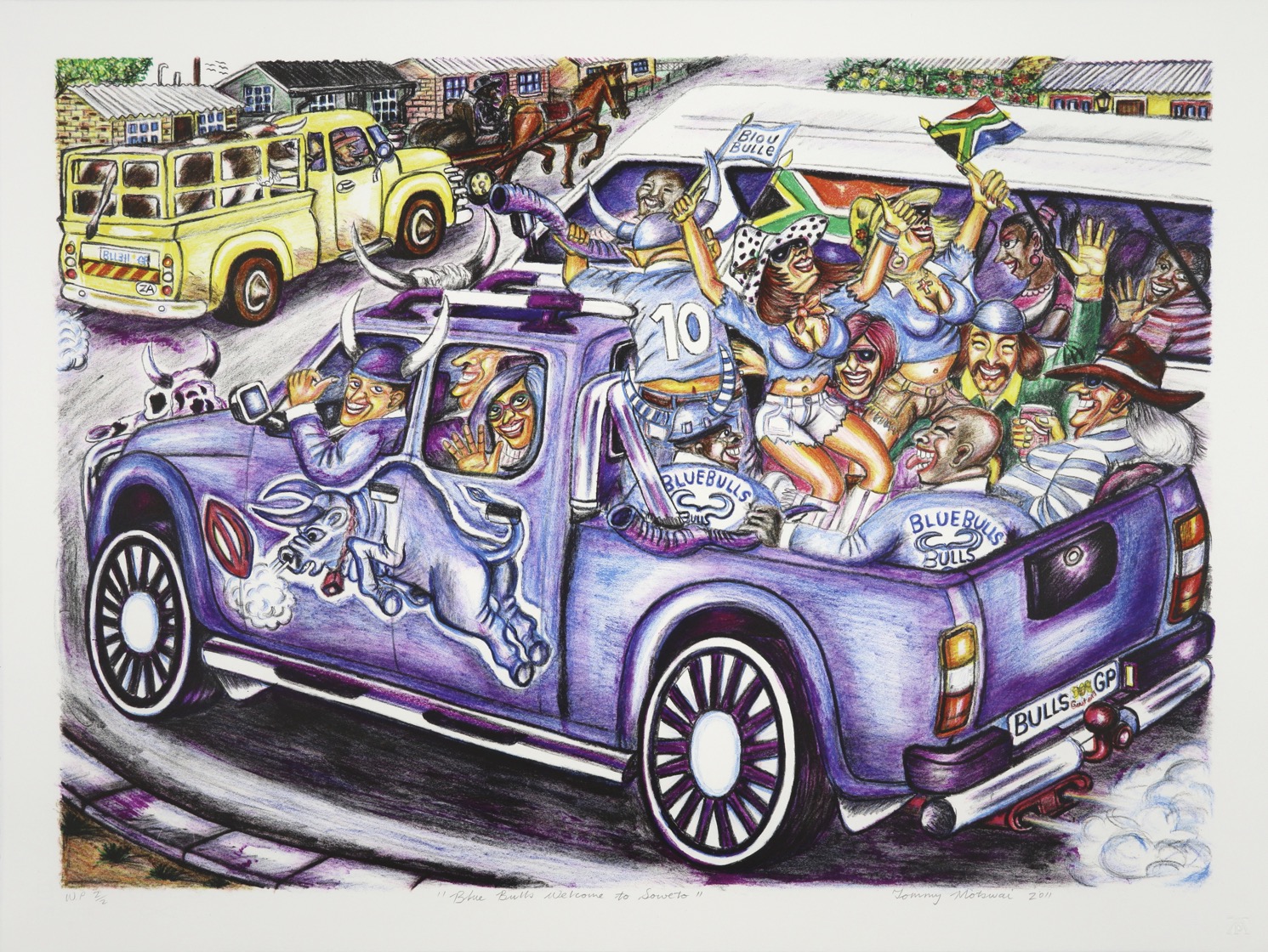 Artist: Tommy Motswai
Title: Blue Bulls Welcome to Soweto
Medium: Ten colour lithograph
Size: 57 x 76 cm
Edition size: 30
Price: R 5 565 (excl.VAT)