Anton Kannemeyer

Anton Kannemeyer is controversial. He is tall, balding and wears spectacles. He appears somewhat staid and reserved in contrast to the work that he produces. The zeal of preaching a new doctrine, complete with its own style, codes and insider jokes comes through in all of his work. Kannemeyer's religion is the comic. Kannemeyer's language is satire.

Anton Kannemeyer is a co-founder of Bitterkomix and is where "Joe Dog", Kannemeyer's pseudonym was first used. Aided and abetted by Conrad Botes (Konradski), he has displayed a Duchamp-like ability to manipulate the media by generating controversy, in a full frontal assault on the Afrikaner cultural mainstream. For Kannemeyer it has been a concerted campaign of revenge against the hated authority figures of his boyhood - his father, 'Barries' who caned him, and all the headmasters, priests, policemen and rugger buggers who in one way or another attempted to indoctrinate, punish and belittle him. His intensely personal response to the humiliations of his boyhood has since radiated out into a broader psychosexual, socio-historical critique of Afrikaner culture and South African society in general. (Extract taken from Andy Mason, The Big Bad Bitterkomix handbook, published by Jacana, 2006).

In the prints that Anton Kannemeyer has done at The Artists' Press, he has cast his gaze across many metaphorical landscapes. Images from his Alphabet of Democracy series have appeared regularly over the years. The first was done in 2005, "J is for Jack Russell" and "D is for dancing ministers". The initial reference is to childhood primers and illustrated alphabets, Letter-land gets political...The text on the prints reflects his obsession with hand typography and the style of the prints recalls his earlier silk-screens with the backgrounds of flat colour. The appealing primer like text is deceptive; on closer inspection, the images are not so innocent.

The Alphabet of Democracy is an ongoing project and is one set of alphabets that are not going to make it to the Foundation Phase classrooms of the Department of Education. These prints refer to local, South African events and some of the definitions are from dictionaries used in schools; but the meanings extend way beyond South African borders and pick up on prejudices and social issues across the globe. "N is for nightmare" and "B is for black" and "W is for white" resonate as quickly in the USA and Europe as they do here on the southern tip of Africa.

In " Birth, the first and direst of all disasters" and "Say, if you speak English we must be getting near civilization", Kannemeyer combines historical references to seemingly mundane photographic records with just a slight manipulation of the imagery and addition of biting humorous text.

In many of his prints, Kannemeyer continues to investigate racism in Africa. It is the continued existence of racism and double standards in Africa that Kannemeyer is looking at. What has always been prominent in his work is his interest in exposing the hypocrisy of the white liberal in South Africa. With his confrontational images and humour, he brings to attention prejudices and worldviews that can then be dealt with and hopefully be done away with. His "Papa in Afrika" work was well received when it was exhibited in Kinshasa, a city that he reports has a vibrant art scene. The "Moulinsart Lawyers" comment on Europe's propensity to exploit and criminalise Africa at the same time.

Kannemeyer's recent prints relate more to South Africa and the specifics of sport, suburban life and politics. In "E is for the Enemy of Democracy" quotes spanning almost forty years are contrasted suggesting that the more things change the more they stay the same. "Soccer" and "Rugby" pick up the endless political debates relating to sports, whether it is from men roasting meat on open flames or officials discussing policies in boardrooms. Whatever happened to the games?


New Editions

Artists A - L

Artists M - X
Anton Kannemeyer and Conrad Botes discuss BitterKomix (video)

Anton Kannemeyer reviewed in The New York Times

Anton Kannemeyer archive and research material

For orders (with free shipping) or any other enquiries, click here
Lithographs
Title: Nine Self-Portraits
Medium: Two colour lithograph
Paper size: 50 x 42 cm
Edition size: 15
Price: R 7 875 (excl.VAT)
Title: Pine Trees, University Estate
Medium: Two colour lithograph
Paper size: 56 x 47 cm
Edition size: 30
Price: R 8 150 (excl.VAT)
Title: Pine Trees, De Waal Drive II
Medium: Two colour lithograph
Paper size: 50 x 42 cm
Edition size: 30
Price: R 8 150 (excl.VAT)
Title: T is for Trouble
Medium: Five colour lithograph
Paper size: 66 x 56 cm
Edition size: 30
Price: R 7 150 (excl.VAT)


Title: 20 years of Democracy
Medium: Eight colour lithograph
Paper size: 65.5 x 50 cm
Edition size: 30
Price: R 7 150 (excl.VAT)


Title: Very, Very Good
Medium: Six colour lithograph
Paper size: 64 x 57.5 cm
Edition size: 20
Price: R 7 150 (excl.VAT)


Title: D is for Doom and Cockroaches
Medium: Single colour linocut
Paper size: 46.8 x 57.8 cm
Edition size: 20
Price: R 4 000 (excl.VAT)


Title: Pine Trees, Simon's Town
Medium: Single colour chine collé lithograph
Paper size: 47 x 58 cm
Edition size: 25
Price: R 8 150 (excl.VAT)
Title: Pine Trees, De Waal Drive
Medium: Single colour chine collé lithograph
Paper size: 58 x 47 cm
Edition size: 25
Price: SOLD OUT

Title: E is for Enemy of Democracy
Medium: Nine colour lithograph
Paper size: 76.5 x 57 cm
Image size: 70 x 51 cm
Edition size: 35
Price: R 7 500 (excl.VAT)


Title: Rugby
Medium: Seven colour lithograph
Paper size: 50 x 52.5 cm
Image size: 45.5 x 48 cm
Edition size: 35
Price: R 6 900 (excl.VAT)


Title: Soccer
Medium: Seven colour lithograph
Paper size: 50 x 52.5 cm
Image size: 45.5 x 48 cm
Edition size: 35
Price: R 6 900 (excl.VAT)


Title: F is for Fat Cat
Medium: Seven colour lithograph
Paper size: 50 x 52.5 cm
Image size: 45.5 x 48 cm
Edition size: 30
Price: R 6 500 (excl.VAT)


Title: N is for Nightmare (house)
Medium: Ten colour lithograph
Paper size: 57 x 64 cm
Image size: 51 x 59.2 cm
Edition size: 30
Price: R 7 150 (excl.VAT)


Title: Greetings from South Africa
Medium: Seven colour lithograph
Paper size: 51 x 38 cm
Image size: 45 x 34 cm
Edition size: 40
Price: R 5 670 (excl.VAT)


Title: I think, therefore I am dangerous
Medium: Seven colour lithograph
Paper size: 42 x 42 cm
Edition size: 20
Price: R 6 100 (excl.VAT)


Title: Yolandi Visser
Medium: Six colour lithograph
Paper size: 38.2 x 57 cm
Image size: 35.7 x 54 cm
Edition size: 20
Price: SOLD OUT


Title: Ninja
Medium: Six colour lithograph
Paper size: 38.2 x 57 cm
Image size: 35.7 x 54 cm
Edition size: 20
Price: R 5 400 (excl.VAT)


Title: Alphabet of Democracy
Medium: Eleven colour lithograph
Paper size: 50.5 x 50.2 cm
Image size: 47 x 46 cm
Edition size: 25
Price: R 6 100 (excl.VAT)


Title: In Heaven
Medium: Eight colour lithograph
Paper size: 57.2 x 76 cm
Image size: 50.5 x 70.3 cm
Edition size: 25
Price: SOLD OUT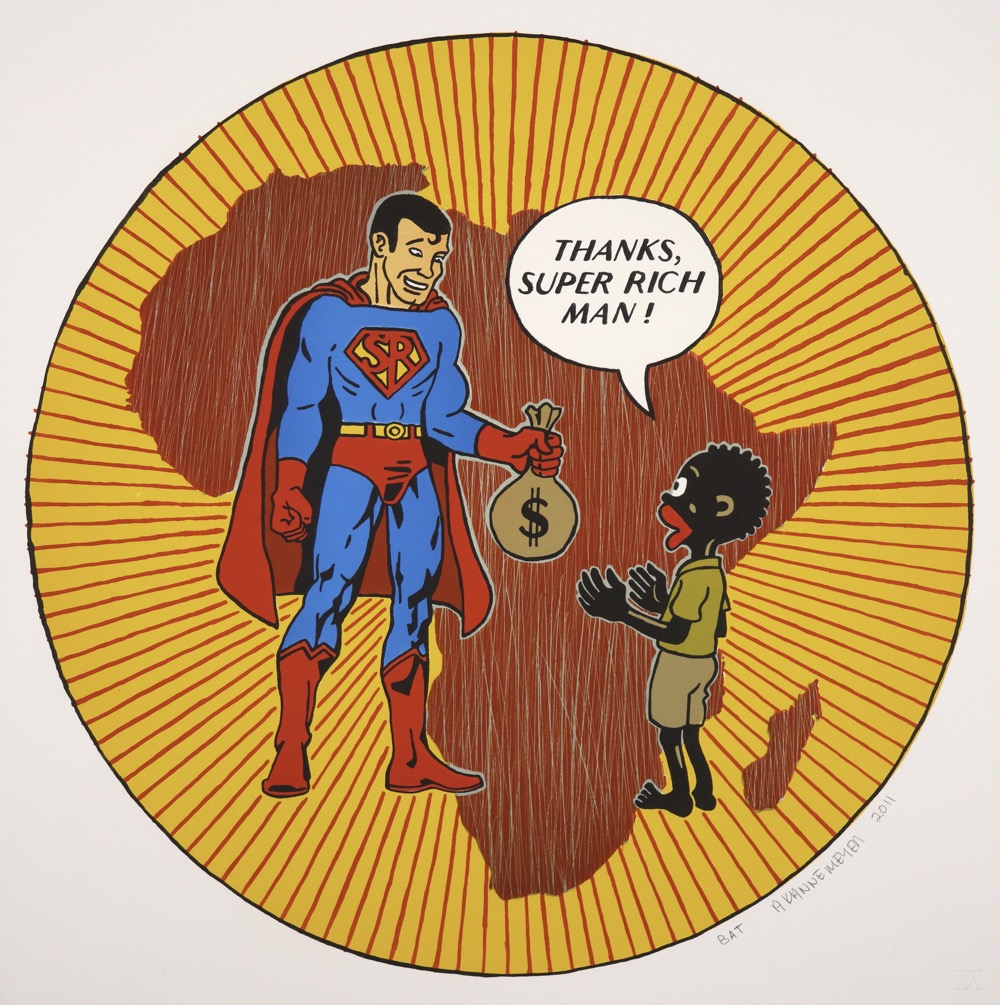 Title: Super Rich Man
Medium: Six colour lithograph
Paper size: 50.5 x 50.5 cm
Image size: 47.5 x 47.5 cm
Edition size: 25
Price: R 6 100 (excl.VAT)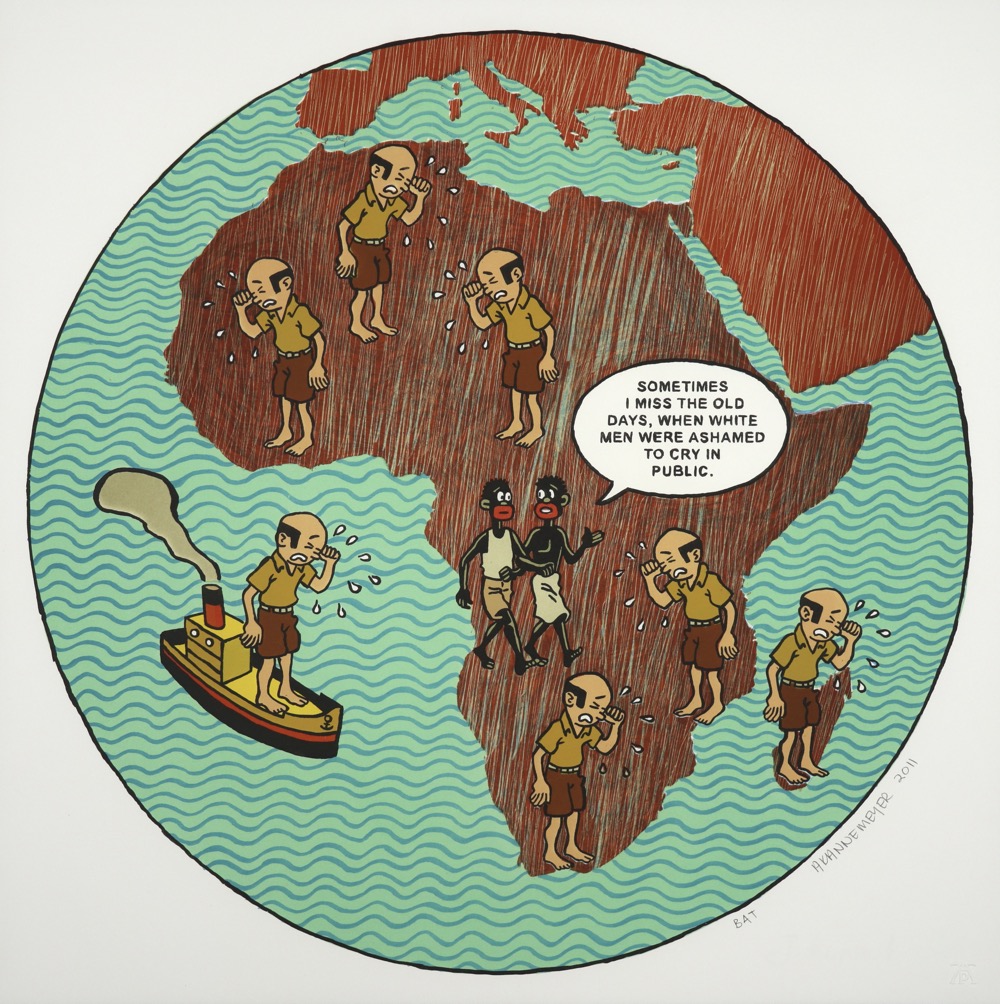 Title: Cry in Public
Medium: Seven colour lithograph
Paper size: 50.5 x 50.5 cm
Image size: 47.5 x 47.5 cm
Edition size: 25
Price: R 6 100 (excl.VAT)


Title: N is for Nightmare
Medium: Eight colour lithograph
Paper size: 57 x 67 cm
Image size: 49.5 x 60 cm
Edition size: 35
Price: SOLD OUT


Title: "Say! If you speak English...."
Medium: Five colour lithograph
Paper size: 50.5 x 66.5 cm
Image size: 41.5 x 58 cm
Edition size: 35
Price: SOLD OUT


Title: F is for Foot Washing
Medium: Eight colour lithograph
Size: 57 x 76 cm
Edition size: 35
Price: R 6 100 (excl.VAT)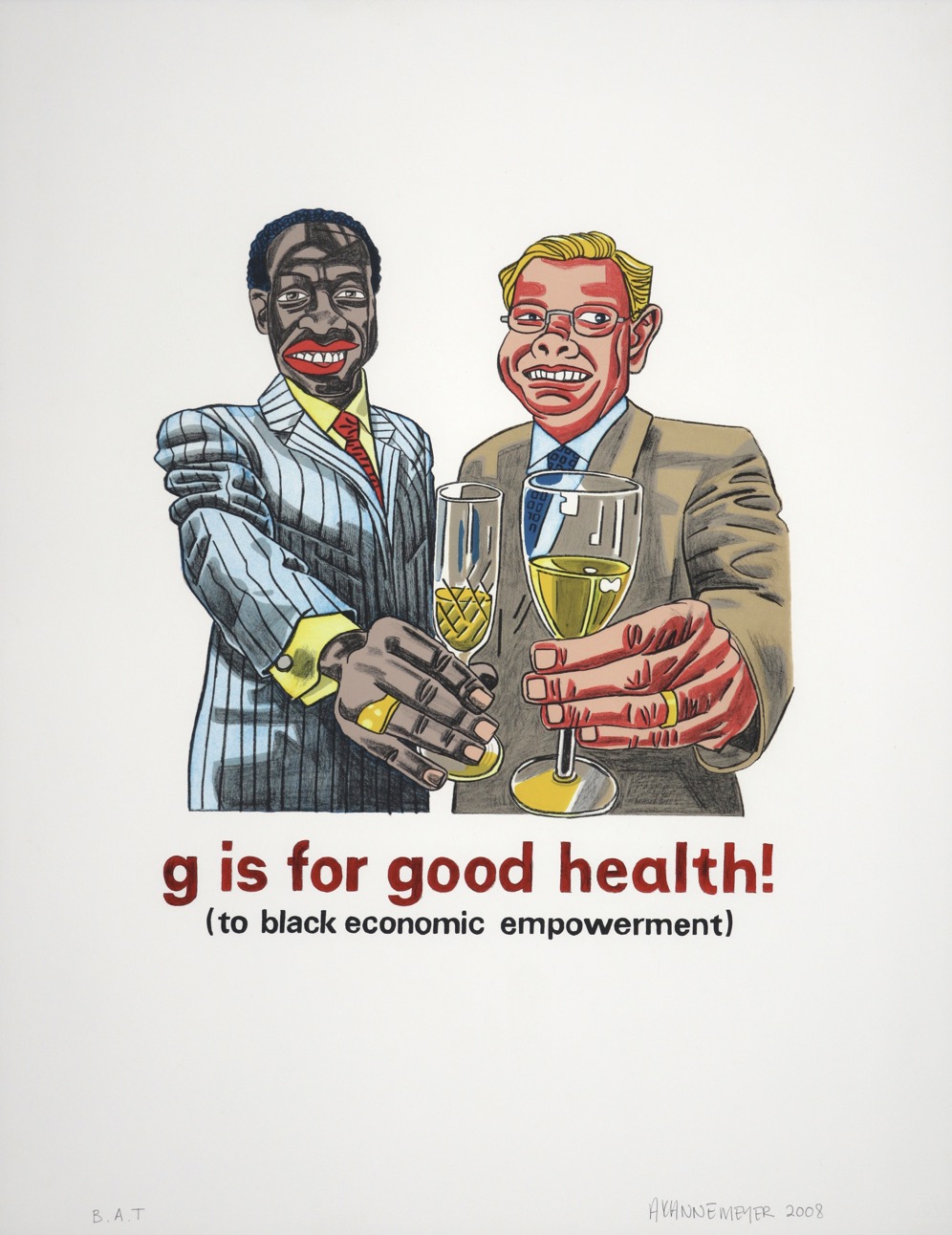 Title: G is for Good Health
Medium: Eight colour lithograph
Size: 57 x 44.5 cm
Edition size: 35
Price: R 4 200 (excl.VAT)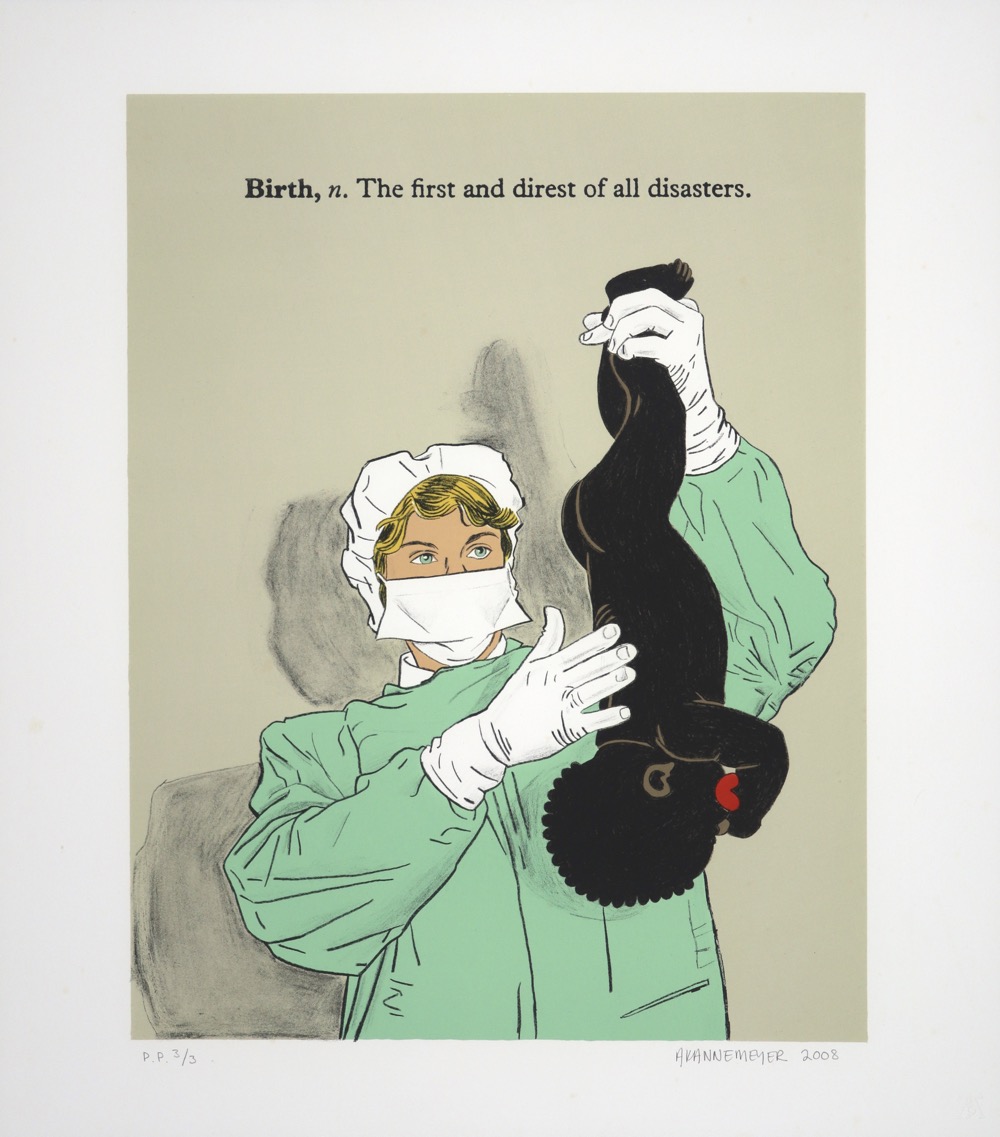 Title: Birth, the first and the direst of all disasters
Medium: Seven colour lithograph
Paper size: 50.5 x 44.5 cm
Image size: 41.2 x 32 cm
Edition size: 35
Price: R 4 200 (excl.VAT)