Landscape Prints

Landscapes have been a cornerstone of image making since people first began depicting their surroundings. We are all bound to the land and depend on it for physical and psychological sustenance. Enjoy!

By clicking on the artists' name you will go through to their page on this website.

Browse more:
Animals, Insects and Creatures
Latest Prints from The Artists' Press
For orders (with free shipping) or any other enquiries, please contact us.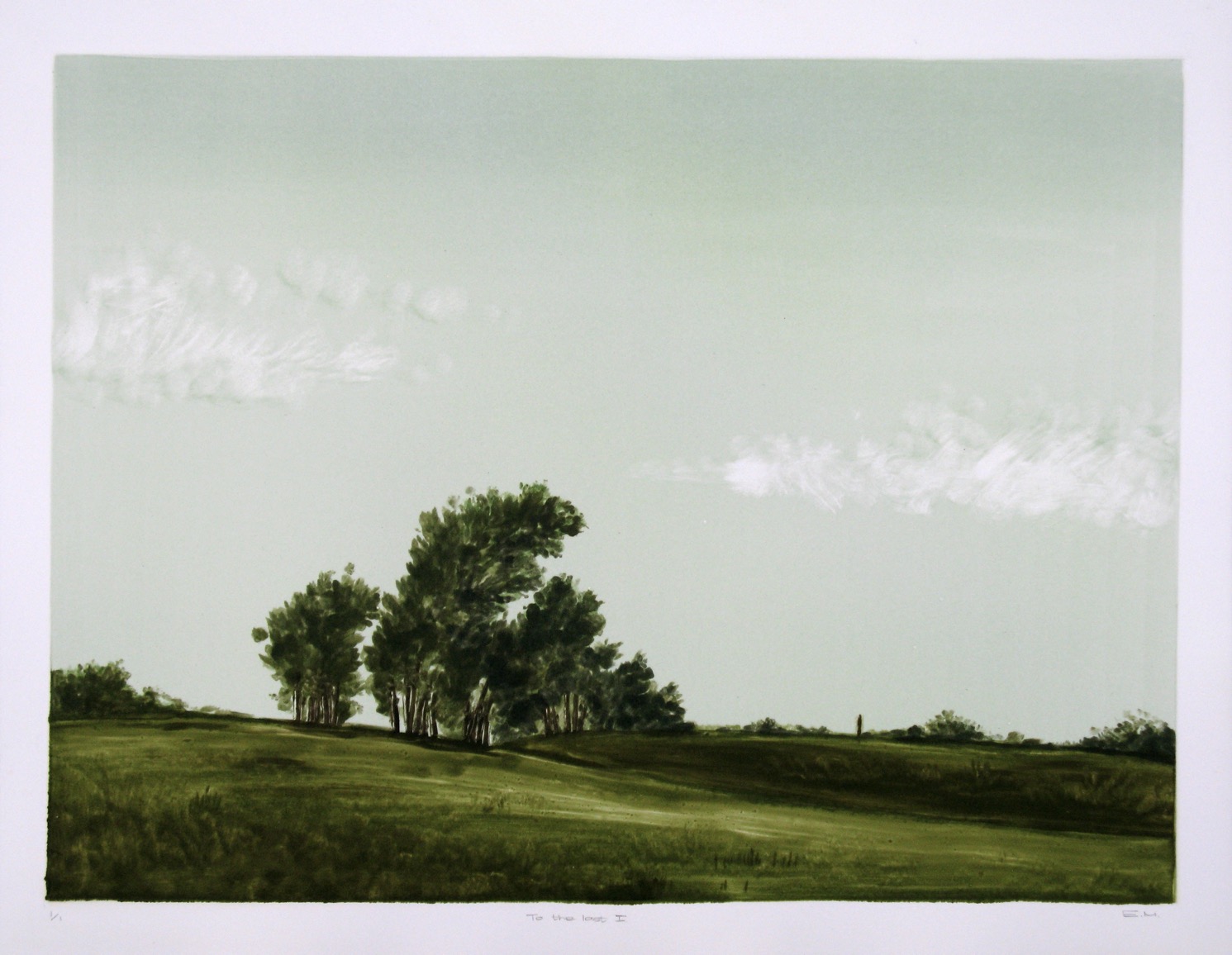 Artist: Eugenie Marais
Title: To the last I
Medium: Monotype
Paper size: 51 x 66 cm
Image size: 44.5 x 59.5 cm
Edition size: 1/1
SOLD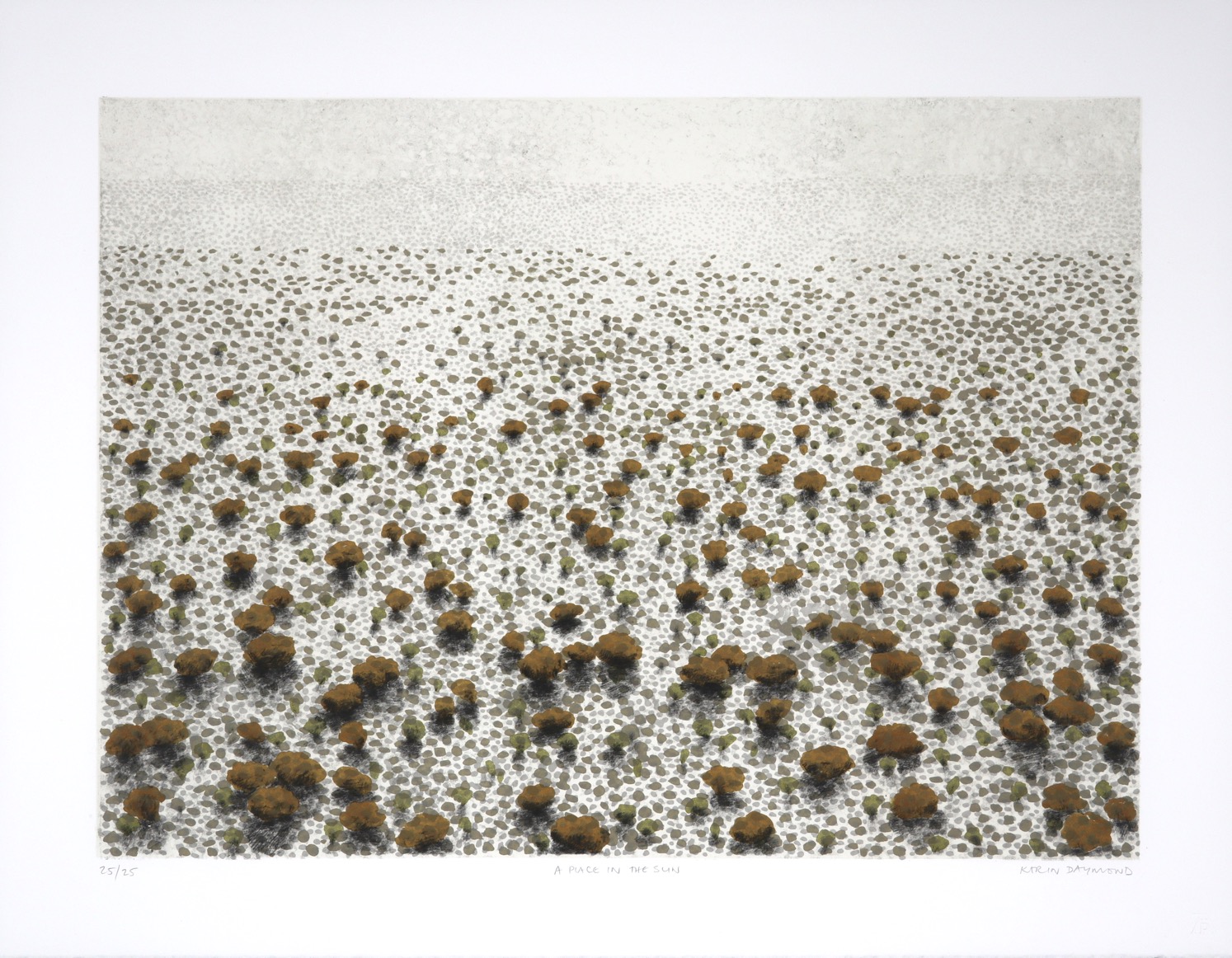 Artist: Karin Daymond
Title: A Place in the Sun
Medium: Six colour lithograph
Paper size: 48 x 62 cm
Edition size: 25
Price: R 5 735 (excl.VAT)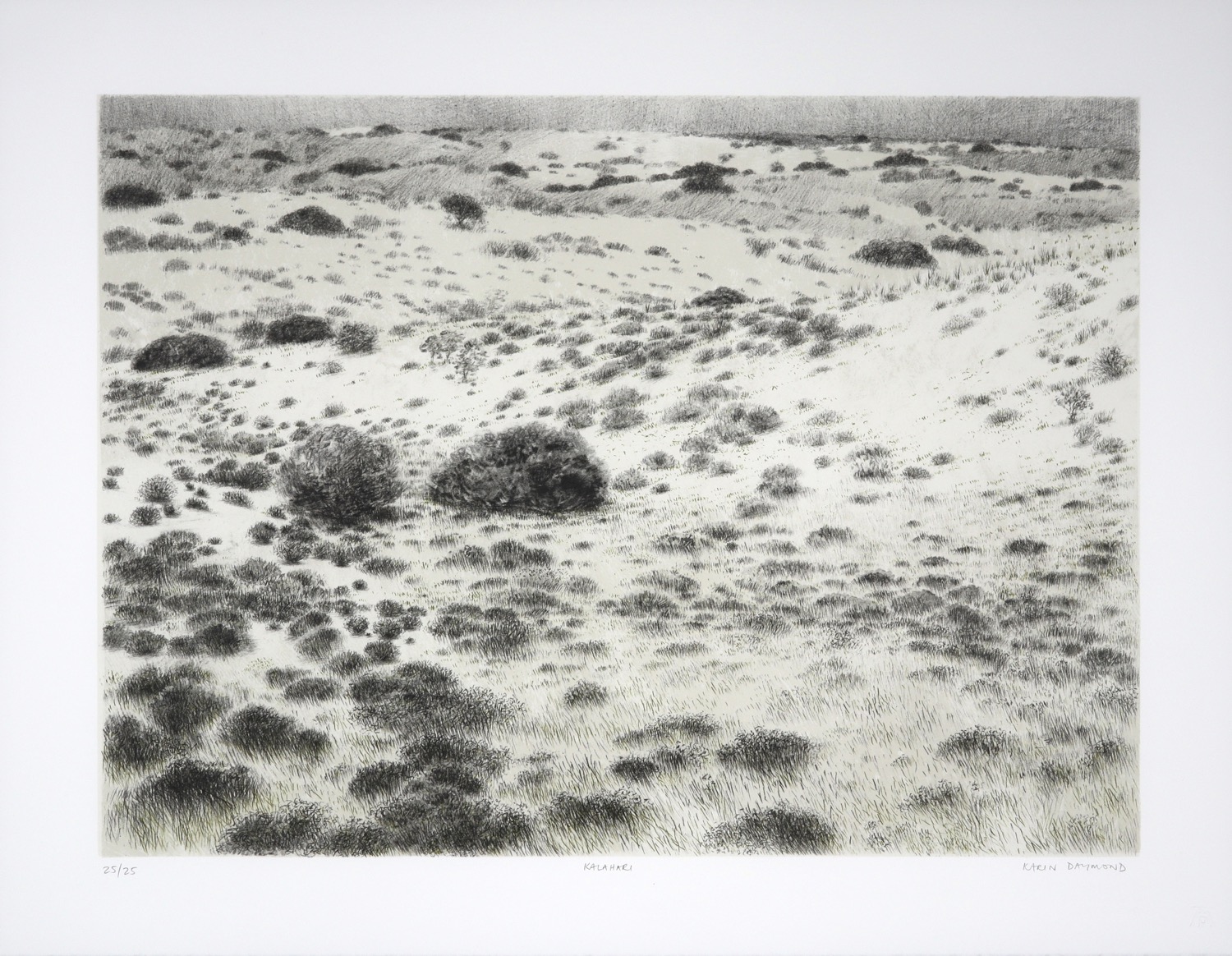 Artist: Karin Daymond
Title: Kalahari
Medium: Four colour lithograph
Paper size: 48 x 62 cm
Edition size: 25
Price: R 5 735 (excl.VAT)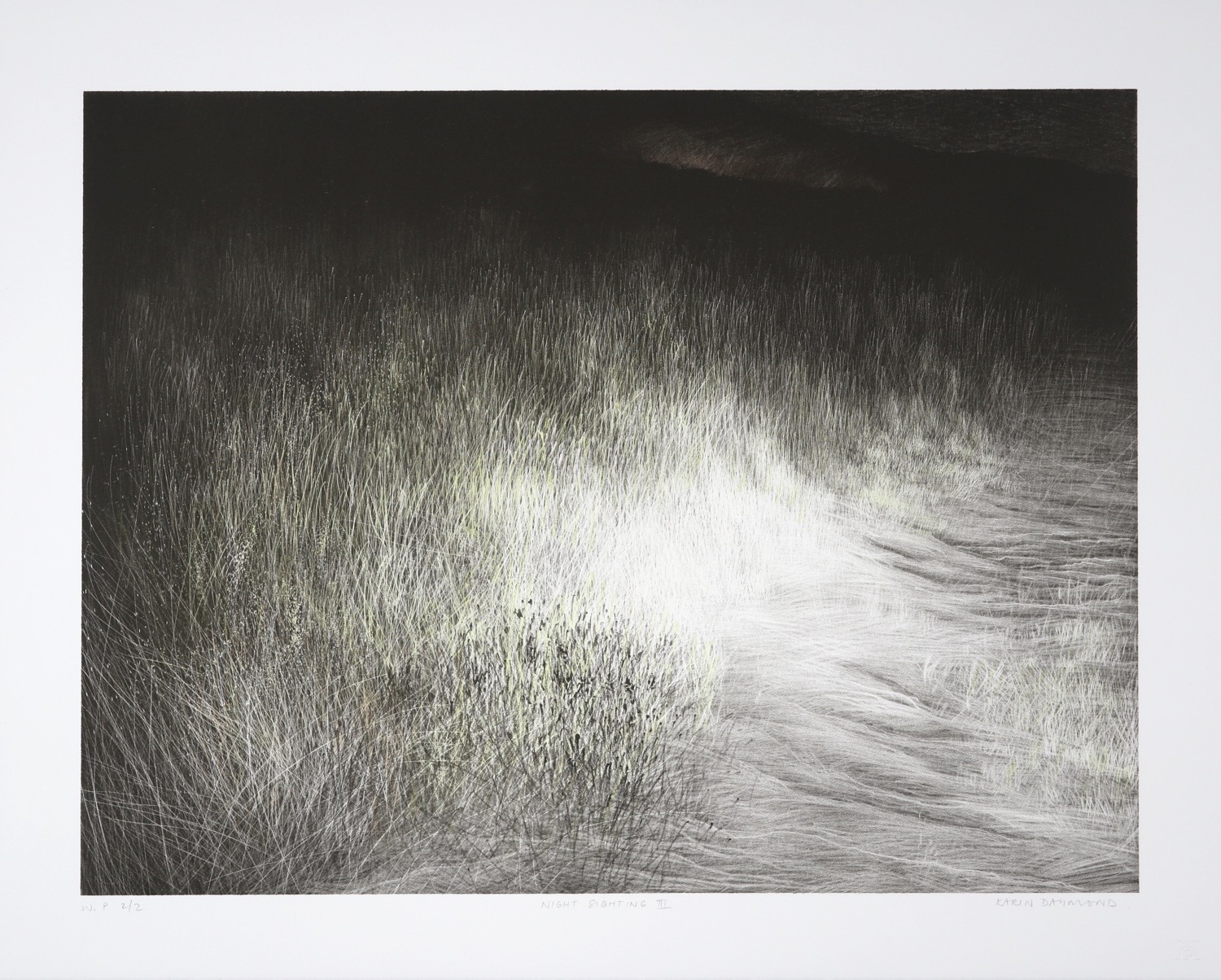 Artist: Karin Daymond
Title: Night Sighting III
Medium: Single run lithograph with hand colouring
Paper size: 50 x 62.5 cm
Edition size: 15
Price: R 5 295 (excl.VAT)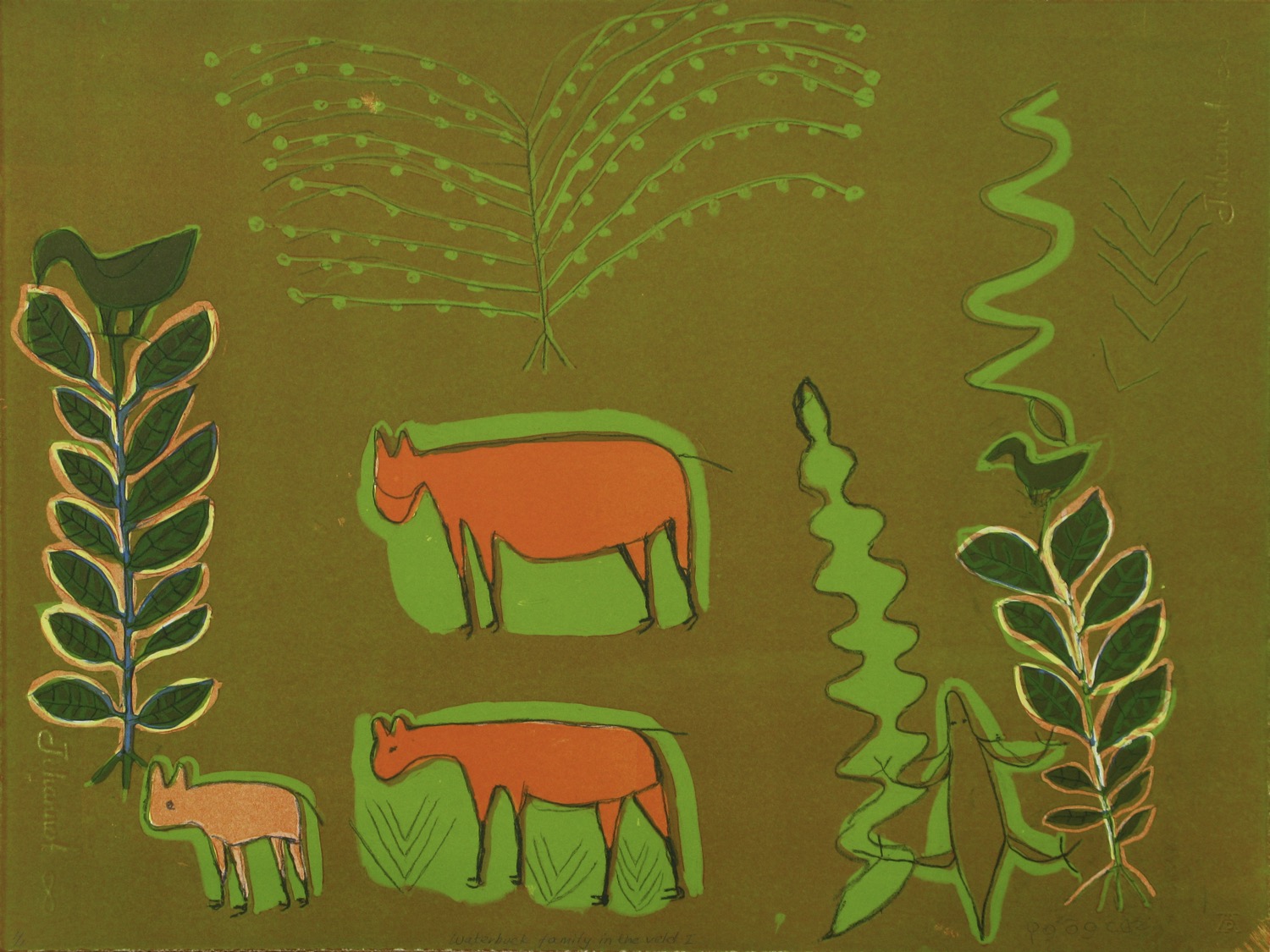 Artist: Sara Cao
Title: Waterbuck family in the veld I
Medium: Monoprint
Size: 50 x 65 cm
Price: R 5 450 (excl. VAT)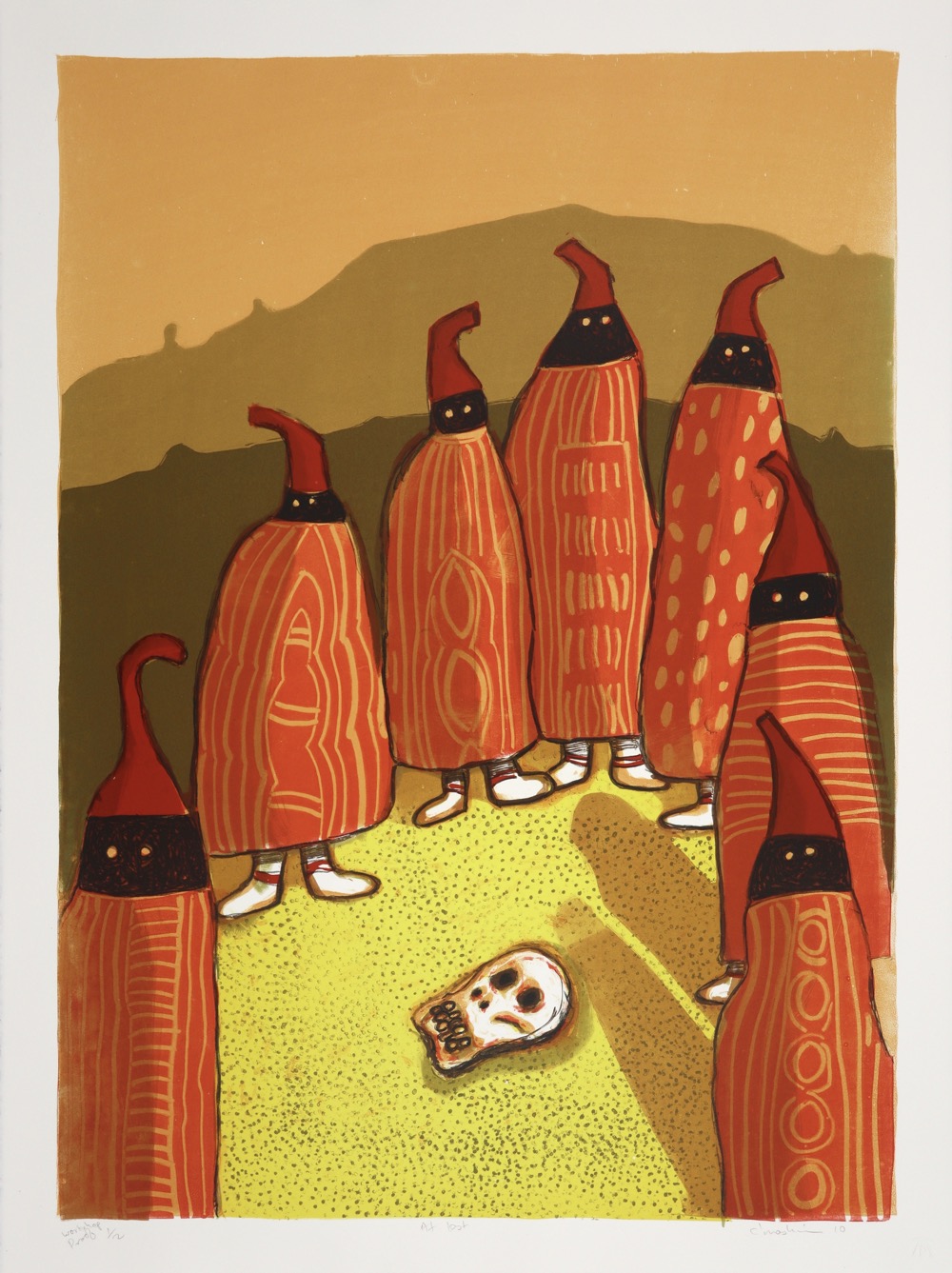 Artist: Colbert Mashile
Title: At Last
Medium: Nine colour lithograph
Paper size: 76.8 x 57.5 cm
Image size: 50 x 70 cm
Edition size: 30
Price: R 7 020 (excl.VAT)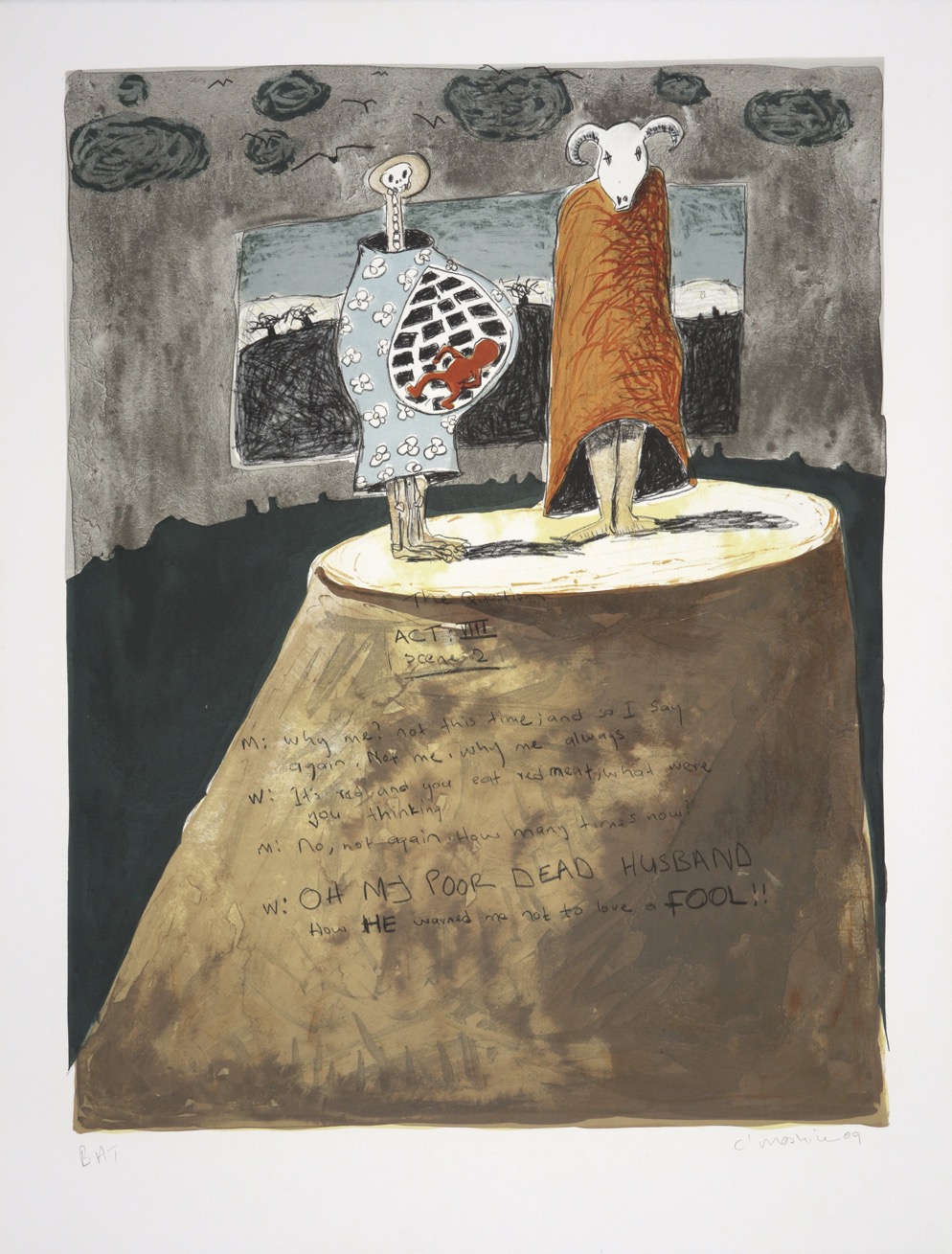 Artist: Colbert Mashile
Title: The Question
Medium: Nine colour lithograph
Paper size: 66 x 50.5 cm
Image size: 56 x 43 cm
Edition size: 25
Price: R 5 080 (excl.VAT)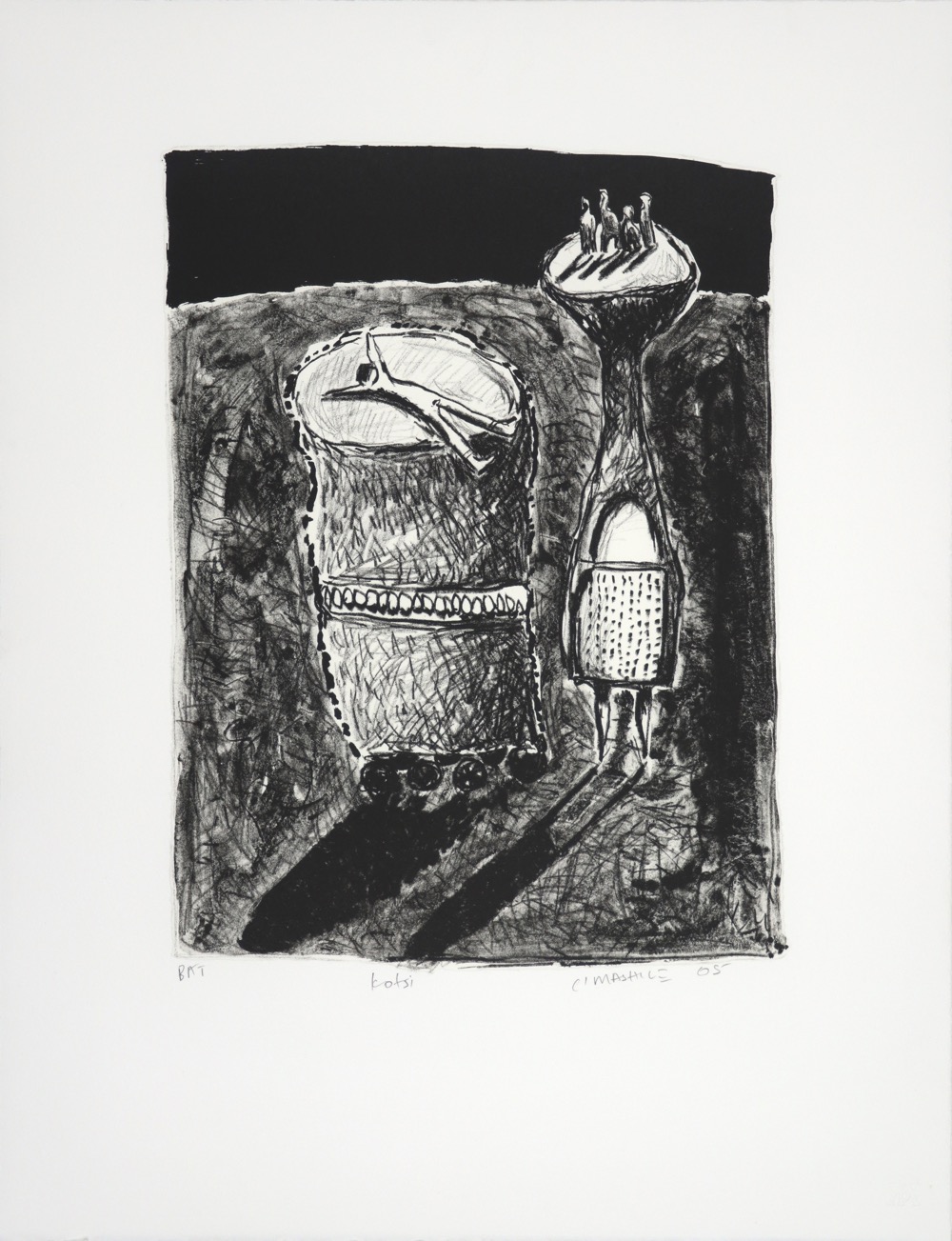 Artist: Colbert Mashile
Title: Kotsi (Danger)
Medium: Single colour chine collé lithograph
Size: 49 x 38 cm
Edition size: 20
Price: R 3 665 (excl.VAT)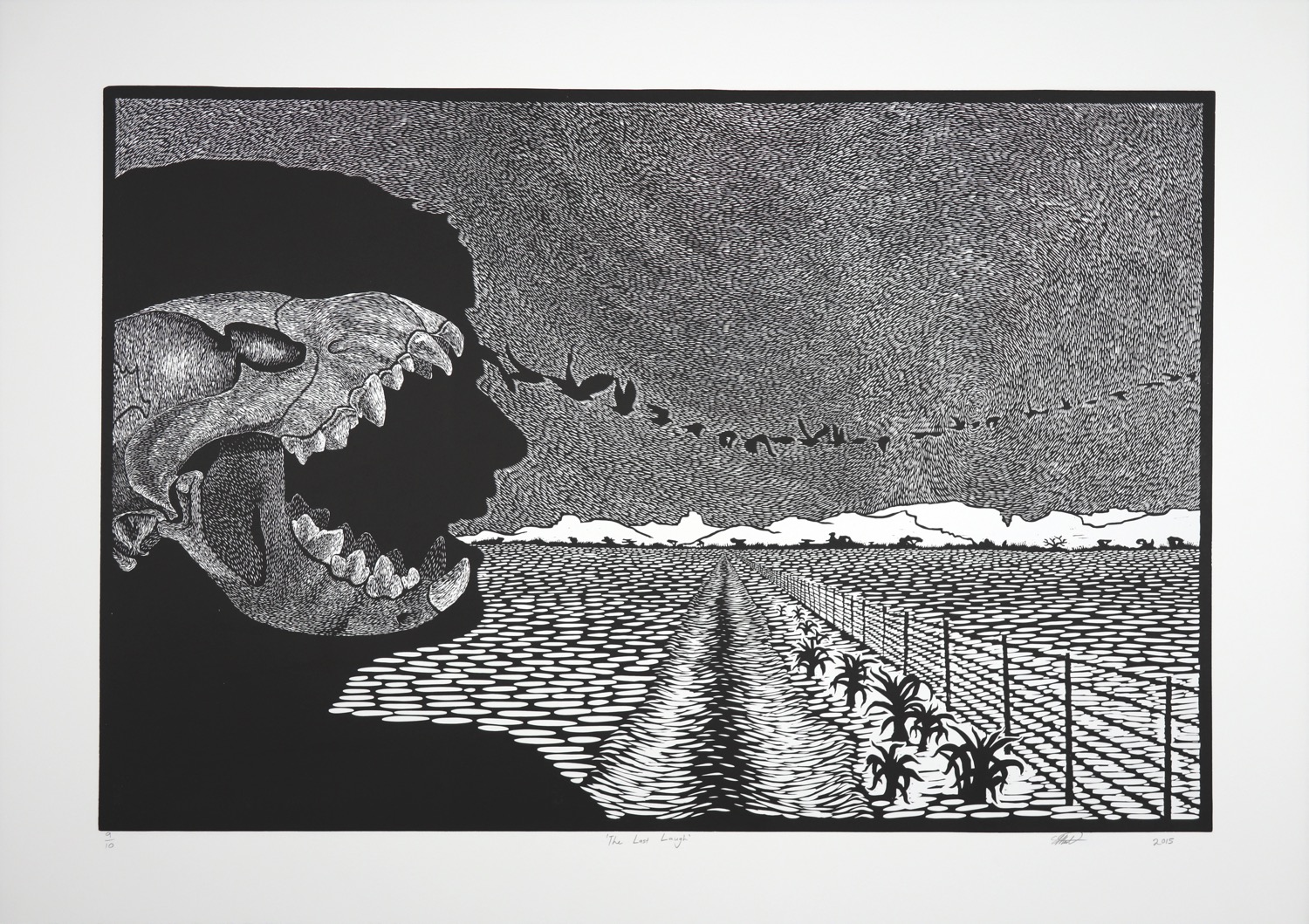 Artist: Simon Attwood
Title: The Last Laugh
Medium: Single colour linocut
Paper size: 75 x 106 cm
Edition size: 10
Price: R 4 050 (excl. VAT)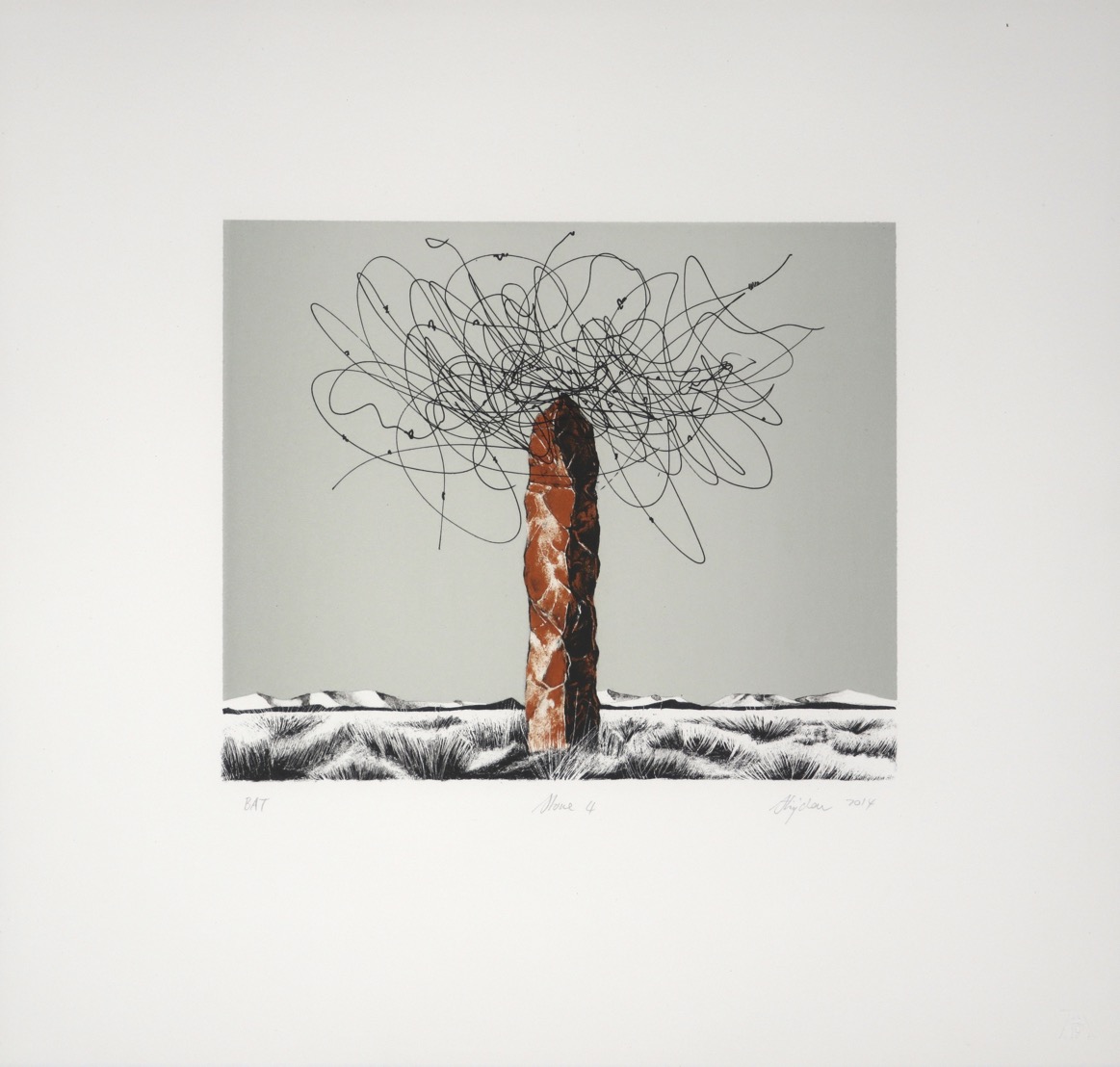 Artist: Strijdom Van der Merwe
Title: Stone 4
Medium: Four colour lithograph
Size: 38.5 x 40 cm
Edition size: 15
Price: R 3 655 (excl.VAT)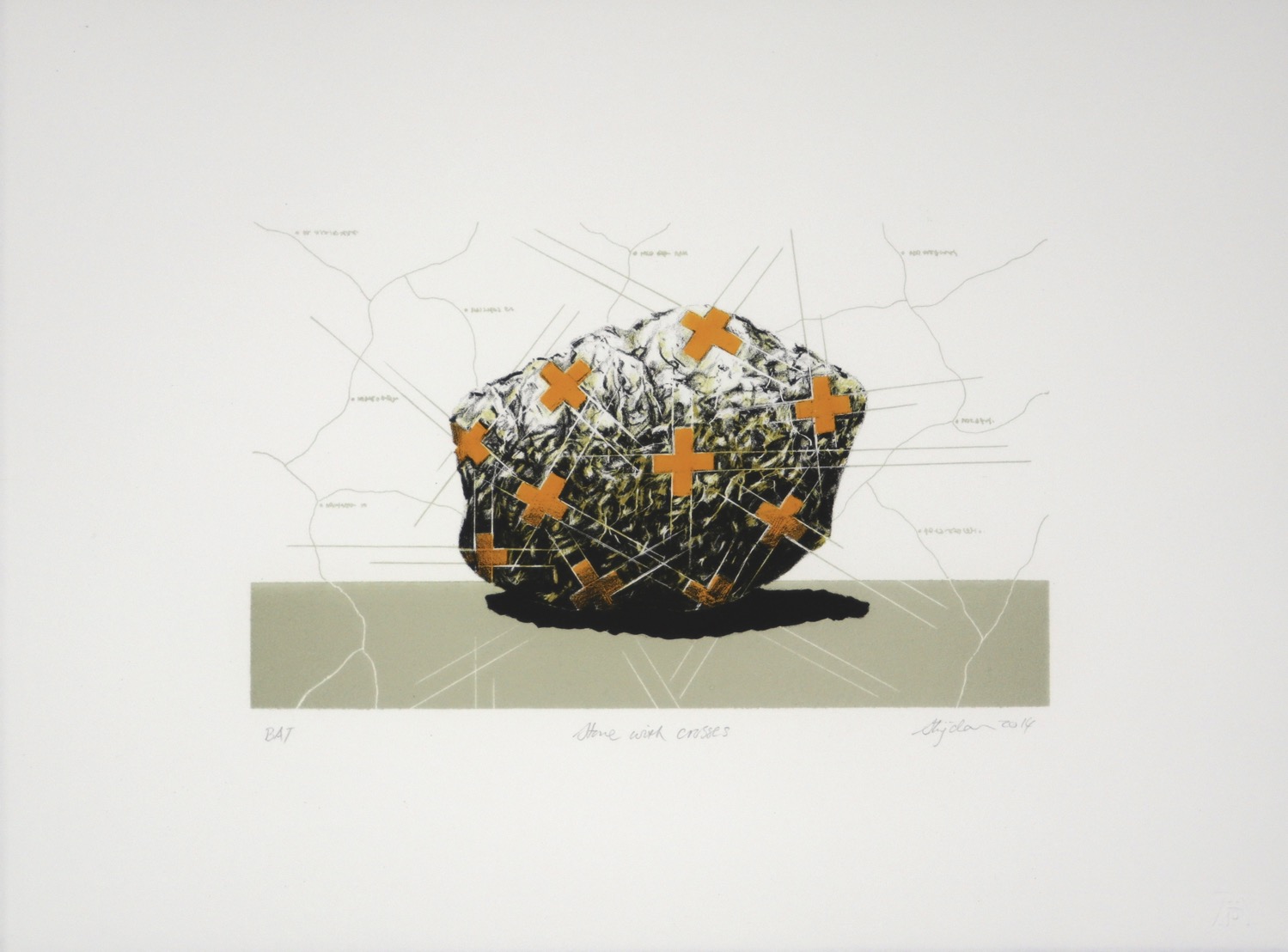 Artist: Strijdom Van der Merwe
Title: Stone with crosses
Medium: Four colour lithograph
Size: 28.5 x 38.5 cm
Edition size: 15
Price: R 3 370 (excl.VAT)


Artist: Conrad Botes
Title: Valley of Death
Medium: Medium: Five colour lithograph
Paper size: 50.7 x 62.5cm
Image size: 40.5 x 53 cm
Edition size: 30
Price: R 7 455 (excl.VAT)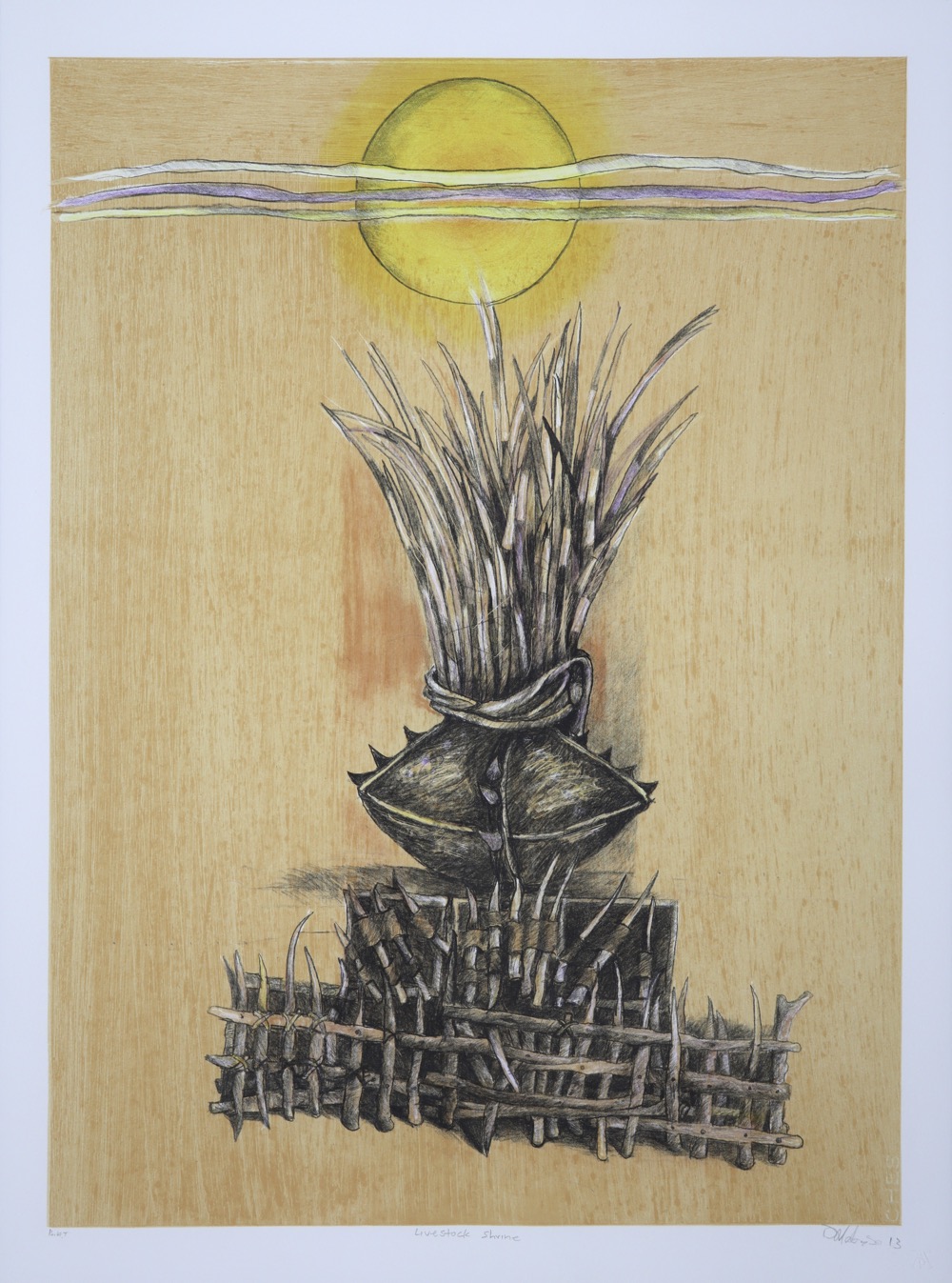 Artist: Dumisani Mabaso
Title: Livestock Shrine
Medium: Seven colour lithograph
Paper size: 76.5 x 57 cm
Image size: 69 x 50.5 cm
Edition size: 30
Price: R 6 000 (excl.VAT)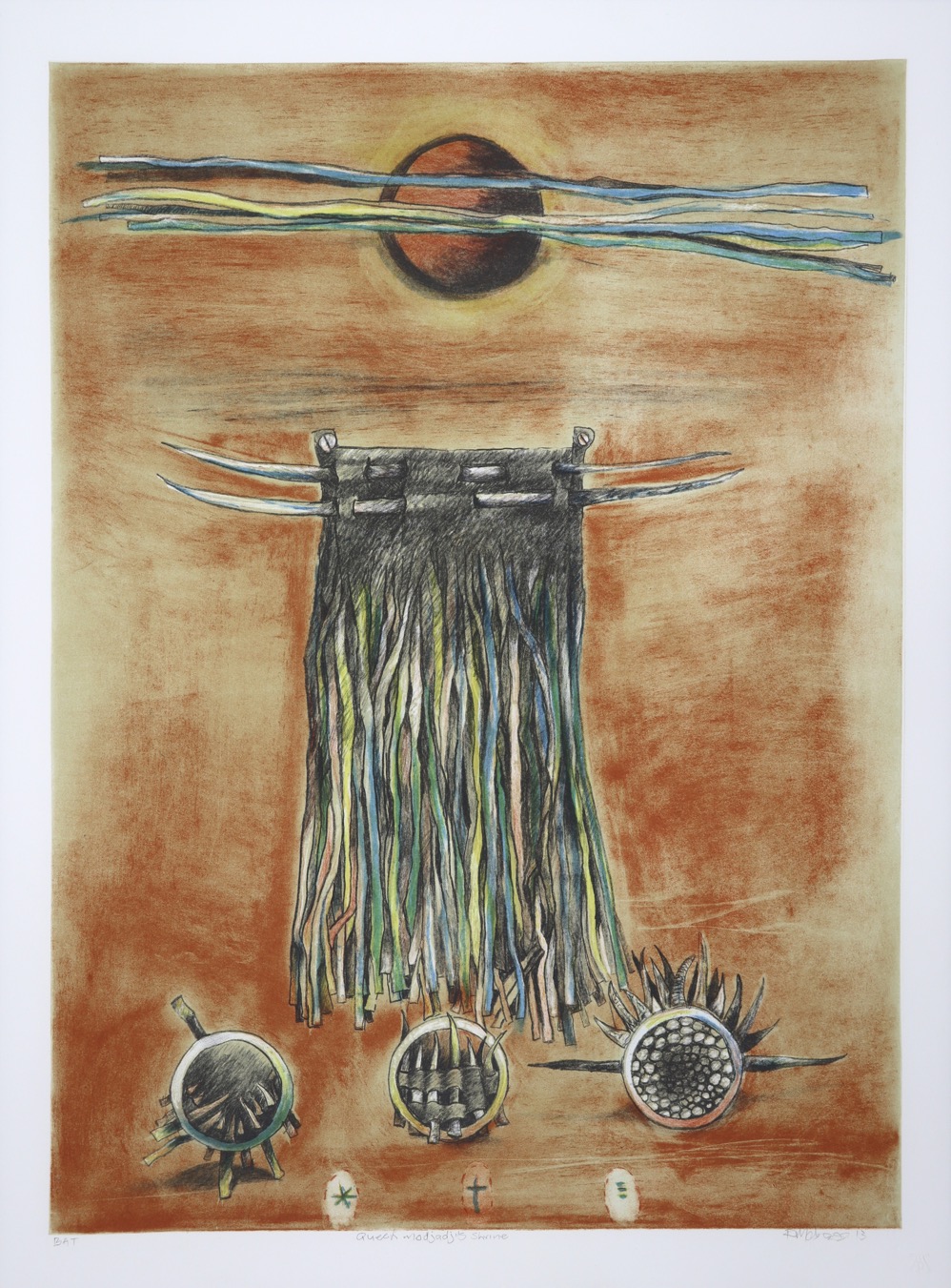 Artist: Dumisani Mabaso
Title: Queen Modjadji's Shrine
Medium: Six colour lithograph
Paper size: 76.5 x 57 cm
Image size: 69 x 50.5 cm
Edition size: 30
Price: R 6 000 (excl.VAT)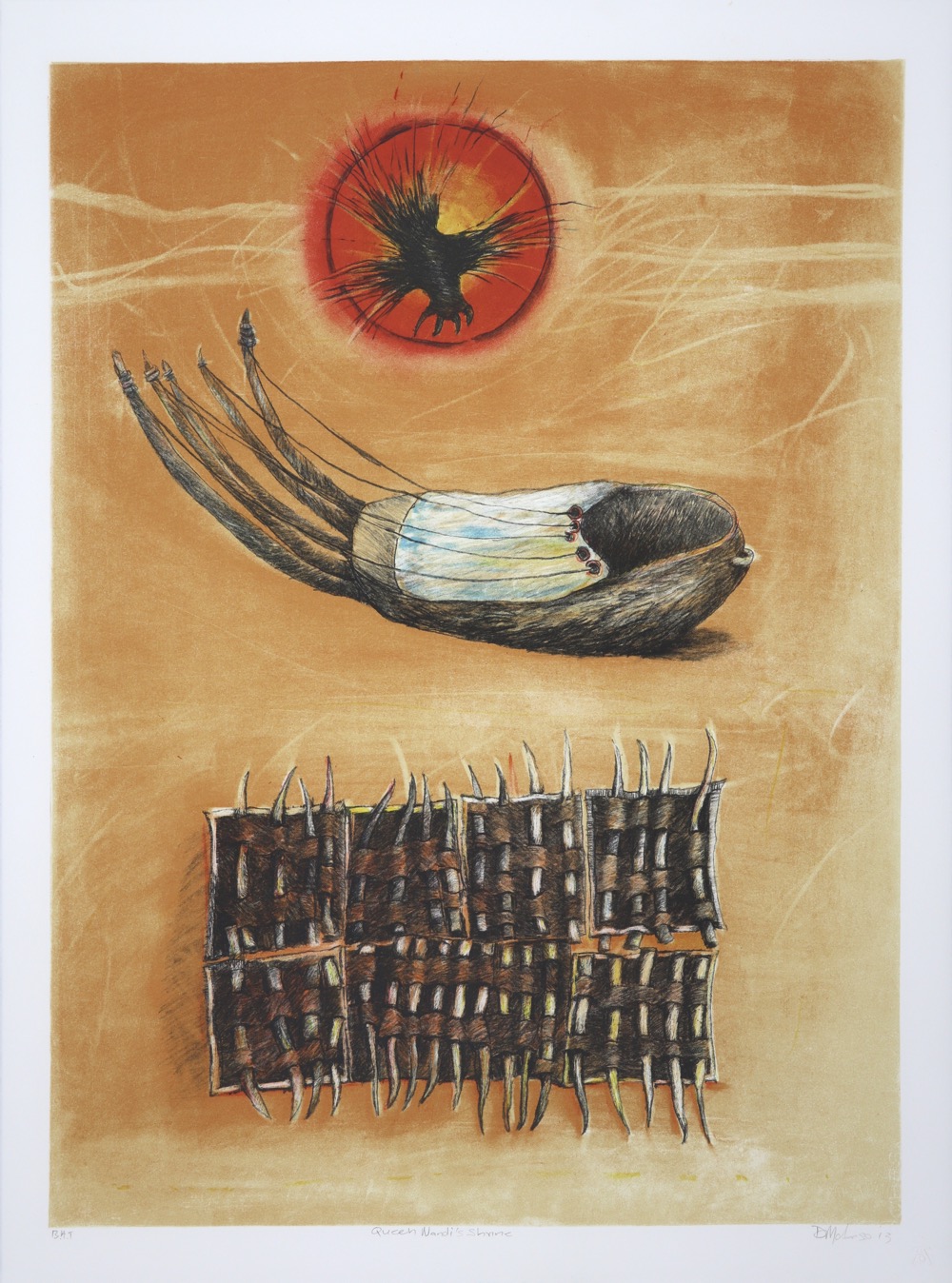 Artist: Dumisani Mabaso
Title: Queen Nandi's Shrine
Medium: Eight colour lithograph
Paper size: 76.5 x 57 cm
Image size: 69 x 50.5 cm
Edition size: 30
Price: R 6 000 (excl.VAT)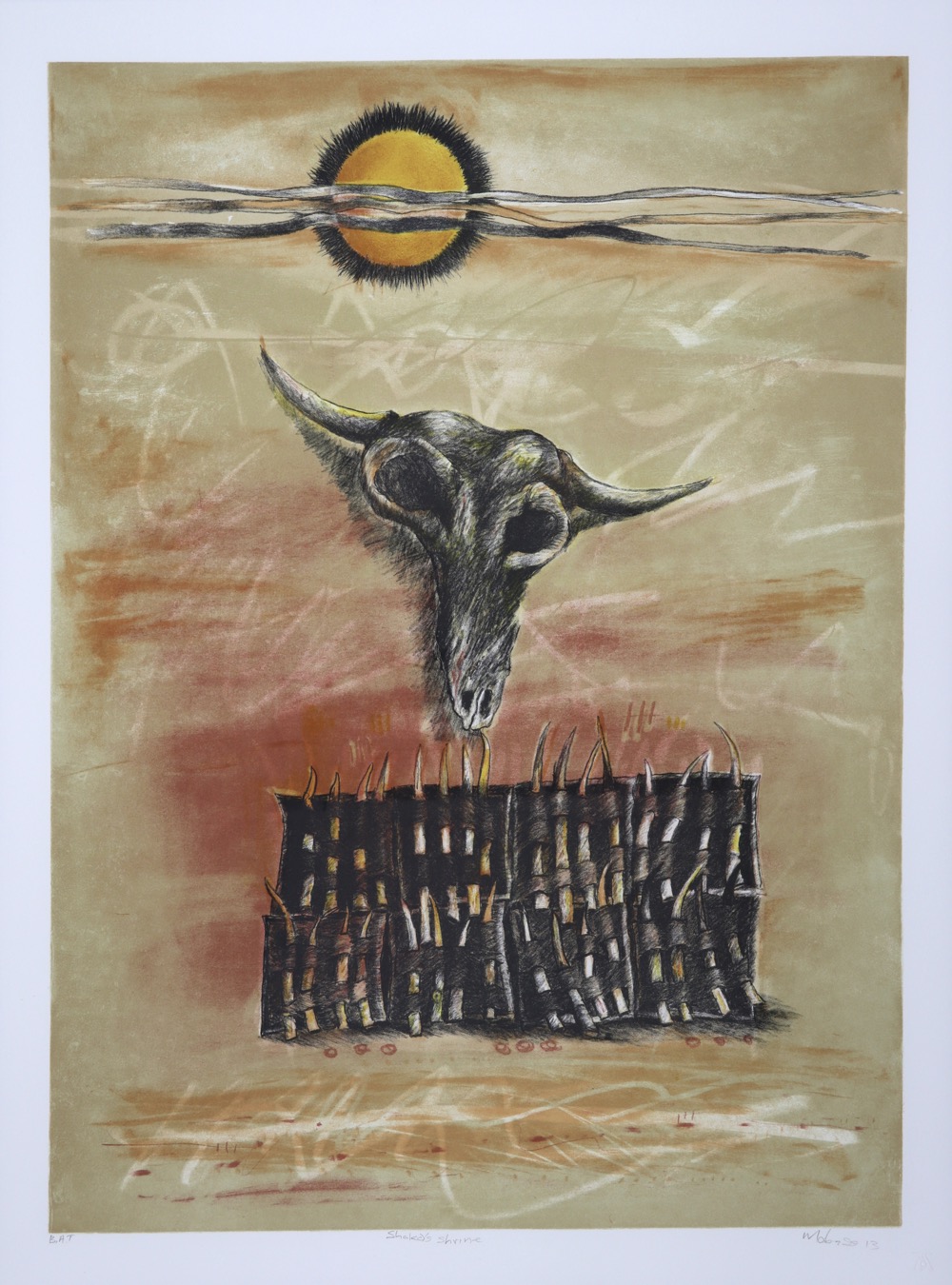 Artist: Dumisani Mabaso
Title: Shaka's Shrine
Medium: Six colour lithograph
Paper size: 76.5 x 57 cm
Image size: 69 x 50.5 cm
Edition size: 30
Price: R 6 000 (excl.VAT)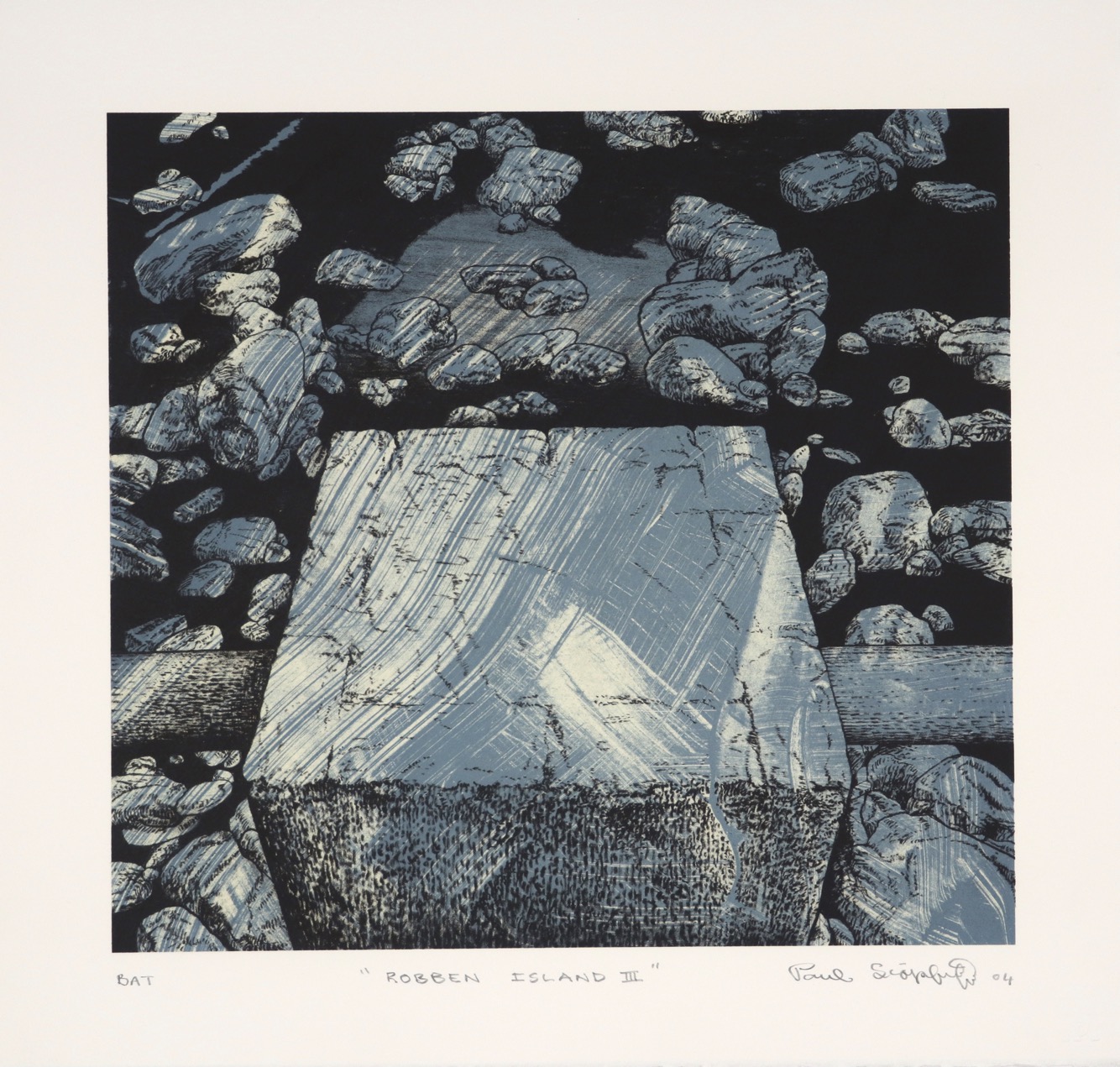 Artist: Paul Stopforth
Title: Robben Island III
Medium: Three colour lithograph
Paper size: 36 x 37.5 cm
Image size: 30 x 28 cm
Edition size: 25
Price: R  5 400 (excl.VAT)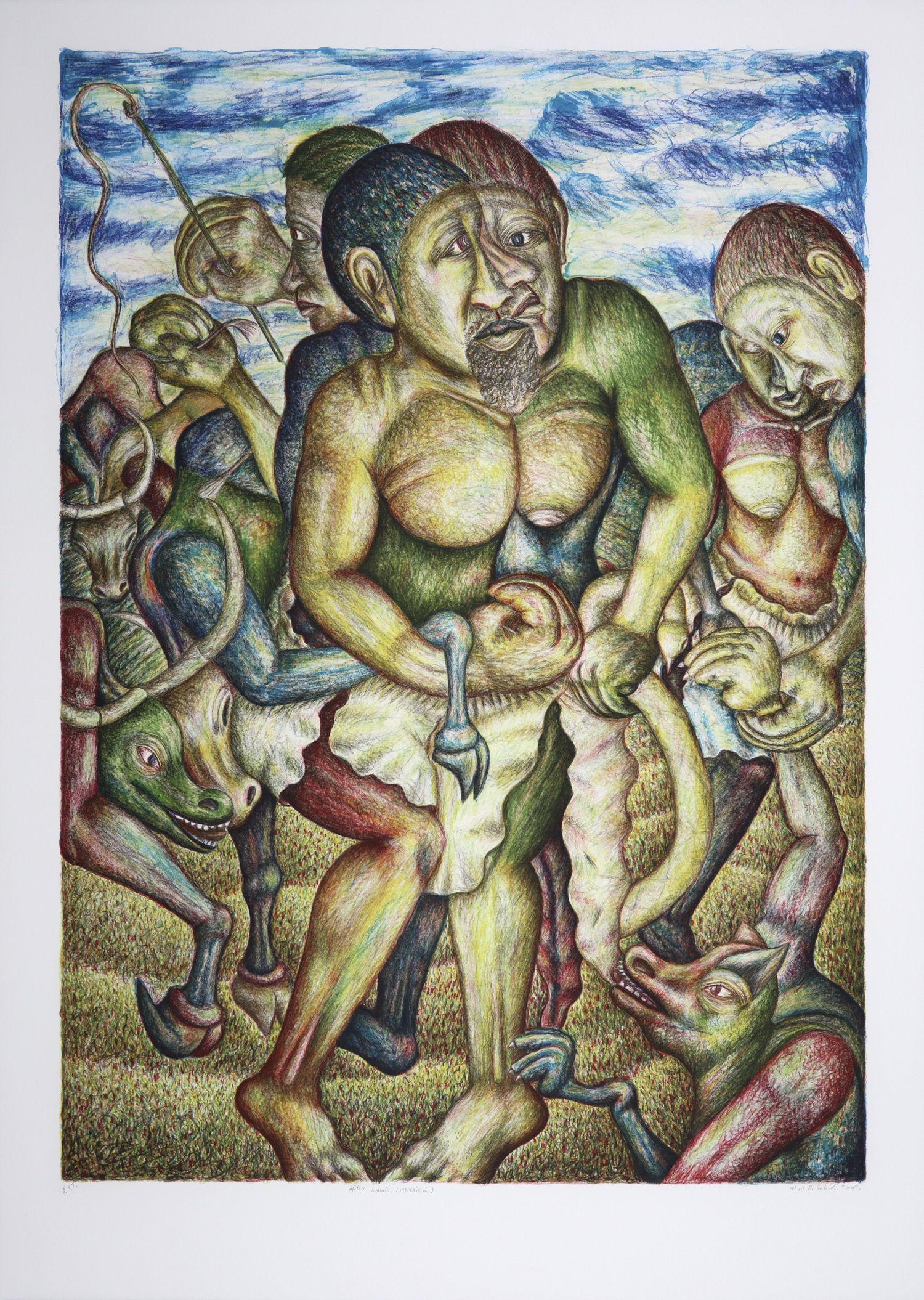 Artist: Mmakgabo Helen Sebidi
Title: After Lobola (Married)
Medium: Nine colour hand printed lithograph
Paper size: 105.5 x 75 cm
Image size: 91.5 x 65 cm
Edition size: 35
Price: R 14 980 (excl.VAT)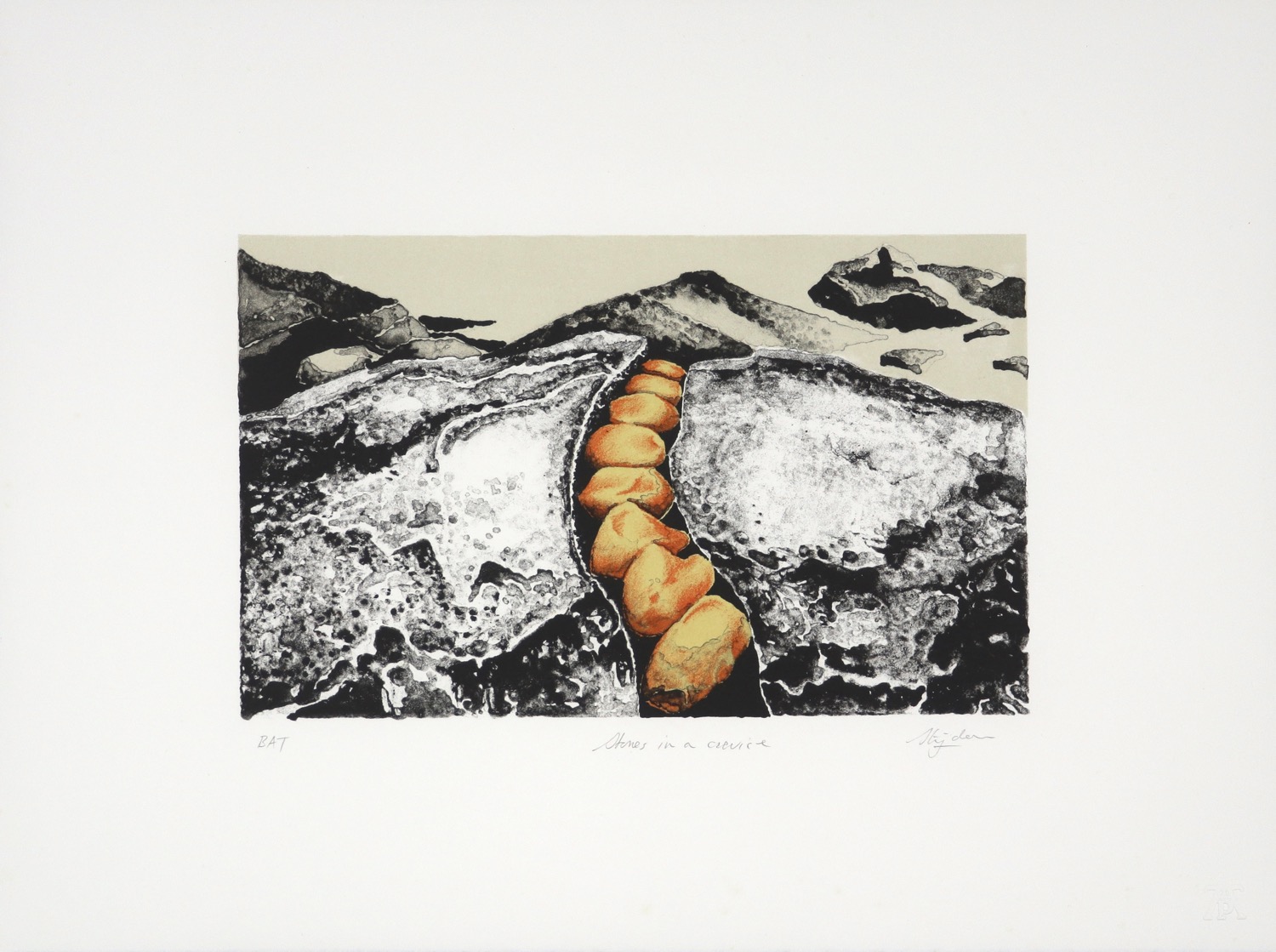 Artist: Strijdom Van der Merwe
Title: Stones in Crevice
Medium: Four colour lithograph
Size: 28 x 38 cm
Edition size: 20
Price: R 3 875 (excl.VAT)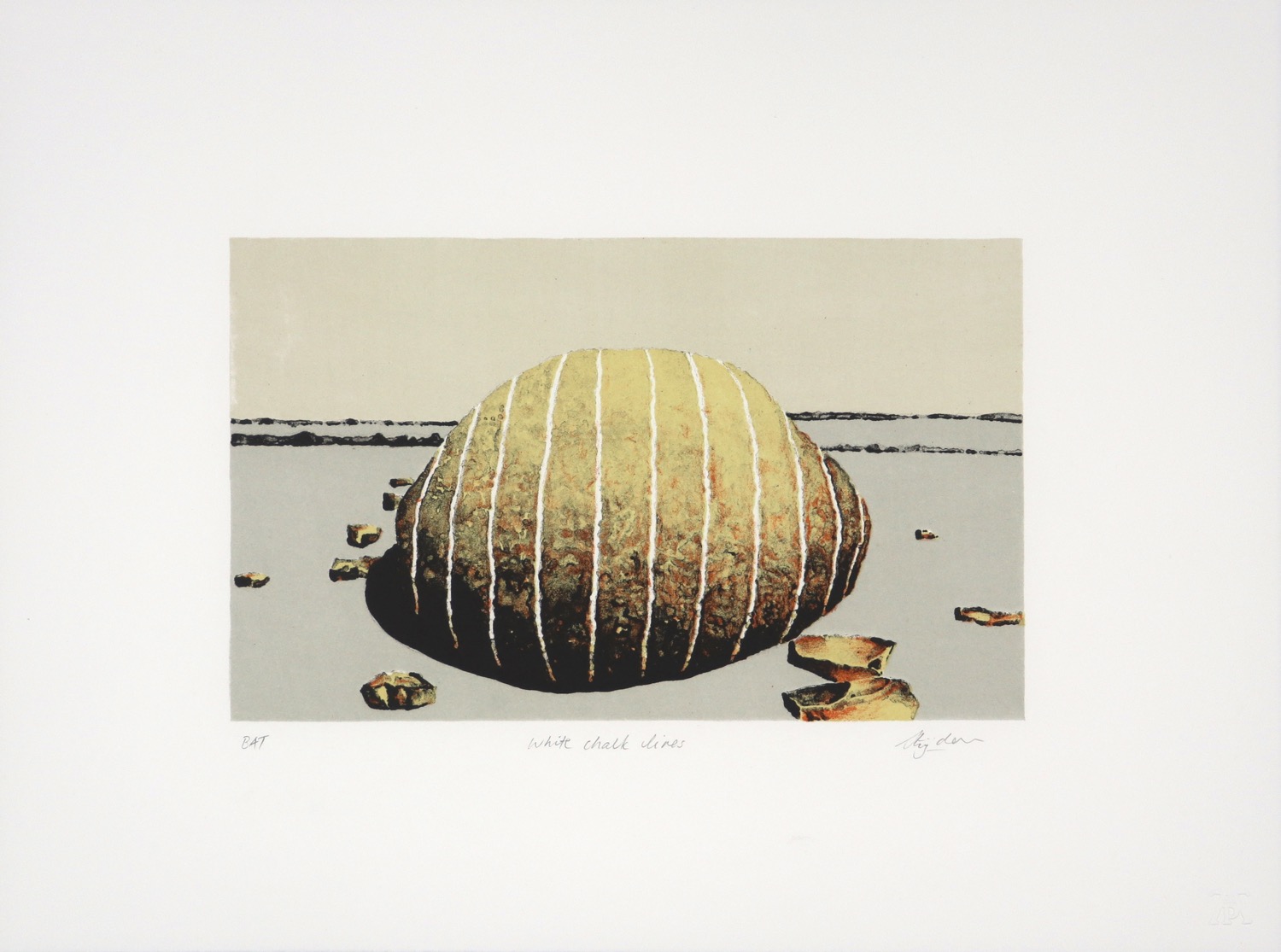 Artist: Strijdom Van der Merwe
Title: White Chalk Lines
Medium: Four colour lithograph
Size: 28 x 38 cm
Edition size: 20
Price: R 3 875 (excl.VAT)



Artist: Strijdom Van der Merwe
Title: Installation for KKNK 2008 - Haiku's
Medium: Five colour  lithograph
Size: 37 x 107 cm
Edition size: 15
Price: R 8 346 (excl.VAT)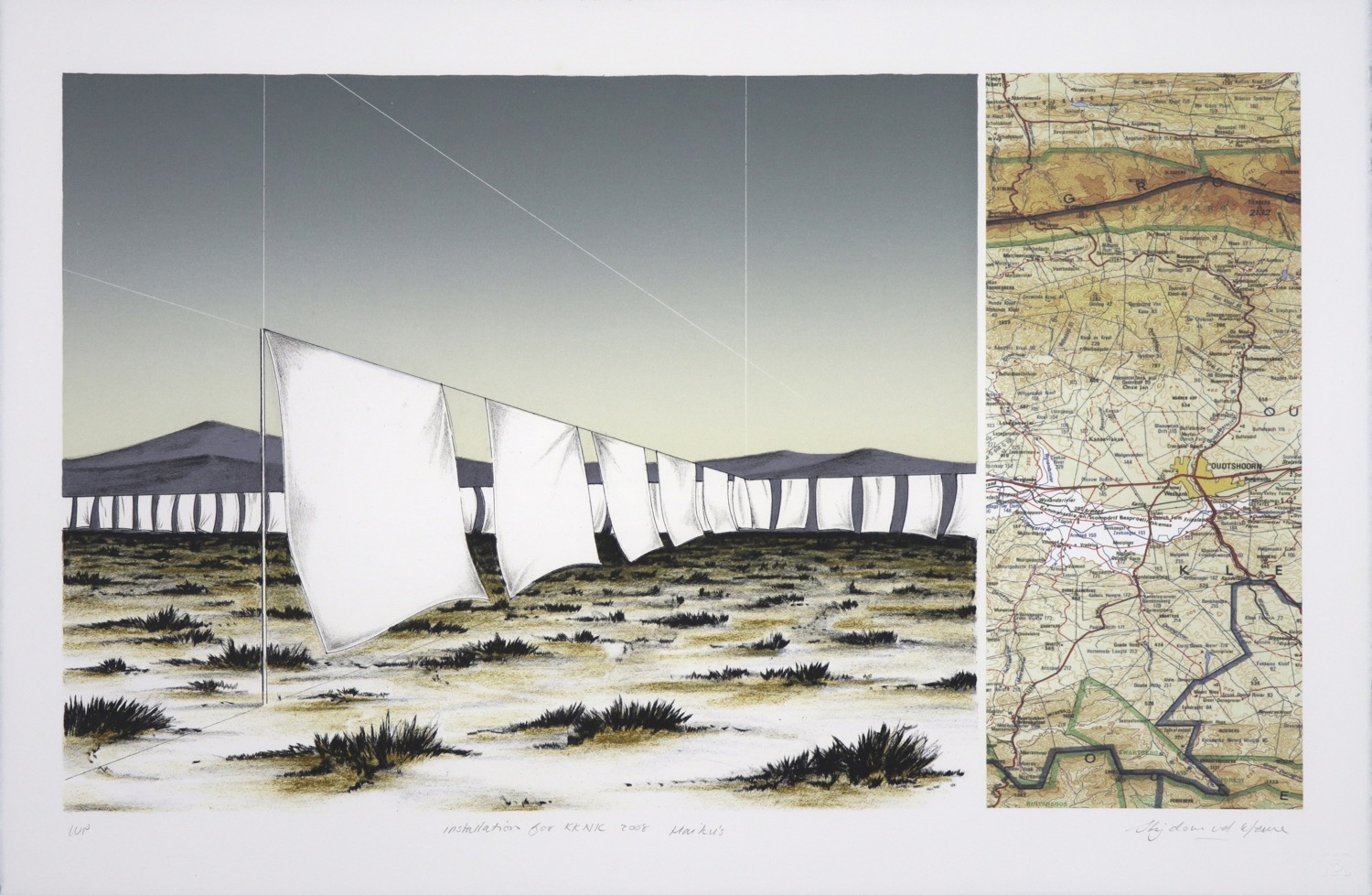 Artist: Strijdom Van der Merwe
Title: Installation for KKNK 2008 - Haiku's
Medium: Four colour  lithograph
Size: 38 x 57 cm
Edition size: 15
Price: R 4 700 (excl.VAT)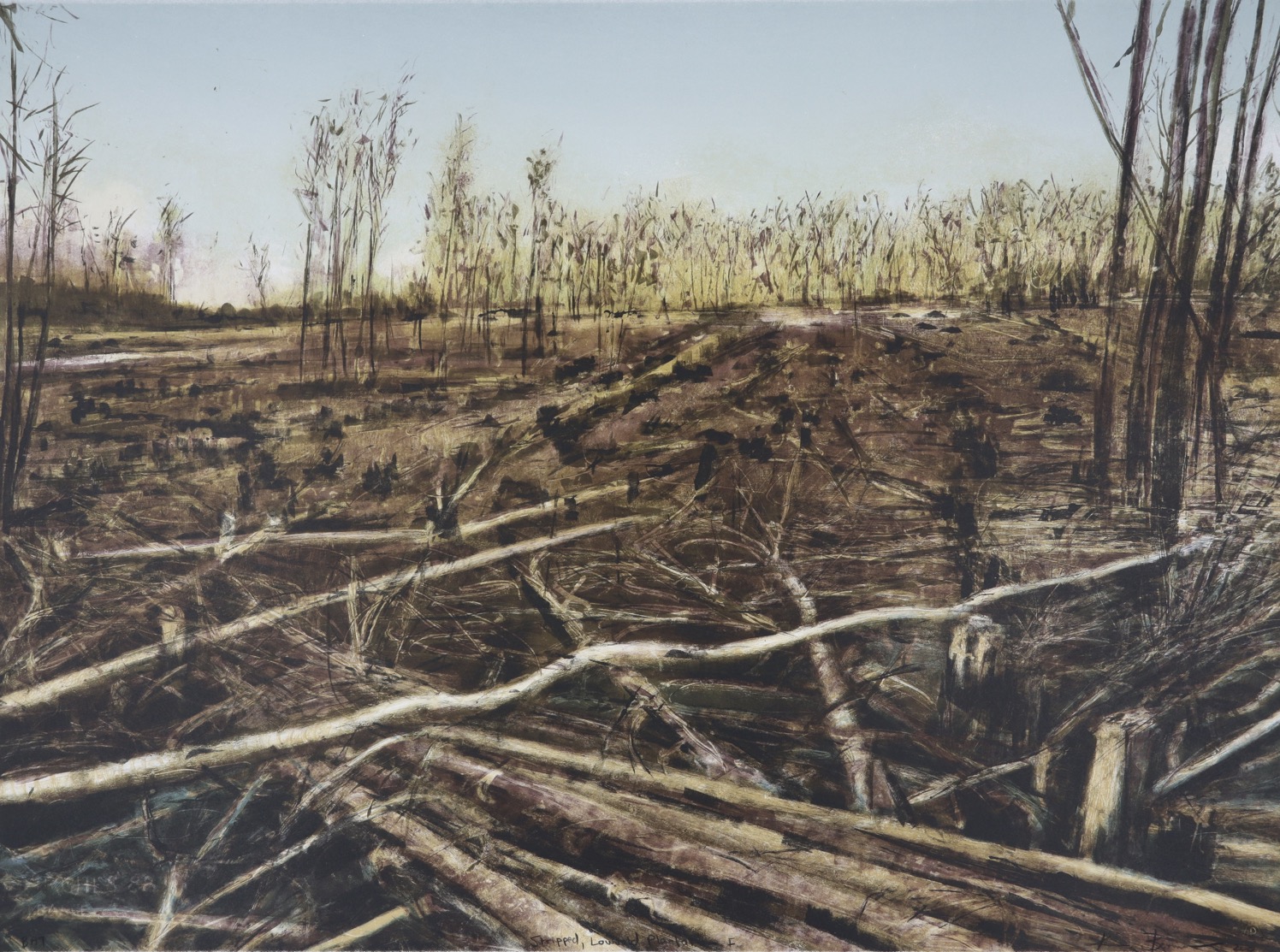 Artist: Kim Berman
Title: Stripped, Lowveld Plantation I
Medium: Seven colour lithograph
Size: 57 x 76 cm
Edition size: 30
Price: R 6 065 (excl. VAT)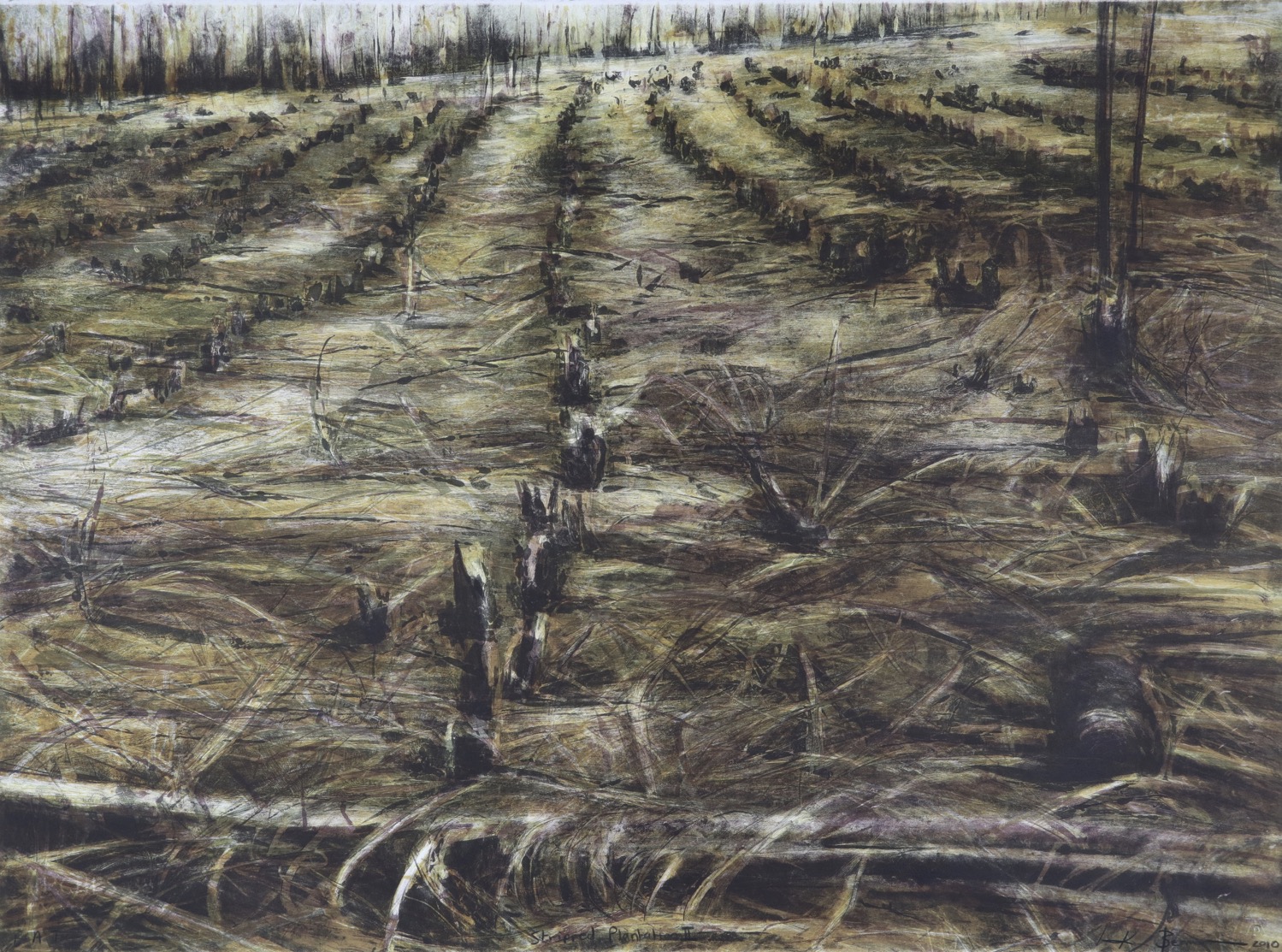 Artist: Kim Berman
Title: Stripped, Lowveld Plantation I
Medium: Seven colour lithograph
Size: 57 x 76 cm
Edition size: 30
Price: R 6 065 (excl. VAT)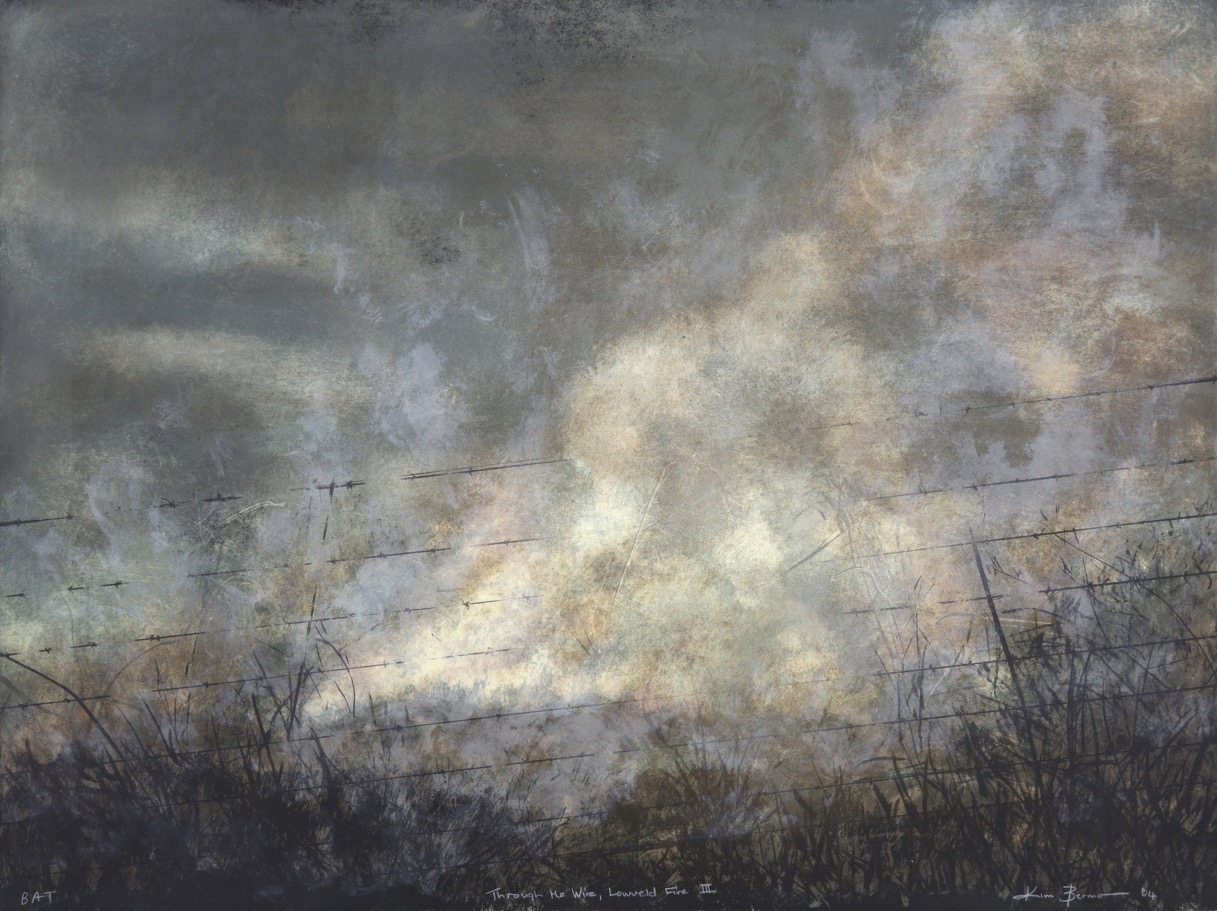 Artist: Kim Berman
Title: Through the Wire: Lowveld Fire III
Medium: Eleven colour lithograph
Size: 57.5 x 76.5 cm
Edition size: 45
Price: R 6 065 (excl.VAT)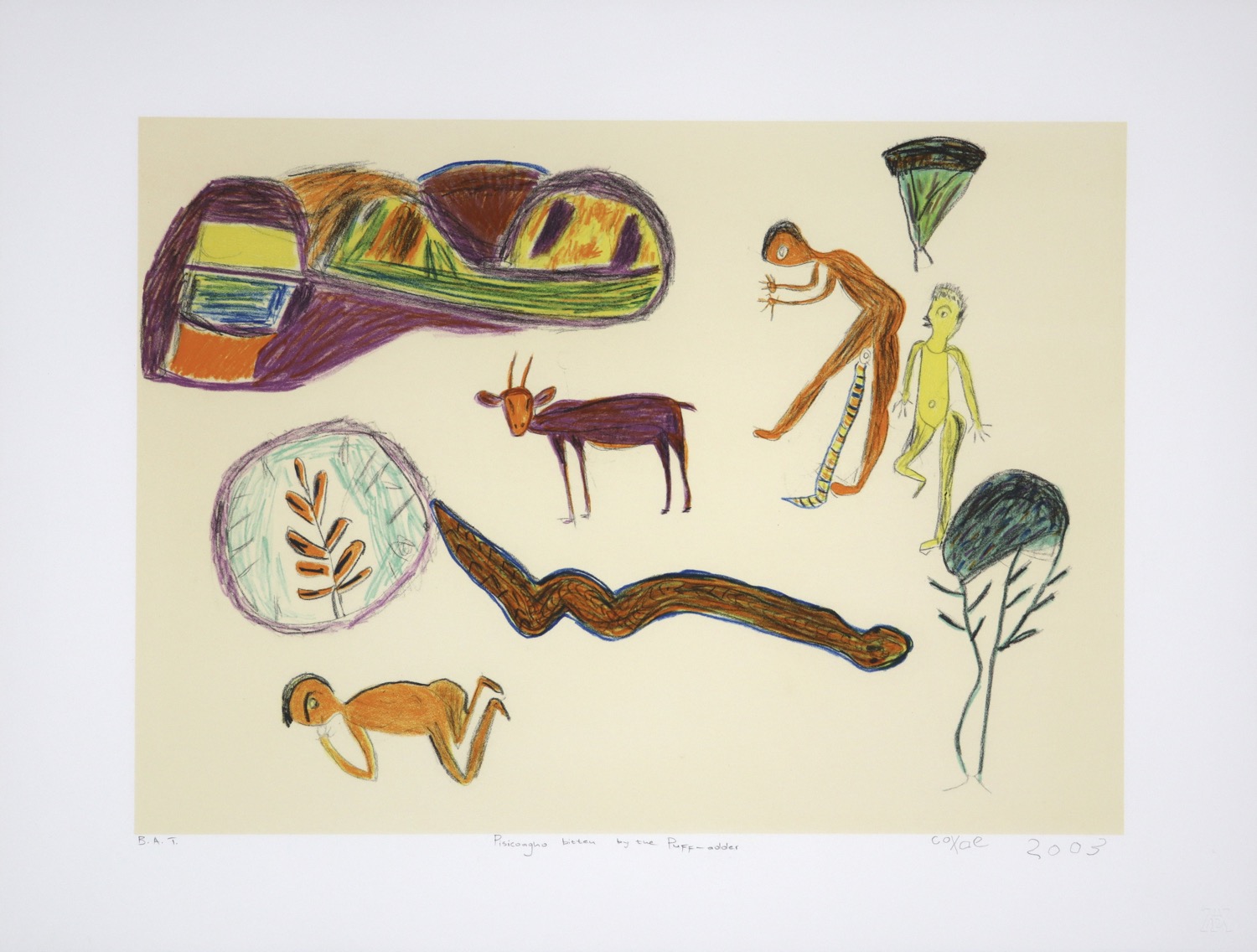 Artist: Ennie Coexae Bob
Title: Pisicoagho bitten by the Puffadder
Medium: Seven colour lithograph
Size: 38 x 50 cm
Edition size: 40
Price: R 3 200 (excl.VAT)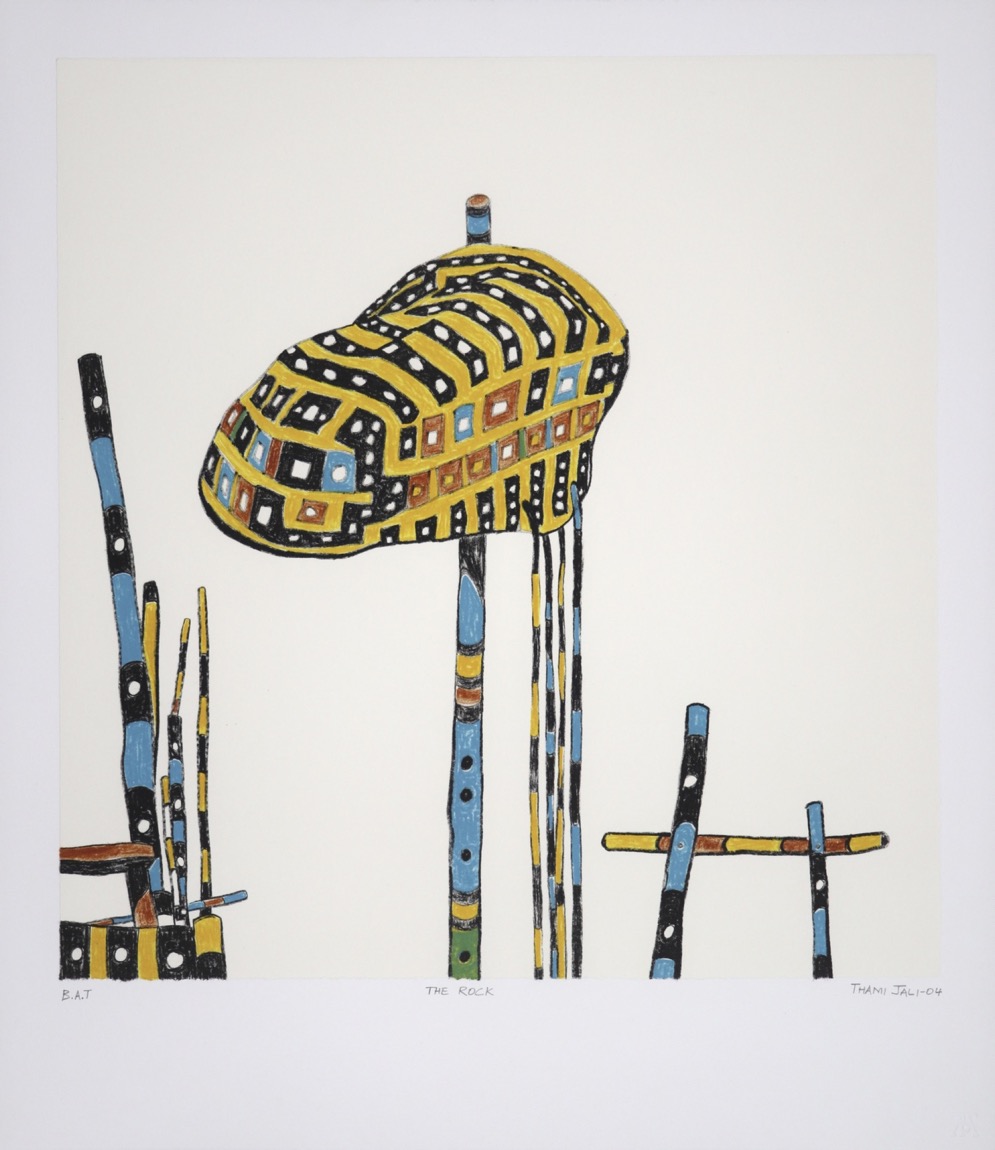 Artist: Thami Jali
Title: The Rock
Medium: Four colour chine colle lithograph
Paper size: 50 x 43 cm
Image size: 40 x 38 cm
Edition size: 30
Price: R 5 400 (excl.VAT)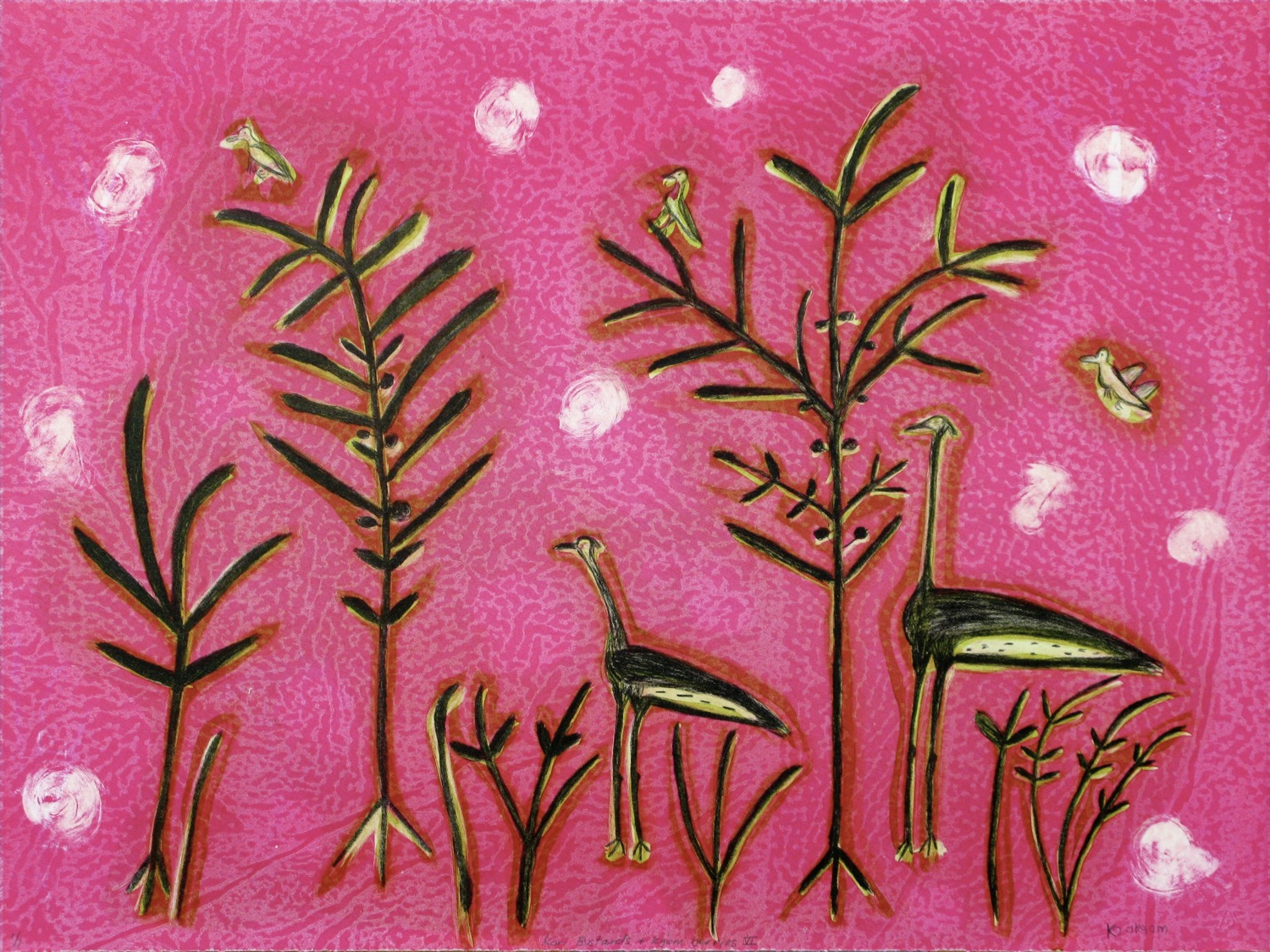 Artist: Kg'akg'am Tshabu
Title: Kori Bustards and Kgóm Berries VI
Medium: Monoprint
Size: 50 x 65 cm
Price: R 5 450 (excl. VAT)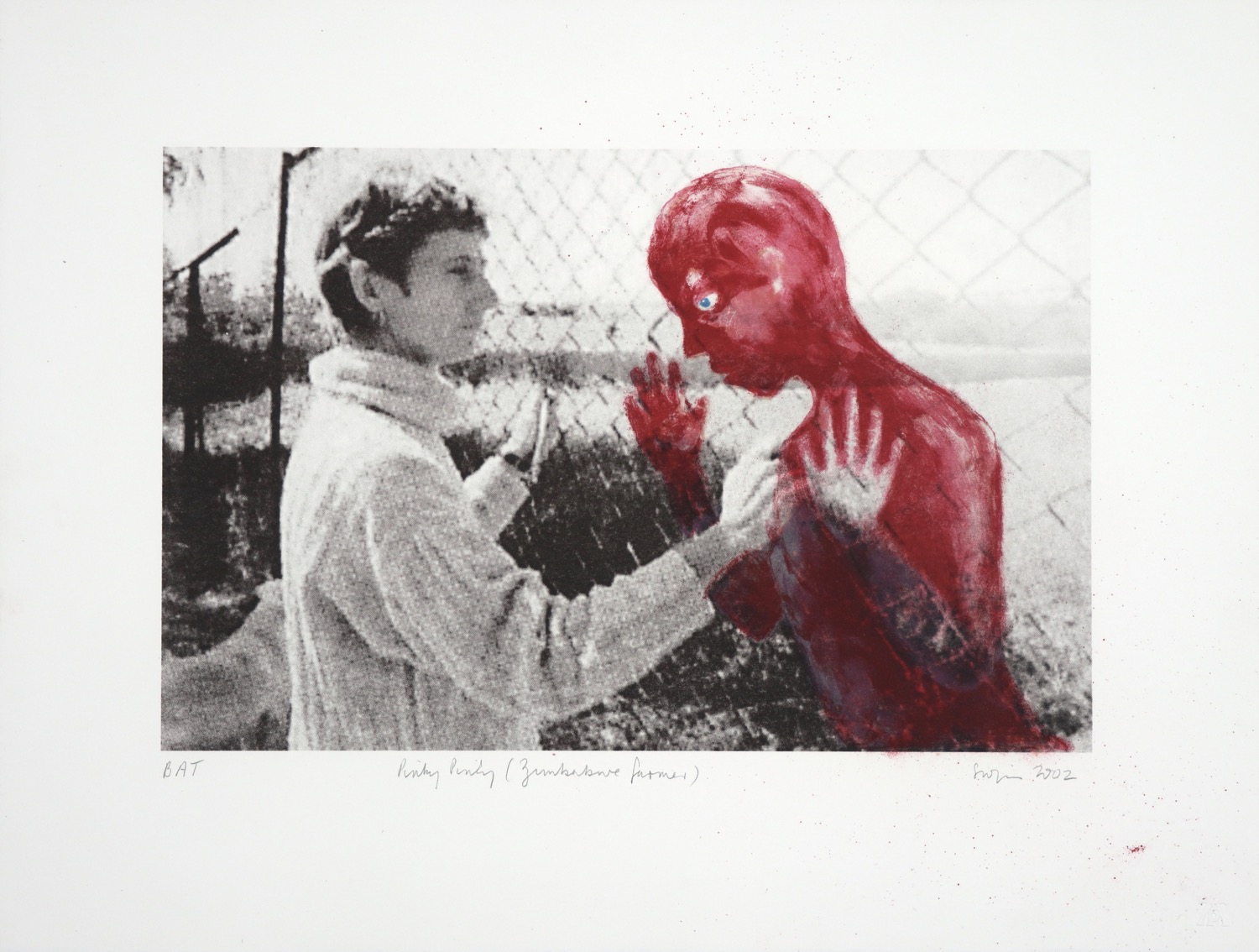 Artist: Penny Siopis
Title: Zimbabwe Farmer
Medium: Six colour lithograph
Size: 38 x 50.5 cm
Edition size: 40
Price: R 7 995 (excl.VAT)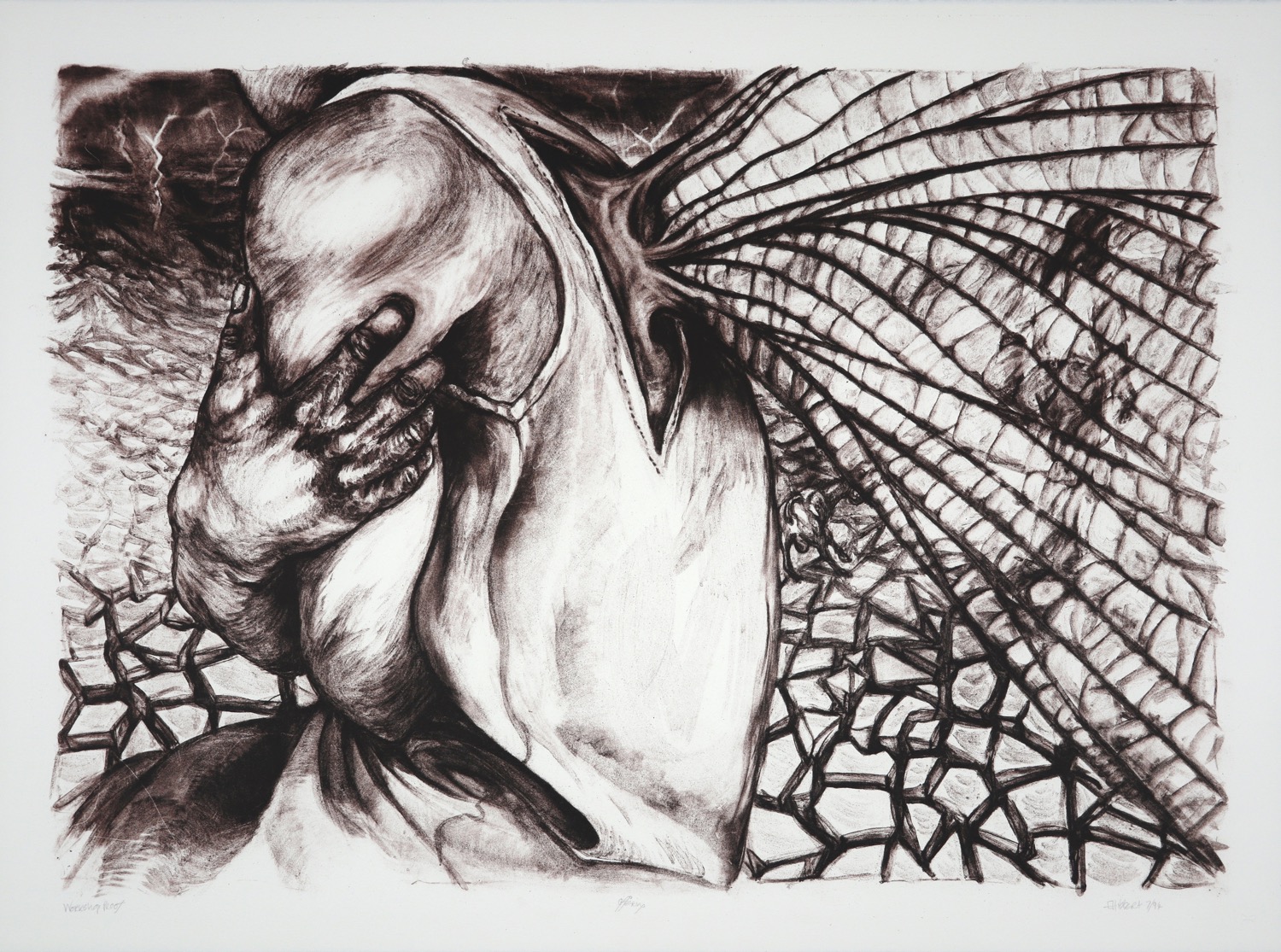 Artist: Erika Hibbert
Title: Offering
Medium: Two colour lithograph
Size: 56 x 76 cm
Edition size: 20
Price: R 4 410 (excl.VAT)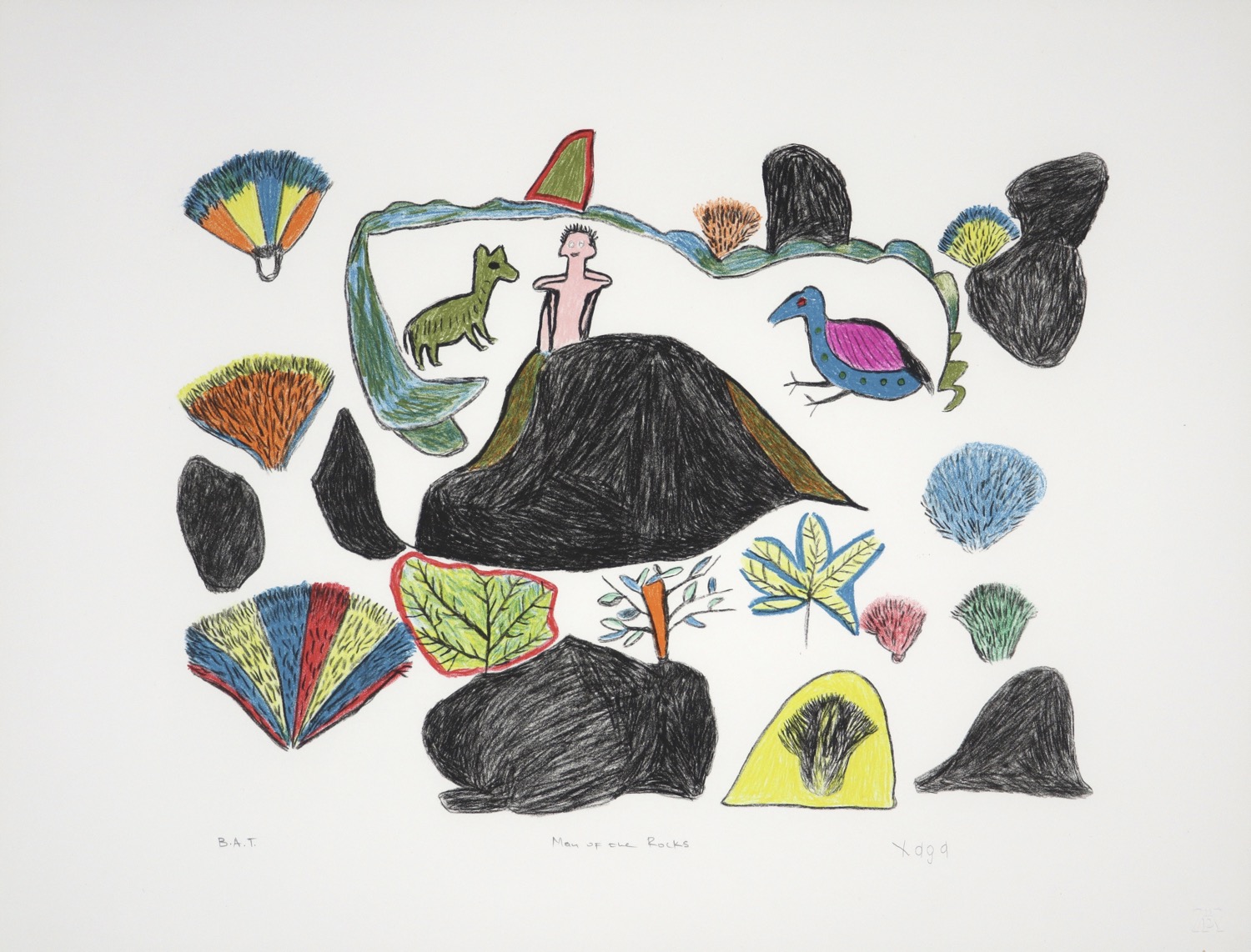 Artist: Xaga Tcuigao
Title: Man of the Rocks
Medium: Eight colour lithograph
Size: 38 x 50 cm
Edition size: 40
Price: R 3 200 (excl.VAT)