Looking Within and Without
In this selection of prints from The Artists' Press, the focus is on work by artists who examine the world from an inner, personal perspective and attempt to make sense of it using references that are close to home. The imagery and symbols used in these works are often ones that the artist repeatedly uses and are drawn from personal experience and collections. From Claudette Schreuders's work, that makes her own family life universal, to the recollections of a South African heritage in Stopforth's use of Life Buoy and Sunlight Soap and Andre Naudé's glamorous drag queens, the clues in these works are open to interpretation. This allows the artists work to become ones "own", often the work that we best respond to is that which echo's within one's own life.

To see more of an artists' work click on their name.

To browse other selections of work go to:
Animals, Insects and Creatures
For orders (with free shipping) or any other enquiries, please contact us.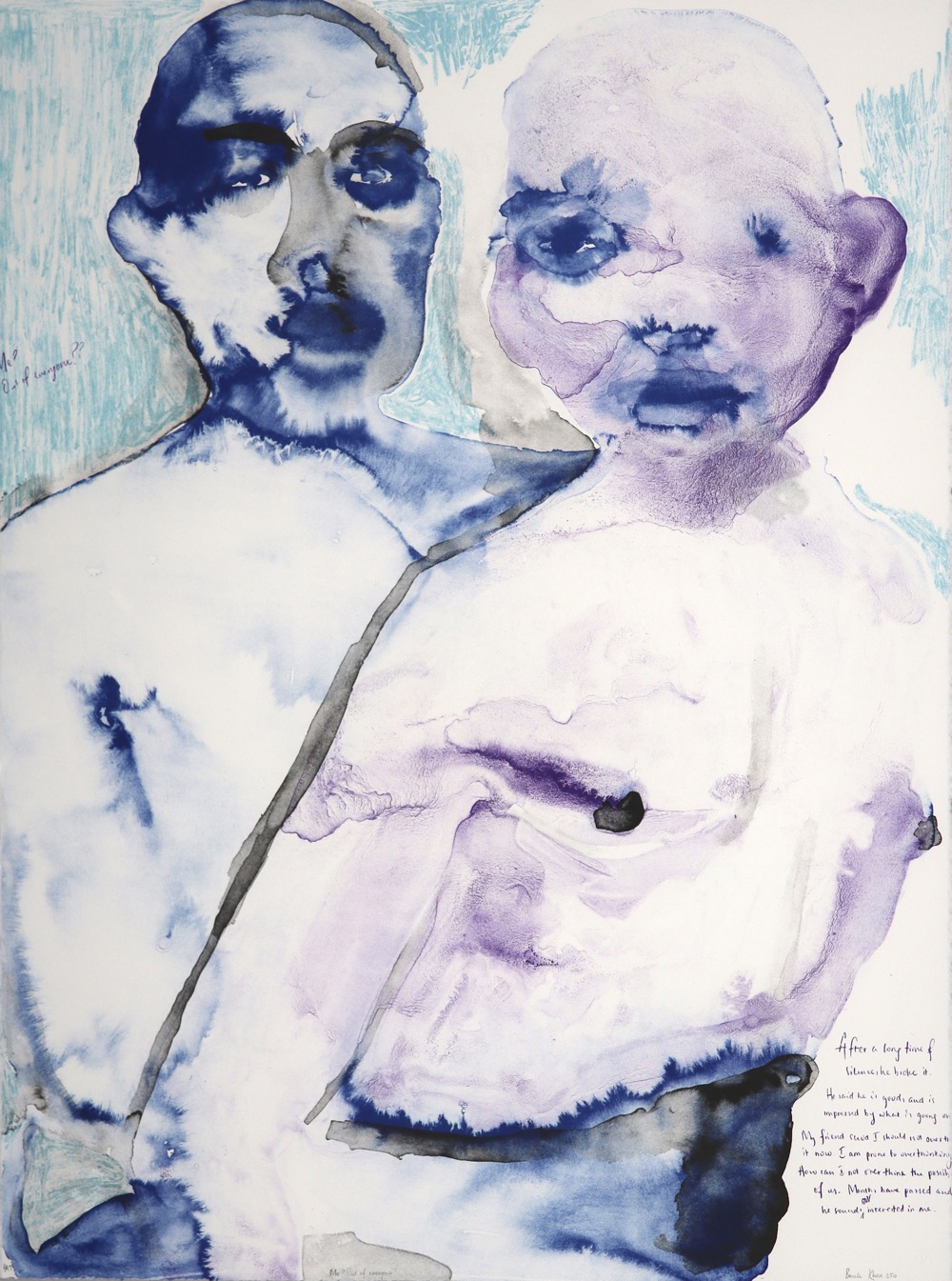 Artist: Banele Khoza
Title: Me? Out of everyone?
Medium: Four colour lithograph
Paper size: 76 x 57 cm
Edition size: 30
Price: R 6 985 (excl. VAT)
Artist: Banele Khoza
Title: When meeting the One
Medium: Four colour lithograph
Paper size: 76 x 57 cm
Edition size: 30
Price: R 6 985 (excl. VAT)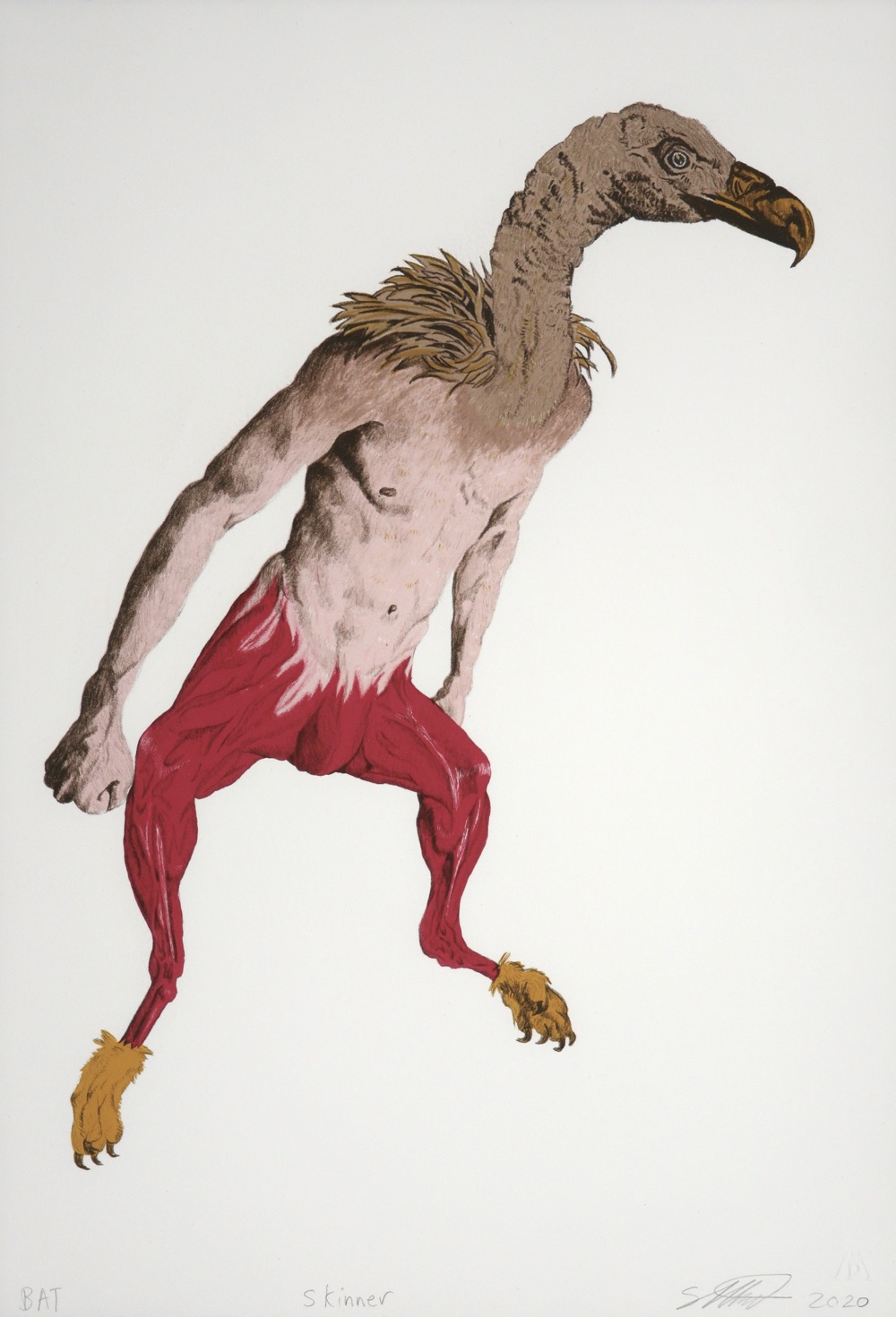 Artist: Simon Attwood
Title: Skinner
Medium: Five colour lithograph
Paper size: 43 x 29.8 cm
Image size: 35 x 25.5
Edition size: 25
Price: R 3 210 (excl. VAT)
Artist: Judith Mason
Title: Unshackled
Medium: Single colour lithograph with hand-applied 22k gold leaf
Size: 66.5 x 50.5 cm
Edition size: 35
Price: R 8 350 (excl.VAT)
Artist: Paul Stopforth
Title: Migration: Double Back
Medium: Four colour lithograph
Size: 76.5 x 57 cm
Edition size: 30
Price: R 7 150 (excl.VAT)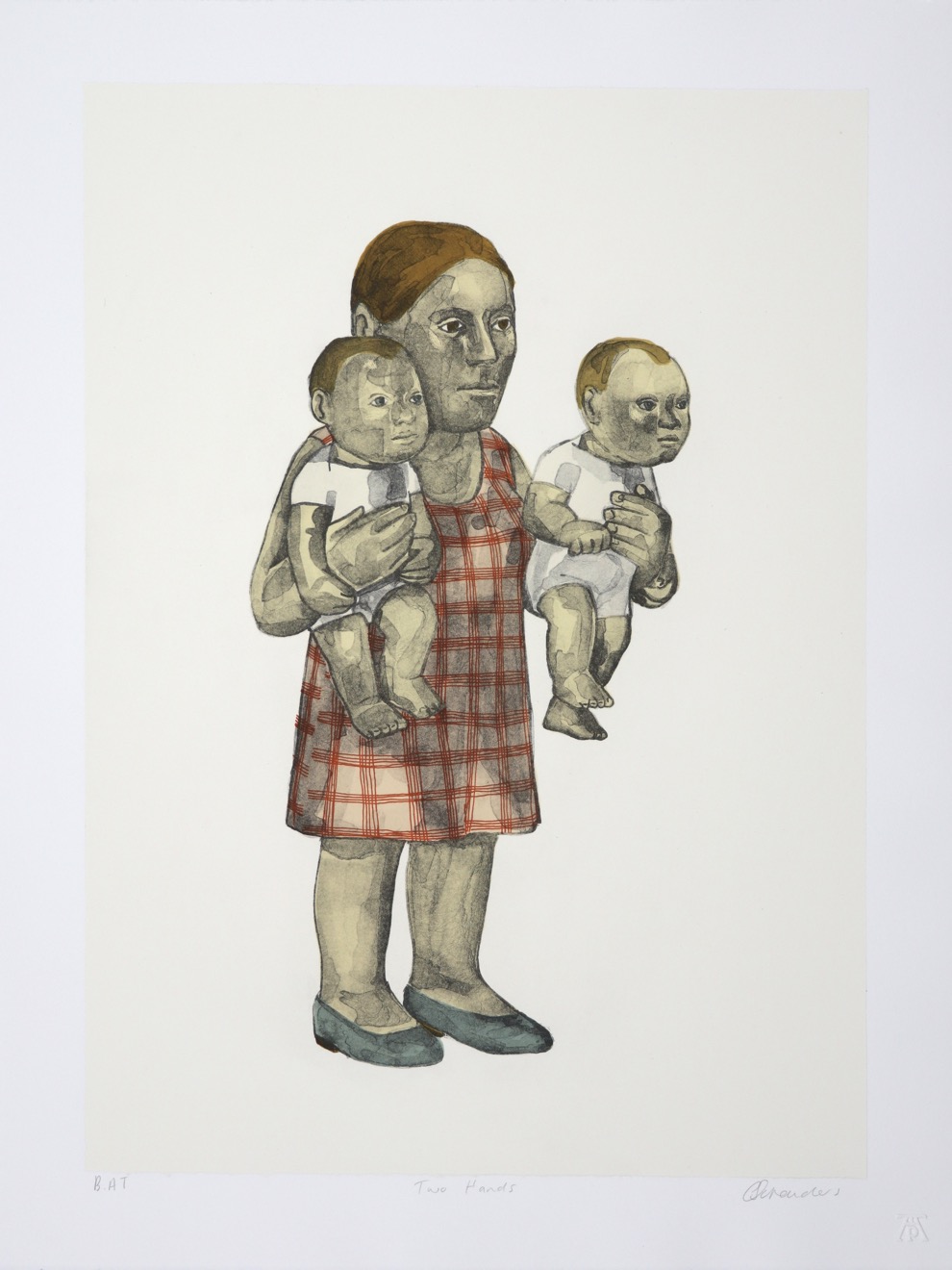 Artist: Claudette Schreuders
Title: Two hands
Medium: Eight colour, chine collé lithograph
Paper size: 50 x 38 cm
Image size: 43 x 31 cm
Edition size: 35
Price: R 10 150 (excl.VAT)
Artist: Andre Naudé
Title: Ageing South Coast Siren
Medium: Six colour lithograph
Paper size: 66 x 50 cm
Image size: 52x 32 cm
Edition size: 30
Price: R 4 355 (excl.VAT)
Artist: Judith Mason
Title: Descent from the Cross
Medium: Four colour lithograph
Size: 66.5 x 50.5 cm
Edition size: 35
Price: R 8 350 (excl.VAT)
Artist: Chris Diedericks
Title: Hearts Confessional
Medium: Single colour lithograph
Image size: 26 x 39.5 cm
Paper size: 38 x 52.5 cm
Edition size: 30
Price: R 2 350 (excl.VAT)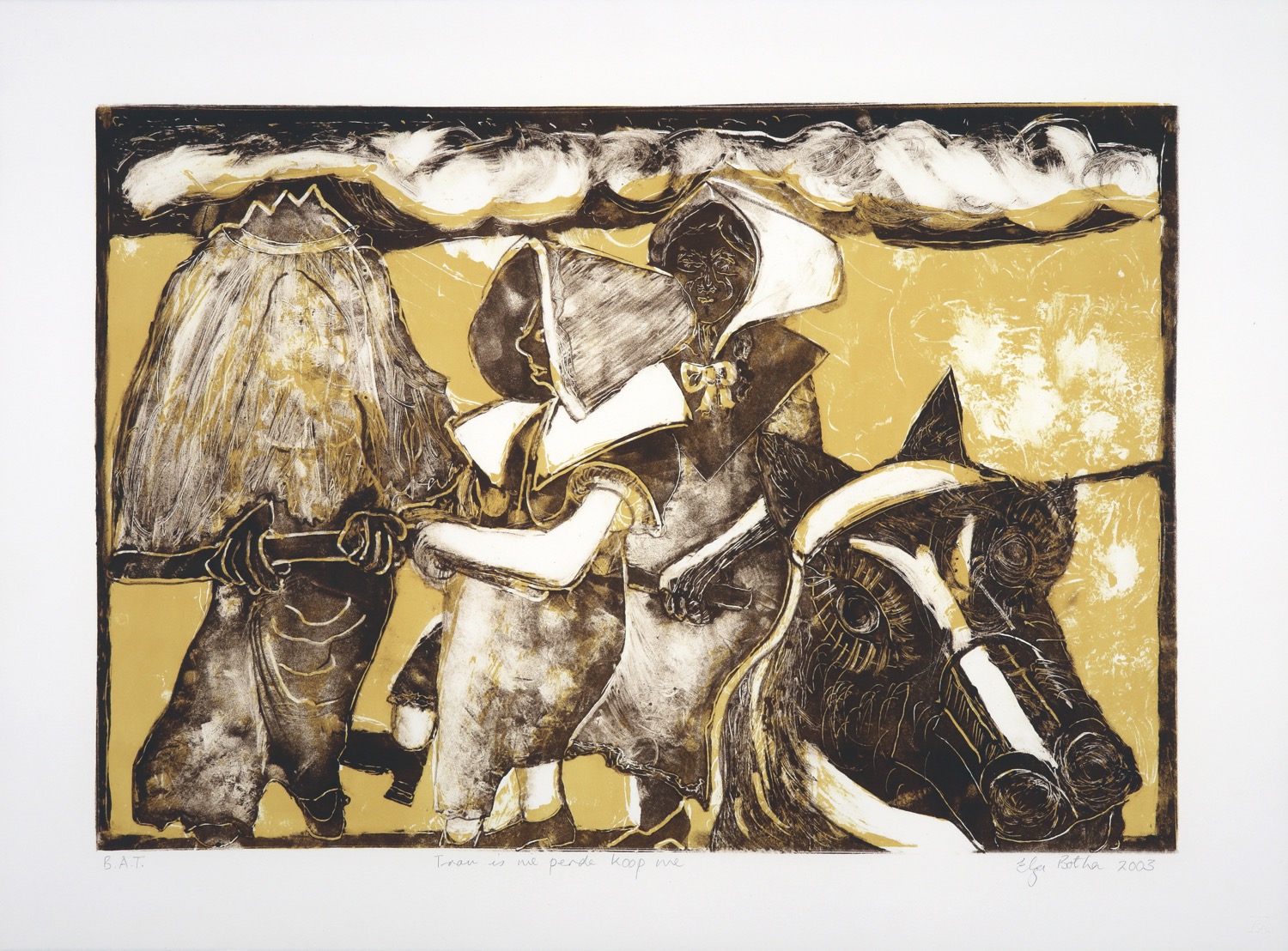 Artist: Elza Botha
Title: Trou is nie perdekoop nie (Marraige is not horse trading)
Medium: Two colour lithograph
Size: 56 x 76 cm
Edition size: 25
Price: R 3 400 (excl.VAT)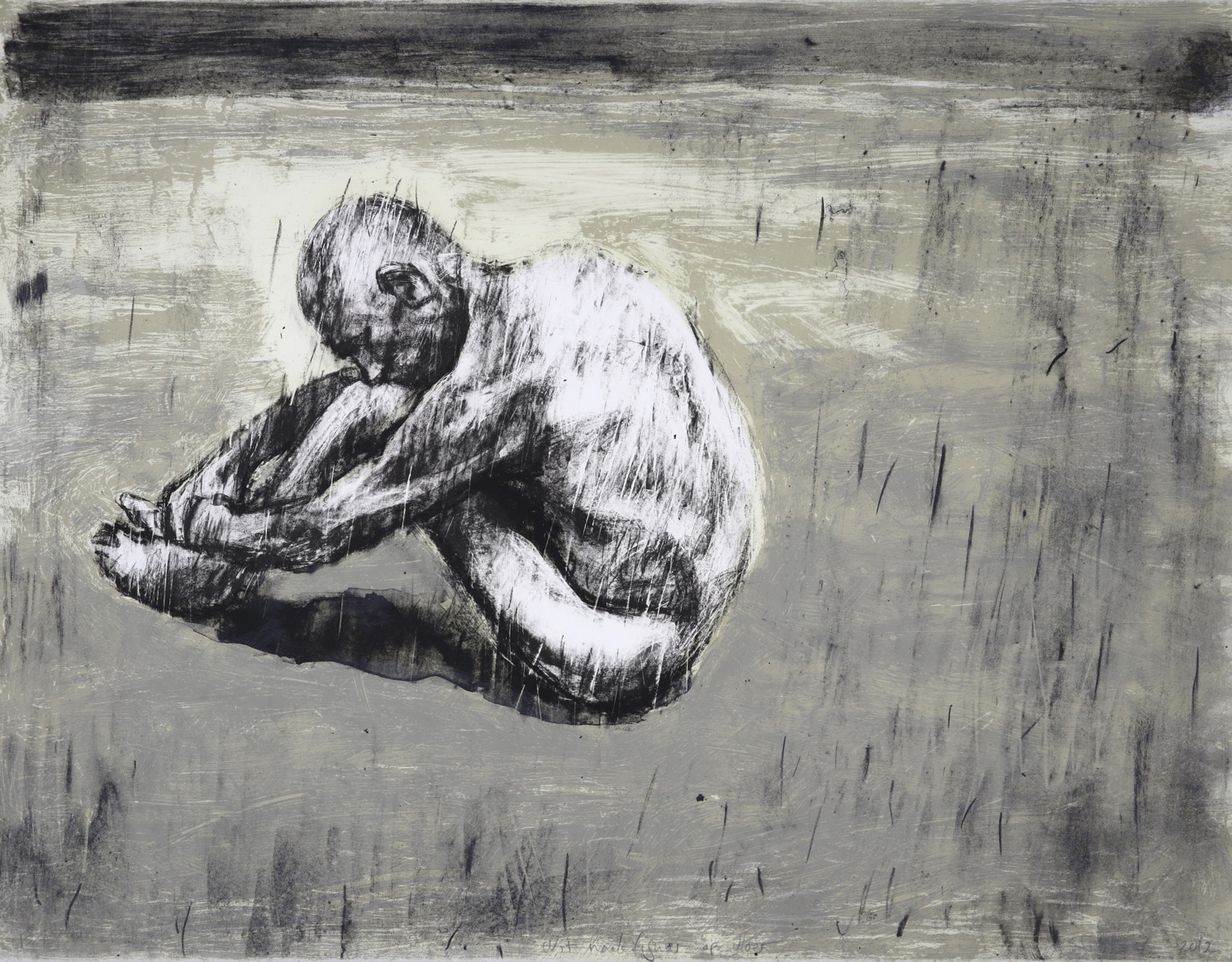 Artist: Johann Louw
Title: White naked figure on floor.
Medium: four colour lithograph
Size: 56 x 76 cm
Edition size: 25
Price: R 6 350 (excl.VAT)
Artist: Erika Hibbert
Title: Anger (Seven Deadly Sins series)
Medium: Three colour lithograph
Size: 56 x 76 cm
Edition size: 15
Price: R 2 550 (excl.VAT)
Artist: Erika Hibbert
Title: Pride (Seven Deadly Sins series)
Medium: Two colour lithograph with blind emboss
Size: 56 x 76 cm
Edition size: 15
Price: R 2 550 excl.VAT)
Artist: Erika Hibbert
Title: Greed (Seven Deadly Sins series)
Medium: Single colour lithograph with chine collé
Size: 56 x 76 cm
Edition size: 15
Price: R 2 550 excl.VAT)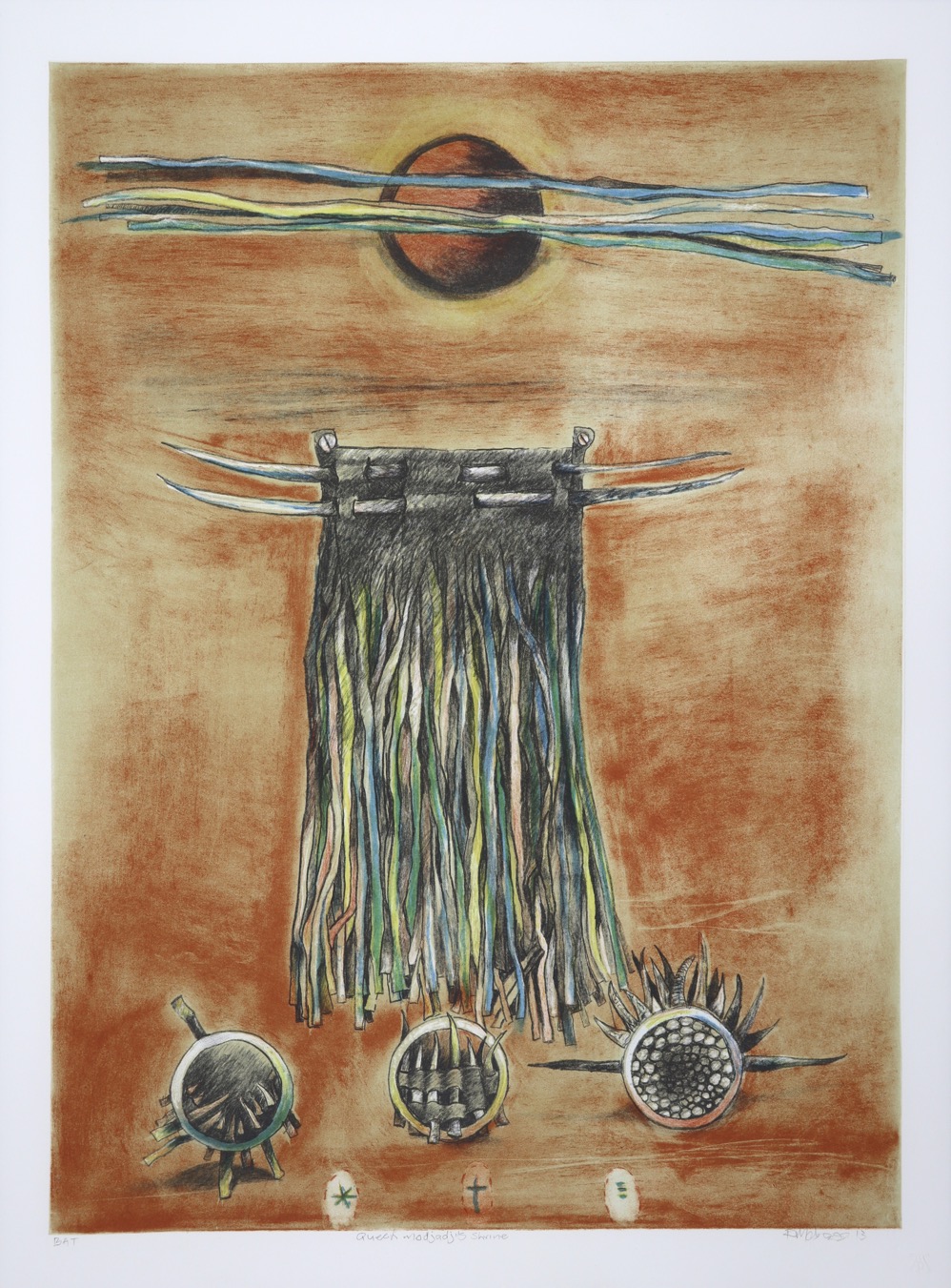 Artist: Dumisani Mabaso
Title: Queen Modjadji's Shrine
Medium: Six colour lithograph
Paper size: 76.5 x 57 cm
Image size: 69 x 50.5 cm
Edition size: 30
Price: R 6 000 (excl.VAT)
Artist: Andre Naudé
Title: Girl Talk
Medium: Seven colour lithograph
Paper size: 50 x 66 cm
Image size: 40 x 55 cm
Edition size: 30
Price: R 4 355 (excl.VAT)