Buildings
On this page, you will find prints from The Artists' Press that have buildings and elements of architecture in them. Both real and imagined...

Fiona Pole's lithographs that she made at The Artists' Press are all concerned with South African architecture. She has focused on Johannesburg with its most striking structures being commercial art deco ones. In her Cape Town prints, the range of buildings is broader and includes a number of historical sites. Paul Stopforth and Sam Nhlengethwa's work has a more political slant. Stopforth spent time on Robben Island, where many of South Africa's political leaders were imprisoned and examined architectural details that would usually be overlooked by the average visitor. Sam Nhlengethwa uses structures that form the backdrop to everyday lives as experienced by migrant mineworkers, the poor and the wealthy.

If you are interested in South African buildings then take a look at the website Artefacts, Frank Gaylard has put together the most incredible archive of South African architecture from ancient to contemporary.

To see more of a particular artists work please click on their name.

Browse more:
Animals, Insects and Other Creatures
For orders (with free shipping) or any other enquiries, contact us.

Artist: Sam Nhlengethwa
Title: The Market Square
Medium: Eight colour lithograph
Paper size: 57 x 45 cm
Image size: 42 x 29.7cm
Edition size: 25
Price: R 9 800 (excl.VAT)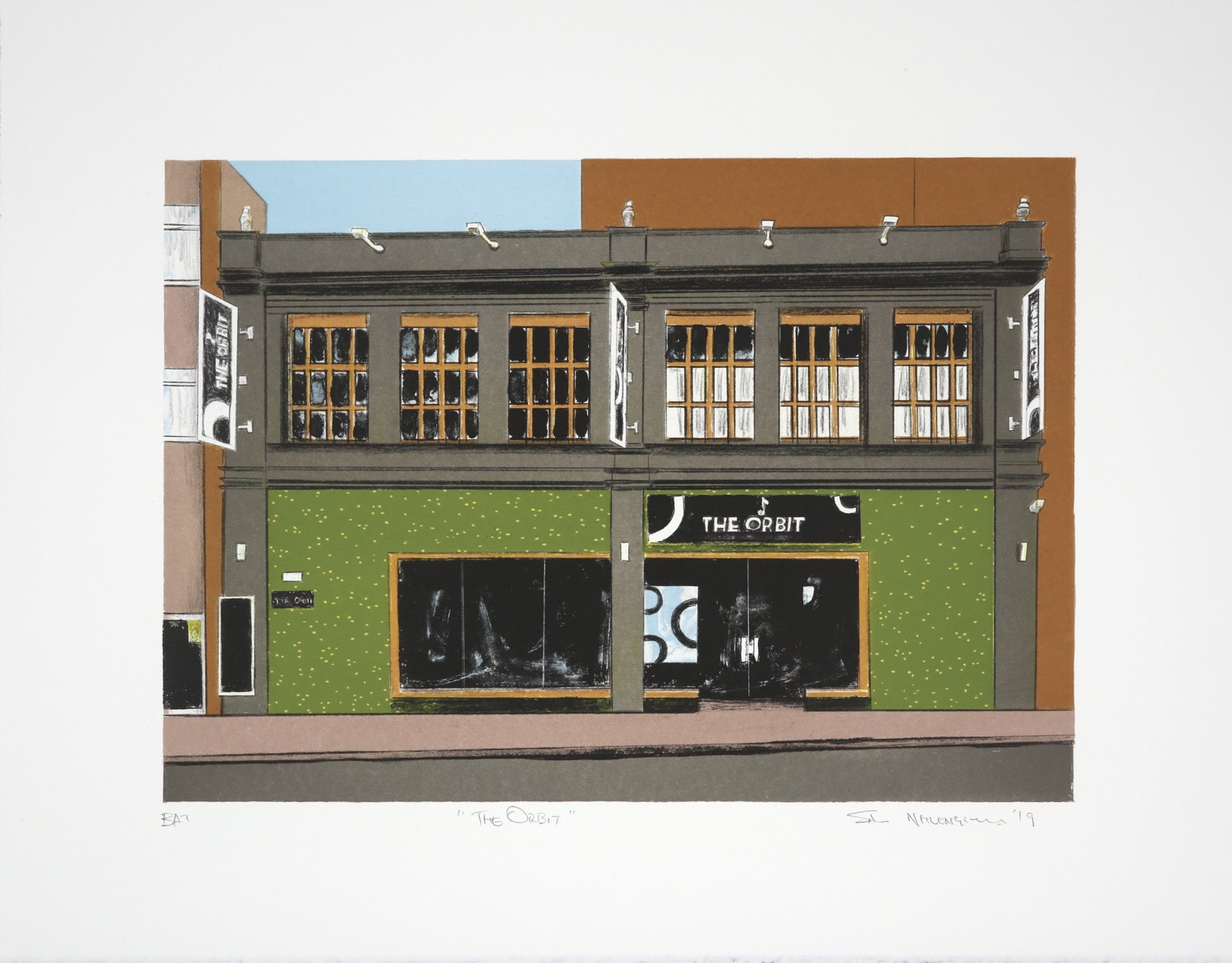 Artist: Sam Nhlengethwa
Title: The Orbit
Medium: Seven colour lithograph
Paper size: 57 x 45 cm
Image size: 42 x 29.7cm
Edition size: 25
Price: R 9 800 (excl.VAT)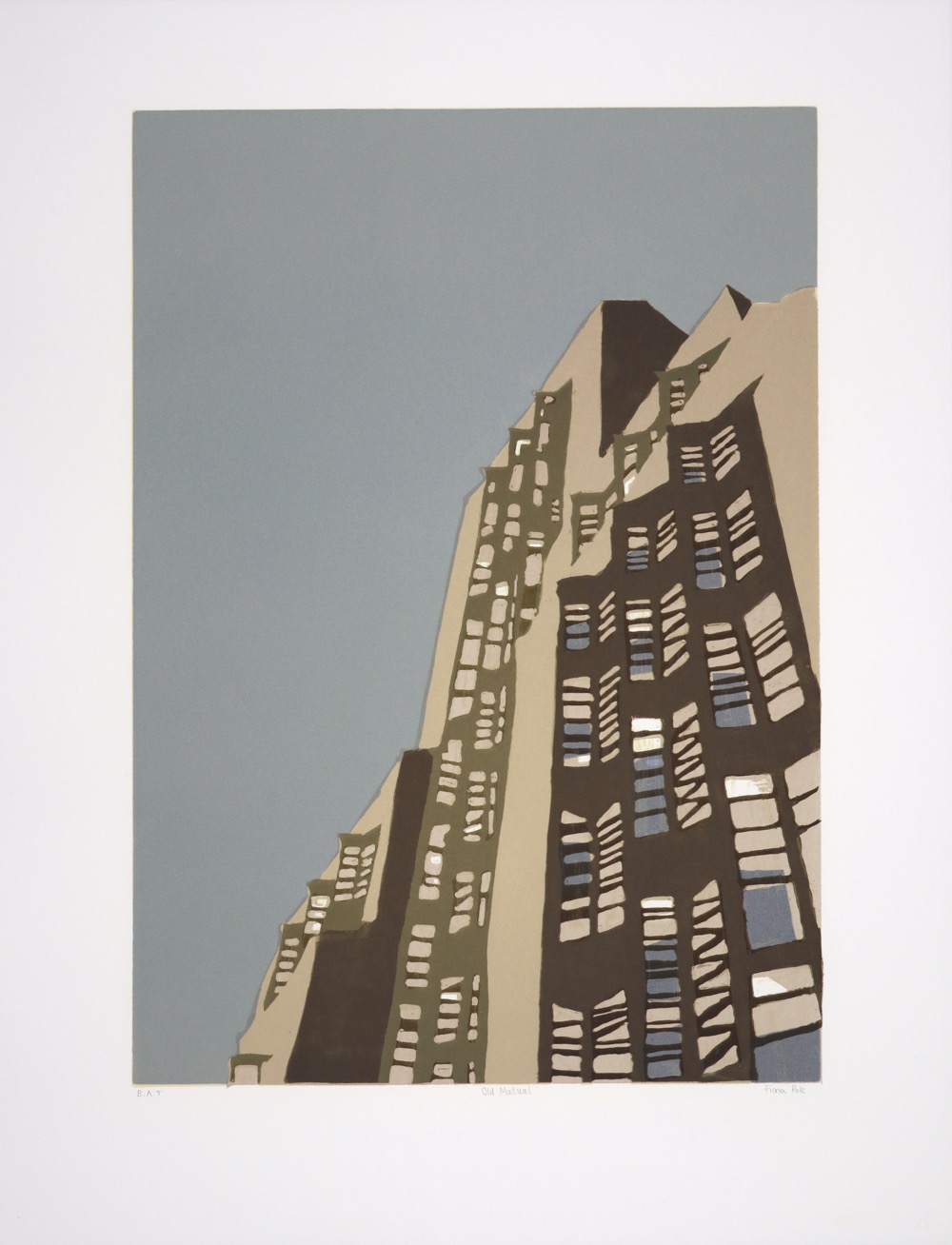 Artist: Fiona Pole
Title: Old Mutual
Medium: Five colour lithograph
Paper size: 66 x 50.5 cm
Image size: 51.5 x 36 cm
Edition size: 25
Price: R 4 860 (excl.VAT)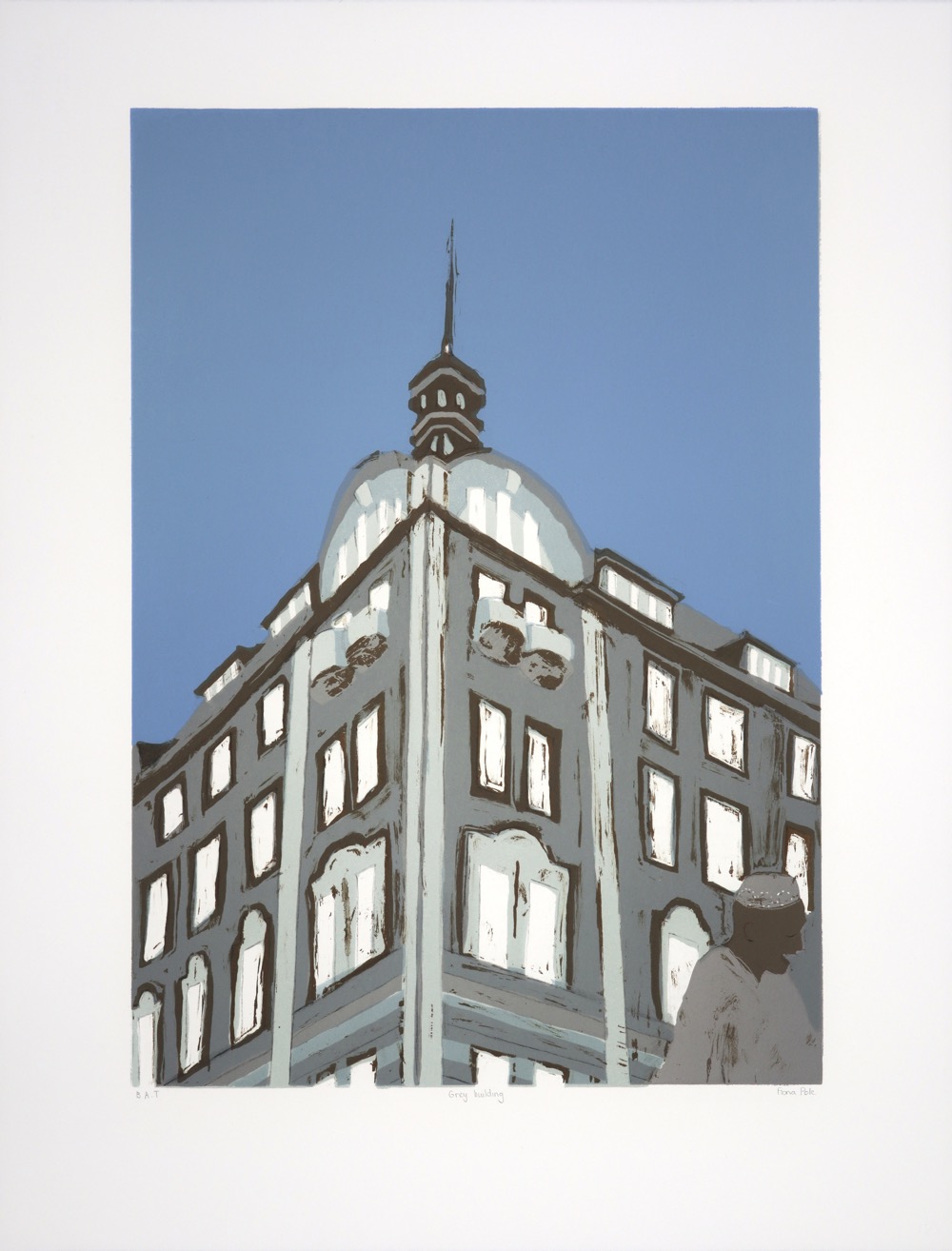 Artist: Fiona Pole
Title: Grey Building
Medium: Six colour lithograph
Paper size: 66 x 50.5 cm
Image size: 51.5 x 36 cm
Edition size: 25
Price: R 4 860 (excl.VAT)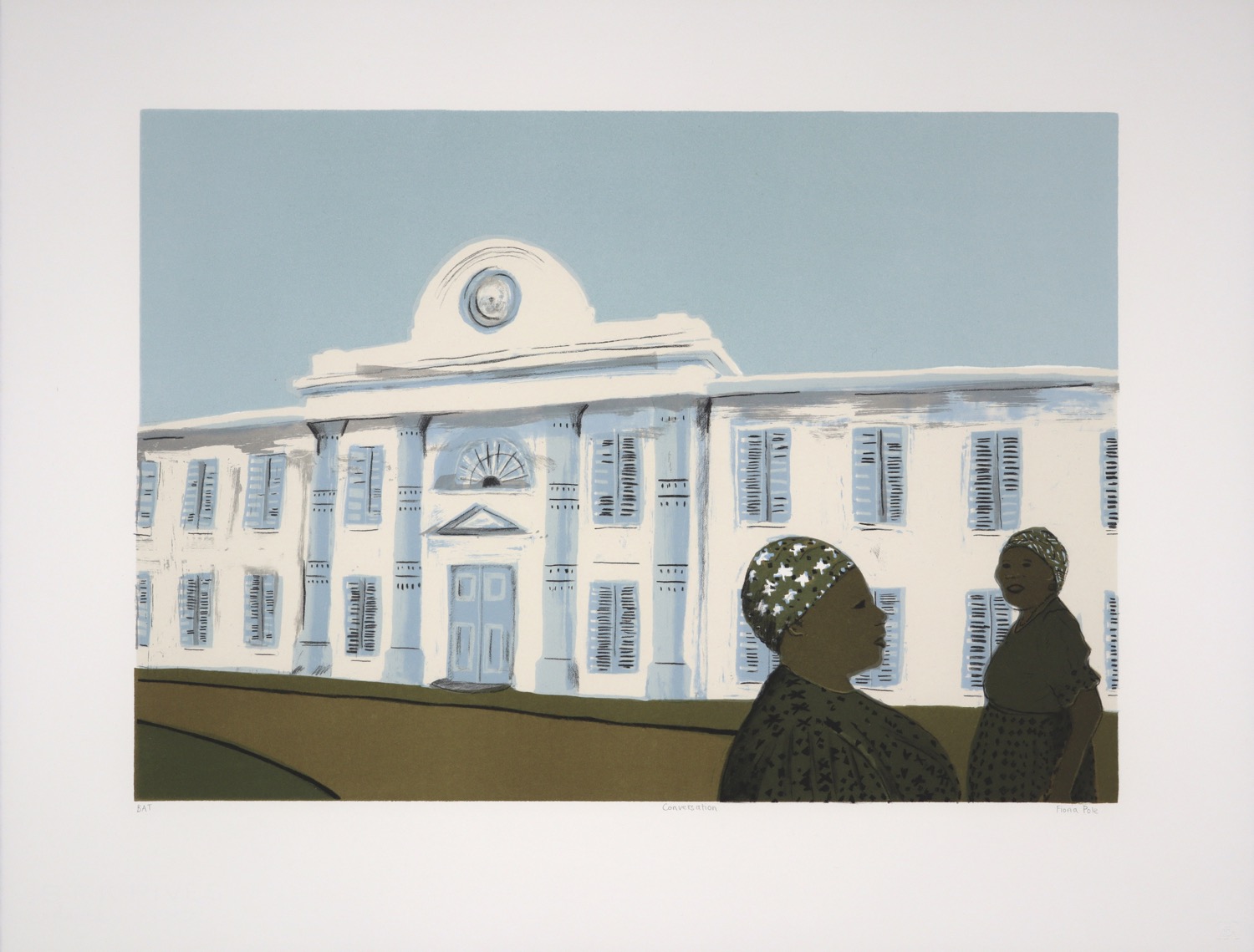 Artist: Fiona Pole
Title: Conversation
Medium: Six colour lithograph
Paper size: 50.5 x 66 cm
Image size: 36 x 51.5 cm
Edition size: 25
Price: R 4 860 (excl.VAT)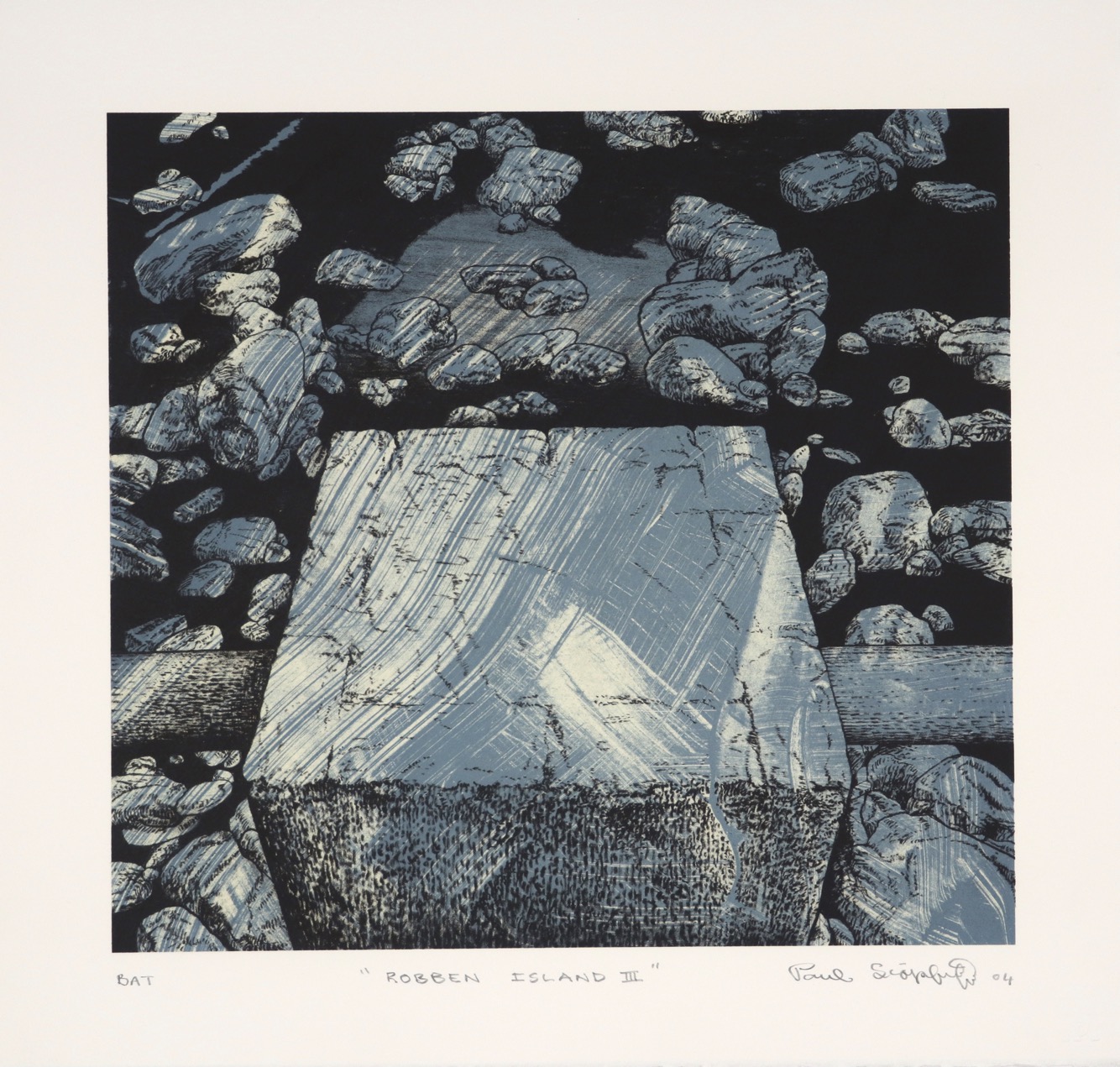 Artist: Paul Stopforth
Title: Robben Island III
Medium: Three colour lithograph
Paper size: 36 x 37.5 cm
Image size: 30 x 28 cm
Edition size: 25
Price: R  5 400 (excl.VAT)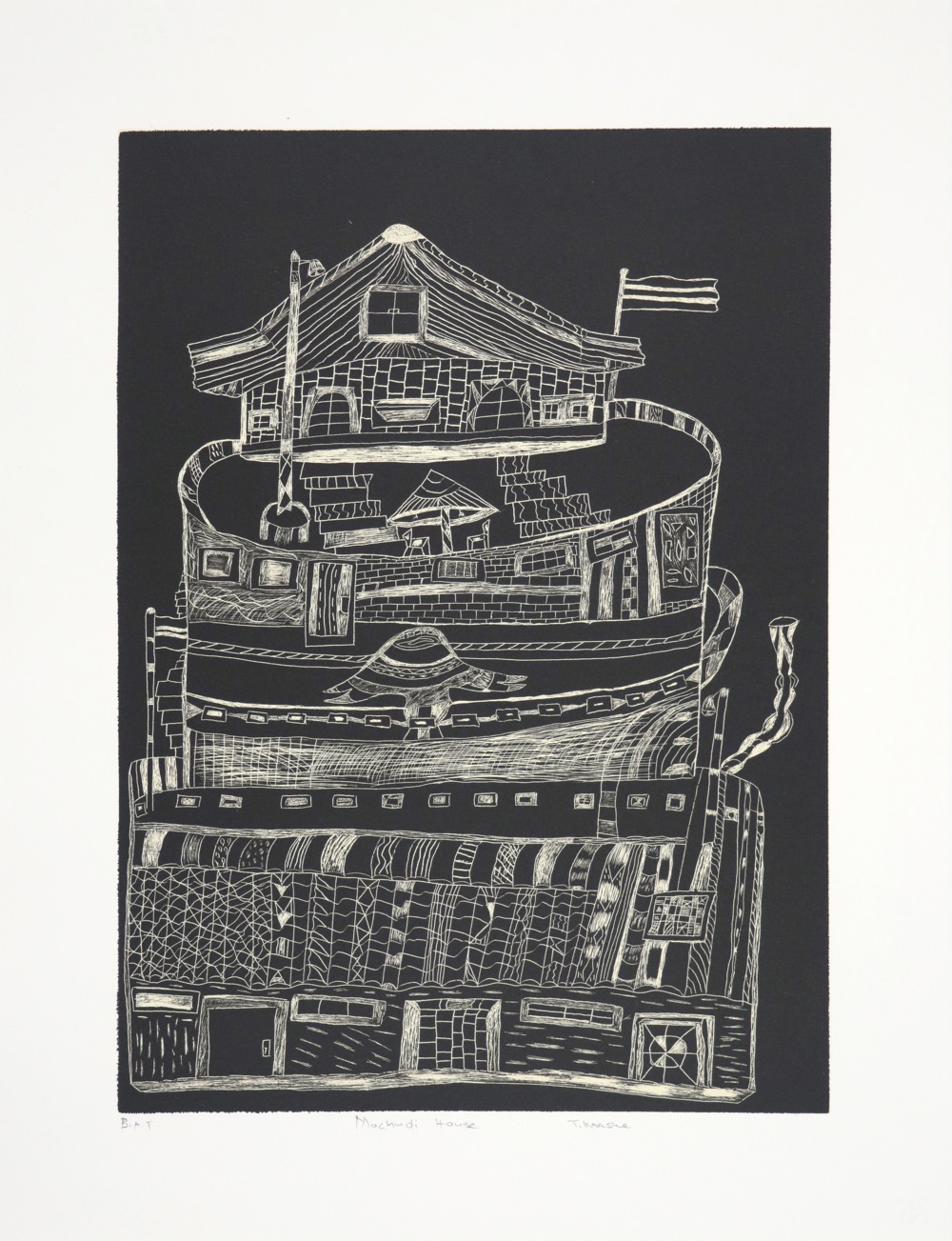 Artist: Thama Kase
Title: Mochudi House
Medium: Two colour lithograph
Size: 50 x 38 cm
Edition size: 40
Price: R 2 685 (excl.VAT)
Artist: Kgakgam Tshabu
Title: My Mother's House II
Medium: Monoprint
Size: 65 x 50 cm
Price: R 5 450 (excl. VAT)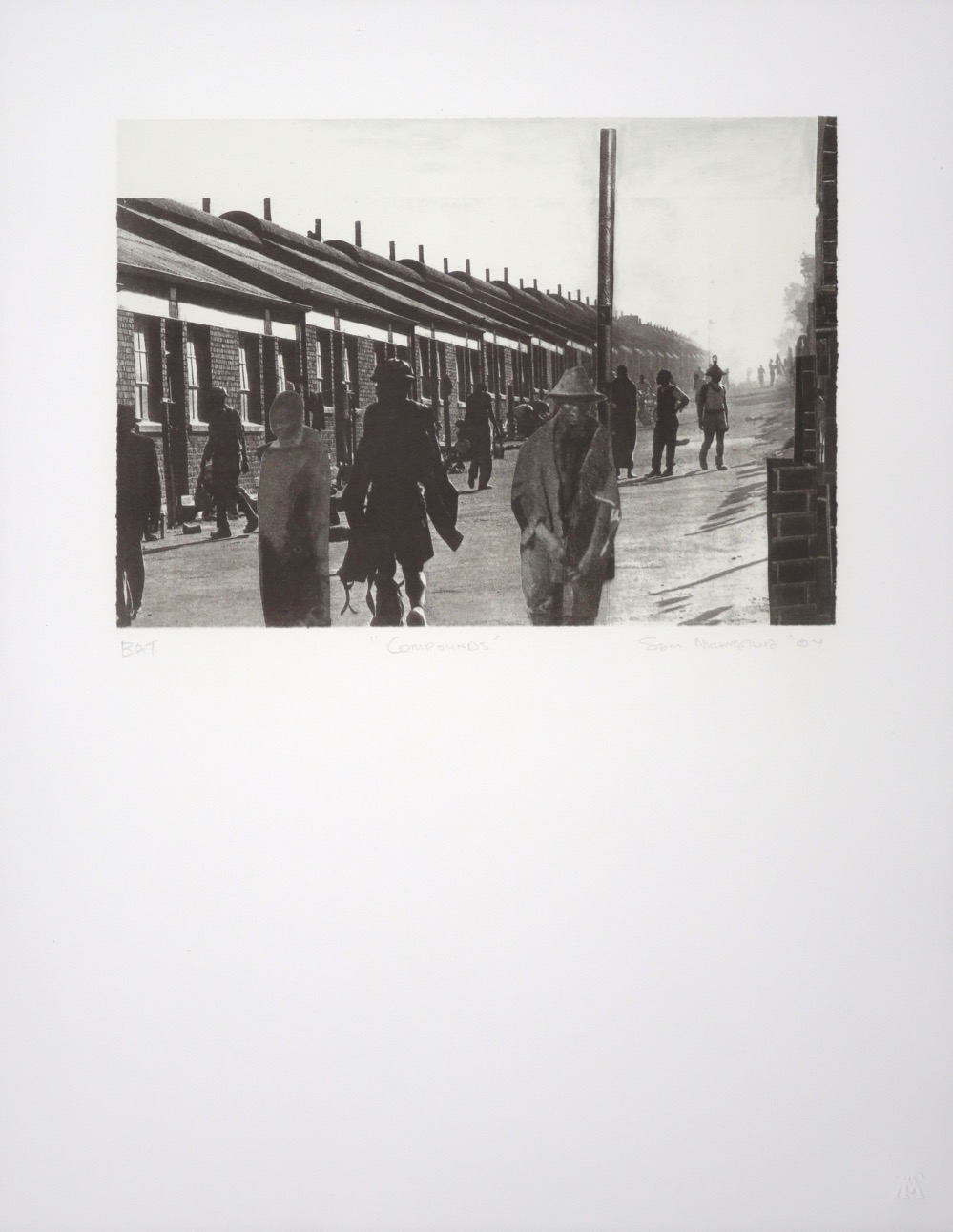 Artist: Sam Nhlengethwa
Title: The Compounds
Medium: Four colour photo-lithograph
Paper size: 49 x 38 cm
Image size: 20 x 28 cm
Edition size: 25
Price: R 6 560 (excl.VAT)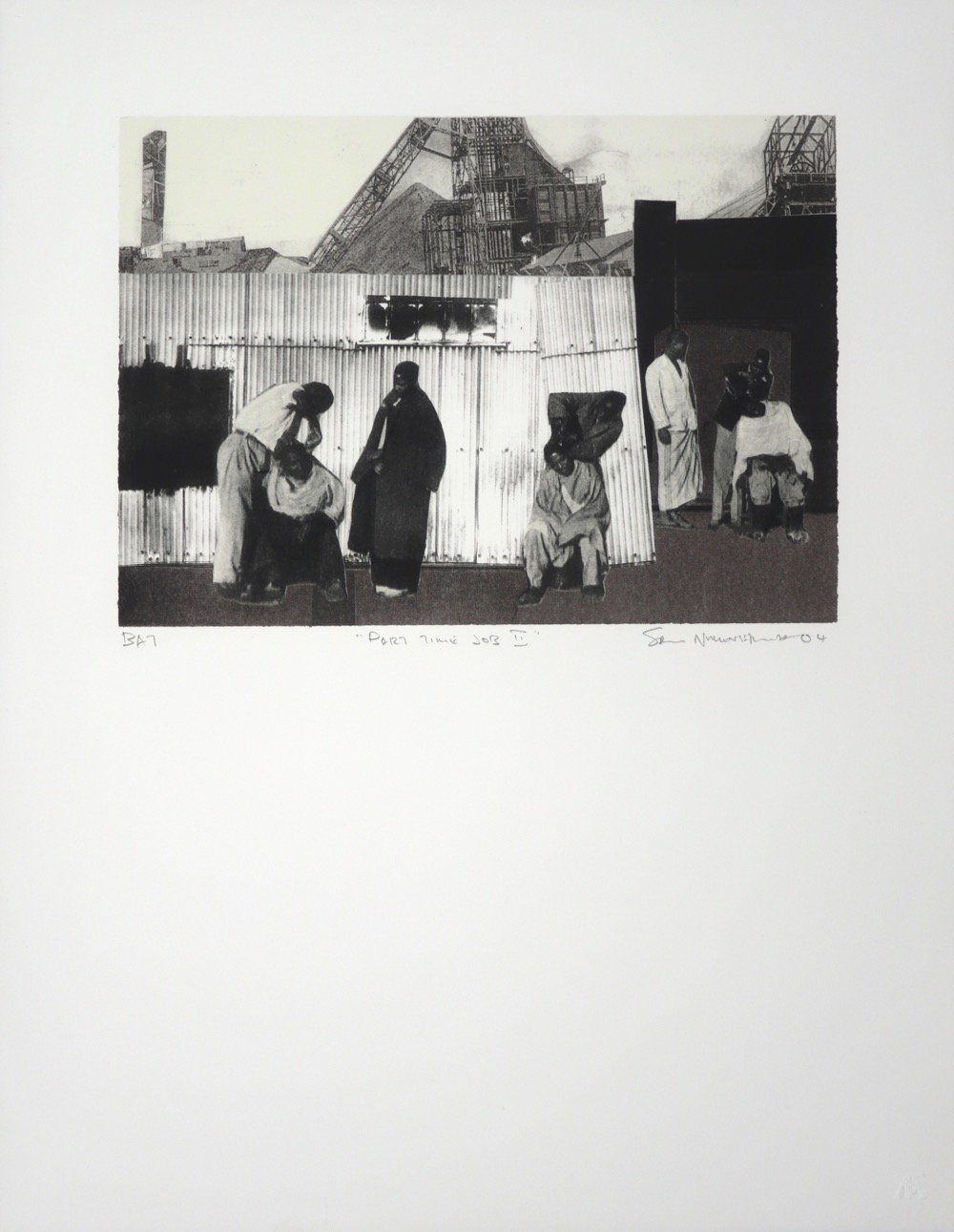 Artist: Sam Nhlengethwa
Title: Part Time Job II
Medium: Four colour photo-lithograph
Paper size: 49 x 38 cm
Image size: 20 x 28 cm
Edition size: 25
Price: R 6 560 (excl.VAT)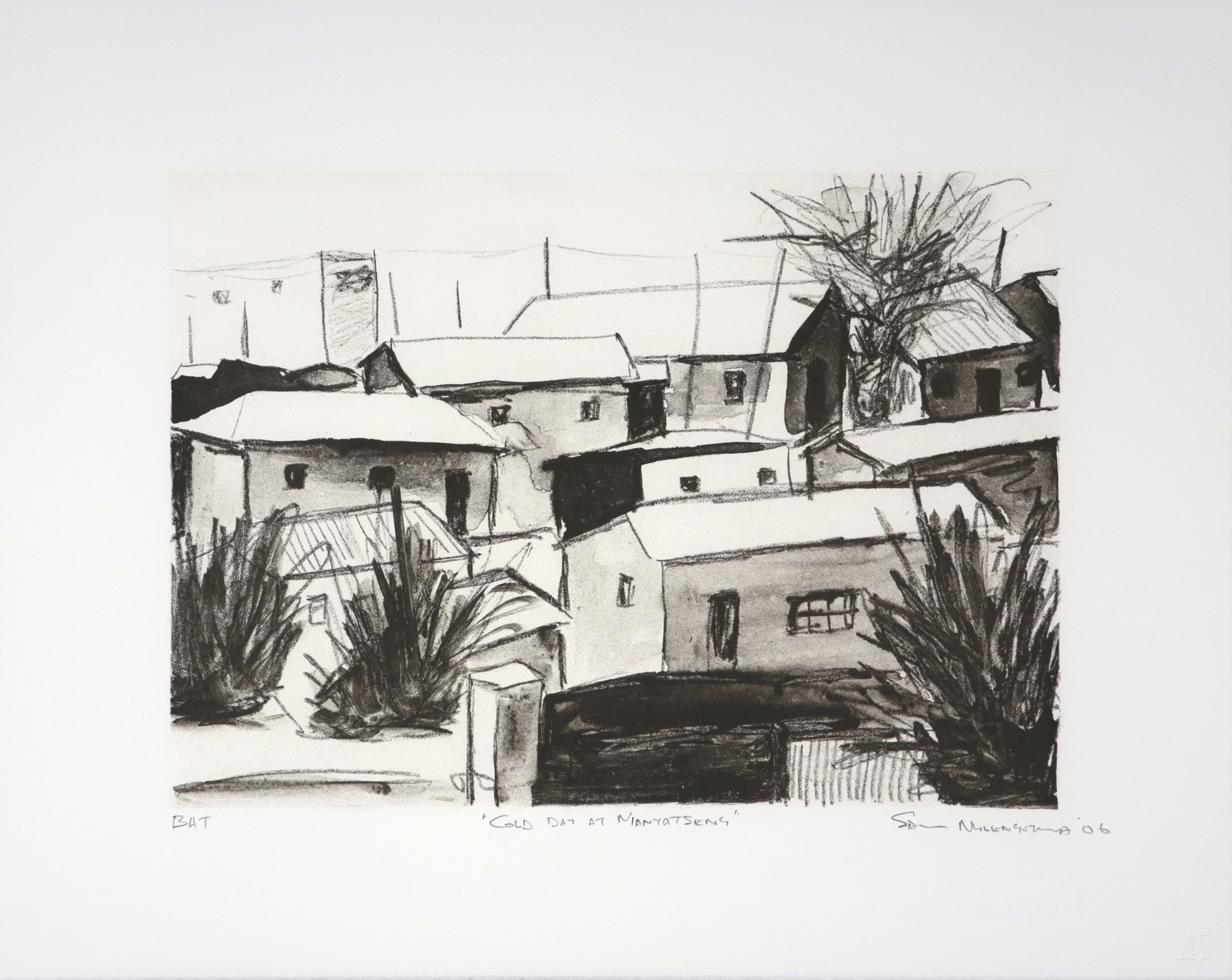 Artist: Sam Nhlengethwa
Title: Cold Day at Manyatseng
Medium: Single colour chine collé lithograph
Paper size: 37 x 46 cm
Image size: 23.5 x 33 cm
Edition size: 30
Price: R 5 830 (excl.VAT)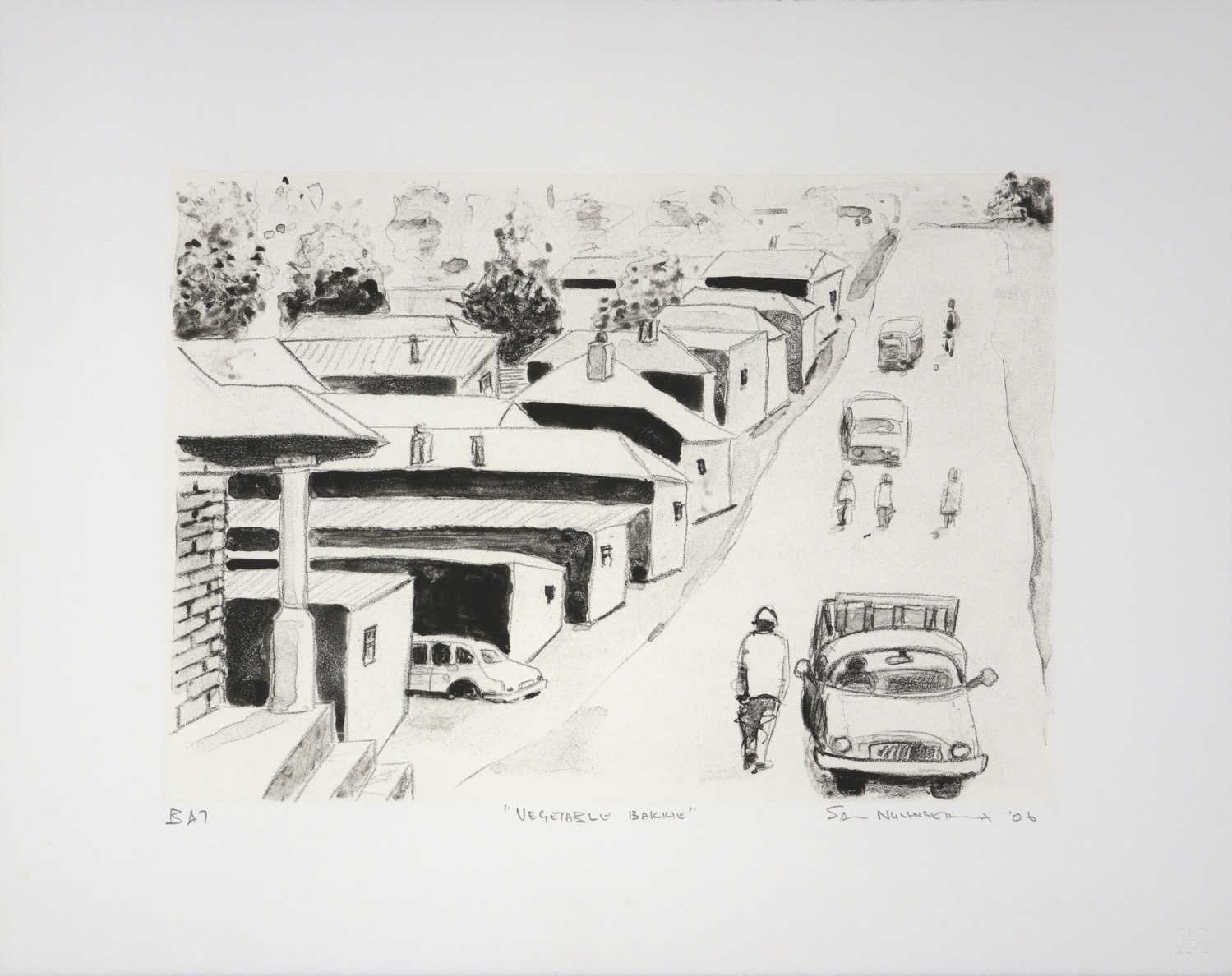 Artist: Sam Nhlengethwa
Title: Vegetable Bakkie
Medium: Single colour chine collé lithograph
Paper size: 37 x 46 cm
Image size: 23.5 x 33 cm
Edition size: 30
Price: R 5 830 (excl.VAT)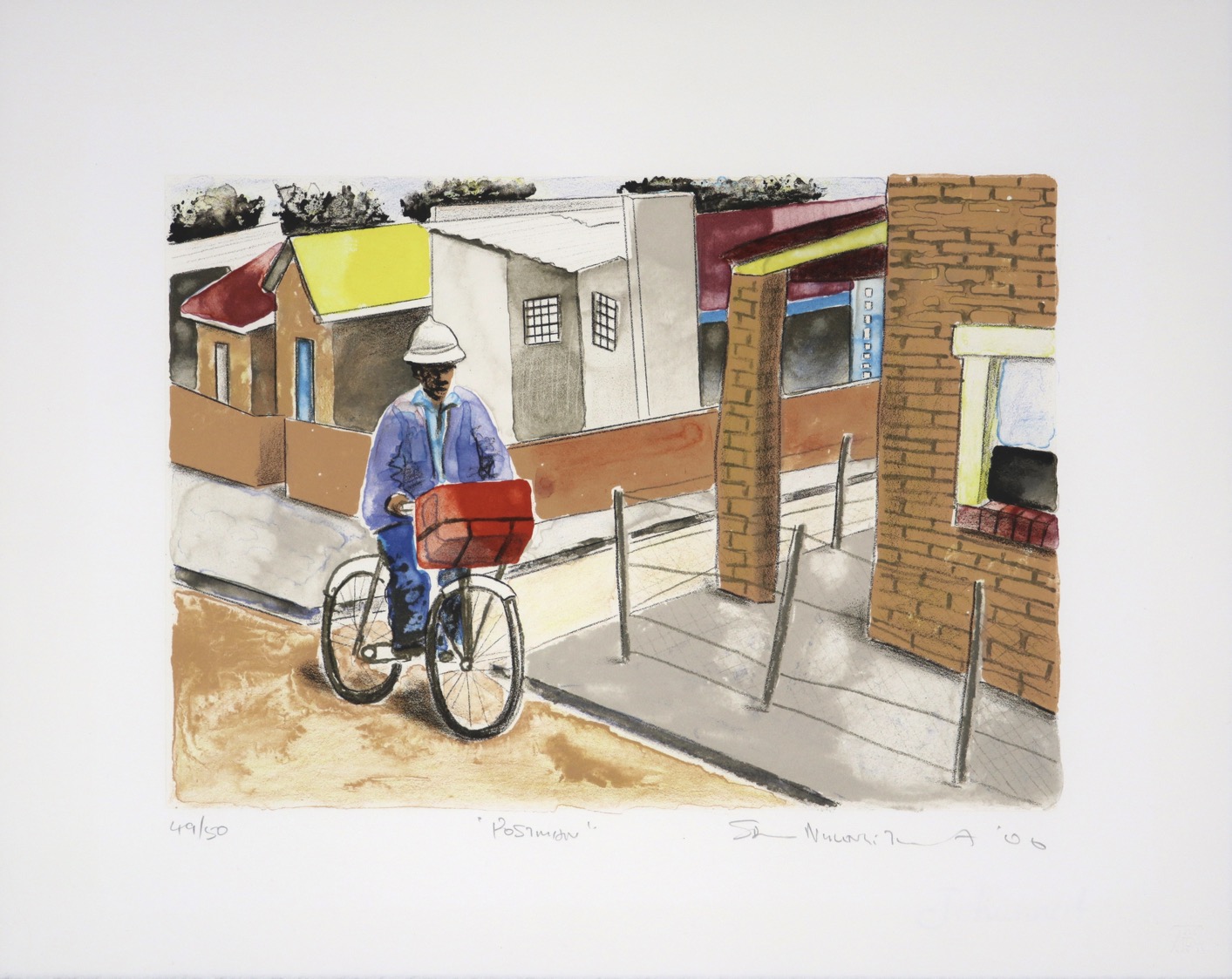 Artist: Sam Nhlengethwa
Title: Postman
Medium: Ten colour chine collé lithograph
Paper size: 37 x 46 cm
Image size: 23.5 x 33 cm
Edition size: 50
Price: R 8 560 (excl.VAT)
Artist: Sam Nhlengethwa
Title: The Hair Salon
Medium: Eight colour chine collé lithograph
Paper size: 37 x 46 cm
Image size: 23.5 x 33 cm
Edition size: 50
Price: R 8 560 (excl.VAT)