Erika Hibbert

Erika Hibbert has made prints at The Artists' Press for many years. In the lithographs that she has made one can see the progression and development of her work and confidence. Large figurative works painstakingly executed in oil and beeswax on canvas characterized Hibbert's earlier work. Now, having made a shift from oil painting to works on paper in charcoal and pastel, she has gone from relying on detail and narrative to carry meaning to letting often singular objects carry her conceptual mettle, this is also reflected in the prints that she has made.

Erika Hibbert's work is lyrical, technically accomplished and often biographical. Her artwork reflects a striving for balance between formal aesthetic considerations and the artist's intellectual response to relationships and events in her life.

In April of 2004 her husband, musician Gito Baloi was murdered in Johannesburg. This tragedy led to Erika moving to Gaborone in Botswana with their daughters Tiva and Lorha. She reestablished her studio there and in 2009 moved to Atlanta (USA) where she is teaching at The International School.

"7 Deadly Sins" Series.
Erika Hibbert has explored these common characteristics of the human condition through an analysis of their presence in her own make-up. The exercise began as an exploration of the commonality of the human condition. Hibbert's work may generally be recognized as strongly individualistic and often refers to intimate and singular experiences of the artist. Although the concept of 'sin' was not comfortable for the Hibbert, she explored this idea during a period of intense religious probing.


Erika Hibbert's Artist's Statement
The writings of Thomas Aquinas (1224-1274) form the background for the series '7 Deadly Sins'. Known as the Angelic Doctor, Aquinas was an Aristotlist, famous for his investigations into 'the vices and virtues of life'. As a model for self-examination, Aquinas's ideas around shared human characteristics developed into the renowned Catholic principle of 7 deadly sins.

There are 7 lithographs each representing one of the 7 deadly sins as they are manifest in Hibbert's own character:
Gluttony - The clenched hand and a wine glass refers to crude physical greed and excess. The fist indicates frustration and self-loathing.
Apathy - The Passion Flower refers to Christianity. Also called 'spiritual sloth' in some translations of Aquinas, the artist recognizes this sin in herself disguised as disdain and cynicism - and so the hand signals 'hate' in sign language.
Anger - This characteristic in the artist is identified with violence. The knife forced into flesh refers to self-mutilation - anger experienced as self-destruction.
Pride - The breast-feeding child alludes to basic, instinctual pride in one's children. Hibbert experiences this with dismay as the indication is that the children are of oneself or belong to oneself, and this claiming of another person through the sin of pride is the ultimate denial of their own individuality and separateness.
Lust - The hand raised in shock as a lizard bites its tip. Borrowed from Caravaggio, this use of the lizard as her sign for sexual passion recurs in Erika Hibbert's work. The inference is that the sin of lust may be hazardous and painful, but nevertheless results in an exquisite serpentine gesture as the hand arches and pulls away.
Avarice - Stupid worldly greed is a green purse and a hand signaling 'love' implicates the artist in this desire to surround oneself with possessions and trappings. The artist, like Aquinas, attributes this sin to the fear of death.
Envy - The tired hand, heavy with want, contains the envious eye that desires that which others have. The mysterious sin with no benefit in it. The origin of discontent.
Erika Hibbert, 2003

Artists at The Artists' Press A to L (by surname)

Artists at The Artists' Press M to X (by surname)

Erika Hibbert's website


7 Deadly Sins Lithographs
A series of seven prints sold as a set or as single prints.
Printed in black with additional colour runs, chine colle, embossing and hand colouring added.
Size: 38 x 35.5cm
Edition size: 35
Price for set: R 13 230 (excl.VAT)
Price per print: R 2 160 (excl.VAT) each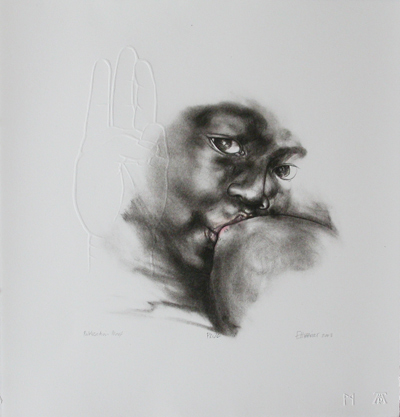 Pride


Anger


Apathy


Envy


Gluttony


Greed


Lust


Lithographs

Title: Binding
Medium: Four colour lithograph
Size: 56 x 76cm
Edition size: 30
Price: R 3 650 (excl.VAT)


Title: Almost Alone
Medium: Four colour lithograph
Size: 56 x 76cm
Edition size: 30
Price: R 3 650 (excl.VAT)


Title: The Offering
Medium: Two colour lithograph
Size: 56 x 76cm
Edition size: 20
Price: R 3 650 (excl.VAT)

News from the studio where Erika Hibbert makes prints